Sheep, Walls and Roman Sites. A UK Cycling Holiday beside Hadrian's Wall Cycleway and the along the Coast to Coast (Sustrans C2C Cycling Route)
.
A story as featured in the Boston Globe by Diane Daniels, who cycled with Saddle Skedaddle.
Diane opted to cycle with all her own gear, but if you want an easier option, then sign up for our Self Guided Hadrians Cycling Holiday trip or Coast to Coast Cycling Holiday (choose either a 4 day or 5 day option), where we'll transfer you to the start of the route, provide route notes and maps and transfer your bags from place to place too.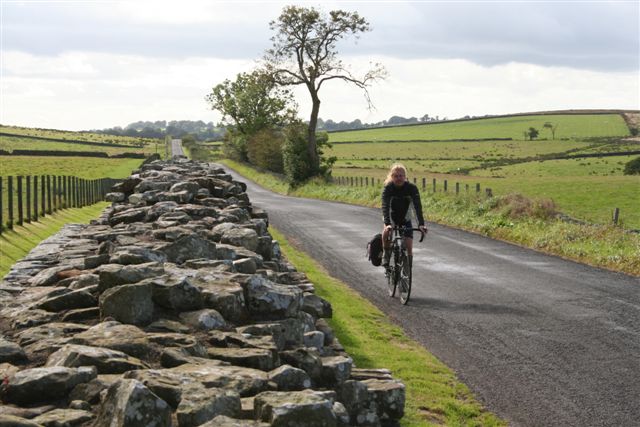 "OK, you can stop staring now,"
I called out between labored breaths. The sheep kept their eyes on me as I pushed my bike weighted with a week's worth of gear up the steep path next to their pasture.
Sometimes, when you're on a bicycle and the hill is vertical, you just have to get off and push. My husband and friends were too far ahead to witness my surrender. Instead, I had an audience of 50 or so sheep following my every move.
The reward for tackling one of the few punishing grades along the 175-mile Hadrian's Cycleway was Walltown Crags, which gave us our most impressive view of the week of "the great wall of Britain."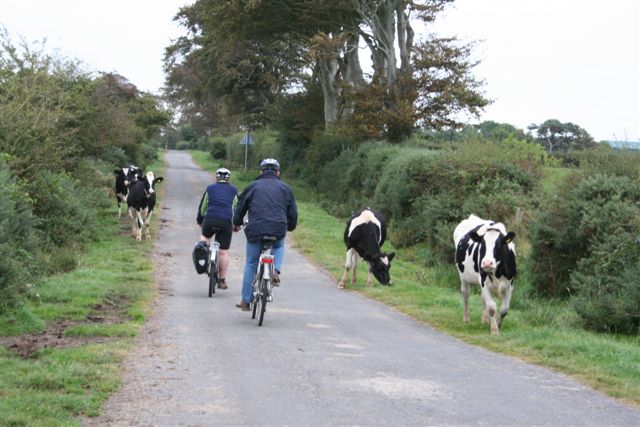 Begun in 122 AD by the Emperor Hadrian and his Roman soldiers, Hadrian's Wall marked the army's northern frontier in Britain for nearly 300 years. An engineering marvel of stone and turf that ran 73 1/2 miles from the North Sea to the Irish Sea, the wall Hadrian envisioned was to be 10 feet wide and 15 feet high, though those dimensions varied because of materials and manpower as the wall extended westward.
The wall was completed in about eight years and bustling civilian communities sprang up around it and its milecastles (fortlets) and garrisons to do business with the soldiers. Today it is a UNESCO World Heritage Site. While only small parts of the wall are visible, ongoing excavation turns up new finds yearly.
We, however, assumed we would be cycling along the wall for days. Instead, we didn't spot it until our fifth day, after 100 miles of riding. But the route is filled with archeological stops – forts, churches, museums, and ruins. Best of all, we were treated to an eclectic sampling of northern England, from its haunting coasts and sheep-speckled countryside to thriving cities.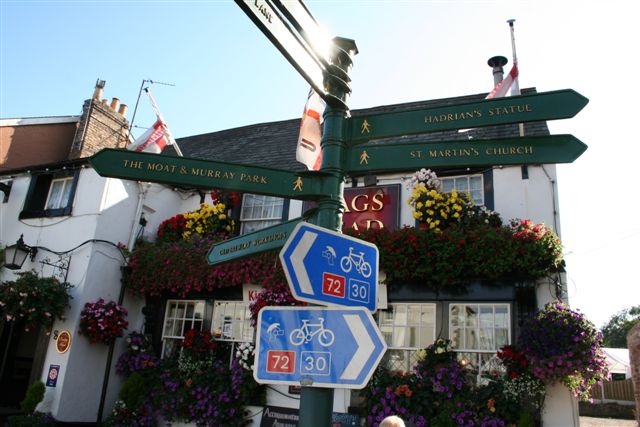 The national cycleway, which opened in 2006, was routed using mostly country roads and bike paths. Save for a few spots, it is well signed. For walkers, there is the 84-mile Hadrian's Wall Path National Trail, opened in 2003.
It was early October when we met our friends in Newcastle, then paid for private transportation across the island to the Cumbrian coast. (Because of prevailing winds, most cyclists ride west to east.) My husband and I rented bikes, while our friends brought their tandem. We carried all our gear and winged it with lodging, but shuttle providers are available for those wanting baggage transfer and nightly reservations.
We were braced for bad weather, but got only a couple of cloudy days and a mere hour of rain. What I hadn't mentally prepared for was cycling on the opposite side of the road, a challenge, particularly through roundabouts.
The route begins without fanfare (some of the signage in the route's first stretch is not yet up) in Ravenglass, a tiny coastal community and former Roman port on the western edge of the Lake District. The start is at the well-preserved ruins of the Glannaventa Roman bath house.
We left Ravenglass by a northern coastal trail during a tide so low that boats sat mud-locked on their keels. Bird-watchers were out in force. We cycled along  country lanes, where the air was filled with the smell of coal-burning stoves.
Lunch at a nuclear power plant brought us back to the present. The Sellafield Visitors Centre, a couple of miles off course, is an impressive public relations effort by owner British Nuclear Fuels Limited, which in 2003 hired the Science Museum in London to revamp the center's exhibits. The cafe sold delicious meals at discount prices.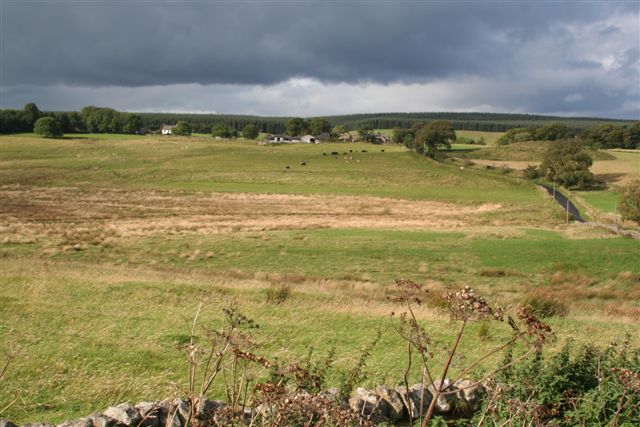 We zipped through adorable St. Bees, where England's famed Coast to Coast walking trail begins, to reach our hotel in Whitehaven. This working-class city recently transformed its waterfront area, adding a wide promenade, sculptures, and benches, all with artistic nautical details. During the first of what were to become daily pub stops, I learned not to block the telly after four agitated soccer fans screamed at me to sit down. Or maybe Americans have been unwelcome in Whitehaven since John Paul Jones led a naval raid on the city in 1778, marking the last recorded invasion of England.
We hugged the coast for another day, stopping in Maryport for a bite and a look in the Senhouse Roman Museum, which sits dramatically atop a cliff overlooking the Solway Firth, an arm of the Irish Sea. The private museum houses 17 Roman altars found in almost perfect condition in a nearby pit in 1870.
Shortly before reaching Silloth, our final seaside stay, we stopped at a tearoom called the Gincase for a pot of tea and scones, jam, and clotted cream. To mark our final night on the west coast, we toasted a vibrant sunset over the hills of Scotland.
Away from the coast and headed easterly into the countryside, we were surrounded by farms, sheep, horses, cows, and fields of corn. That's when we discovered thrips, or corn flies. They are little black pests that travel in packs, plaster your clothing, and stick in your eyes. They drove us crazy.
We hit our first big city, Carlisle, during rush hour, which didn't make for pleasant cycling. In the morning we toured Carlisle Cathedral (built in 1122), skipped the castle, and pedaled back to the buggy countryside. We labored uphill to the 13th-century market town of Brampton and sped downhill into a tranquil valley to reach Lanercost Priory, a well-tended 12th-century church and ruins built with materials pillaged from Hadrian's Wall.
Finally we saw the wall in all its glory, casting long shadows in the late afternoon sun. We arrived too late to visit the Birdoswald Fort atop the hill, but we got our fill of all things Roman the next day.
Our penultimate day of the cycling holiday was all about the wall. In hindsight, we should have spent more time in this region around Northumberland National Park, a land of green hills and valleys stretching to the Scotland. We spent hours at forts and museums, the Roman Army Museum at Carvoran, Vindolanda Roman Fort, and Corbridge Fort. But we ran out of time for Housesteads, the wall's most intact fort, famous for its Roman-era communal toilets.
Walltown Crags was our favorite stop. We carefully crossed a dung-filled meadow, again eyed by dozens of sheep, and climbed to the top of the rock face where a ribbon of wall stretched as far as the eye could see. The only other people there were two Historic Building Services workers refortifying parts of the wall.
"We don't add stones, only point them," one of them said. "If we didn't repair it, it wouldn't be here, would it? You'd be selling pieces in America on eBay."
A parting gift of a brisk tailwind pushed us east on our final day. Cycling along the Tyne River in busy downtown Newcastle returned us to the 21st century. It was tempting to end our ride here, but we felt compelled to reach the official finish, 11 miles east at the Arbeia Roman Fort in South Shields. By the time we reached the replicated fort, it was closed for the day and the street was empty. I would have welcomed at least a few curious sheep.