After joining us on our Biking with Vikings trip in Norway back in 2018, our customer competition winners Engelien and her family chose to check out our Vienna to Budapest family tour as their next cycling journey, a self-guided border hopping cycling holiday through Austria, Slovakia and Hungary. Read on (and watch on!) to find out more about their family cycling adventure below…
"For the second year in a row, we have done a family cycling trip through Skedaddle. After the rough terrain arctic summer weather of the Lofoten in Norway last year, it was now time to follow the flat cycle paths following the Danube from Vienna to Budapest enjoying a warmer climate compared to Norway. This trip was significantly tougher for our daughter who just turned 9 in August because there was no rest day and on average, we would cycle daily for longer distances around 50km. Also, this trip she would be cycling on her own bike all days. She is too tall now for a tag-along bike! We were convinced she would love it again and she did. It is really doable for kids who are fit and confident riders. We were really lucky with the weather as well. Only one day was over 30 degrees and all other cycling days were in the low to mid 20's. Perfect cycling weather and coming from the heat of Dubai where we live meant this was perfect.
It is a beautiful route following the river and farmfields with lots of sunflowers, corn and wheat. Especially all the sunflower fields were stunning, even though it was already almost the end of the season. In this trip, we also loved the breaks in beautiful towns like Bratislava, Gyor, Esztergom and the cherry on the pie ending in Budapest. It is a popular cycle route following the Eurovelo 6 route, especially in the summer. But it was never busy and there were many options along the way to stop for drinks and lunch. The stage cycling from Komarno to Esztergom to catch the boat to Visegrad we found a little tough. After riding 25km we finally saw a supermarket for a well-deserved drink. We had to do our best to motivate Babette! Ending the day with a treat such as big ice cream always works.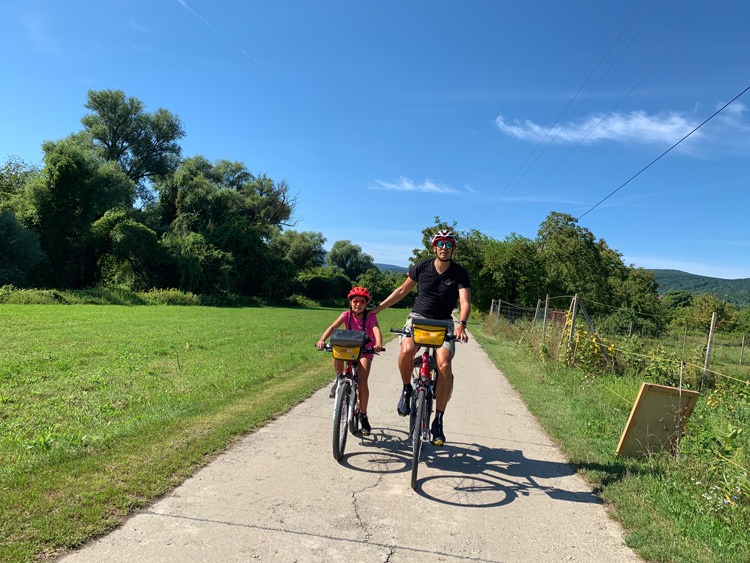 When you go on a family cycling trip with children you need to make sure you have card games with you and during the ride, we would also play games, and before we knew it we would have reached our destination already. Some stretches were challenging for my daughter, especially the ones where we would have to cycle on gravel or sandy cycle paths, and we could not really see the end. Our daughter always brings some of her furry friends with her on holiday. This trip she had 2 of her dogs with her to support her daily, she loved their support! They were sitting first class in the handlebar bag and enjoyed the ride. She made it and felt proud once we reached the hotel and would check our daily stats. What was also really special about this trip is passing by 3 countries where you can just cross the borders with no passport control since it's all within the EU. My daughter is born and raised in the Middle East and this is something really special to her experience. You would notice something was different once you crossed it, but also lots was similar!
We had a great time again and ending the trip in Budapest is fantastic. You enter the city through a very green dense area with lots of trees, and suddenly more buildings popping up and more traffic and once you follow the river you see the famous bridges of the city and the Parliament before you reach the end of the route.
The boat and train ride during 2 stages was a nice change and a way to stretch our legs and enjoy the scenery by watching the landscape just passing by. We love to spend our holiday cycling and exploring new areas and ending the trip knowing we have beaten our family record cycling with more than 100km compared to last year – this year we cycled in total 322km in 6 days!"
To see their day-to-day video guide of the tour, click here.
Feeling inspired? Visit our website and download the trip notes to find out everything you need to know about this family-friendly journey! We also have Vienna to Budapest available as a self-guided leisure cycling holiday too!
Find out more about our Vienna to Budapest tour here!
After the trip, we caught up with Engelien to find out a little more about our Competition winner…
1. What do you love about cycling?
All 3 of us have different reasons why we like it, but most of all we like spending time together as a family and while cycling you are enjoying the scenery around you, be active, enjoying fresh air, spending time outdoors and able to have fun play games on the bike and just have nice chats together.
2. What's your favourite cycling memory?
All of us have different favourite memories. Cor's favourite memory is completing the Mont Ventoux 3x in one day, all from different ascent routes, mine is the fond memory of seeing my daughter riding the bike with pedals for the first time when she just turned 4, and Babette's favourite one is completing her first leg of our Lofoten cycling trip. It was a tough start with a gravel road uphill to avoid a tunnel. But when we arrived at the hotel, she was so happy she did it!
3. What do you most like about Skedaddle?
We like the different options you provide for different levels of cyclists. We especially like the service provided. For example, during our Lofoten trip, one stage was a bit long, and the local agent provided a tag-along for our daughter for her to still enjoy the day and ride. We didn't ask for it, but he provided the option anyway and she had a great day.
4. Where to next?
We aren't sure yet! We have done 2 family trips in Europe, and are looking towards Asia for a next trip, but most trips are guided ones (the ones suitable for my daughter distance-wise), and we prefer unguided trips. So we will probably end up with our next trip in Europe. Maybe we will even do one in our home country the Netherlands. The county is set-up for cycling, so all of us can spend extra time in our own country again. We have moved to Dubai 12 years ago, and our daughter was born here, so she only knows her own country from visits, not a proper cycling holiday.