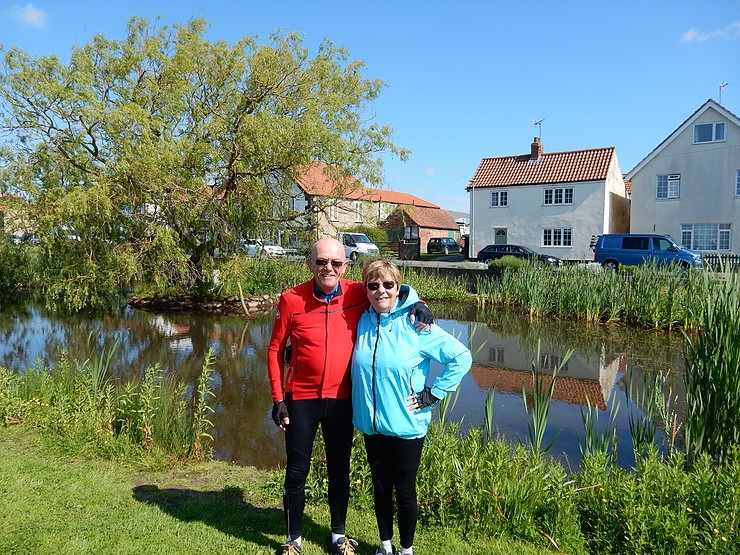 Our circular route of the Yorkshire Wolds promises incredible views, rich history and a few cheeky climbs! Seasoned cyclists Annette and Bob Culshaw decided to try it out for themselves and became our most recent winners of the Customer Competition with this exciting day by day account of the challenging climbs and exhilarating descents…
Find out more about our Yorkshire Wolds tour here!
'Needing to move away from our regular rides around the Kent countryside at home, we searched and searched the web until we discovered a super little company based in Newcastle, Saddle Skedaddle. The beauty of this company was that their itineraries sounded terrific, and… joy of joys… they would organise our accommodation and transport our luggage to and from the accommodation each day.
We booked a 10 day Hadrian's Cycleway & Coast & Castles holiday with them for September this year going from the West coast of England to the East coast and then on up to Edinburgh. passing through amazing scenery and several castles. However, we couldn't wait until then, so we immediately booked this short 5 day break to cycle the Yorkshire Wolds! It was to be a trial run for September's adventure.
Day 1
We arrived in the beautiful town of Beverley on market day and the town was buzzing. Beverley has apparently been voted one of the best places to live in the UK and is renowned for its exquisite 13th Century Minster. We wandered into town to eat in the evening, and it was super to see the town buzzing with activity. The following morning, before setting off , we had a lovely breakfast, with all the produce being locally sourced from a nearby farm. Then Kevin from Saddle Skedaddle arrived to greet us and give us all the info we needed for the week… and so our cycling adventure began!
We left Beverley, almost immediately passing by Westwood Pastures, a stunning open park and golf course with cows roaming freely among the golfers and the fairways. The weather was good for cycling, warm but not too hot and mercifully dry. The gentle, undulating countryside was beautiful, with the hedgerows and verges bursting with blossom. It was a joy to be out on our bikes!

Although the track was challenging for us non mountain bikers, the challenge was excellent and we both loved it. We hit the road again towards Market Weighton and had the best descent ever! It seemingly went on for ever and was totally exhilarating. At the end of the day the bikes went into a secure lock-up which was excellent, and we had a really super room. Our luggage had been delivered. What more could we ask for! A truly super day.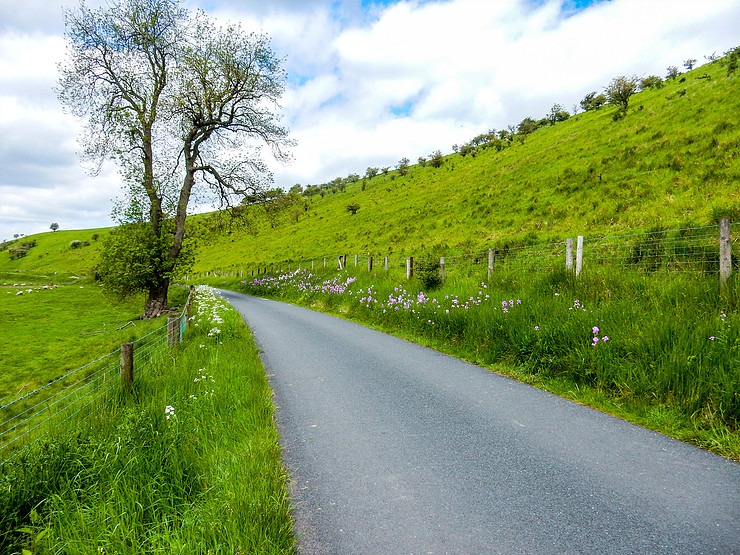 Day 2
In our tour notes from Saddle Skedaddle, today was described as "One of the tougher days, but it is also one of the most beautiful…" Both were true. There were some serious hills, some short and steep, and others long. The climbs were challenging, but terrific. The sense of achievement when we reached the summit of a toughie was second to none. The 'downside' of these climbs was exactly that… the fabulous descents which we loved.
We arrived in Malton early afternoon and had a surprise when we found our spectacular accommodation! Again, a delight that our luggage had been delivered and was in our room waiting for us. Well done and thank you Team Skedaddle. All in all, a lovely day.
Day 3
What a truly lovely day. It was glorious cycling weather… clouds and sunshine and very little wind. We passed through Settrington village, and a couple of hundred yards further on we met the first of the cheeky climbs! Now, Bob is a much stronger cyclist than myself so to him it was indeed a cheeky little climb. However, to me it was a "you've got to be joking" sort of a climb! My heart sunk. Even though we have superb electric bikes it was still a real workout to get to the top. However, I made it! I was thrilled. Honestly, I cannot describe just how good it feels when you reach the summit of a really steep hill (that is when you have stopped panting and gasping for breath!) – I felt euphoric.
Day 4
Cycling once again through quiet, undulating lanes with little traffic was super, despite the wind. We passed through largely agricultural land with stunning views when we reached the tops of the hills. About half way through our route we found ourselves in Bridlington, a Yorkshire seaside town. We cycled along the prom to the harbour to have a coffee.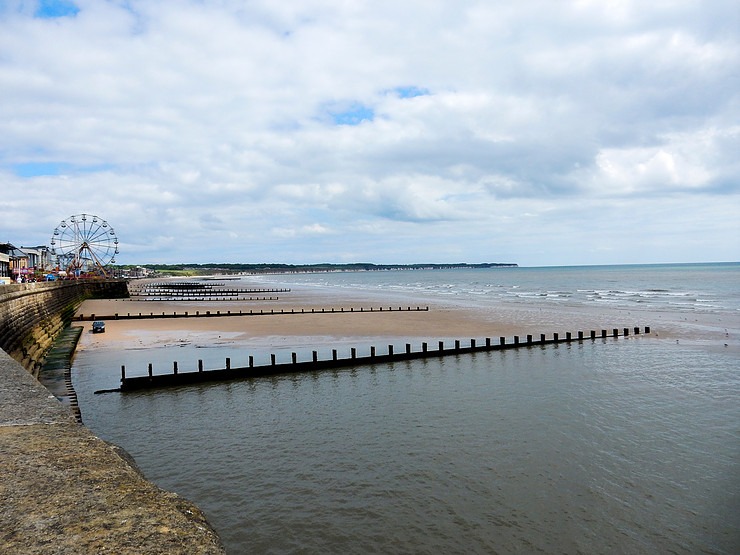 It is a town of contradictions. The prom had been beautifully paved with mosaic brickwork and was stunning, but the nearer we came to the harbour the more we felt we had hit a time warp. It was a seaside town of sixty or seventy years ago! It really did have the charm of an 1950/60s resort, with its retro fairground and amusements. And yes, you really could buy 'kiss me quick' hats and fish and chips! Onward and upward… but with no 'cheeky little climbs' today. The uphills were gentle, as were the descents.
Day 5
The sun was shining… blue skies, fluffy clouds and light winds. It was a gentle cycling day – only twenty miles of rolling countryside, passing through some stunning villages, almost every one with a picturesque village pond. Quiet lanes with almost no traffic and the verges speckled with flowers and poppies. It was terrific. We arrived back in Beverley by mid-day to collect our car and luggage and had lunch in town.
This week was a trial run for the longer adventure in September when we cycle from coast to coast. So what have we learned? Firstly we learned that everything Saddle Skedaddle claims on their website is 100% true! They are a terrific little company whose customer care is second to none. They are totally customer focused, and their attention to detail is spot on. Thank you Team Skedaddle! We are looking forward to our September route with them. Secondly, (and perhaps obviously) we learned that we do not need to take nearly so much luggage! And lastly, we learned that the Yorkshire Wolds are beautiful!'
Read their full blog HERE!
Find out more about our Yorkshire Wolds tour here!
After the trip, we caught up with Annette and Bob to find out a little bit more about our Competition winners…
1. What do you love about cycling?
We love the feeling of exploration and freedom when we cycle. Taking back roads and tracks we have seen parts of our beautiful countryside that we would never have seen in a car and have the opportunity to stop whenever we chose to simply enjoy it all. You can't beat it!
2. What's your favourite cycling memory?
We have so many memories of our Yorkshire Wolds holiday… the wonderful accommodation and meals, meeting lovely people all along the way, but the abiding memory will be managing to cycle up the bridlepath outside Newbold. It was a real achievement for me. There was a wind turbine at the top, making a whooshing noise as its blades turned, and I swear it was whispering "well done".
3. What do you like most about Skedaddle?
We like everything about Skeddaddle! The customer service could not be bettered. Every member of staff has been super whenever we have made contact. The directions take you from door to door. The accommodation provided on this trip was truly excellent with all the hosts being kind and thoughtful. The route was terrific, enough challenges to test us, but nevertheless straightforward and more than manageable. The luggage transport was a real boost.
4. Where to next?
We have already booked with Skeddaddle for the Romans, Reivers and Ancient Castles in September this year, and we can't wait!