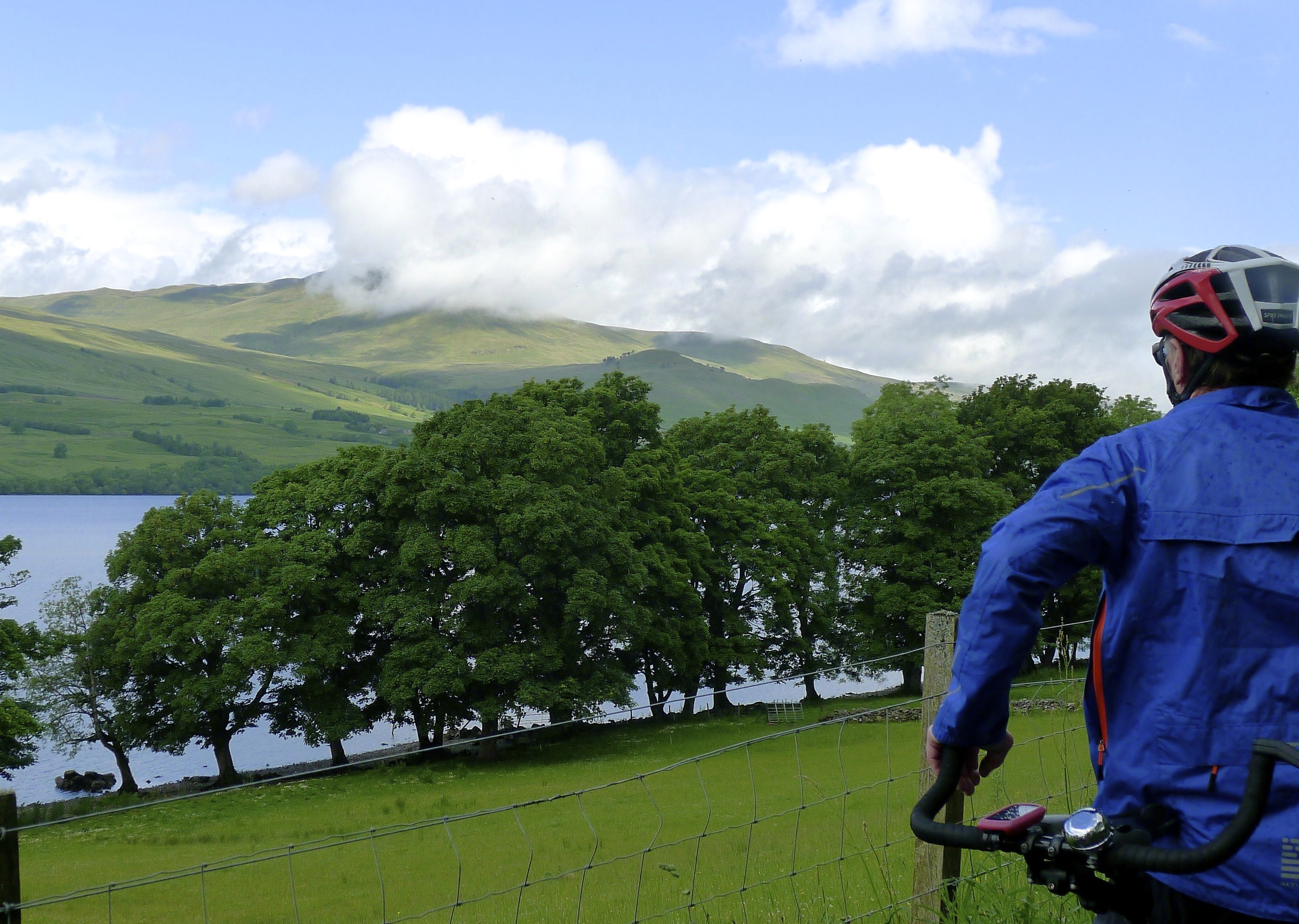 With their trusty tandem 'Tommy' packed, Steven and Jeanette headed into the heart of Scotland, to enjoy a weeks cycling break exploring the stunning scenery of the Scottish Highlands. Find out how their Lochs and Glens journey faired below:
So, what made us pick a self guided cycling holiday?  Well, we had previously cycled with Skedaddle on their excellent Way of the Roses supported holiday in 2013, and the following year we had cycled on a self arranged holiday in the Outer Hebrides where we had spent 4 days on three islands going out on day rides.
We wanted to combine the two.  We liked the idea of moving on somewhere new each day, yet we also liked the freedom which comes with a self guided holiday of being able to stop and spend a bit more time exploring places, or even deviating off the chosen route to places of interest if possible.
Skedaddle were just brilliant with the organisation because we wanted the Lochs and Glens cycling holiday with a few extras.  We wanted two nights in Pitlochry to allow us to go on a day ride from Pitlochry but mainly to visit the theatre for a night out.  We also wanted to extend the holiday by another day and have an additional night in Balloch at the end of the tour.  Nothing was too much trouble for the Skedaddle team and everything was arranged perfectly.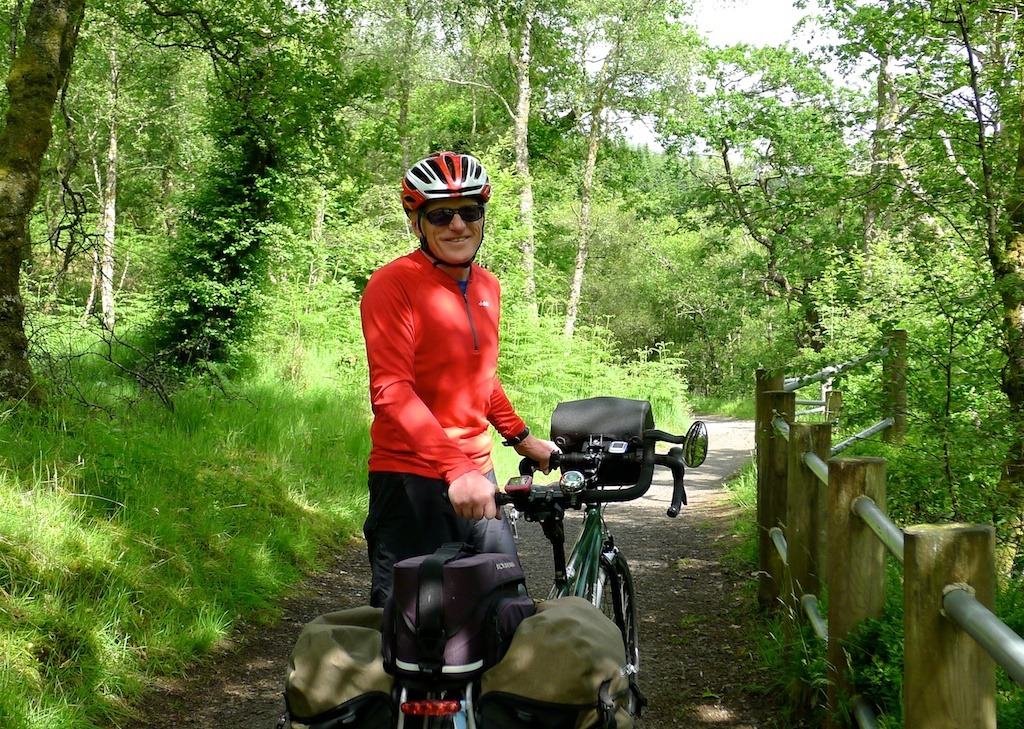 So, to the holiday.  Firstly, would we recommend the Lochs and Glens cycling holiday?  Well, we certainly would.  Sustrans need to be credited for planning out two cycle routes, NCN route 7 and NCN route 77 which take you along very well sign posted quiet lanes and cycle paths, much of it being traffic free, through some of the most beautiful countryside in Scotland.  Secondly, Skedaddle must be praised for utilising the routes and putting together a well paced and structured holiday package.  A lot of consideration has gone into splitting the holiday into manageable days.  The harder days (perhaps of a more technical nature) in the forest and on cycle paths rather than tarmac, are shorter distance wise.  The longest distance to ride (Killin to Pitlochry) is on roads, and very peaceful lanes at that.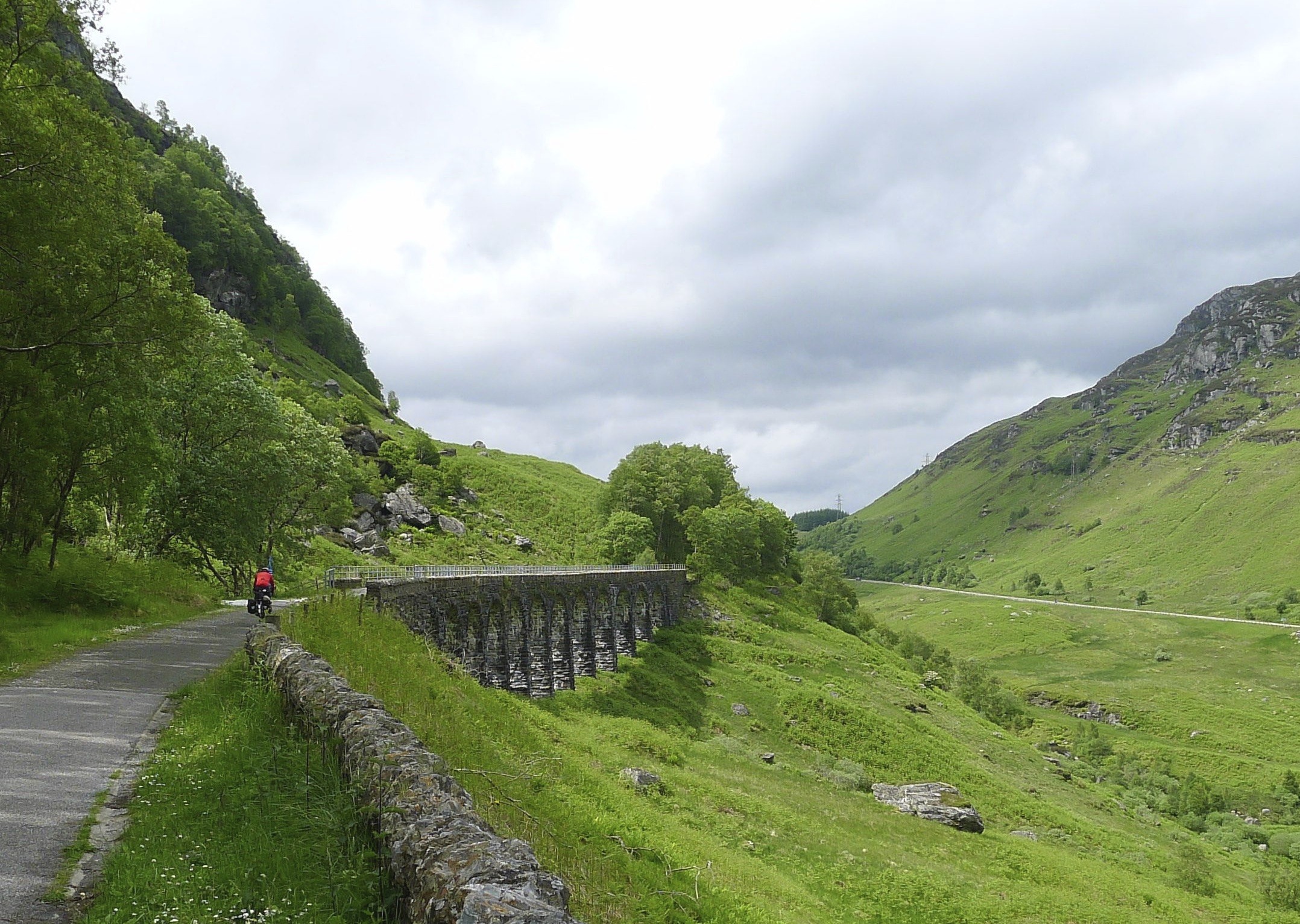 As I've often told friends, the reason we have such beautiful and stunning scenery in parts of this country is the fact that it is well watered!  So, to expect a totally dry holiday was a bit much and we had one very wet day cycling the first leg from Balloch to Callander.  But did that spoil the holiday?  Certainly not.  To be outside in the Scottish countryside in the middle of summer, rain or sunshine, is an absolute delight.  The advantage of 'modifying' the holiday by including the extra night at the end, allowed us a second opportunity to see the spectacular views we had missed on day one.  I think that was good planning on my part!
Highlights of the holiday?  Well, there are many.  When the sun shines, and it did often, the mountains and countryside are lit up.  The views are just breathtaking.  The cycle from Killin to Pitlochry is special.  I can't think of a more appropriate word.  It starts with an undulating ride along the length of Loch Tay on a quiet (very quiet indeed) lane and in our case with the advantage of a westerly breeze.  It was just idyllic.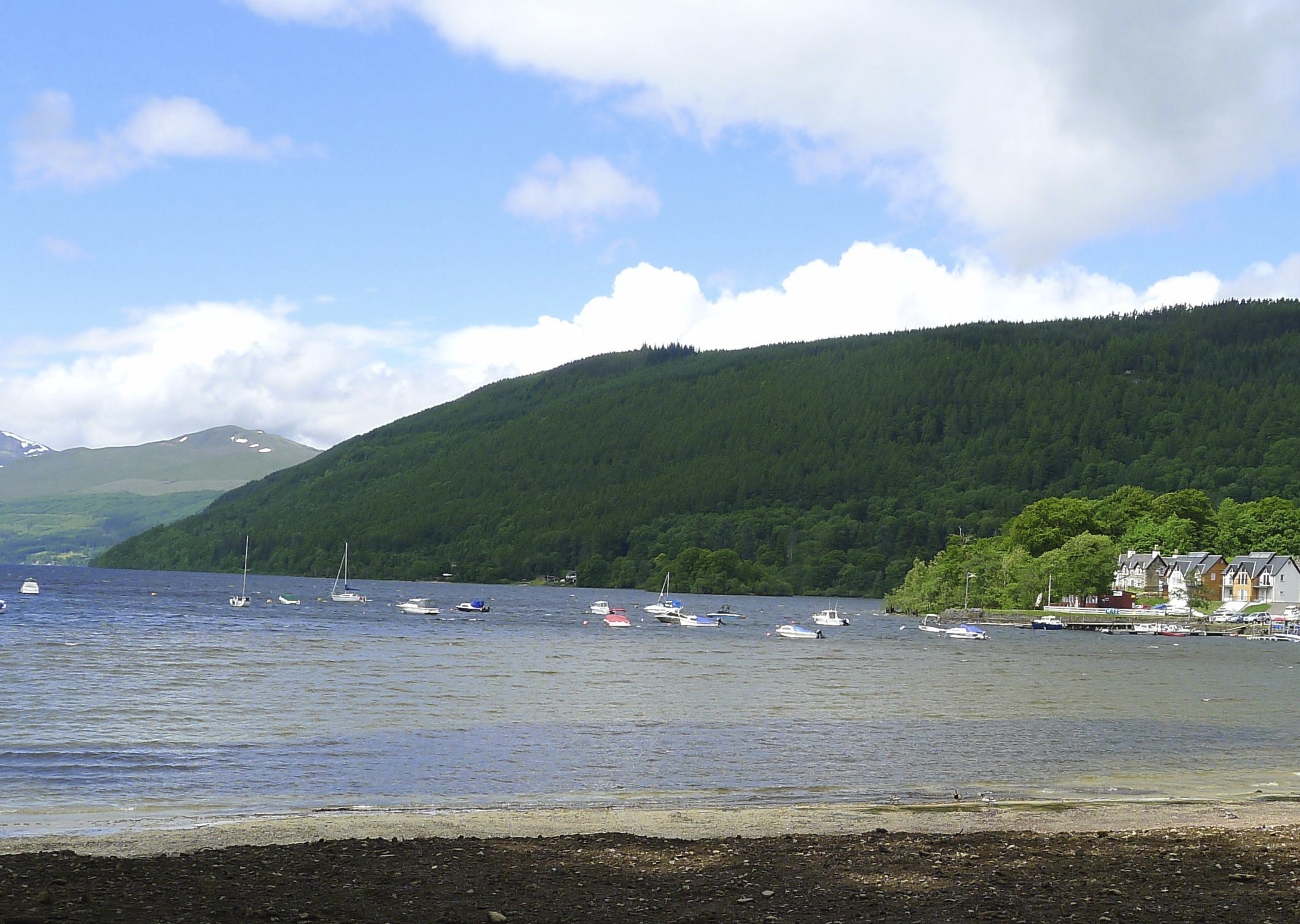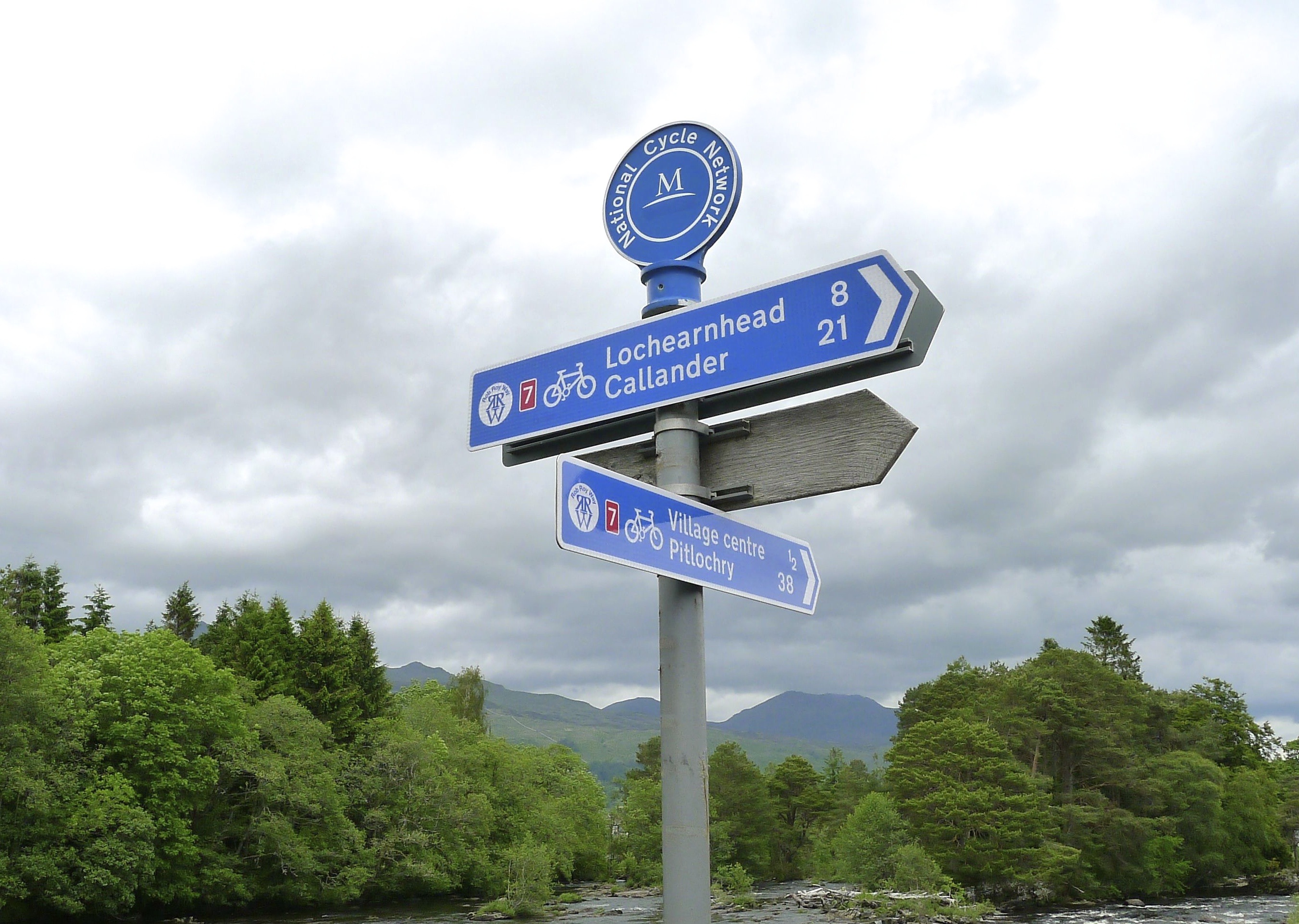 That was bettered in the afternoon when we cycled alongside the River Tay towards Strathtay, a beautiful ride through secluded countryside.
I think I could write pages and give much more details of each day of our holiday but I hope I have given you a flavour of what it was like.  As cyclists, you will know that a holiday isn't just about the weather, it's an experience which is gathered from the enjoyment of being outside in the open air, stopping to explore new and interesting places, meeting other cyclists and sharing adventures, and, of course, the odd coffee shop or two 😉
Well it wouldn't be called Scotland without a little rain thrown in there! Sounds like Tommy enjoyed some fantastic adventures and sights during his tour.