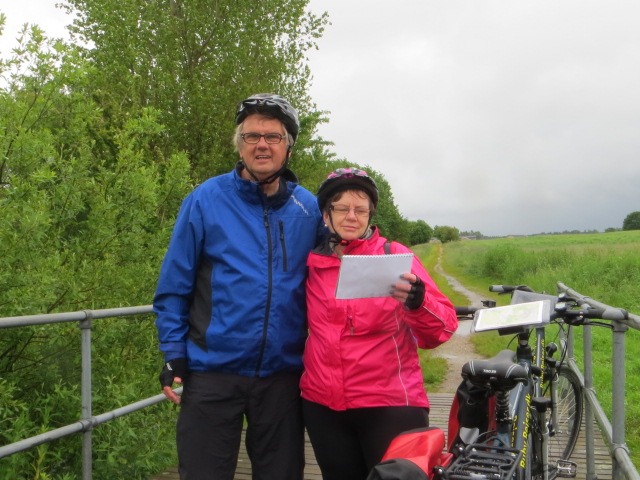 It may have taken David and Sue Tyson over a year to finally get away on their much anticipated cycling trip with Skedaddle, but we think that the wait was worth it! Find out more about their leisure holiday in Denmark below:
Last year Sue and I had booked with Saddle Skedaddle a self- guided cycling holiday in Denmark. Unfortunately 2 days before we were due to fly from Manchester to Copenhagen I broke my ankle fell walking in the Lake District and we had to cancel and after a short deliberation decided to re-book the holiday for the same week in 2015.
In our early 60's, Sue and I are best described as leisure cyclists so we chose Denmark and the best of North Zealand holiday with flat easy cycling in mind, and probably didn't pay that much attention to details like 50 km in one day or forest trails and countryside tracks, consequently our arrival in Copenhagen on the Sunday evening was met with the realisation that what lay ahead could well be a bit of a challenge. After booking in to the Scandic Hotel we had a quick tour of the neighbourhood, found some food at a nearby restaurant and had an early night.
At 9-30 the following morning we were met by the representative of Ruby Rejser who showed us our bikes, and we got also got the chance to meet other fellow cyclists who were truly international, from Australia, Canada and USA amongst other nationalities. Off we went to the start point Kongens Nytorv in the harbour area of Copenhagen. We set the tripmeter to zero as requested, and began our journey along the harbour, passing the Kastellet and the little Mermaid. These were our first photo opportunities, once we'd avoided the coachloads of tourists being dropped nr the little Mermaid. We began to feel superior with our two wheeled transport and  energised as we left Copenhagen . We then headed to the coast along Strandpromenaden and saw a few people using the swimming facilities. The next town was Hellerup which had lots of designer and quirky shops, some very nice architecture and a few expensive houses overlooking the sea.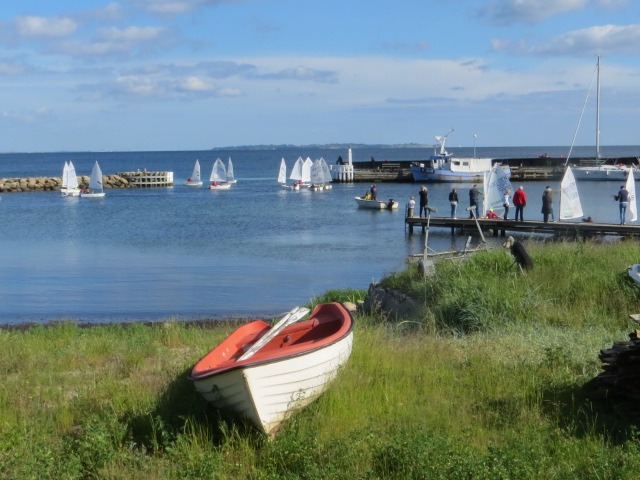 On leaving Hellerup we also left the coast and entered via a red gate Dyrehavsbakken which was beautiful forested park containing a very' old school 'amusement park complete with rattling rollercoaster, rides and horse drawn carriages. We travelled along bridleways, saw some deer, before at the end of the park reaching Eremitage Castle which comprises a beautiful ornate building only used by the Danish royal family during the hunting season.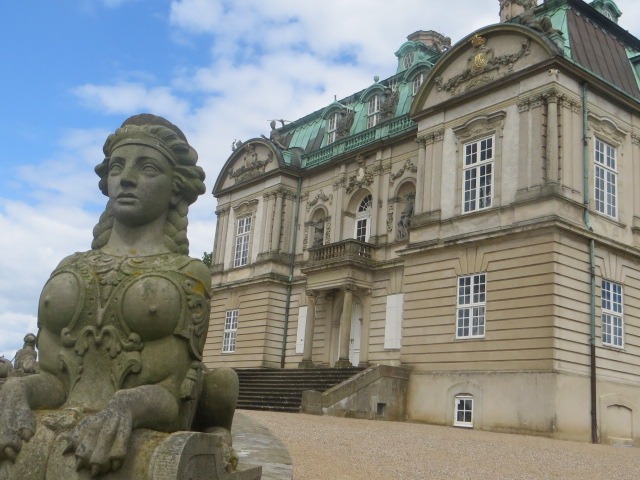 On leaving the park we passed through a former mill village before following the cycle path for about 4 km to Vedbaeck and our first hotel in the Marina. Here we also found the Nautilus restaurant, excellent food at reasonable prices.  Our first day had taken us through many different landscapes, both urban and rural.
Our next day was a fairly comfortable 22km along the coast from Vedbaeck to Snekkersten. There were small marinas at Rungsted, Niva and Snekkersten. The coast , even though it was a largely overcast day, had an unspoilt beauty, with wild poppies growing in the verges, seabirds along the shoreline and large cruise ships and vessels passing along the Oresund. Snettersten was a picturesque village with many cottages and old houses.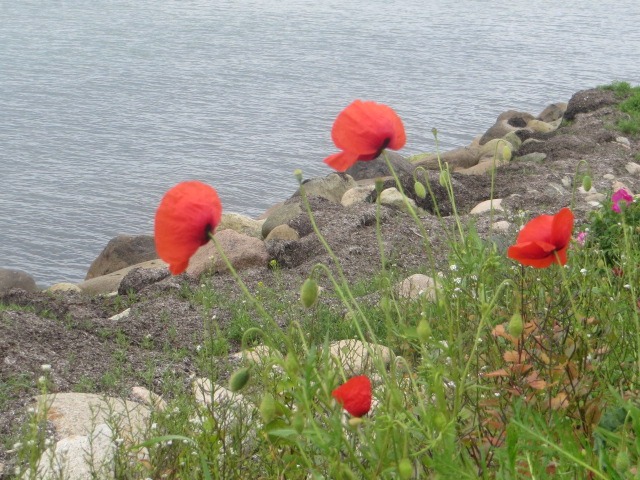 The highlight of the day though was a visit to Louisiana Museum of Modern Art at Humbelbaeck, with its lovely surroundings and current exhibitions by leading modern artists. After spending several hours viewing the exhibitions we then passed through Tibberup where we saw one of the few remaining windmills in Denmark. It was nice to see it being used as a house and being maintained in good condition.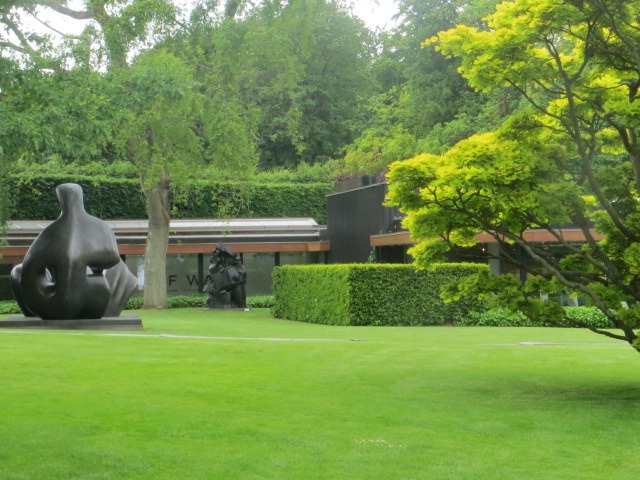 We had options for our next day,  involving either cycling to Helsingor a little further along the coast or taking the ferry to Sweden, and spending the day cycling here, which those who did so thoroughly enjoyed. Sue and I decided to visit Helsingor and began at the Culture Yard, a harbourside development comprising a Maritime Musuem, art spaces, coffee shops etc. Helsingor is also the home of Kongberg Castle, supposedly the inspiration for William Shakespeare's Hamlet. We visited the Maritime Museum which was very modern and informative.
The next day saw our longest journey of the week in torrential rain until we reached the seaside town of Hornbaek. Rain showers, very heavy at times, continued on and off for the rest of the day which made this leg of the trip more challenging than the others. As we left Hornbaek Sue had a flat tyre but very fortunately, the Canadians in our group were passing and were able to help us change the tyre very speedily, especially as this was in the middle of another shower and close to quite a busy road. We then followed minor roads and tracks to Esrun where we joined, after a bit of debate as to direction and signs, a new forest trail through Gribshov Forest and along a large lake shoreline until we came into Hillerod.
Our final day's cycling was met with another wet start. We made a short trip to see Fredericksborg Slot, a beautiful castle set in its own grounds and lake in Hillerod, then we followed Cycle route 31 through countryside fields and tracks until we reached Farum, having reached our cycling destination for the day we caught the S train through the suburbs of Copenhagen, returning to the Scandic hotel for a couple of days sightseeing and culture.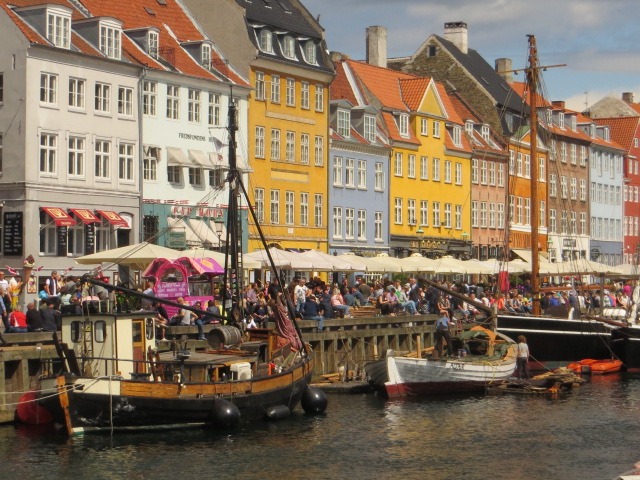 In summary a trip of great variety and enjoyment, suitable for cyclists looking for a relatively easy ride, but with some challenges thrown in for good measure!
Thanks to David for taking the time to write this article about his time away in Denmark. David has been entered into our Customer Competition and will be in with a chance of winning £250.