One of the most stressful parts of going on a family cycling holiday with the kids is the packing! What to take? How much to take? Is it too heavy? Have we got it all?… So, to help you out, we have pulled together our top 7 family cycling must-packs, as well as a few top picks from our team!
For more Family Cycling advice and inspiration click here!
Our Top 7 Essentials:
1. Bike Accessories – Helmets are a must. Get your child used to wearing theirs before you go, if they aren't already. These are essential for a Skedaddle trip, so be sure not to forget yours too! Why not treat your child to a fun helmet for your holiday! Also, if you're taking your own bikes, help to encourage your child with a fun bell, bike sticker or any other accessory that takes your fancy! Check out the range of accessories available at Bike Belle here.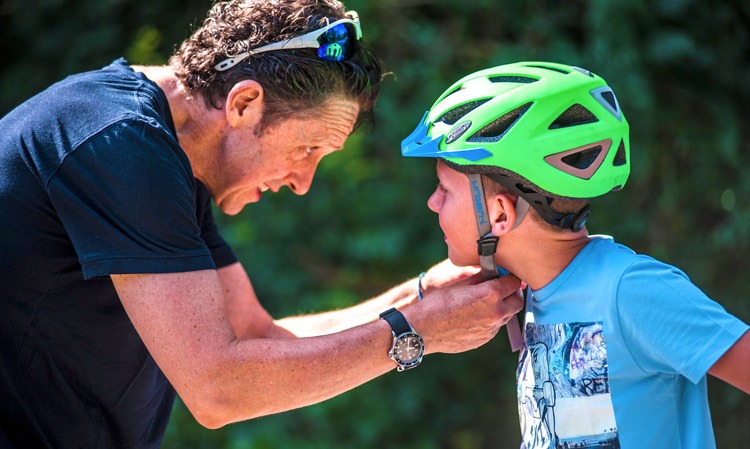 2. Sun protection – Sunscreen – we know the kids hate it, but it's a holiday must-pack. Depending on where you are going, you may need a higher SPF so be sure to check your trip notes to find out more about the climate before you go shopping. Also don't forget your trusty hats to fend off the rays!
3. Travel Entertainment – Whether it be a simple pack of cards, or something more elaborate, be sure to have a supply of small things to surprise and entertain them with for the airport/flight. Our favourite ideas include a new colouring book, a little car, or our particular favourite – something related to where you are going…. Also, if your child is a bookworm, why not try Flying Fergus – a series of books written by Olympic Cyclist Chris Hoy, about a boy and his bike!
4. What to wear – With plenty of opportunities for a dip to cool down off the bike on our Lakes, Coasts and Islands holidays, swimming trunks are a must – oh and don't forget the swimming goggles! Splash out (pun intended!) on a pair that don't leak. As well as preparing for the sun, the weather is unpredictable and you should be prepared for everything by packing waterproofs suitable for the rain, as well as your t-shirts and shorts. And don't forget your ultra useful Skedaddle Buff…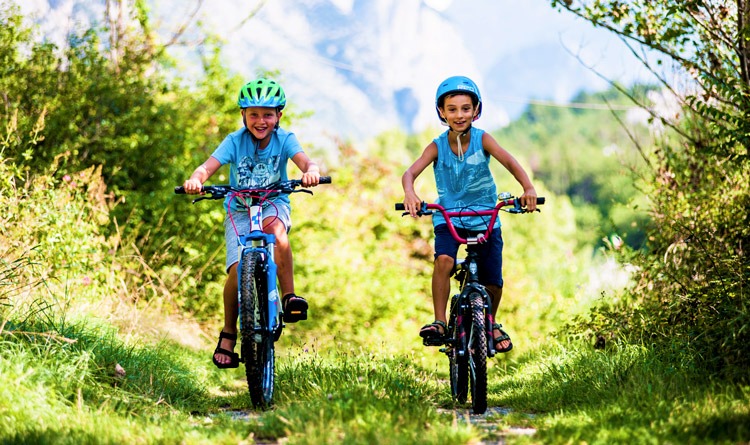 5. Snacks – Packing snacks is always a good idea, but even more so when you've got a little one! Hopefully a holiday is a chance to try out new snack options; Juicy watermelon from a market in Italy, or a fresh-out-the-oven baguette with local cheese in France. Also, of course holidays are the time for sweet treats – for example we know the kids will love choosing their favourite sweets at the Haribo Factory, before setting off on our Blue Danube – Linz to Vienna trip.
6. Local Language – If you're travelling to a foreign country, take a language book or download an app such as Duolingo to help get your kids fully immersed in the culture. Learning basic phrases such as 'Hello', 'Please' and 'Thank You' can add to the adventure, and also makes ordering the ice cream easier!
7. Keep the Memories – Try giving your child a travel journal, or a little camera to capture the excitement with. Keeping track of their adventures with photos, letters, postcards, or whatever your child's imagination can come up with, can not only be something to cherish but also something which could make your family the winners of our Customer Competition!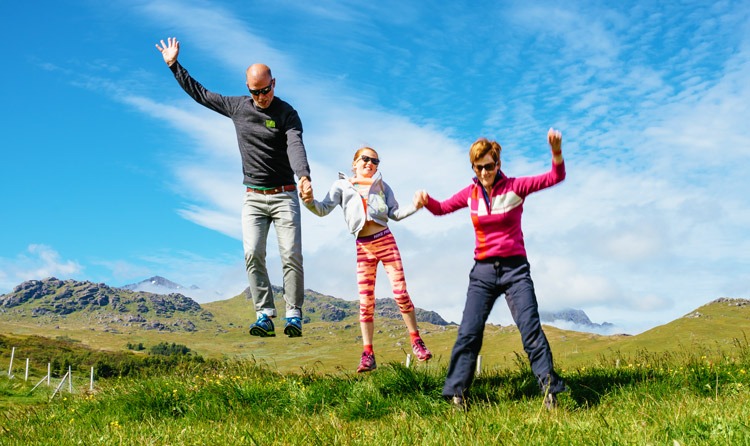 Our Team's Top Picks…
'One of my top things to take is a bike computer! From around £10-20, it's so fun for the kids to see how many miles they have done, and feel proud of how far they're gone!' Adam Walker (Head of Customer Experience)
'If you've got more than one child in tag-alongs, why not get some walkie talkies to keep them chatting and add to the fun… not to mention the fun that could be had with a game of 'I spy' along the way!' Kerry Ashberry (Road Cycling Travel Consultant)
'If your little one is really enjoying cycling, why not try some proper cycling kit… There are a few companies offering good quality shorts, tops and gloves for little people, for example Polaris, ShredXS and Decathlon.' Matt Cain (MTB and Cycling Adventures Product Manager)