Welcome to Seville! Labelled as one of Spain's most flamboyant cities, Seville is renowned for its glorious architecture, lively culture and its inspiring flavours. Voted Lonely Planets' number one city to visit in 2018, it's definitely a timeless city worth being on your bucket list.
In a nutshell…
Known as the Roman 'Hispalis' by Julius Caesar and then the Arabic 'Isbilya' in the early 700's, Seville is a city with an incredibly rich history. Attracting many visitors every year, Seville is able to entice a range of people, including cyclists, and it's easy to see why… With kilometers of cycle paths, as well as an accessible public bicycle rental service, this bike-friendly city is perfect for pedallin' through or staying a little bit longer to explore the vast amounts of history and to soak in the atmospheric feel surrounding the streets.
Sights not to miss…
The Catedral de Sevilla (a UNESCO World Heritage Site since 1987) is an astonishing piece of architecture, said to hold Christopher Columbus' tomb. This hugely impressive historical monument is the focal point of the city, and the world's largest gothic Cathedral, so certainly something not to be missed.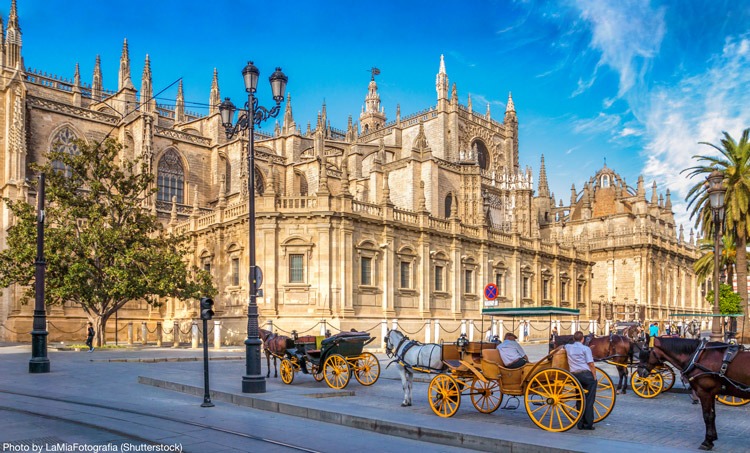 Another UNESCO World Heritage Site is the Archivo de Indias, rumored to be home to an astounding 80 million valuable pages outlining the history of the Spanish Empire in the Americas and the Philippines. A number of the extremely fascinating letters and hand-drawn maps are available for visitors to examine and we highly recommend visiting when in Seville.
One of the most recognisable places in Seville is the impressive and magnificent Plaza de España located in María Luisa Park. It was built for the Ibero-American Exhibition of 1929, and is a symbolic monument of peace between Spain and its former American colonies. A half-moon-shaped building that symbolises the embrace, is also fronted by a canal which you can travel by boat. Four bridges represent the ancient kingdoms of Spain, while a series of tiled alcoves with benches by the walls of the Plaza represent all 48 Spanish provinces. One not to miss!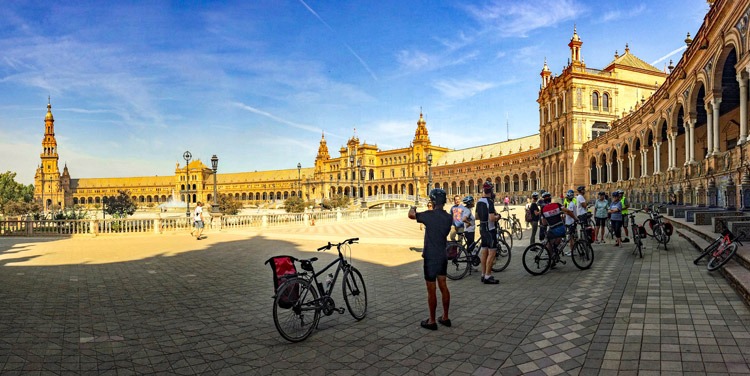 Within a short walking distance of the Catedral de Sevilla is the beautiful Alcázar of Seville. Originally built for the Christian king Peter of Castile, the Alcázar is recognized as the oldest royal palace in Europe still currently in use – whereby the Spanish royal family class it as their official residence when in Seville. Whether you are interested in the amazing Mudejar architectural style or you're simply a Games of Thrones fan who wants to experience The Water Gardens of Dorne through your own eyes, visiting The Alcázar should definitely be on your to do list.
One of Seville's most new and unusual attractions is known as Las Setas, or 'the Mushrooms'. The official name of the building is Metropol Parasol and it is one of the largest wooden constructions in the world. Building's unusual shape is definitely worth your attention and it also affords fantastic views of Seville from a panoramic route at the top.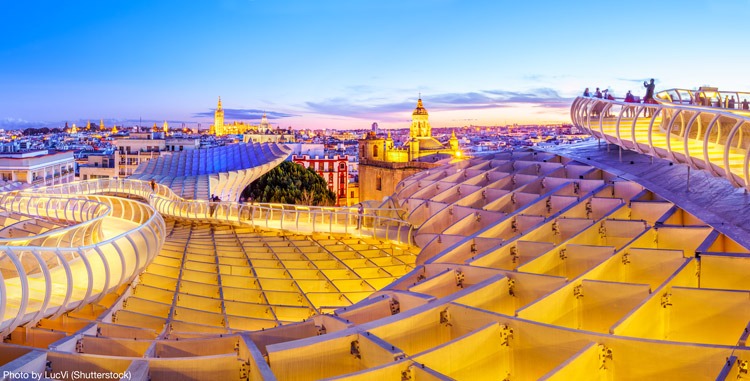 Flavors of Seville
You certainly won't be short of a place to eat and drink when out and about in the self-proclaimed 'World Capital of Tapas'. Home to over 3000 tapas bars, the city has a wide range of spots to indulge in, from traditional to contemporary places. El Rinconcillo, the oldest tapas bar in Seville, opened in 1670 and is a fantastic place to experience the incredible range of tapas dishes that are on offer. We do suggest trying to book as soon as possible, with the iconic tapas bar being a highly popular venue for locals and visitors.
Dishes to try:
– Salmorejo – Originating from nearby Cordoba, you can find Salmorejo in tapas bars across the city. The chilled tomato soup, often topped with cubes of boiled eggs, is perfect on a hot day after a ride!
– Churros – For those with more of a sweet tooth, churros are a must when in Seville. Surprisingly, the delicious snack is usually served for breakfast or as an afternoon treat, commonly accompanied with sugar or chocolate to dip into – yum!
Our team says…
'I recommend going to watch a Flamenco show at Museo del Baile Flamenco: it's not just a traditional museum, it's an all-in-one experience! You will learn about flamenco dance, song, and guitar, as well as the history of the art.! This is a great place to not only see flamenco in Seville but also to get a sense of the history and culture.' – Sabine, Spanish Operations Guru and Regular Guide
Feeling inspired?
A great place for pedallin' through, Seville is the final destination of our Granada to Seville leisure cycling holiday. We're always happy to help you extend your stay in Seville after the trip to enjoy everything mentioned above and much more! Cycle between Andalucia's three greatest cities, Granada, Cordoba and Seville either at your own pace, or as part of a guided group along with fellow cyclists on one of our many leisure cycling holidays.