It's no surprise that the Yorkshire area has so many visitors returning to the region year upon year, being home to some of the UK's most glorious scenery, outstanding historic country houses, chatty locals and unlimited cycling extravaganza. Oh, and they always make a cracking cuppa…
We've compiled a list of 5 reasons why you should explore Yorkshire on two wheels…
1. The Yorkshire Dales 
Considered as an Area of Outstanding National Beauty and a National Park, the Yorkshire Dales is undoubtedly one of the most gorgeous landscapes within the country, stretching across miles of picturesque woodlands, rolling hills and numerous stone-built villages. The area has a range of various terrains for pedallin', with gentle routes within the Yorkshire valleys for those looking for a more leisurely ride, along with a vast network of country lanes and notorious challenging hills perfect for keen road cyclists. So, what better way to explore the stunning Dales than by bike?
2. The famous Tour De Yorkshire!
The annual Tour De Yorkshire showcases the remarkable county of Yorkshire and its stunning scenery and rich heritage to millions, with a record-breaking 28 million people tuning in to the 2019 race, ultimately leading to an upsurge in the sport. With established and incredibly well travelled professional cyclists giving the area high praise by claiming that both the scenery and the people throughout the route were "simply incredible", it's an area that both the pros and us at Skedaddle would highly recommend… As Yorkshire continues to develop as a world-class cycling destination, why not test yourself and cycle some of the famous routes ridden by some of the top names in the sport?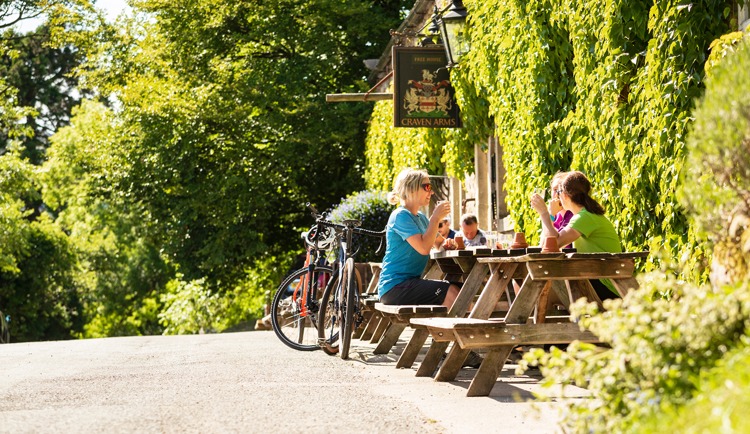 3. Food…
Following a recent and rapid surge in popularity, the food scene in Yorkshire is well and truly brimming with bursting flavours. One of our favourites has to be Yorkshire pudding – arguably the most renowned of all the food Yorkshire has to offer. There's just nothing better than a Sunday roast with a Yorkshire pudding (or two!). For those with a taste for impressive and top quality dishes, check out The Yorke Arms in Nidderdale, a pub with a prestigious Michelin star behind its name. After all, the county has a wealth of high-end pubs and restaurants, with more Michelin-starred restaurants than any other region outside of London! Alternatively, for those just looking for a slab of cake (Parkin cake is a must, trust us!) and a cup of tea after a day's ride, there's an abundance of tea rooms scattered across the region which are certainly worth checking out. 
4. And booze!
Being one of the UK's most notorious beer producers for centuries, you certainly won't struggle to find a locally brewed pint in and around Yorkshire. From pale ales to a plethora of new and flavoursome beers, there's something for everyone. For those wanting to try something different, we recommend North Brewing's Piñata, a dry and easy drinking beer with a soft and tropical aroma. No matter where you are, you will want to celebrate the end of the day's ride with a drink and with a raft of tasteful and traditional pubs, Yorkshire is certainly the place to be for a celebratory pint or two!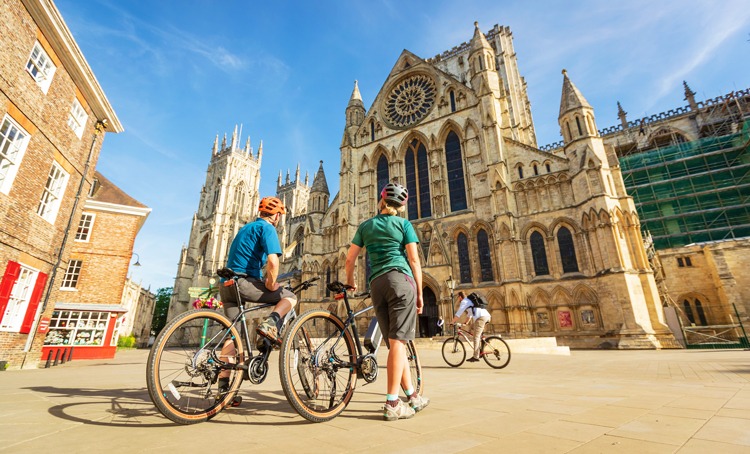 5. York Minster
The entire region of Yorkshire is rich in impressive heritage, with several treasures worth experiencing being scattered around the area. Most strikingly is the astounding York Minster – the present gothic-style church which took over 250 years to build. The remarkable historical monument is the focal point of York and is Northern Europe's largest medieval cathedral. For an amazing perspective of the beautiful city, we recommend climbing the 275 steps (trust us, it's worth it!) to the very top of the Minster. As one of England's most popular landmarks, attracting over 2 million visitors from all over the globe each year, it certainly warrants a visit when cycling the region. And with our Way of the Roses holiday finishing in York itself, a visit to the Minster is the perfect way to celebrate.
Feeling inspired? Take a look at our range of cycling trips in Yorkshire to find out the best ways to explore this amazing cycling destination on two wheels
.