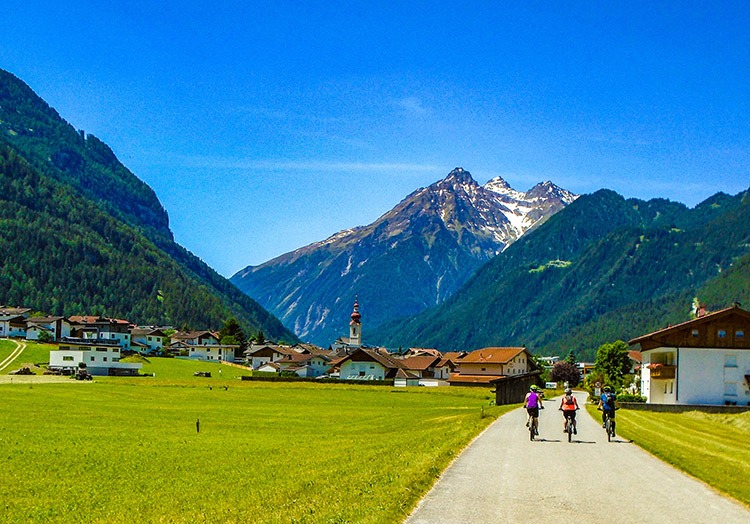 Having recently returned from yet another Skeddadle holiday, repeat offender and Customer Competition winner, David Cartmell, shares his experience cycling in Italy and Austria on our La Via Claudia leisure holiday. Read on to learn more about his trip jam packed with stunning scenery, rewarding climbs and classic Skedaddle ingredients…
'As a veteran of seven UK trips with Saddle Skedaddle I felt it was time to widen my cycling experience, with the hope of more reliable weather. Any concerns I had about joining the trip disappeared as our guide spotted me exiting customs at the airport.
This trip was graded 3/4 , and although I managed a 4 trip last year, my fitness was not quite as it was. But one thing you can always be sure of with Skedaddle is no-one gets left behind or is made to feel under any pressure to do anything they cannot do or go faster than they are comfortable with.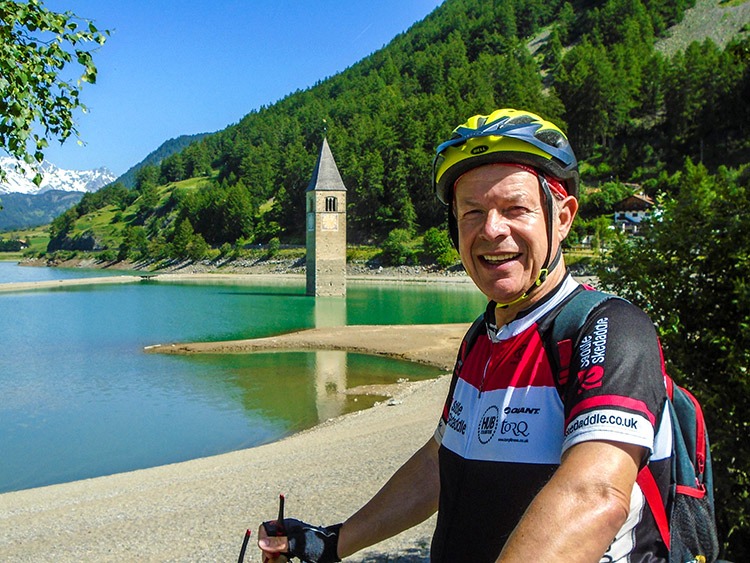 The airport transfer was a couple of hours, but as we progressed we got a taste of the scenery to come. Then was our first fantastic surprise, our hotel for the first night a beautiful Tyrolean chalet style building, with an amazing view across the meadows to snow capped peaks. Okay this was probably the most scenic, but the hotels used throughout the week always had something special; quality I have come to expect from Skedaddle.
Our first day was everything I had hoped for, and lived up to my expectations from the photos in the trip notes. The weather was definitely all I had hoped for. Nothing too difficult about our climb for the day, but high enough to give great views. One thing I did notice apart from the scenery was a variety of interesting and pleasant scents from pine forest, fresh mown grass to herbs and flowers.
The next day continued the beautiful scenery, with regular pretty Tyrolean villages and our first border crossing in and out of Switzerland, another tasty lunch, and then our first challenging offroad climb. After a few team photos at the top it was a fun downhill , nothing too testing, before a short section back on the road to our overnight accommodation. The most delightful host ensured our every need was catered for not least our immediate need for a cold beer.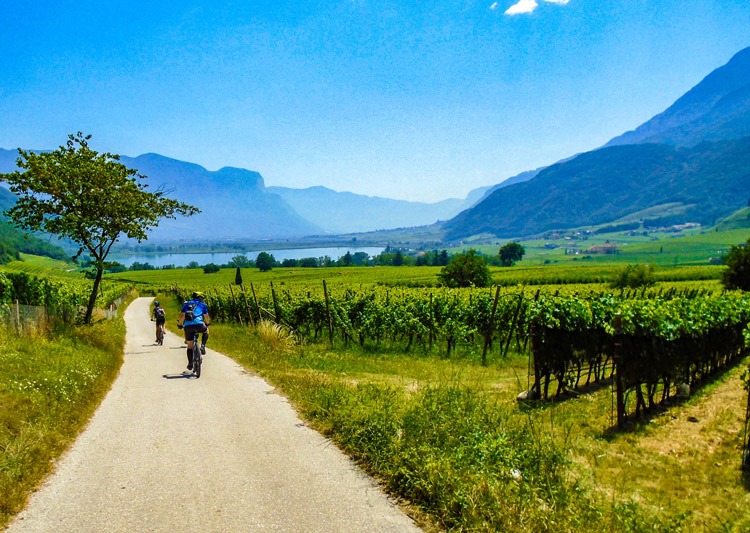 Although the next day's ride was our longest, it was the easiest, with one particular 10k stretch like a downhill rollercoaster. The day was filled with interesting sights, from the church in the lake, the German WW1 bunker, the medieval town to the angry river we followed, filled with meltwater from the snows way above and from thunderstorms the previous week. At this stage the temperature was reaching 40c, so a swimming pool in our next hotel was taken full advantage of.
The shortest ride saw us follow the river with high cliffs around us, it may have been flat but certainly not lacking interest as we saw the fields change to vines. The short ride allowed us to have our lunch in a café in the square in Trento. The early finish afforded us opportunity to explore the town where there is a fabulous castle, and many interesting historic buildings.
Our final day cycling started with a choice – cycle 8km up a climb of 400m, or take the cable car. I must say having previously been up in the cable car I was tempted by the views, however with the prospect of just another 100m of climbing after the cable car a couple of us opted to ride. After refuelling at the top we dropped down to a very lush valley where the ride continued to undulate. We eventually arrived at our goal, Lake Garda where the bubbly was opened. Our final evening was spent in a village nearby where we enjoyed another splendid meal together al fresco.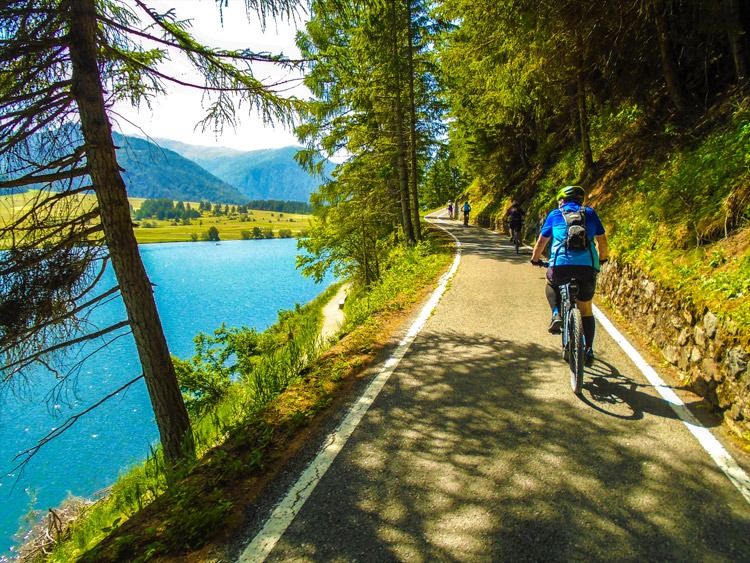 The trip finished with an early morning transfer to Verona, where a few of us had chosen to stay a little longer to enjoy this delightful city prior to our return flight.'
Read more Customer Stories here!
After the trip, we caught up with Dave to find out a little bit more about our Competition winner and a true Skedaddler…
1. What do you love about cycling?
My holidays used to be package tours where I would go on organised coach excursions to see more of the area I was staying. Since I started cycling I have found a new dimension to holidays – I can explore the area reaching places that are too far to walk to or inaccessible by motor vehicle, I can stop and take photos where I want, I don't have to wait for 50 other people to get off and on a bus, and I can stop where I want to eat without being tied to chicken casserole and chips with cheap local wine.
2. What's your favourite cycling memory?
Finishing the Isle of Man End to End Mountainbike challenge (around 50 miles and 6000ft of climbing) for the first time in under 6 hours, only to finish the same event the following year in just 4hrs 46 mins.
3. What do you like most about Skedaddle?
Where do I start? The booking process, the hotels, the guides, the lunches, the places they go, the people I meet, the pit stops, the Skedaddle community, reliability, I can put my trust in them to provide a great and memorable experience.
4. Where to next?
Well, if I were lucky enough to win the annual competition then Chile and Argentina. Otherwise, having now experienced the weather on a European destination, I will probably do somewhere in Europe – maybe the Azores.
Feeling Inspired? Find out more about our La Via Claudia holiday here.