Our very own road cyclist guru Kerry and her husband James Ashberry both travelled to the Pyrenees in April to sharpen up their cycling skills on our Pyrenees fitness week! This is a fantastic trip for any keen road cyclist and it seems even ditching the hot sunshine of Majorca (the couple's usual road destination of choice) was worth it! Here's James' fantastic insight into their time away: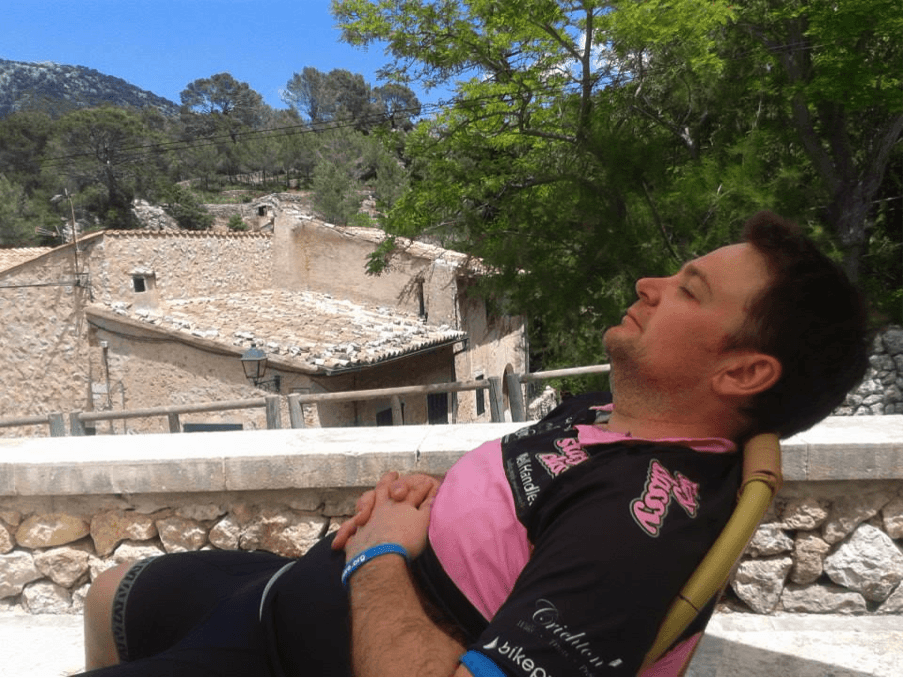 James: this is far too relaxing…what I need to do is head to the Pyrenees for a week of thrashing about in the mountains…yeah right! 
You can't mention professional cycling without talking about Le Tour de France. Similarly, you can't talk about Le Grande Boucle without mentioning the Pyrenees. Every year, the greatest sporting event in the world winds it's way over some of the most iconic climbs in the world, creating heroes, villains and legends as the hard men of the sport fight it out on tarmac snakes draped over the beautiful French mountain passes. So, when my wife suggested we skip our annual training camp in Mallorca and spend a week on a fitness week in the Pyrenees, my only reservation was where I would get my post ride San Miguel from, as we were along way from the Tolos Bar on the Pollensa sea front! Nevertheless, we booked up with Skedaddle, bought ourselves a pair of B&W International bike boxes (we'd hired Polaris pods for a previous trip and didn't get on with them) and arranged our flights.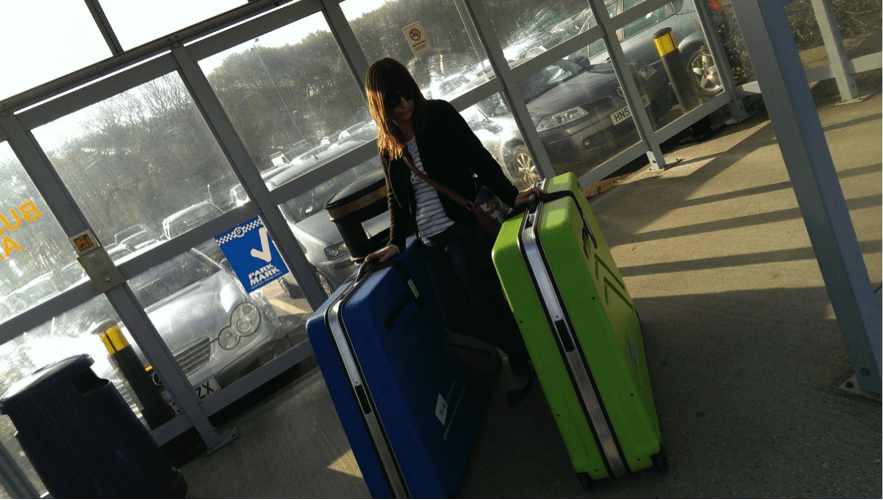 Kerry: 'hmmm,  I've overdone the shoes and handbags.  We're these boxes supposed to be for our bikes?'
Admittedly, the thought of flying from Stanstead with Ryanair filled us with dread. As seasoned travellers to the south of Spain and Balearic Islands, we had become accustomed to budget airlines, but we were painfully aware that Ryanair's reputation falls very short of Easyjet's. We had also been warned that Stansted was a difficult airport to get to, and could complicate travelling. To say we were pleasantly surprised would be an understatement. Stansted proved to be a breeze, with an easy to use long term car park, a shuttle bus capable of taking bike boxes, and a smooth baggage drop after using the online check in. The plane, an older Boeing that wasn't as comfortable or as spacious as the more modern Airbus fleet used by Easyjet, was clean and tidy, and the flight was on time and hassle free. The landing in Carcasonne was a little bumpy, as the airfield is subject to strong winds, but the airport is so small that we were through passport control and luggage collection within half an hour,  where Dave was waiting with his faithful LDV minibus to take us on to our destination.
Arriving in Chalabre, you cannot help but feel that you have travelled back in time, to an era when the world was simply a better place. For the most part, the French commune remains barely touched by the modern world, with only the passing of the odd modern Citroen or Peugeot an indication that you are still in the 21st century. The building facades appear unkempt and in some cases dilapidated, but not in a bad way. Ginkgo trees line the street, stripped back to their bare bark, punctuated by French cars originating from various decades, mostly in a state of disrepair. Chalabre is, by all accounts, fairly typical of the Aude Department in Southern France – traditional, simple and beautiful.
Our accommodation in Chalabre would be a converted shoe factory, which from the outside blended perfectly into the rustic street facades. Once inside, we were treated to an almost labyrinth like wonderland of rooms and passages full of Anglo-French curiosities and artefacts, with cues taken from the local French culture, our host's hometown of Bridlington in Yorkshire, the arts, and of course, cycle sport. Not for the first time on our trip, we were left speechless.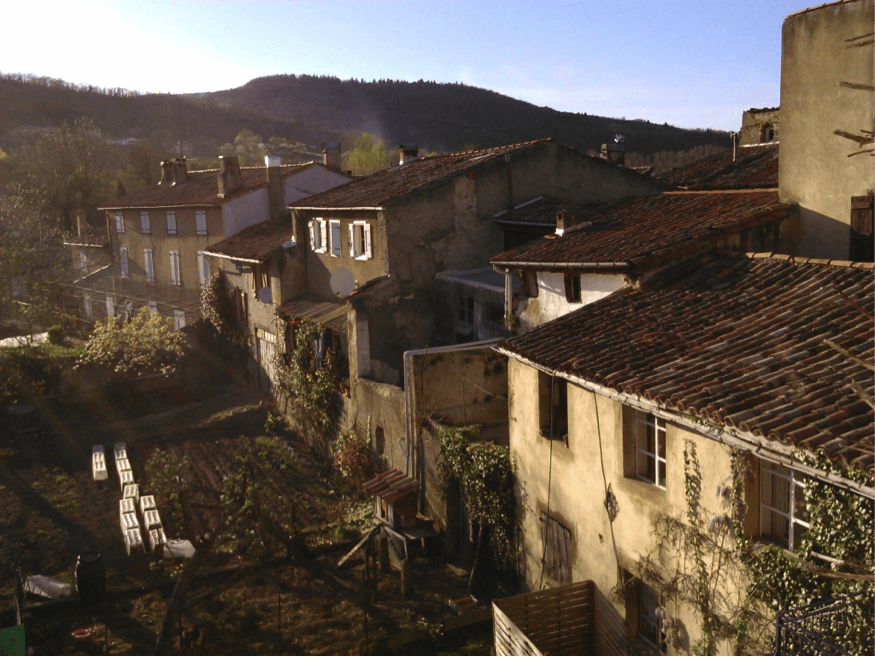 Dave and Toni showed us to our room, a quaint and comfortable bedroom overlooking their courtyard, next door's garden and beyond into the Quercorb countryside. From our window we could see Toni's hens, and the family cat Lola, as he cautiously stalked flying insects from the intersecting walls. As city folk who love to get away into the countryside, we had found the ideal getaway.
Downstairs, I began building the bikes, which had arrived safely via RyanAir in our B&W bike boxes. Dave's man cave – a vast basement home to wood and wood chopping equipment for the fires, various building tools and supplies, bike racks, and workshop tools – would be home to the bikes for the week. I chose to take the workstand into the courtyard and build the bikes in the French afternoon sun (whilst Kerry sat with a coffee on the balcony watching and barking instructions). Once built, Dave took us out for a short introductory ride – a shake down for both of us and the bikes it would turn out. We were instructed to hit a smaller local climb as hard as possible, so Dave could gauge our ability on the bike.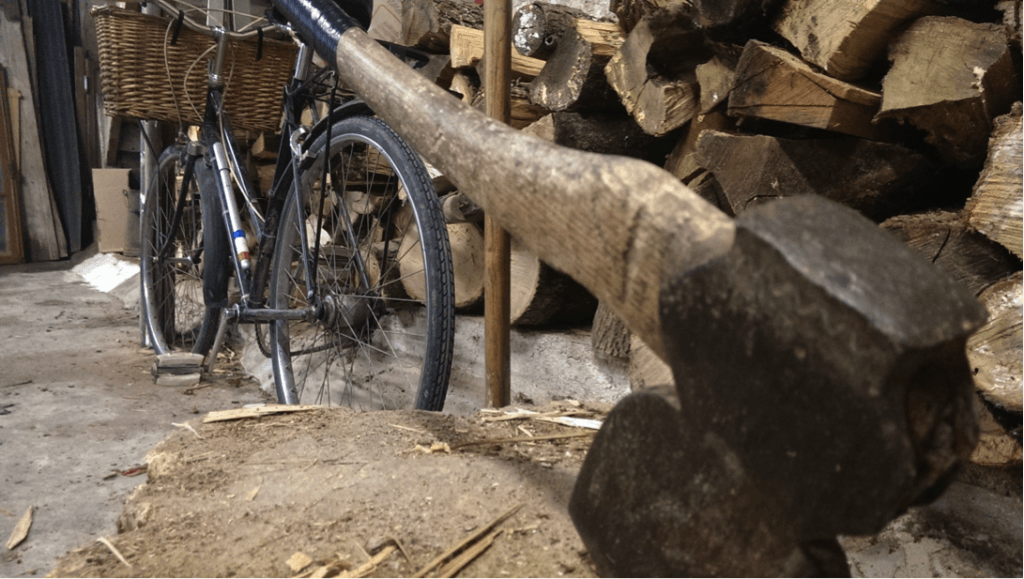 Our first foray into the French countryside complete, trained chef Toni served up a feast fit for a king (not for the last time), with locally produced red wine and freshly baked, locally sourced bread. It is a constant source of frustration to Dave that so many customers talk about Toni's cooking rather than the cycling, but with food that good it would be rude not to. The evening was rounded off nicely in front of the TV, catching up on the day's racing at the Tour of Flanders with a glass of French red. Chapeau, Spartacus."
As we put our heads on our pillows the only noise we could hear was the distant sound of an owl hooting, and indeed our alarm clock in the morning would be the sound of the hens, impatiently lining up to lay their eggs.
Over the next few days, we would be treated to some of the most beautiful countryside, challenging terrains, delicious and varied foods and more talking points than 3 or 4 sunbed holidays could provide. Whilst we were there predominantly to address weaknesses and limiters within our cycling, at no point did we feel that we weren't on holiday or training under duress. The balance was fine but perfect – a little suffering, a little sightseeing, and lot of smiles.
Each day would start with a traditional continental breakfast with a staggering choice of cereals, fruit, yoghurt and bread, accompanied by home made jam and pink pamplemousse marmalade. At the end of every day, tired, weary legs were treated to a hearty homecooked meal and lashings of local red wine all consumed to a backdrop of Dave's slightly quirky taste in music.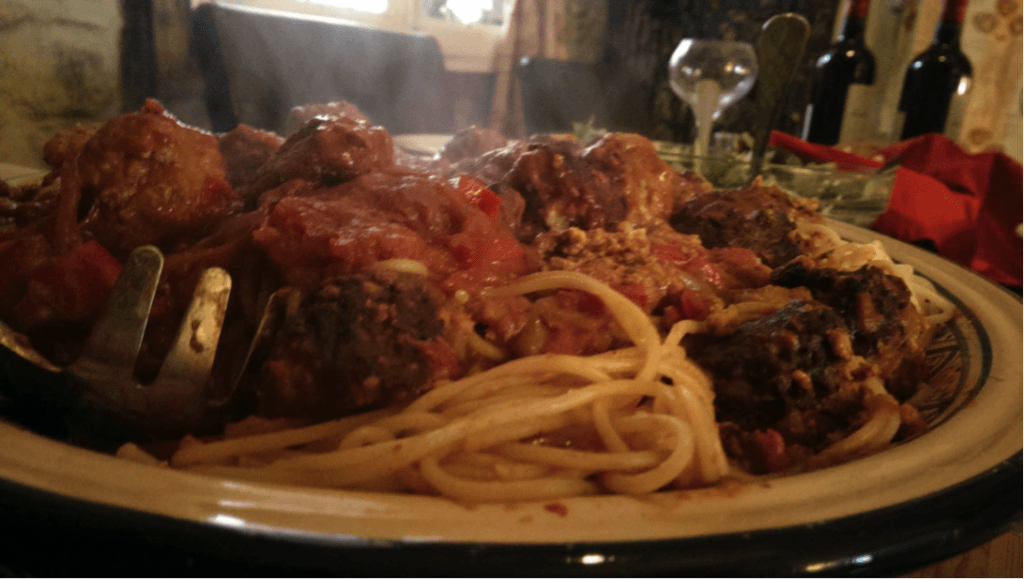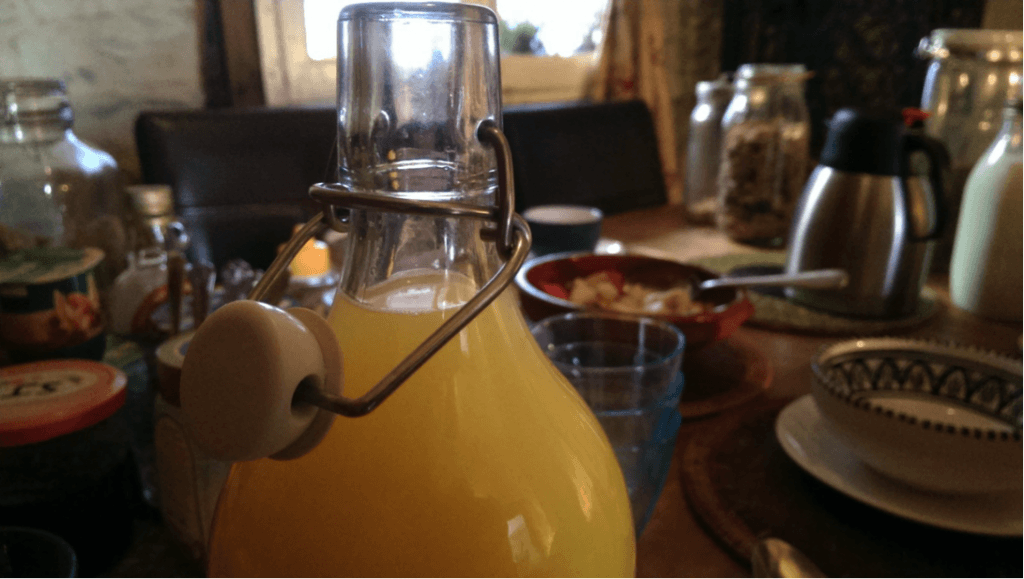 There are many famous climbs within riding distance of Chalabre, including Ax de 3 Domains, Plateau de Beille and Col de Pailheres. It is also possible to take on challenging climbs within less distance, such as Col de Monsegur and Mont D'Olme, the former having been used in Le Tour de France and the latter featured in Rapha's picture book of Pyrenean climbs. One of the highlights of our week would indeed be our ride up Mont D'Olme, a 15km passage of suffering with a snow-capped ski station summit that would serve as a severe test for both of us. Climbs aside, both the Aude department (and the neighbouring Ariege department) are peppered with beautiful communes, such as the chateau town of Foix (twinned with Ripon in Yorkshire) and stunning the bastide of Mirepoix.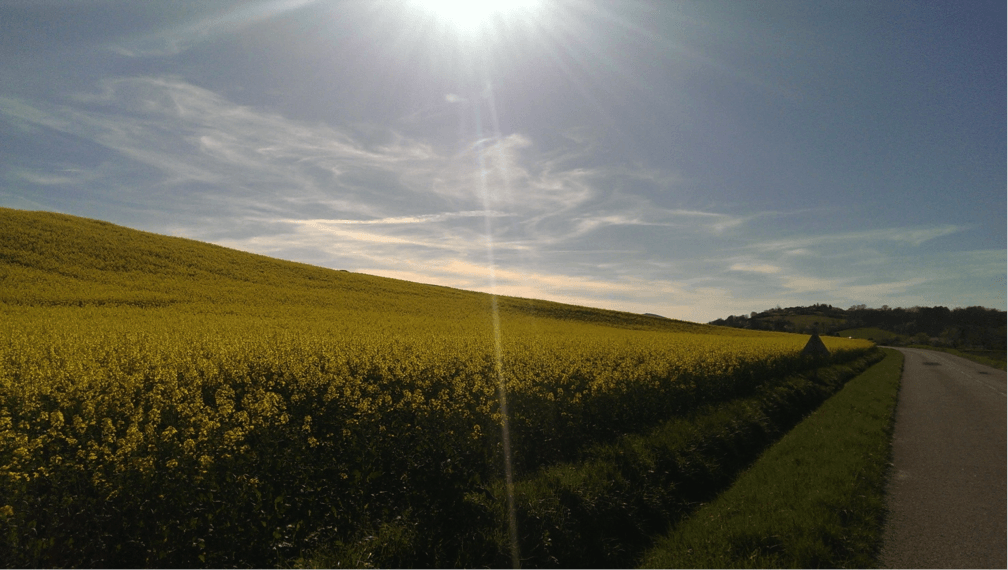 Obvious yellow field shot.
With all the beauty, cuisine and fine wine, it was sometimes easy to forget the real reason why we were in France, but Dave was always quick to remind us. Dave, with his coaching experience, worked with us on an individual basis looking at our strengths and weaknesses covering everything from bike position, pedalling technique, power delivery, climbing and descending. He also works on key skills such as riding in a group and through & off, as well as introducing a little competitiveness with a hill climb board and a downhill freewheeling board.
Any real cyclist knows a week on it's own isn't long enough to make massive differences to fitness levels or technique, but it is long enough to identify weaknesses, pinpoint limiters, and develop ways to work on them moving forward, and the fitness week is an ideal springboard from which you can either launch your training or give your season a kickstart. In addition to everything you learn on the bike, off the bike you are treated to an ensemble of home-made cuisine, locally sourced wine, French tradition, pro cycling TV highlights, stunning accommodation and most importantly, great company.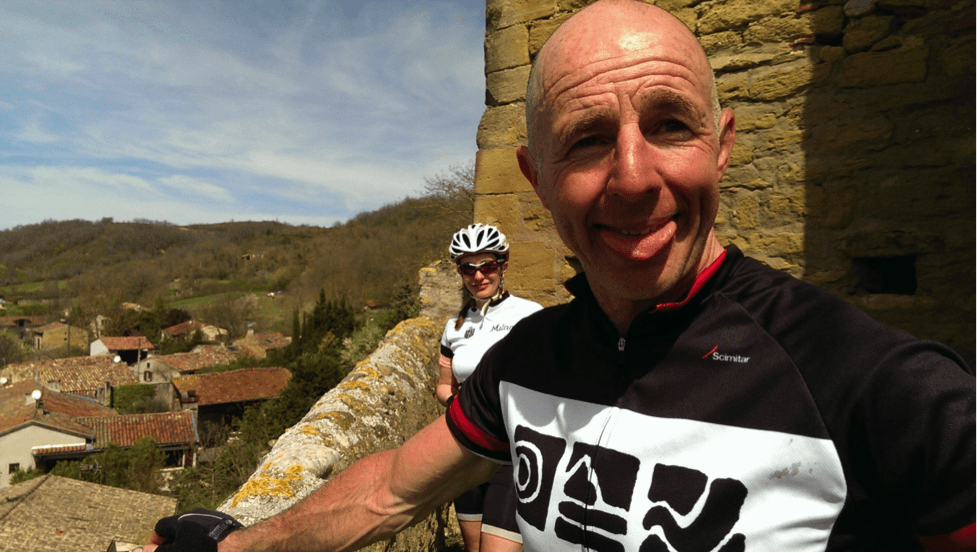 Dave our lovely guide!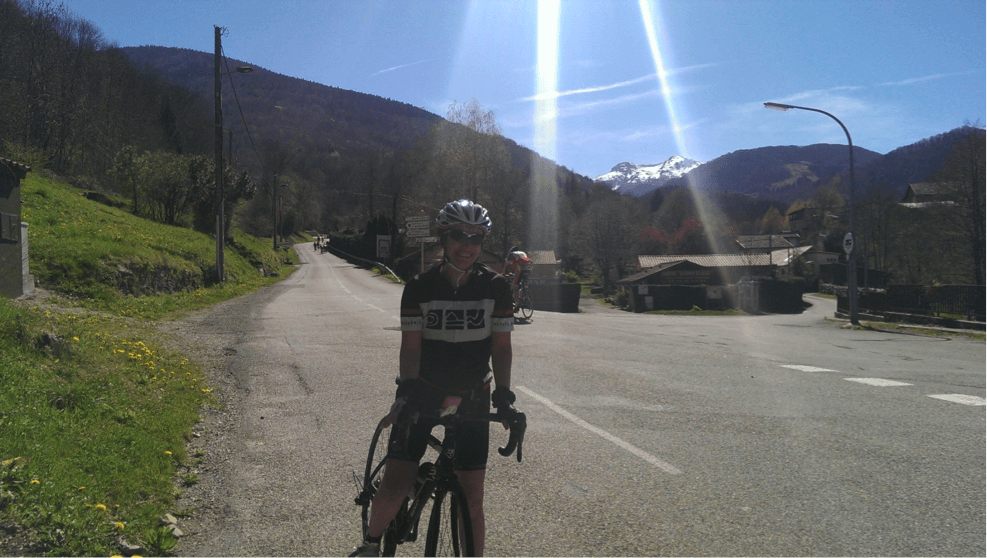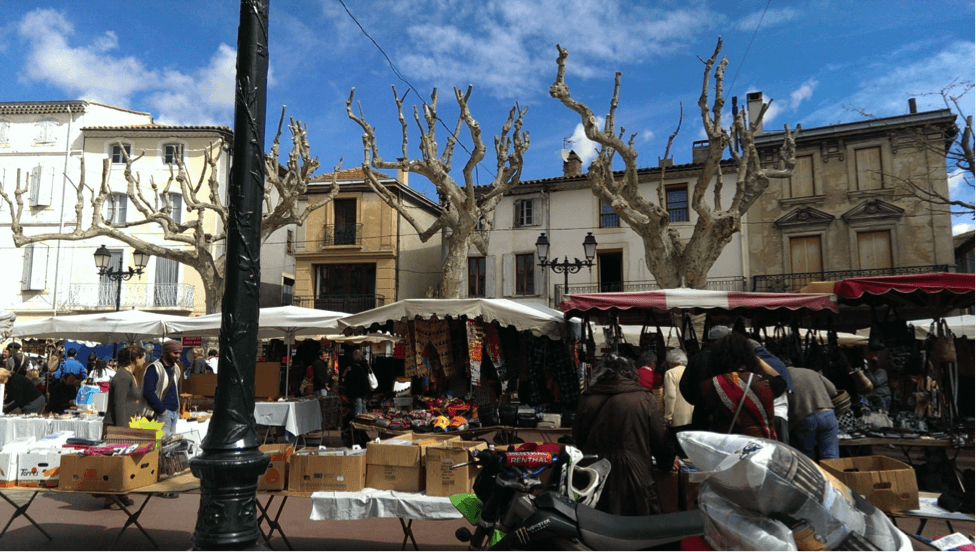 The funny trees that suck up all the pollution – apparently!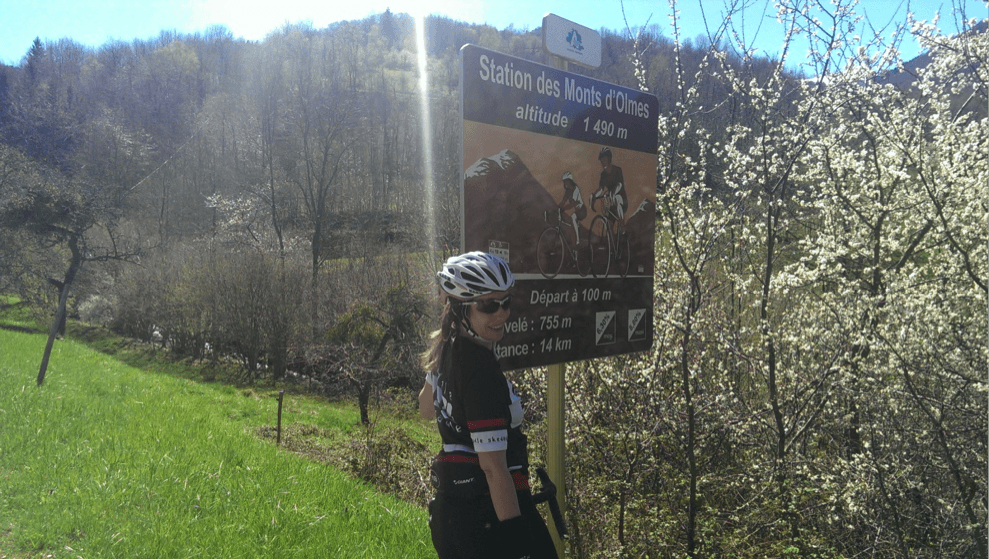 Kerry: If I stand at the bottom next to the sign, then get a lift to the top, then you take my photo at the top, it will look like I climbed it!  Ok?!
Thanks to James for this great article about his time away, sounds like Toni's cooking and the masses of red wine made up for him missing his San Miguel on the seafront! If you fancy a week away in the Pyrenees working on your road cycling skills we've got two fantastic options to suit a range of cyclists.