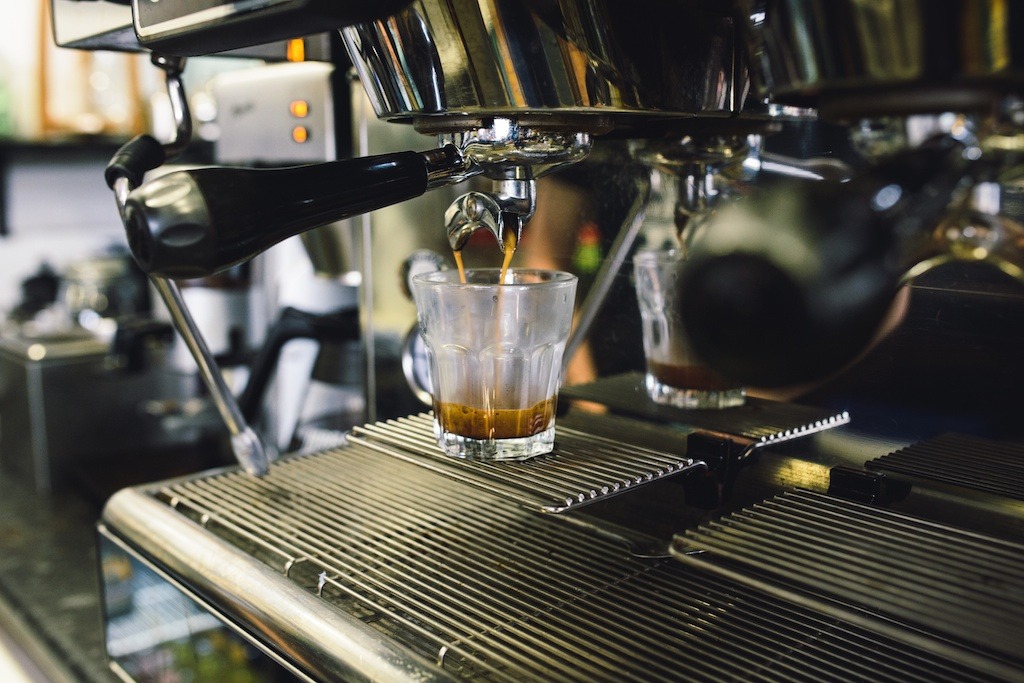 Here at Skedaddle we like our cycling with a slice of cake and a cappuccino…where possible, so in 2010 we launched The Cycle HUB, combining our two passions in life at our base in Newcastle. With this in mind, we thought we'd check out some of the excellent and expanding number of cycle café's around the UK. So, off we went, our trusty steeds and with cake testing high on the agenda…
Day 1:
Nonnas, Sheffield
The first stop on our Cycling Café quest took us up the busy Eccleshall Road, where riders head out of the city and return from the Peaks past Nonnas.  Italian for Grandmother, 'Nonnas' certainly has a distinct Italian feel, you could be in a café within the old walls of Lucca in Tuscany. Once inside you expect Italians with jet black hair and sunglasses to walk through the door. I didn't hear many Italians, more thick Yorkshire accents enquiring about the classic range of Brook Saddles and perusing the classily comfortable looking, retro style, wool jerseys. Interestingly, there is also a French twist provided by the Café de Cyclist stock. I chatted to manager Greg about plans for the 2015 L'Eroica. Organised by Nonna's, this is a British version of the Italian L'Eroica ridden on the white gravel roads of Tuscany on traditional vintage bikes. Starting and finishing in nearby Bakewell it sounds like it will be superb, building on the success of last year's first event. Tummy rumbling at the sight of the wide menu available in the café/restaurant I pressed on towards Bakewell in search of the pudding and another bustling Café.
Hassop Station, Hassop, Bakewell (www.hassopstation.co.uk)
At the head of the Monsall Trail this lovely café in an old railway station is the perfect place to start and end your ride. The café serves a wide range of food and I couldn't resist a look at the traditional Bakewell tarts. As well as the light roomy café there is an excellent bookshop and gift store offering all kinds of treats. As I visited shortly before Christmas, the shop was in full swing and I spotted plenty of gifts that cyclists would like to find tucked under their tree on Christmas morning.
It's a family run business headed by Duncan and Becky, and I was given a super warm welcome by Lisa in the bookshop. They hosted some of the hugely popular L'Eroica Brittania events in 2014 and regularly welcome all kinds of cyclists to the cafe from family riders on the gentle trail, to mountain bikers and roadies enjoying the rolling hillside. This is definitely a café to come back to, and next time I'm riding my bike to get here!
Park Bikeworks, Derby (www.parkbikeworks.co.uk)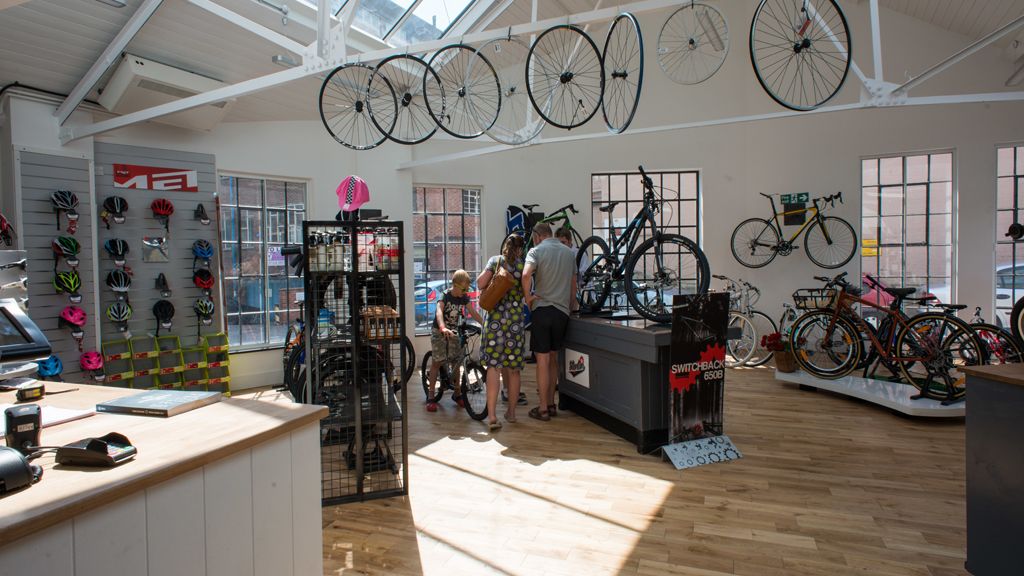 Wow! This has only been open 6 months but seems the complete venue; it even has showers for riders commuting into work.  Along with a very spacious café upstairs and super friendly workshop, they'll even fix your bike for you while you are at work! There are also lockers downstairs to store your bike kit and a shop full of kit, bikes and useful accessories. I'm envious of Derby riders having this on their doorstep!
There are now some brand new Skedaddlin's to checkout over your coffee accompanied by locally sourced food in the cafe – they pride themselves on their commitment to supporting other local business. The sun sets as I head out towards the M1 to press on southwards for another day of spreading the word of Skedaddlin.
Day 2:
Bike Beans, Ashtead (www.bikebeans.co.uk)
I start day two in the south of London, in Ashtead a few miles ride from Box Hill. Bike Beans Cycle Cafe is small but perfectly formed, and with lots of thought for the provisions cyclists need. Outdoor seating on a decking area, places to lock up your bike and a cosy cafe to enjoy a wide range of cyclist friendly pasta meals, Panini's and of course cake! Bike Beans run lots of rides from their shop, catering for cyclists of all abilities and there are also coached sessions for those wanting to improve their skills. It's a great place to pick up info on riding in the area – Gary Fisher popped in for some local route lowdowns and find new folk to head out into the Surrey Hills with. With a mocha and slice of cake to go it was back on the road.
Pilgrim Cycles – Box Hill/Westhumble (pilgrim-cycles.co.uk)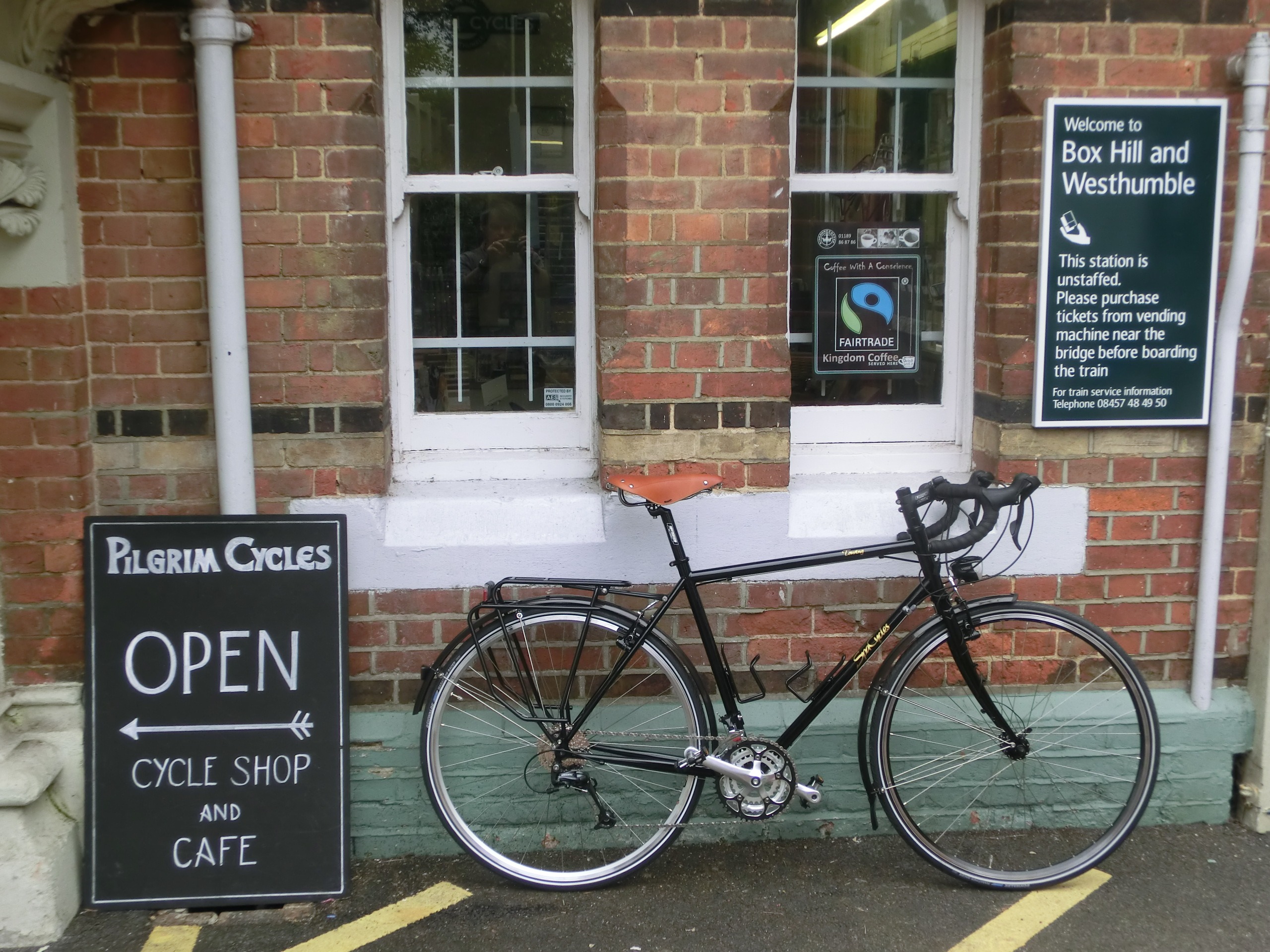 My eyes are immediately drawn to the log fire crackling away on the far wall of this cosy café in the Victorian Old Booking Hall house, located on the platform of Box Hill and Westhumble station. The warmth of the fire is matched by the welcome from co-owner David, and I am aware of the the shop having the feel of a grand old living room straight from that of a country house. Your average lounge cannot compete with Pilgrim Cycles when it comes to Dawes products though! The shop offers a wide range of classic Dawes bikes and accessories. Pilgrim Cycles is perfectly located for an escape to the Surrey Hills at the weekend, for a pre/post ride coffee or both as you can always hop on the train to avoid the urban ride out of the capital, if you are London based before tackling Box Hill. Reluctantly leaving the fireside I make the short trip east to Reigate.
Maison du Velo, Reigate  (www.maisonduvelo.co.uk)
Recently opened and already claiming a popular spot on the local cycling scene, we were welcomed by a group of riders thawing out after their Sunday morning ride. As well as cakes and spares and plenty to flick through on the top floor, venture down stairs for the bike porn where a corridor of high end bikes are displayed as in an art gallery, each steed complete with its own spotlight. There are Watt Bikes, a visiting sports masseur and organised group rides giving the Maison a sociable feel, its more than just a place for good coffee and cake…
Day 3:
The Velo House, Tunbridge Wells  (www.thevelohouse.com)
The journey to one of newest Cycle Café openings in the country was slightly more epic than hoped. The Skedaddle mobile picked up a flat on the way but it was worth the effort. As the helpful website states "The Velo house was created by cyclists for cyclists and importantly  "those who don't realise they are going to become cyclists yet." The Velo House was indeed packed with a healthy mix of cyclists and non-cyclists and we were greeted with a warm welcome by Jimmy from the upstairs shop above the cafe.
It was getting busy and I was getting hungry but I was more than slightly distracted by the tables, which, having been bespoke made, were comprised of OS maps of the local area, complete with suggested local rides and regular routes – Fantastic! The Velo house now has a good stock of Skedaddlin's to flick through but more importantly it officially had the best brownie of the entire tour! (suitably gooey, not too sickly yet intensely chocolaty!)
Velo Café, Brighton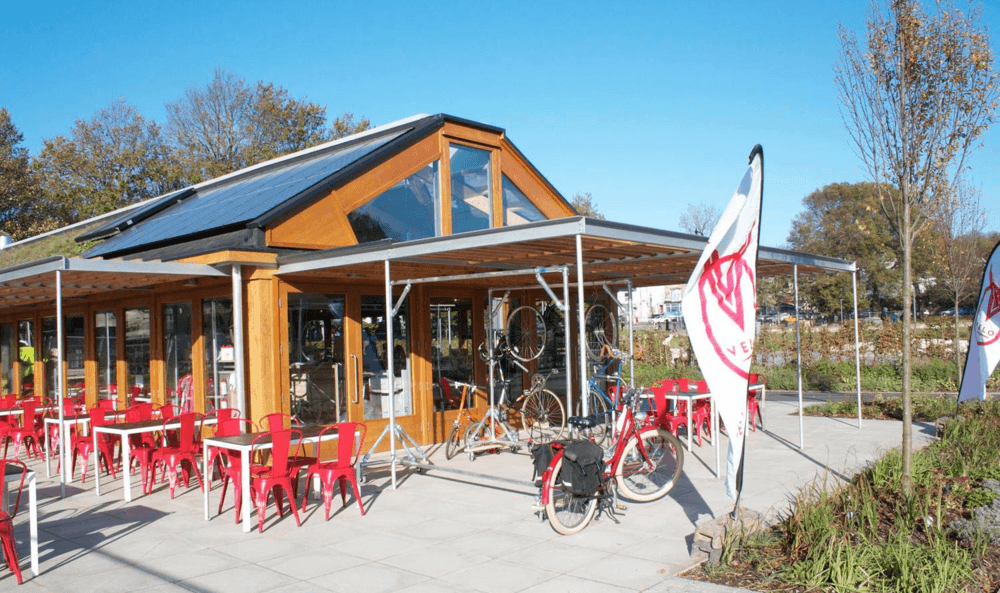 Heading south I arrived in the heart of Brighton at The Level, to visit a very environmentally minded cycle cafe, complete with solar panels and a rainwater harvesting system set in the heart of the park.
The cafe was packed with families with and without bikes and a busy counter serving cakes, coffees and lunches. There are regular Sunday road rides and free community bike maintenance classes too.
 Day 4 :
Soho Bikes, London (www.sohobikes.co.uk)
Soho bikes is the only independent bike shop in Soho, if The Velo House won the award for best chocolate brownie then Soho Bikes gets the award for best cappuccino! In addition to the cafe area there is a work shop and large shopping area with a few tasty bikes and accessories to admire but it still feels like a 'proper' bike shop and hasn't gone too far in the boutique direction. It's a lively shop with super friendly staff and occasional evening events such as MTB'er Rob Warner to keep an eye out for.
Look Mum no Hands: Old Street, London (www.lookmumnohands.com)
The original cycle café and still as popular as ever, with all kinds of cyclists popping in, from the early morning trainers, fresh from a session round Regent's Park to cycle commuters and cyclists looking for somewhere with a good vibe to meet friends or have a meeting.
From morning, post-training/pre-work breakfasts to a few beers of an evening this is a destination for cyclists from all over London.  Its friendly, has great healthy food and there is always a few interesting accessories, prints or books to look at. A big shout out to Matt from LMNH who successfully persuaded the traffic warden we were just dropping off – we owe you a Cappuccino next time!
Cadence, Crystal Palace, London (www.cadenceperformance.com)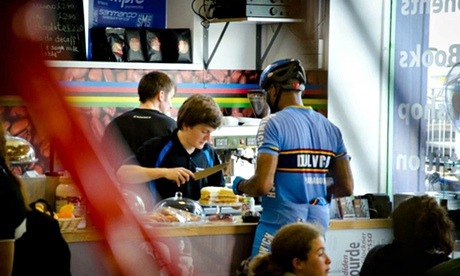 Cadence is rapidly becoming a one-stop shop for cyclists; there is a workshop, cafe, pilates and yoga studio, Wattbike studio, coaching, bike fitting and massage – pretty much everything you or your bike needs. The cafe is always busy with riders on their way to or from a ride in the lanes and there is plenty of healthy food, as well as a few naughty treats!
In an innovative move Cadence are offering membership in a similar way to a gym, for a set fee each month you can access all the different classes , benefit from as much bike-fettling as you need and receive a coaching programme to improve your riding. There are evening events nearly every week including talks by pro-riders, coaches and cycling celebrities.
So, there you have it! Time then to dust off your bikes and check them out for yourself.