Earlier this year our head honcho Paul convinced his family to accompany him for a two-wheeled holiday exploring the beautiful Tyrolean Valleys of Austria. Whilst Paul has many years experience of cycling under his wheels, this was to be his wife Julia's first experience. We caught up with the first-timer to find out how she got on:
A confession…
In the spirit of true disclosure I have to come clean. I'm married to Paul – one half of the duo who founded Saddle Skedaddle 50 centuries ago. And another confession: I can't really ride a bike. Ironic. Like being married to Mary Berry and not eating cake.
After nigh on 30 years together, I'd managed to avoid a bicycle made for two, one person or any other combination. So when a family holiday was mooted (for me, Paul and 16 year old daughter Mollie), I was slightly nervous but was assured that the Tyrolean Valleys trip is a perfect introduction to the joys of holidaying in the saddle.
Essential holiday ingredients…
This is a self-guided, centre based holiday. The base is the Garten Hotel Crystal in the beautiful Alpine village of Fugen. It was just lovely: friendly staff, amazing views and beautiful gardens to explore. There's an indoor spa/pool and gym (the latter is very small but then the great outdoors IS your work out, so who needs a treadmill?) There's also a 'green' outdoor pool which is gorgeous but a tad too cold for even the most hardened Geordie.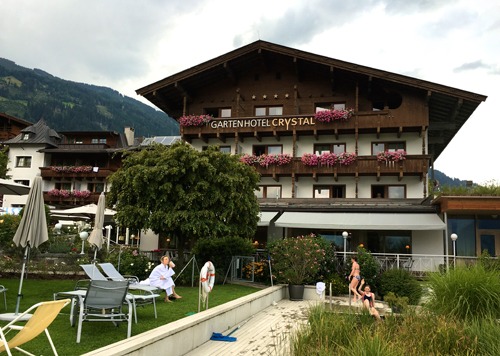 And then there's the food. I can be a bit picky (not proud!) but the choice and quality was consistently excellent and we were all very happy. Breakfast covered all tastes: bacon, sausages, eggs served all ways, pastries and breads aplenty, meat, cheese and every kind of cereal, yoghurts and fruit. The five course dinner in the evening was delicious. There's even an afternoon 'snack' provided (for 'snack' read hot dogs, soup, pastries, sandwiches, fruit, hot chocolate etc etc). Thank heavens for lycra. Guests are allocated their own table in the restaurant for the duration of the stay which is a nice touch. In fact the hotel was so good I did suggest that I could just sit and read by the pool all day, eating my body weight in pastries, while the other two went cycling, but they weren't having that.
Two-wheeled discoveries…
So to the cycling: Peter, the hotel manager, met with us every evening to talk through options for the following day and provide maps, tips etc. Bikes were provided. On our first riding day, we travelled along the Zillertal cycle path. This was a beautiful route, ideal for cycling numpties like me. The wide, flat paths took us through some beautiful scenery and there were plenty of opportunities for photo stops, ice cream, coffee or all three.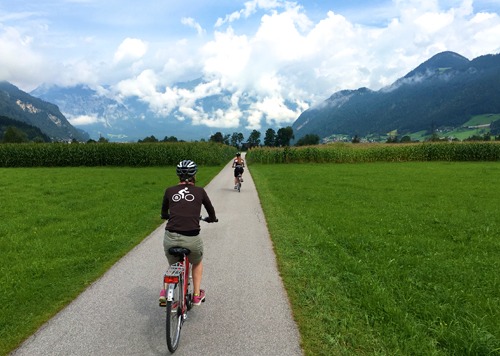 I was nervous. And I admit that I resorted to stopping and getting off my bike a few times when I saw anyone cycling towards me. I even managed to cause the only accident of the holiday by breaking suddenly in front of Paul – who cycled into a hedge to avoid me (I'd been freaked by a cow who was giving me the glad eye). Thankfully, my confidence increased over the week as we explored various routes including the pretty pathways along the Inntal Valley.
There's plenty to do out of the saddle too. From exploring the picturesque medieval town of Rattenberg to having a bling-fest at Swarovsky-Crystal World. We also took a couple of cable car trips high into the mountains for spectacular views and memorable walks – wonderful.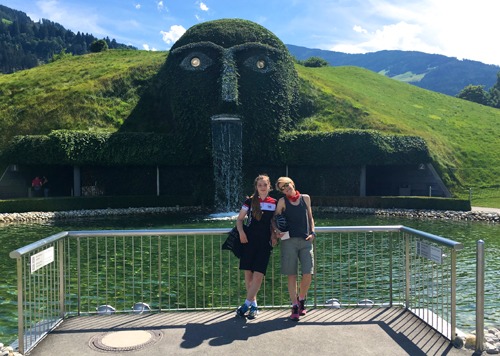 The verdict…
Would I recommend the trip? Absolutely. Yes, I know you'll think I'm biased but this really is a great trip for those wanting a gentler introduction to cycling holidays or if you're looking for something suitable for inexperienced cyclists like me. We're talking about another cycling trip and my stabilisers are now well and truly in the charity box. Yay!
Julia, Paul and Mollie cycled our leisure and family cycling holiday the Tyrolean Valleys. For more information about our holiday click here.