With 7 days cycling and 227 miles to conquer, the Tuscany to Rome is a glorious cycling holiday in Italy, which makes the most of an ancient pilgrimage route and sees you pedal from the heart of idyllic Tuscany, right up to the oh-so-majestic St Peter's Square in Rome. Here's what our Marketing Manager, Frances Wilson, thought of the first official trip, described by The Telegraph as 'Italy's most beautiful cycling route'…
A place-to-place ride between two iconic destinations promised an alluring challenge I was only more than eager to accomplish; combine this with my chance to finally sample a slice of Italy and I was sold. With the Tuscany to Rome challenge firmly in mind, I packed my new Ana's padded leggings and headed off with the forewarning: 'Tuscany is hilly, prepare for some climbs'.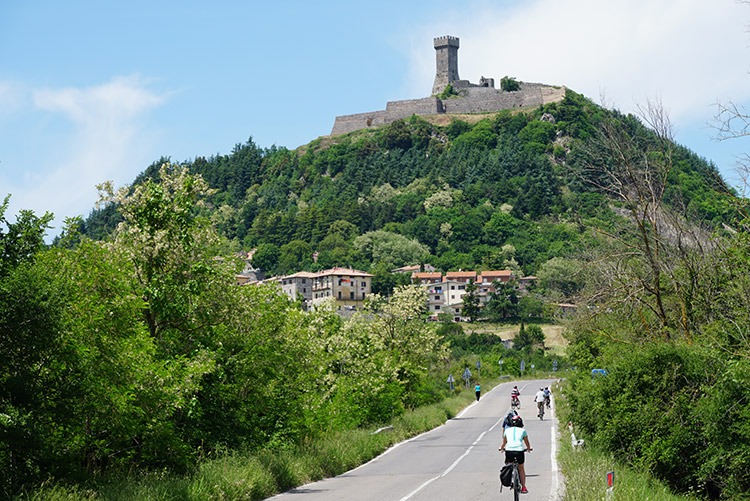 From the moment I stepped out of the Skedaddle van in the tower town of San Gimignano and saw just how magically manicured, culturally rich and sun-kissed this region was, I had a pretty good idea I was in for a treat. My week away was filled with so many amazing highlights and so here are my 'top 10' moments along the way…
1. Post-ride drinks in Siena
The piazza in the centre of Siena was our reward after a stunning and incredibly satisfying ride through rolling Tuscan landscapes on day 1 of the trip. Having dismounted our bikes (don't forget, cyclists, you must hop off your bike and walk through the square) we wheeled our way through this impressive open space which is so historic it feels like you've stepped on the set of a Shakespearean play. We chose to soak it all in by settling ourselves down in one of the many café bars that surround the square, my gin and tonic a refreshing relief after a delightful day in the warm Tuscan sun…

2. Conquering the cheeky climbs (and the vista rewards afterwards!)
So Tuscany isn't exactly flat and cyclists joining this tour must be up for a bit of a challenge, every now and again, anyway. Some of these were short, sharp and really quite steep, whilst others meandered up chalk paths (also known as the 'Strade Bianche' and utilised on the classic L'Eroica race) in search of an impressive panoramic view. However lung-busting these moments felt, they were always swiftly followed by an overwhelming sense of achievement and provided a fantastic opportunity to take a breather and admire the view from the saddle.
3. All the gelato…
Italy is famed for its food and its ice cream (known locally as gelato) which is equally as impressive as its popular pizza and pasta dishes. Most towns will have a dedicated shop featuring mountains of brightly coloured treats to drool over and they really do make the perfect pick-me-up treat mid-pedal. After a slow start to the gelato feasting, I finally caved on day 6 and guzzled down no less than 3 in one day…yes, I had some severe lost ground to cover!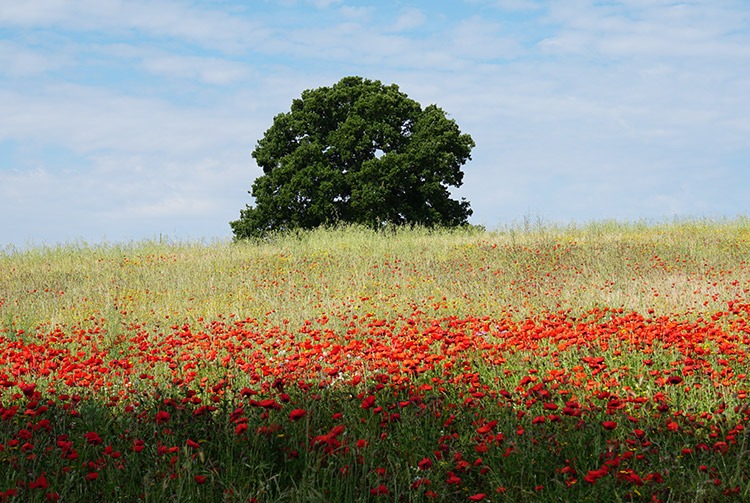 4. Poppies, hay bales and canyons…
Idyllic landscapes are found on a minute-by-minute basis on the route and those iconic cypress-lined roads greet you around every bend. This journey takes you through two distinctly different regions of Italy – rolling Tuscany and lovely Lazio (which you'll be pleased to hear is really rather flat!) Along the way I saw endless fields of blazing red poppies, too many fields of golden corn to count (Lovers of the film Gladiator can eat their hearts out as this is where those stunning 'Elysium' scenes were shot) and some pretty cool ancient-looking canyons which greeted us as we rolled out of towns later in the trip. If its variety you're after, this has it in bundles.
5. Picnic pit-stops
The lunch stops, expertly crafted by the guides, just got better and better as the week went by. When shade was most needed you'd suddenly find the van positioned in a superb spot, waiting with local yummy goodies to fill the belly and fuel the legs. Chickpea and potato salads, platters of local cheeses and ham (even boar), as well as a few juicy watermelon moments all had starring roles and kept us hungry cyclists content and ready to pedal on.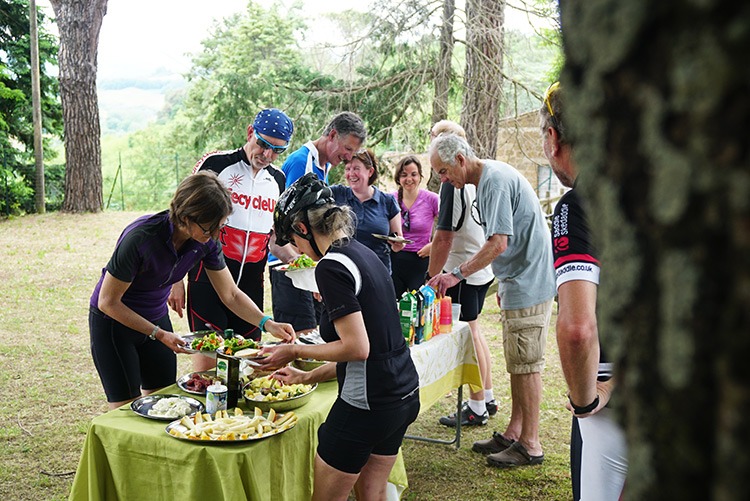 6. Riding into Rome on the cycleway
My experience of cycling into large built-up areas is generally never that great and although Rome's historic centre has many treasures to spot from the saddle, I was expecting the last day of our trip to be greeted by signs of industrial life. Whilst we began to encounter a few more busy roads (and our fair share of beeping Italian drivers), the ride into Rome was surprisingly lovely, a route which saw us hop on the city's bustling cycle path, weaving through picturesque parks, before finally snaking its way towards the Tiber River and our spectacular end to the tour: St Peter's Square.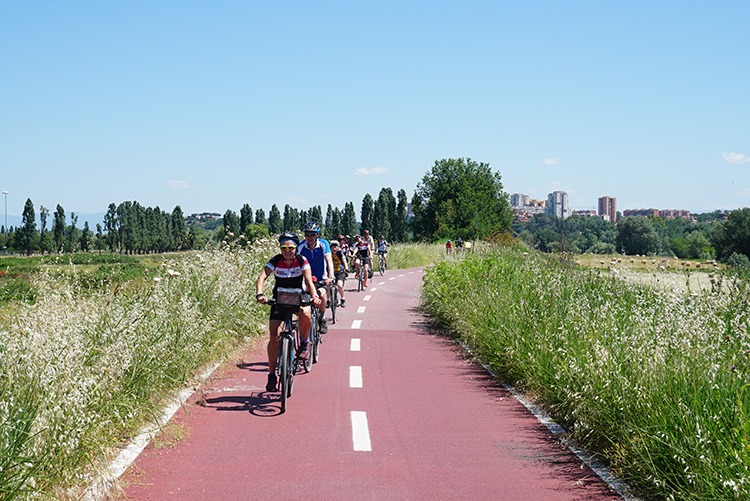 7. River paddling
Cycling can be hot work, at times! Whilst I'm not one to complain about the opportunity to top up my Vitamin D levels, I do every now and then enjoy a means of cooling down from the heat. En route, you'll get the opportunity to sample famed local hot springs, but it was a cheeky paddle by a waterfall that got me really excited and made my secret inner-hippy heart soar. Having dipped the feet and feeling suitably refreshed I rode on with renewed pedallin' prowess…
8. Epic 'true Francigena' trails
Sampling the original Francigena route was one of my favourite experiences of the whole trip! These roller coaster off-road routes offered some fab sweeping descents and opportunities to really immerse yourself in the peaceful, unspoilt countryside. When the guides offer you the opportunity to give them a go (often you can choose an easier road route instead), as long as you feel confident riding on off-road terrain, I definitely say go for it, it's well worth the extra effort!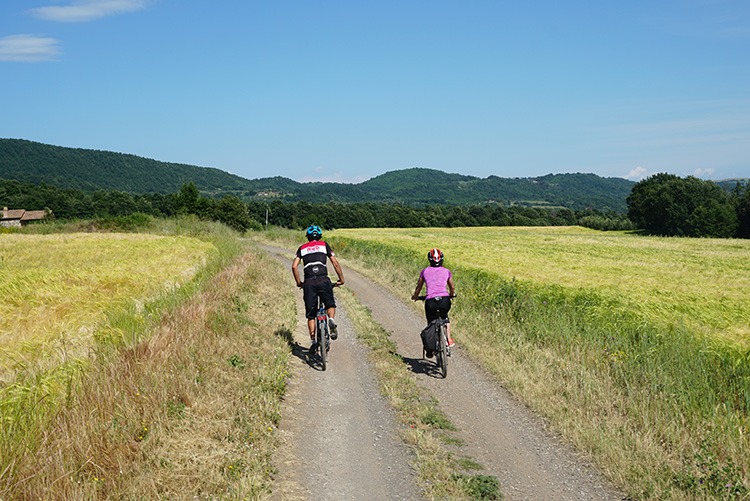 9. Agriturismo afternoon
Accommodation on this tour was particularly wonderful and choosing a favourite is tough – a luxurious overnight stay is certainly a lot better than pitching a tent for the evening! Each trip has accommodation handpicked prior to your departure date, so it's best to always consult with our travel experts, if you're keen to see which places you'll enjoy. The Agriturismo we stayed at just outside of Radiconfani was certainly one place that stood out for me on this trip though. A family-run farm in the middle of nowhere that came complete with a pool (that had panoramic vistas of the surrounding Tuscan landscapes) and a ginormous fig tree which we ate our evening meal beneath – a magical experience I'll never forget.
10. Laughing all the way with the group & guides
As cliché as it sounds, it's not just the trip you go on but the people you go with! It's amazing how quickly bonds form with previous strangers during a group cycling experience and the memories made as you laugh your way through the various sections of the route – a positive boost can do wonders to help you up those hills! Sharing stories along the way is a big part of the ride and a wonderful way to wile away the miles.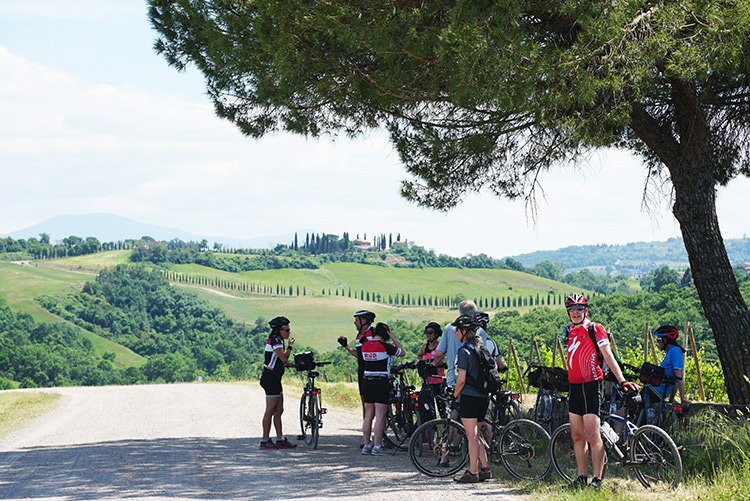 In a nutshell…
I've never been happier gliding on two wheels, surrounded by the most breath-takingly beautiful landscapes you could imagine; all this was wonderfully washed down with lashings of laughter, some pretty tasty food and an amazing sense of achievement. Ciao for now Italy, I'll be back!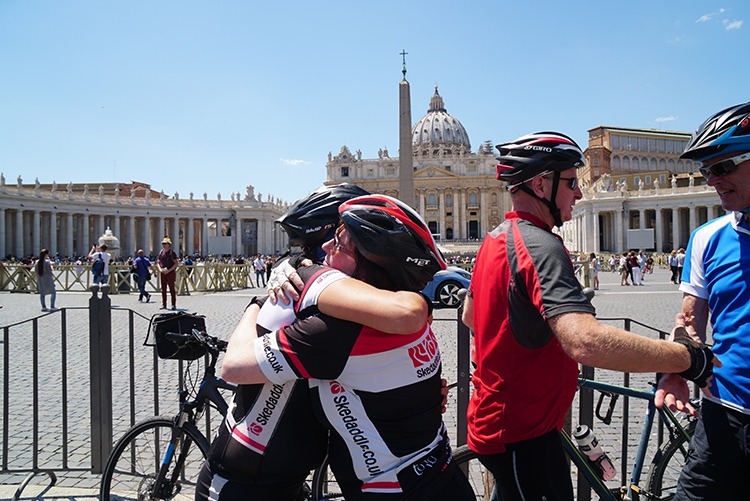 Can't wait to get pedallin' to Rome? Fran cycled our leisure cycling Tuscany to Rome route.  For those keen to kick things up a gear, we recommend checking out our mountain biking trip which explores the same popular pilgrimage route. 
Photography: Alessandro Gallo