Meet our May winners of the Customer Competition! Amy, Richard and little Beatrice traveled together to Austria to explore this beautiful part of the world just before welcoming a new addition to their family. After returning home, with memories still fresh of their two-wheeled adventure, Amy felt inspired to send us a great write-up of their experience and give you a window into what you can expect from a family cycling holiday…
'With a 2 year old in tow, and another little one on the way in 4 months, we thought that a springtime Alpine cycling adventure would be the perfect way to have a last family holiday as a three and build our confidence for the next time we pack our panniers with two little ones to contend with! And we were not disappointed – the Zillertal is the absolute ideal base for a wonderful family cycling trip; idyllic off-road flat cycle routes along rivers and railways, swimming and ice cream stops aplenty, contented cows and meadowland, a real-life narrow gauge steam train, hearty hospitality, and all surrounded by stunning mountain scenery – and crucially, plenty of great playgrounds. The hotel was a real treat, so friendly and perfect for families – a wonderful garden, playground, playroom and swimming pool which kept us all happy, and fantastic 5 or 6 course meals every night.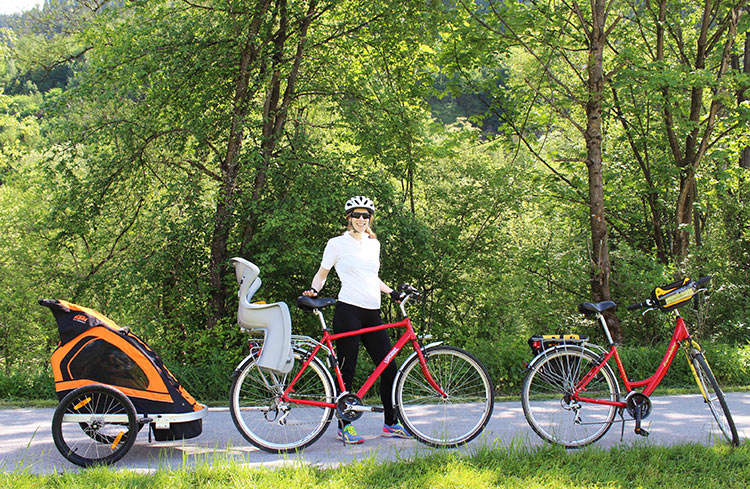 We hired both a bike seat and a child trailer, and our daughter was very happily entertained with scenery, songs, stories, snacks and snoozes in the back, while we did the hard (or not so hard) work…
A particular highlight was the Reintaler See on the Lakes tour, where we happened upon an Austrian tourist board photo shoot with some pro cyclists (cheerfully drinking coffee and pedalo-ing at the time…) ahead of the UCI Road World Championships to be hosted in the Tyrol next year.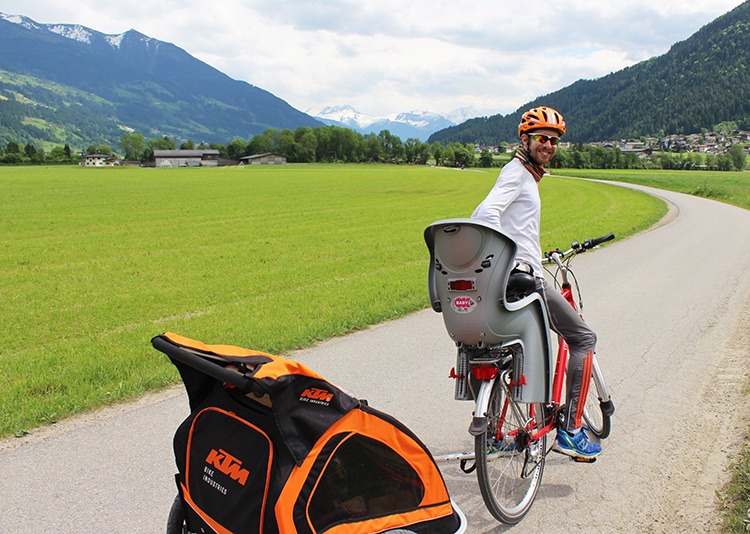 Rattenberg was another great stopping point on the ride to Kufstein – a picturesque historic small town in the literal shadow of 'Rat Mountain', meaning that it is in darkness for the winter months – or would be, were it not for a set of 30 heliostats, or rotating mirrors, installed on the opposite side of the valley to reflect much needed sunlight onto the residents. The nearby Schloss Matzen has a lovely shaded playground in the castle grounds.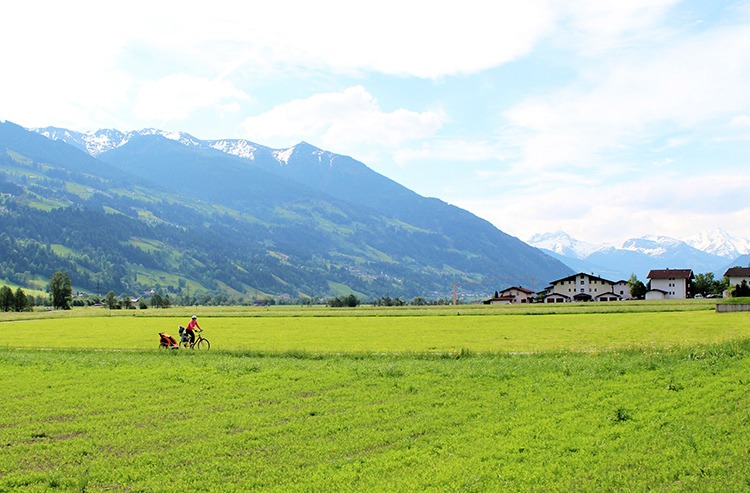 We also loved the trip up the valley to Mayrhofen, so much so that we repeated it to revisit the open air pool – and of course, playground – at Zell-am-Ziller. It was great to have the option of hopping on a train along with the trailer at any point on all the rides. On our 'rest day' we hiked through the forest above us to a woodland play area and nature trail, where the local forest school children were having a fine time building a dam in a mountain stream. The swimming lake at Schlitters (only 5km ride along the river from Fuegen) is also host to a fabulous adventure playground with a giant wooden giraffe, which we visited on more than one occasion.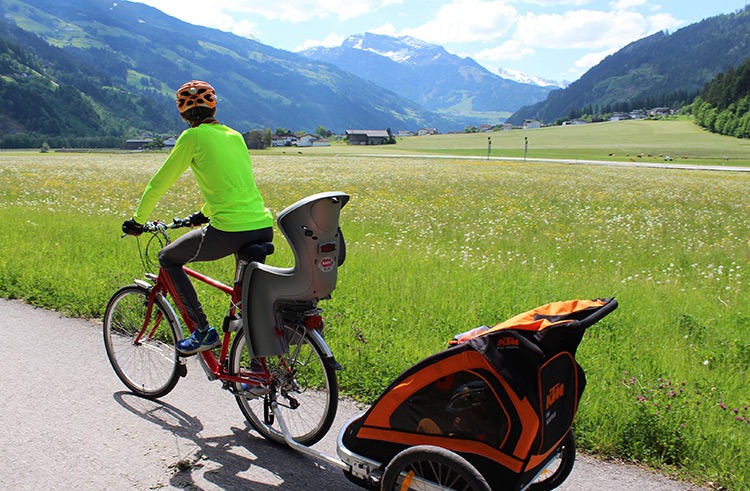 Having thoroughly explored every playground the Tyrol can possibly have to offer, with the added bonus of beautiful calm rides through mountain and valley scenery and a wonderful hotel, we can safely say that we can't wait to come back and introduce our ne addition to the joys of exploring the Tyrolean valleys on two wheels!'
Feeling inspired? Our centre based Tyrollean Valleys trip is a great fit for young families or for those new to cycling holidays. Feeling more confident? Check out our full range of family cycling holidays.