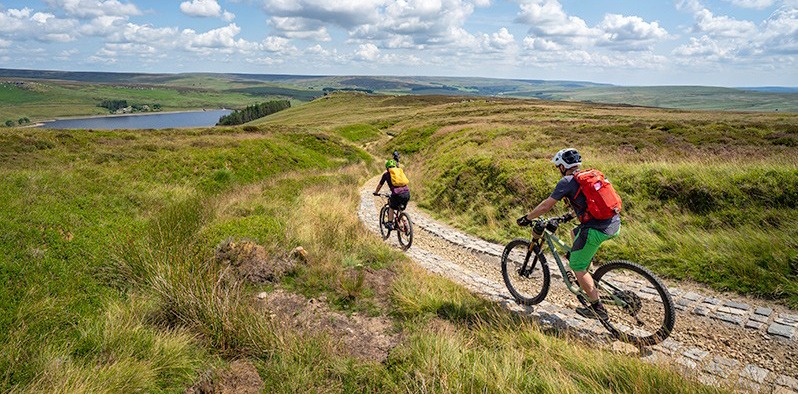 A 205-mile long National Trail, the Pennine Bridleway runs through the heart of the Pennines, starting in the hills of Derbyshire and ending in Cumbria. Originally designed with equestrians in mind as an alternative to the hiker-only Pennine Way, the trail is now extremely popular with mountain bikers. The full route was officially opened by Men Behaving Badly's Martin Clunes in June 2012, although rumours that he has biked its entirety are completely unfounded.
The Pennine Bridleway provides an amazing long-distance, largely off-road ride following ancient packhorse routes, drovers roads and newly created bridleways through the magnificent Pennines. During our trip, we spread the love and explore the counties of Derbyshire, Lancashire, Yorkshire, and Cumbria over five full days of mountain biking, all of which are very different yet equally stunning in their own right. Done as a linear route, you will be accompanied by our guides and we transfer your bags each day (as well as providing tasty snacks), so no need to worry that your bike-packing kit will impact on your enjoyment of the descents or slow you down on the ups.
We ran our Pennine Bridleway mountain bike holiday for the first time last year with great success. "We received such great feedback and the riding was so enjoyable that for 2022, we decided to extend the trip to include two more full days of mountain biking and now cover the length of the entire trail in five days," the main guide Richard Blackmore tells us. "It's that good!" The riding is by no means easy but well worth the challenge and completing any or all of the route will provide a real sense of achievement.
Take on one of the best long-distance trails in the UK Skedaddle style!
---

A Great Trip But Let's Make It Better
Every Skedaddle trip evolves over time and the Pennine Bridleway is no exception. Since the initial research ride with Richard, we tweaked the accommodation options and the daily distances to give a more balanced and flowing ride. Some days were just too long and arduous and we all like a pint at the end of the day rather than rolling in at dusk, just in time for our evening meal.
After running it southwards last year from Kirkby Stephen to Hebden Bridge, we decided to add a couple of days more to include Derbyshire's White and Dark Peak. We also switched the direction around so the most dramatic sections now appear on the final days of the journey.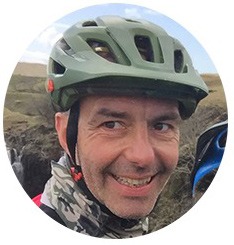 The Pennine Bridleway trip has been a pet project for guide Richard Blackmore – no not the legendary axeman from Deep Purple and Rainbow but an ex-IT whizz who got bored of keyboards and decided the outdoors was more up his street! Now residing in the Lake District, he spends his time out on the local trails as much as he can and cunningly sandwiches in slices of UK Skedaddlin', including our Scottish Celtic Crossing and Highlands Coast to Coast, when he's not enjoying his favourite Lake District rides. You'll also see him venturing further afield with us outside of the UK season to such far-flung places as Borneo, Costa Rica, and Cuba.
Whilst the Pennine Bridleway is a recognised National Trail, the devil is very much in the detail and in his spare moments, Richard heads off on the route to craft new exciting sections and options. After all, it's not always 'cracking flags' in this part of the UK and having a few options in case of bad weather is paramount in making sure things run as smoothly as possible.
---
Recce Highlights
During our reconnaissance trips, we work hard to make sure each day of a trip offers something special and unique. Every day on the Pennine Bridleway serves up the open, unspoilt countryside to ride through with spectacular views to absorb as we bike along. It's not just a trip about ticking off the miles and high points but one during which you need to grab a breather and take it all in – whether this is a magnificent view from the top of a tough climb, your first glimpse of an ancient viaduct, or inquisitive livestock wondering what the hell is going on in their patch.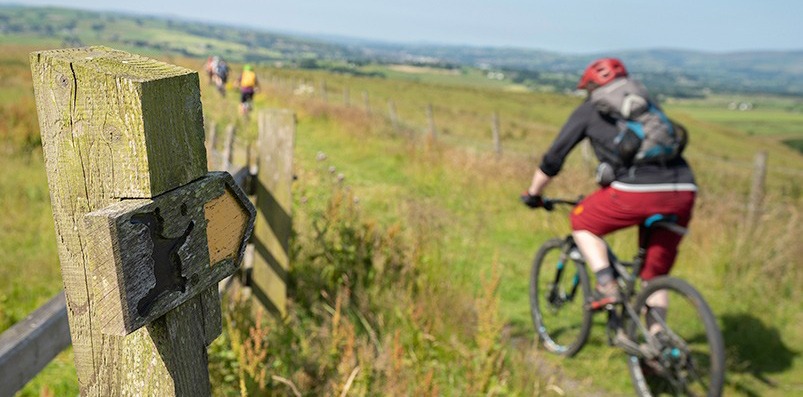 When asked about his favourite day of the trip, Richard cheekily responded, "Ah, come on… they are all brilliant!" So here is a selection of his favourite parts of each day.
"Cam High Road comes on the final day and is a great section along an old Roman Road from Cam End," says Richard. "It's in this area that we can see the Ribblehead Viaduct, a site that never fails to impress me." There are usually a few weary groups around this area attempting the Three Peaks Challenge and it's always nice to give them some words of encouragement or the odd snack to keep them going!
We tend to do an additional Settle Loop on most trips and it's a cracker. "The views down to the town are stunning and great as you'll be heading there for a pint at the end of the day," says Richard smiling. "And up high the scenery is just gob-smacking and well worth the effort." If you are lucky you'll see a steam train puffing along the Settle to Carlisle Railway during your trip.
You'd think the most dramatic sections would be in the Yorkshire Dales, but the Lancashire Pennines give them a right run for their money! "Ending the journey in style is always a must for any trip and the trails around Hebden Bridge are some of my favourites", claims Richard and we agree!
---

Pie, Pudding, and Pints
We eat well on the Pennine Bridleway and almost all of it quality local fare. High on our list of picnic produce for our lunch stop are the selection of cakes, pies, and treats at Ye Olde Naked Man Café in Settle, a unique bakery dating back to 1663.
"No evening meal in this area seems to be complete without a sticky toffee pudding appearing at some stage of the trip and if there isn't a steak and ale pie as a main then I'll eat my cycling helmet," declares Richard.
The whole area is famed for its local ales (it's in the limestone purifying waters apparently!) with local delights including Timothy Taylor's Landlord and Black Sheep from Masham. If you enjoy a post pedallin' pint then you are in for a treat with each county vying to beat their neighbour in supplying the tastiest pint around. As judge and jury, the final decision will for sure be yours… though a retrial is usually on the cards!
What's more special than a cosy B&B, a cuppa and one of those moreish shortbreads after a day on the trails and a tasty full English the next morning to set you up for a day's riding? Our carefully chosen accommodations in Settle offer this and a friendly welcome to our muddy riders too!
In Kelbrook we are treated to a modern inn with a superb beer garden – we'll eat here after our second day's riding. Expect a great choice of dishes and a pudding selection to tempt you even though you said you were full.

---
Unique Excursions
We've no real-time for excursions during our five days of biking but the Settle Flowerpot Festival runs during the timing of our trip and there are some quirky and frankly bonkers designs in and around the town to check out on the way to the pub or to detract from the steepness of the climb out of Settle on the second morning of riding.
Another highlight of the trip is a stay in Hebden Bridge. A wonderful place to relax after a ride, choose from an array of trendy cafes and bask in its bohemian (in a Yorkshire kinda way) shops and art galleries.
---
Words of Wisdom
In case you are in need of some more Pennine Bridleway inspiration, our team recommends the following:
Notes From A Small Island by Bill Bryson – there is a special mention of his beloved Malham Tarn.
Steve Coogan visited Malham Cove during The Trip and was given a lesson on geology – QUALITY!
Nearby Haworth is known for producing Britain's most famous female writing trio, the Brontë sisters – Wuthering Heights anyone?
---
Come hit the trail with us! Discover more of our off-road holidays worldwide here.