Looking for a great day out on the bikes in the UK this year? We've rounded up some of our favourite rides, that can all be savoured in a day with different fitness levels in mind!
Not only is Britain blessed with countless natural wonders, peaceful countryside and fascinating cultural gems, it also boasts an incredible network of traffic-free cycle paths, scenic roads and off-road trails. This means we're really spoilt for choice when it comes to great days out at the speed of the bike.
With so many people enjoying the benefits of cycling, we know many of you will be eager to get out for a fun bike ride this summer! So we wanted to share some of our favourite bike rides that can be ridden in just a day, dependant on your fitness level. Most are based near popular tourist hotspots or are easily accessible by car or train (just don't forget to book your bike space in advance). This makes them ideal for those looking to inject some pedallin' fun into their Great British summer this year…
Eager for more? Having delivered holidays in the UK for over 20 years, we've sought out some of the very best places to explore. Our multi-day cycling holidays here are amongst our most popular, just read these testimonials from fellow Skedaddlers to find out why! From the remote wilderness of Scotland to the national parks of England and beyond, we have over 40 cycling holidays in the UK which come in all different shapes, sizes and abilities. You can even cycle the entire length of the country on our legendary Land's End to John O'Groats challenge.
Discover our full range of holidays in the UK here!
---
Fitness level:
Easy
Ideal for families, beginners and anyone looking to take it nice and gentle – with time to relax, unwind and explore off the bike factored in.
The Camel Trail, Padstow to Bodmin – Cornwall
,
England
Best for: all bikes
Distance: one way of approx. 12 m / 19 km
Highlights: The Camel Trail is a largely traffic–free, well surfaced and almost flat multi-use trail that is perfect for getting out for a relaxed bike ride with your cycling buddy, or even whole family. Why not hire a tandem bike in Padstow for double the fun. The popularity of the route means you're likely to encounter a few other cyclists en route, making for a real sense of camaraderie.
How to do it: You'll cycle through beautiful Cornish countryside along a disused railway line between Wenfordbridge, Bodmin, Wadebridge and Padstow. This scenic route also dips into local towns and villages which means you can hop off the saddle to visit local shops and grab some goodies along the way. The Camel Trail is part of the Sustrans's National Cycle Network (just like many of the other holidays in our Family Cycling range) and you can find all the details here.
A place to refuel: Surely the best way to end a day's peddallin' is fish and chips, right? The quaint coastal town of Padstow is bursting with great eateries (as well as some of the best ice cream shops going!) but our vote goes to the fish and chip shop owned by celebrity chef and local legend Rick Stein, a relaxed restaurant and takeaway overlooking the Camel Estuary. Be careful of the towns hungry seagulls who are also partial to battered fish.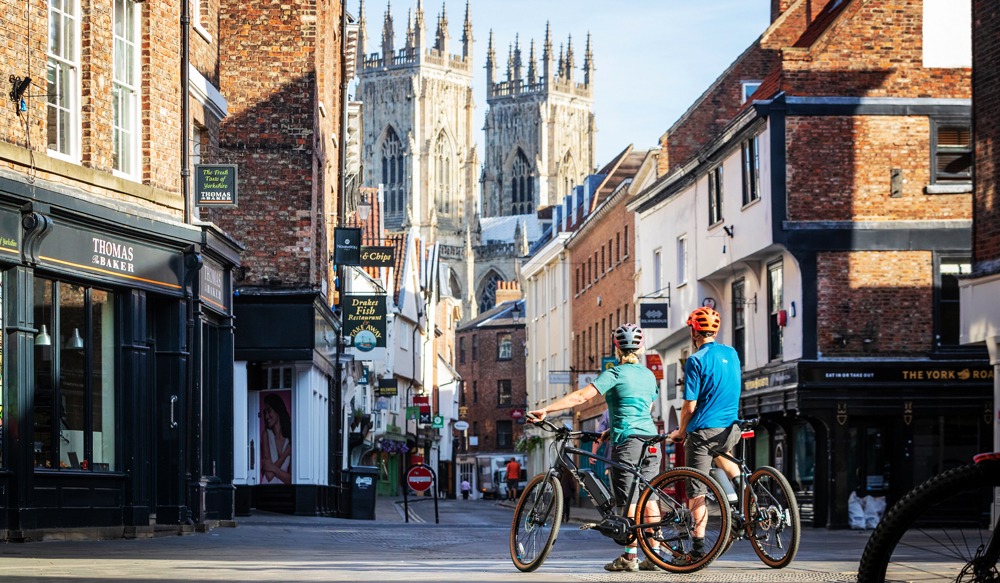 York to
Riccall
– Yorkshire
,
England
Best for: all bikes
Distance: there and back approx. 14 m / 22 km
Highlights: Starting in the famous historical city of York, this relaxing route is ideal for anyone looking to escape for some fresh, country air! Following the direction of the River Ouse, you will enjoy easy-to-follow traffic-free converted railway paths, historic parks, sculptures, bridges and even the solar system! Yes, you heard it right. You are actually going to be cycling the Solar System, from planet to planet with informative stops, spacecrafts and other art sculptures dotted along the way.
How to do it: The model lies on the National Cycle Network Route 65, it's very well signposted and is easy to follow from York's city centre. Learn more about Cycling the Solar System model here, and check out Sustrans for maps and more detailed directions.
A place to refuel: Pop into a quirky 'serve yourself' Naburn Station Trust Hut. It's an honesty cafe (take what you need, pay what you can) with friendly volunteers, a lovely atmosphere in the company of your fellow explorers and a good choice of treats and drinks.
Kingham
Loop
– Cotswolds
,
England
Best for: all bikes
Distance: a loop of approx. 14 m / 22km
Highlights: A lovely short ride offering a snapshot of this quintessentially English corner of the UK. The village of Kingham where this bike ride starts and ends was voted 'England's favourite village' by Countryfile back in 2004 and this nicely sets the tone for what you can expect on the ride. Alongside several picturesque villages, you'll also ride past Foxholes Nature Reserve home to ancient woodland and beautiful bluebells in late spring! For those eager to see even more of this gorgeous AONB, including the famous 'Venice of the Cotswolds' Bourton–on–the–Water, don't miss our extended Cotswolds cycling holiday.
How to do it: This short loop ride takes you out of Kingham, through the villages of Churchill, Milton-under Wychwood, Idbury and Bledington on quiet country lanes. The route is generally gentle, with only a few short climbs to tackle. See more detailed route instructions, including a map here.
A place to refuel: There are many homely pubs serving tasty grub in villages you'll cycle through, though The King's Head in Bledington, set on a tranquil village green, is definitely worth stopping off at and afterwards it's just a short blast before the end of your ride.
---
For those who cycle regularly and want to enjoy a longer day in the saddle with some challenges…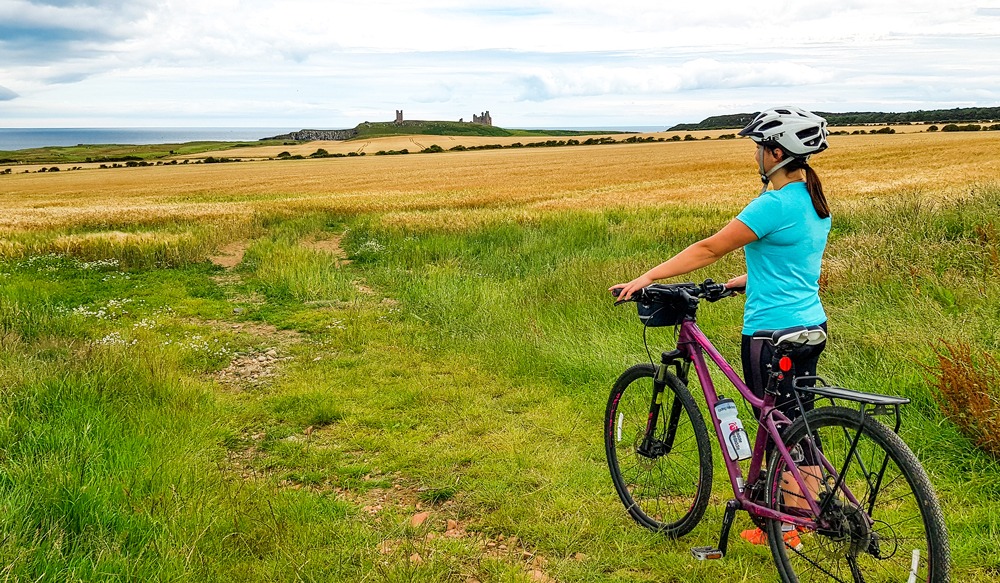 Alnmouth to Berwick Upon Tweed – Northumberland,
England
Best for: hybrid, gravel road and MTB bikes
Distance: one way of approx. 57 m / 91 km
Highlights: A fantastic day out for cyclists eager to enjoy lots of vitamin sea! The ride is a part of our popular Coast and Castles itinerary. You'll explore one of our favourite coastlines in the UK, the wild and wonderful Northumberland coast, an Area of Outstanding Natural Beauty no less. En route, you'll enjoy pretty villages, peaceful countryside, several dramatic castles, as well as countless sandy stretches. The ruins of Dunstanburgh overlooking gorgeous Embleton Bay are one of our favourite sights of the ride; and as you navigate past the island of Lindisfarne and head onto the coastal plains just below Berwick, the feeling of remoteness is wonderful – perfect for those eager to get off the beaten track.
How to do it: Starting in Alnmouth you just need to follow the Sustrans Route 1 signs all the way to Berwick-Upon-Tweed (for peace of mind, we recommend the Sustrans Coast and Castles Map of the extended route). Riding South to North generally means you'll have prevailing winds in your favour, though you can also ride in reverse starting in Berwick-Upon-Tweed, as both here and Alnmouth have great train links (just don't forget to book your bike on in advance!) Generally, the route isn't too challenging, taking in a mix of terrain including quiet country roads, designated cycle paths, as well as some fun off-road sections through fields – a road bike is not really advisable for this ride. There are a couple of cheeky climbs to tackle inland, but overall it's a fairly flat route. However, the high mileage means we do recommend you are fairly fit and confident on your bike if you want to give it a go.
A place to refuel: Situated roughly halfway between start and finish, Bamburgh is the perfect place for a pit stop to refuel and re-energize. Home to arguably the most dramatic castle of the ride, it's also got plenty to enjoy whilst you're here. The Castle Inn gets our vote for its lovely, homely feel and garden terrace.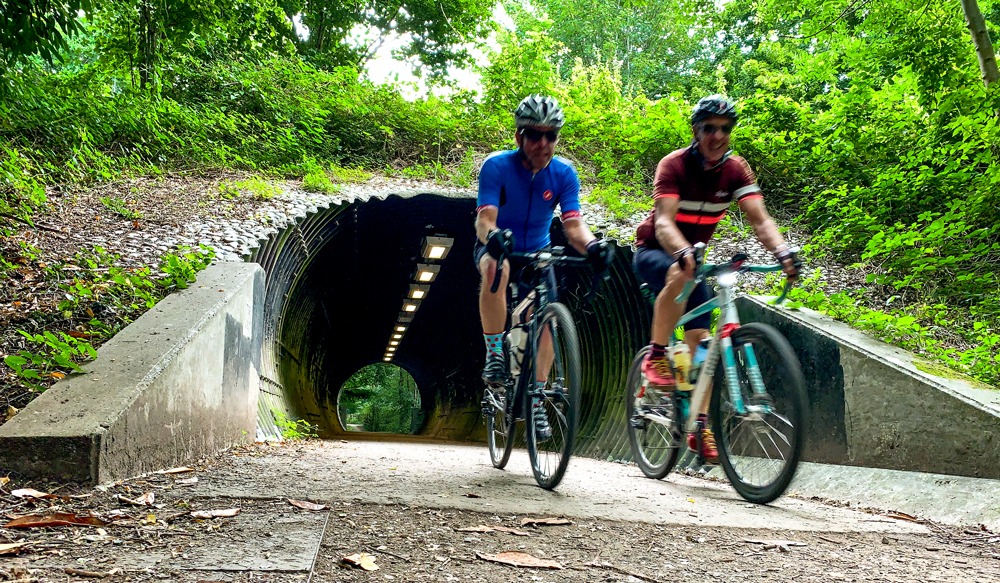 Worth Way, Redhill to Reigate – Surrey, England
Best for: gravel road, hybrid and MTB bikes
Distance: a loop ride of approx. 47 m / 76 km
Highlights: Ride the Worth Way, a 7-mile long disused railway that is now part of the National Cycle Network, and enjoy an easy flowing and relaxing ride through a green wildlife corridor. To spice up your day on the bike a little more, we recommend adding some miles through back lanes, bridleways and even occasional singletrack of the local wooded areas as you follow a circular route from Redhill to Reigate. For some cultural highlights, be sure to enjoy the end of your day in the medieval town of Reigate, with a walk to the Castle and perhaps a pint of ale at one of many pubs of this charming little town!
How to do it: The ride can start from Redhill Memorial Park or the train station. From here head East around Mercers Lake following the gravel tracks. After going under the M23, you will enter the quieter Bletchingley area riding along with farms, gravel tracks and woods as you're heading towards East Grinstead. From East Grinstead, you pick up Worth Way National Cycle Route 21. Mostly following the trackbed of a disused railway. Flat, very well signposted and a pretty large bridleway makes the ride flow gently all the way to Three Bridges near Crawley. After a couple of cycle paths through the urban area, the route takes you back into the countryside of the Glovers Wood. After a cafe stop, Reigate town is in sight. The route now zig-zags between Charlwood, Parkgate and Leigh – then into the town of Reigate, the finish of your ride. Download the GPX file that our regular guide Radu has kindly created of this route here!
A place to refuel: Once you're in Glovers Wood after leaving the urban area of Crawley, the most welcomed café stop at Tanhouse Farm Shop is a stone throw away. It's a proper cycle-friendly farm shop in a beautifully converted barn stocking local produce from Surrey and Sussex. Your refuel stop is guaranteed to be fresh, natural and delicious
Glenmore to

Nethy

Bridge – Cairngorms, Scotland
Best for: mountain bikes
Distance: a loop of approx. 21 m / 33 km
Highlights: This beautiful ride takes you through some of the UK's most unique and precious environments. From the ancient Caledonian pine forest to the incredible tundra of the Cairngorm plateau, you're only a few miles from the main road and rail routes through the Scottish Highlands, but it feels otherworldly.
How to do it: Starting from Glenmore on the banks of Loch Morlich, just below Scotland's biggest ski station, your route takes you up and over Ryvoan Pass and down the river Nethy to Nethy Bridge. This route is rideable for most cyclists with some off-road experience. For more details and a map, click here.
A place to refuel: The staff at Nethy House love to welcome outdoors adventurers. Stocked with all the must-haves for a hungry mountain biker (cracking cake, home-made soup and doorstop sandwiches), this is the perfect place to reward yourself. Depending on how lucky you get – you can warm up by the log-burner or enjoy an ice cream on the terrace! There is also secure bike storage if you fancied exploring the village, and even a bike wash, if needed.

Surrey Hills – Surrey, England
Best for: road bikes
Distance: a loop ride of approx. 11 m / 19 km
Highlights: If you're after a shorter day on your road bike but still looking to tick some famous climbs off your list, the Surrey Hills Area of Outstanding Natural Beauty will go down a treat. Feature of the 2012 Olympics, the now-famous Box Hill became a popular ride after the men's peloton climbed it 9 times during the race, and the women's cresting twice. Featuring continental-like hairpin bends, this was the highlight of the route and has an average gradient of 5% – making it an achievable challenge for most road riders.
How to do it: The Surrey Hills offer some of South East England's most picturesque countryside and is accessible to all. This popular route is ideal for cyclists based in London looking to escape to nature relatively quickly. For more details of this loop ride, go here.
---
If you're after a challenge, whether on your road or mountain bike, these rides in some of the most spectacular places in the UK will be sure to test your legs…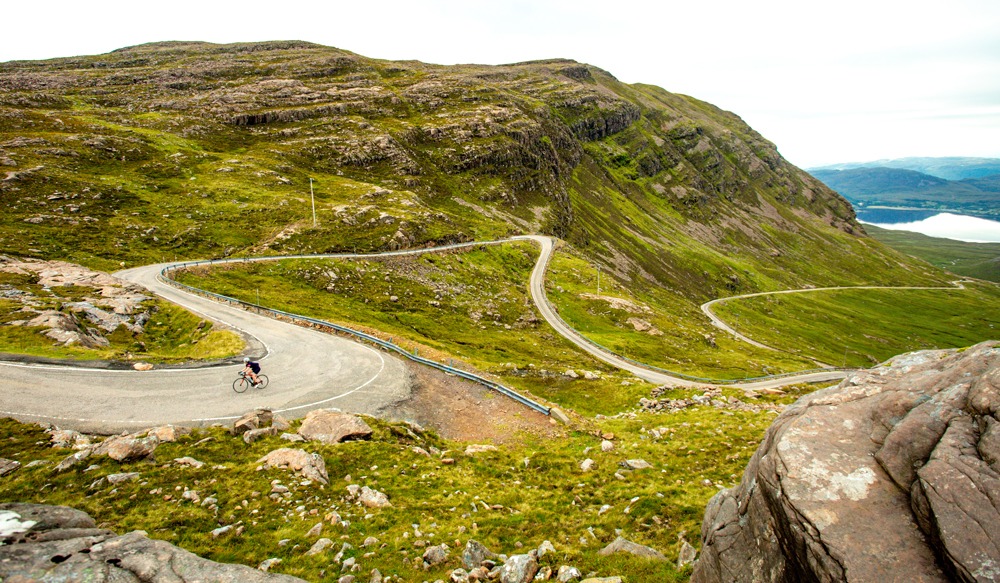 Bealach
na
Ba, from
Shieldaig
– Scottish Highlands
Best for: road bikes
Distance: a loop of approx. 45 m / 72 km
Highlights: How does challenging yourself to one of the most scenic and remote road climbs in the UK sound? If you just got excited, then this one's for you! Bealach na Ba is legendary and offers an exceptional climbing experience, there's a reason it always makes it to every possible list of most scenic climbs! But we're not going to lie – it's no easy feat getting here. Situated deep in the West in the Scottish Highlands and a part of the now-famous North Coast 500 route, this bucket-list day ride is however well worth the effort. It's also an ultimate test for your legs with a big ascent of 626m from sea level, in just 10km and a challenging route all the way from start to finish. However, the wonderful views of fabulous unspoilt landscapes, the sea and hills (including views over Skye and Lewis) are an ample reward for the amount of effort required. It's an incredible and unspoiled part of the UK that is worth the trip and if you're eager to make the most of your time here – we recommend our one week tour riding through the remote, spectacular scenery of the Scottish Highlands and west coast, including highlights of the famous North Coast 500 route (yes, including Bealach na Ba).
How to do it: Starting and finishing in a picturesque Shieldaig village, you will cycle in a clockwise direction. It's a day ride, but not to be underestimated! It includes a lot of climbing (the iconic climb is not your only challenge as you're following the coast roads) and potential strong headwinds – but we're here for the challenge. We recommend following the route of the popular local Bealach Beag cycle sportive, you can find the exact route and terrain profiles for it here.
A place to refuel: Remember, you're in the Scottish Highlands! You will be riding some of the UK's most remote landscapes, so make sure you have enough water and some energy snacks with you to keep you properly hydrated and fuelled during the ride. We recommend stopping in Applecross for your coffee stop after you've conquered the mighty climb – there are a few good options available, check them out here.
Off-road Yorkshire Dales, from Settle – Yorkshire, England
Best for: MTB bikes
Distance: a loop ride of approx. 39 m / 62 km
Highlights: This route takes on a part of the Mastiles Lane, a Roman marching road and later an important route for the Cistercian monks leading sheep from Fountains Abbey. Biking an important medieval trade route across the dales feels quite special when you remember to take a moment to reflect on that as you pedal away. It's a ride of long climbs and long descents on a mixture of grassy and limestone double track, green lanes, drovers' roads and mountain tracks. On the way you will be treated to many natural wonders including Gordale Scar (a huge limestone ravine), Janet's Foss and Scaleber Force waterfalls, a view to Pendle Hill and so much more – plenty to keep you entertained!
How to do it: While not too technical, the route will require a good level of fitness and is sure to challenge your legs with the regions infamous hills and the distance – but it's all worth it, we promise you! The ride starts and ends in Settle making it a great loop ride to be done in one day. For more route details, a map for the off-road route and a GPX file, take a look here! You can also explore and enjoy this beautiful area of the UK even further on our guided Yorkshire Dales road cycling short break, or head on a true coast-to-coast journey full of history through Yorkshire following the Way of the Roses.
A place to refuel: We recommend breaking down your day on the bike and stopping for a nice break in Grassington village. The traditional CoffeECO cafe will keep you well fuelled, also worth noting that the river here has some wonderful swimming spots – perfect for a refreshing dip on a hot day!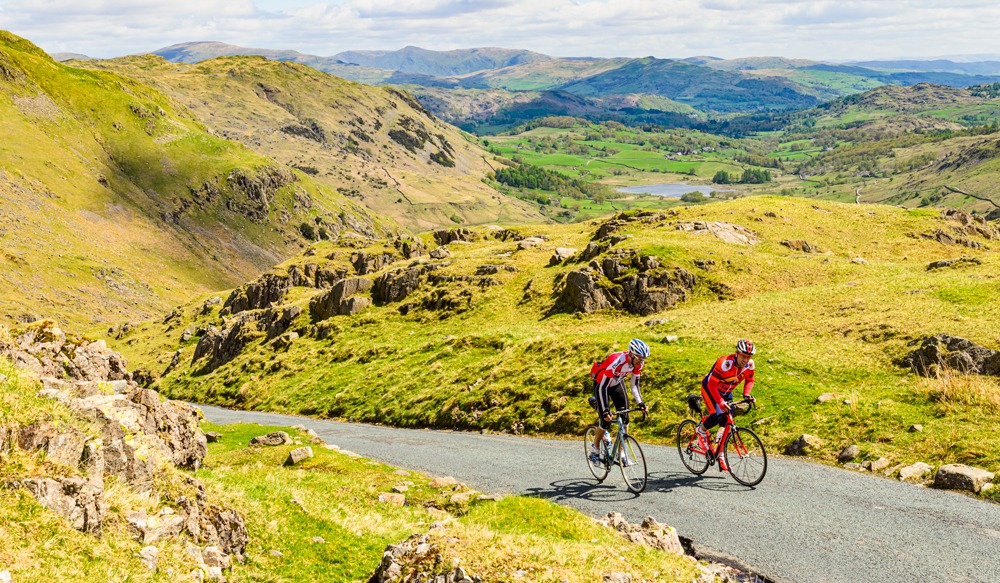 Hardknott
and
Wrynose
Pass
,
from Ambleside – Lake District, England
Best for: road bikes
Distance: a loop of approx. 42 m / 67 km
Highlights: Check out this route if your legs are up to it! The Lake District climbs might lack the length of their alpine equivalents but they can serve a very different type of challenge and are easily accessible. The highlight of the Fred Whitton challenge is the famous Hardknott Pass. At over a 30% gradient, it is savagely steep, so much so that some of the Skedaddle vans struggle to drive over it! After you roll over the top of Hardknott you have a short respite before taking on Wrynose, other classic Lakes pass. It's a great and very challenging route, not to be underestimated. This route is a great way to see the best and hardest roads in the Lakes. If this sounds good to you and you're looking for more, we recommend checking out our Yorkshire Dales and Lake District itinerary which explores the best of both National Parks.
How to do it: Be prepared for fells, forests, remote Lakeland villages and of course the lakes themselves, all create a stunning backdrop for some of the most challenging climbs the UK has to offer. Leaving Ambleside, the first few miles are easy but after Little Langdale, the gradients increase and first up you have the Wrynose Pass and then the notorious Hardknott Pass. After an exhilarating descent to the Eskdale Valley, you will have a few more gentle climbs first over Birker Fell into the Duddon Valley; then over the Dunnerdale Fells to Coniston. After that, it's easier riding back to Ambleside. This is dramatic riding in a dramatic landscape and it really doesn't get much better. A handy map of the route can be found here.
A place to refuel: After (or during!) a challenging day in the saddle, there's no better place to relax than in one of the Lake District's numerous pubs and inns. Full of character, great food and drink – you will be spoilt for choice. Check out Newfield Inn at Seathwaite, not too far from Wrynose Pass.
---
These are just a few rides we could fit in one blog, but there's so much more to explore! We can't wait for you to discover the best that Britain has to offer from the saddle. There really is something for every type of cyclist in the UK, whether you're looking for a short weekend break, or something a little longer!