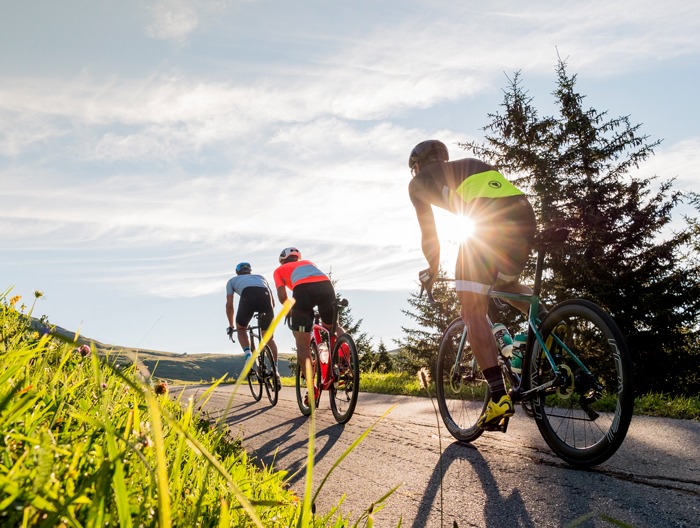 Spring weather is the very definition of changeable, you can go from snow to sleet to sun in a matter of minutes. Choosing the right clothing for a ride when the weather is unpredictable needs a few select pieces of mix and match kit in your wardrobe and an understanding of layering.
Cycling in spring can offer the very best, and very worst, of conditions. One minute you can be pedalling along with the first warming rays of sun on your back whilst you look at the daffodils and sheltering from a hail storm the next. But with good kit choices, you can stay warm, dry and comfortable through most of your ride.
Spring and autumn are a much tougher proposition to dress for than summer or winter when the temperature doesn't fluctuate as much throughout the day. In spring you might start your ride in the frosty cold and find by lunch-time the sun is warm and you are overheating. With huge temperature variations throughout the day, the key to comfort is layering – having items of clothing that you can put on or take-off as the weather changes.
With the help from our friends at Endura, we've come up with a kit-list of items to add to your basic shorts and jersey combo that will see you through spring and be useful for cool evening rides and early starts all the way through summer too.
Knee and arm warmers
Give your jersey sleeves and transform your shorts into a full-length cover with these really simple, but indispensable, pieces of kit. Knee and arm warmers come in different fabrics for different conditions; windproof, thermal, shower resistant and even SPF sun-protection but you can't go wrong with a basic pair of fleece-lined warmers.
Grippers and shaping ensure they stay firmly in place while you ride and if the sun comes out they are easy to pull off, roll up and store in a pocket. Grab a set of these Arm-warmers and Knee-warmers offering essential three-season versatility to adapt your shorts and jerseys to spring and autumn weather.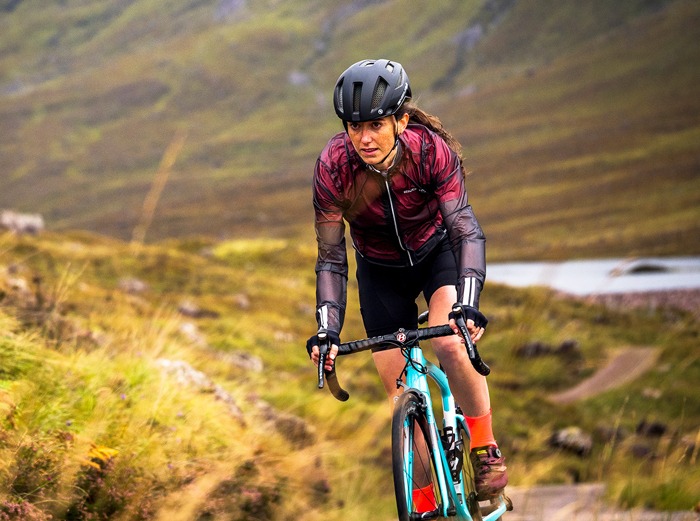 Lightweight emergency jacket
Every rider needs a thin yet protective lightweight jacket that can be balled-up to put in a pocket yet provides enough coverage to keep the wind out and warmth in. This style of jacket is useful for keeping warm in the first 30 minutes of a chilly morning ride but can be slipped off and stowed as you start to heat up. It is the sort of hardworking piece of kit that will get use all year round. Thin jackets are great for slipping on whilst you wait for a puncture to be repaired or to prevent cooling down while sat in the café, or an extra layer if the weather gets worse unexpectedly. Look for something like this Lightweight and waterproof jacket, offering plenty of protection for when the weather turns bad but still small enough to keep in a pocket or pack.
Gilet for core protection
Similar to an emergency jacket but minus the sleeves, a gilet is designed to offer protection for your core against wind and rain, as this is the area of your body that houses your internal organs a warm core can help regulate your whole-body temperature. A gilet is enough to keep you warm, but not too warm when there is a light breeze or shower on an otherwise pleasant spring day. Your chest takes the brunt of wind and rain as you ride along and by keeping your chest and stomach protected it can help your whole body feel a lot cosier. Being minus the sleeves a gilet takes up even less space than a jacket. Check out this Lightweight, rainproof gilet, a great choice for looking after your core.

Versatile base layers
Your next-to-skin layer is the foundation of your outfit, changing your base layers for different conditions is just as important as your choice of outer-layers. Stocking up your cycling wardrobe with a few different base-layers is also a cheaper way to adapt your clothing to different seasons. For example, swapping a long-sleeve merino base layer for a short-sleeve mesh vest can allow you to comfortably wear the same long sleeve jersey in a broad range of temperatures. Here's a selection of base layers to see you through every condition and temperature.
Neck tube or Buff
In cooler weather, a silk buff or neck tube can be used as a hat under your helmet, round your neck to prevent drafts or even a headband to prevent sweat dripping if it really starts to heat up! For something so thin and light they are incredibly versatile and in cool weather they provide a surprising amount of warmth and comfort.
Investing in these items of spring kit will add versatility to your cycling wardrobe so you can ride comfortably in a wider range of temperatures and conditions. If you are packing for a cycling holiday we'd recommend all of these items in your kit bag so you are ready for anything from cool early starts, mountain descents or unpredictable weather, in the UK or further afield.
Thin long finger gloves
It's always a pleasure to shed the thick cumbersome winter gloves but chilly spring winds can still lead to cold hands. While the weather is still cool a mid-way point of thinner but still long-fingered gloves is useful until it's hot enough to slip into short-fingered mitts.
A thin pair of long-fingered gloves is really handy (see what we did there?) all year round, particularly if you ride anywhere hilly or mountainous. Slipping on some gloves for the descent helps to keep your fingers warm, which is important for hand dexterity and braking or shifting on long descents. These lightweight long finger gloves in warm fleece have grippy palms for dexterity and control and will offer the right amount of insulation for spring rides.
Exclusive Endura offer for you!
We want to make sure everyone gets to benefit from our amazing partners! That's why all folk who book a holiday with us in 2021 will be eligible for an exclusive 15% off at Endura – the perfect way to make savings on specialist kit for your future two-wheeled travel. Think you're eligible for the discount or have any questions? Drop our team a line to find out more and get your discount code!