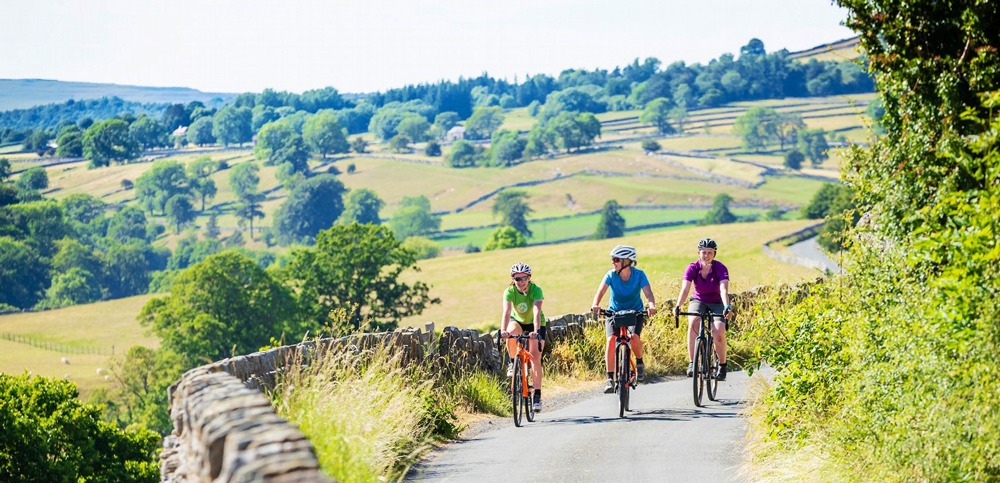 This challenging coast-to-coast route takes in some of the most beautiful landscapes in the North of England.
Whether you want to ride through the heart of All Creatures Great and Small country – think rolling hills, green pastures, colourful moorland, quaint farms, centuries-old villages, and charming barnyard animals – or delve deep into Lancashire-Yorkshire history, the Way of the Roses route has something for every cyclist. Not to be outdone by other coast-to-coast cycle routes in the country, this 170-mile tour starts from Morecambe in the west and finishes in Bridlington in the east, passing up and over the cheeky climbs of the Yorkshire Dales and crossing over the chalky undulating hills and big country views of the Yorkshire Wolds, while taking in the historic cities of Lancaster and York and scenic towns and villages including Settle, Pateley Bridge, and Ripon along the way.
Established as a National Cycle Network route in September 2010, the Way of the Roses is a classic long-distance, coast-to-coast cycle route that uses a combination of cycle paths and quiet country roads in addition to some short sections of farm track. The route is designed for a wide range of cyclists and offers a challenge with some hard climbs – the highest point at Greenhow being over 400 m (1,312 feet).
The route is named after the War of the Roses, the series of bloody civil wars during the 15th century between two competing royal families – the House of York (white rose) and the House of Lancaster (red rose), both members of the royal Plantagenet family. After 30 years, the wars finally ended as the new Tudor dynasty emerged, uniting the Yorkist and Lancastrian claims.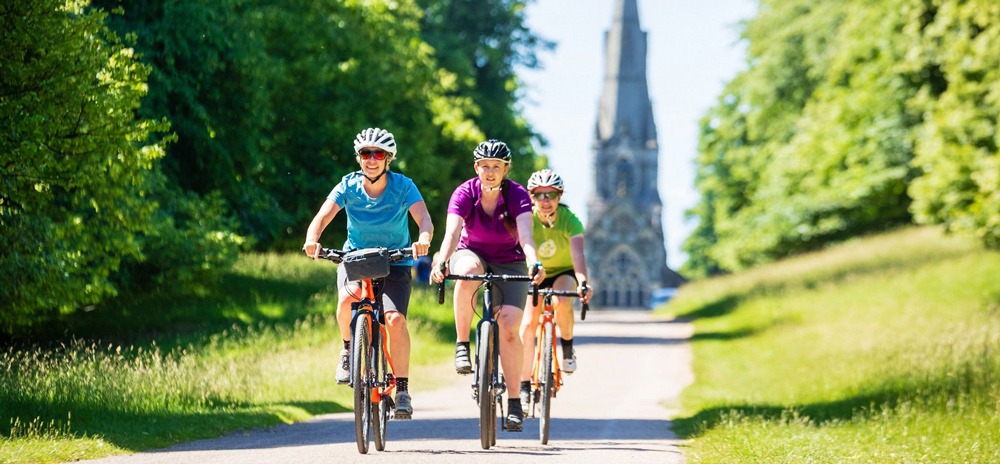 In addition to the history and natural beauty of this slice of Northern England, you'll find something every local is proud of – their food, drink, and cultural heritage.
The Way of the Roses is a rewarding and challenging trip, and a great way to cycle from coast to coast. With excellent transport connections to York, it's easy to get to the start and end of the trip, making for a nice UK-based week away.
We sat down with veteran Skedaddle guide Rob Wood to learn more about what you can expect from the route.
I'm lucky enough to have been a guide on Way of the Roses every year since joining Saddle Skedaddle. It's such a diverse and interesting route from bleak exposed moorland to gently rolling hills and rich fertile farmland; from picturesque honeypot villages to towns and cities, it never ceases to delight or reveal something new in this microcosm of the UK. – Rob
Why did we add it to our holiday range?
We've been successfully running our C2C and Hadrian's Cycleway coast-to-coast trips for many years, where both start in Cumbria and end in Tyne and Wear. So, the idea of a new coast-to-coast route through Lancashire and Yorkshire slotted into the range really well. We just needed to make sure the route was accessible for mid-level riders and had the combination of decent days in the saddle and achievable distances each day. And of course, it needed to have a few cheeky challenges along the way (that weren't too daunting, of course).
'What we created is indeed along the lines of the C2C, so anyone who has done this in the past would equally enjoy the Way of the Roses,' says Rob. 'It is also not as well-known as C2C, so there tend to be fewer people riding in the busier times of the year. That said, accommodation is a tad more sparse so it is certainly a trip we need to organise well in advance so the pieces of the jigsaw fit well together.'
Recce highlights
While we aim to create the most enjoyable route for each day of our tours, there are always sections that our guides ride during the reconnaissance missions and know immediately they will be one of the highlights of the trip.
'I know I'm odd, but I do like the challenge of a climb and the one out of Settle on Day 3 is a real favourite of mine,' Rob tells us. 'It's pretty much straight up after leaving the town and even has a cobbled section to really make you concentrate.'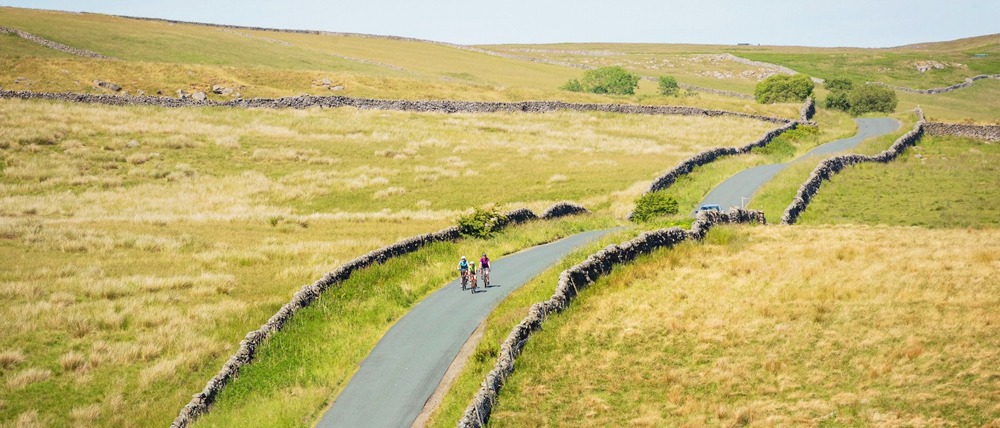 But once you've 'knocked it off' and are on High Side, you are treated to a stunning view of Rye Loaf Hill (547 m) and the views back down to Settle are superb. Knowing the steepest section of the day is behind you is always a nice feeling.
That said, there are a few more cheeky climbs during Day 3 but you are rewarded at the end with the descent into Pateley Bridge where we stay. 'Fortunately, I'm not the only one looking to have a celebratory 'shandy' at the end of the ride and know just the place to go,' says Rob flashing a mischievous smile.
'I'm also very partial to the views of the Trough of Bowland and the Yorkshire Dales which open up shortly after the lovely Crook O'Lune viewpoint on our first cycling day,' Rob continues. 'And the fantastic dry valley after Millington Woods on Day 5.'
At first, it was really tricky to find decent accommodation that didn't mean distances were unbalanced during our initial research trips. But as a route and its facilities evolve, then so do our trips along with it. We've now built up a great relationship with our accommodation providers along the route so are able to secure places well in advance. This really helps in the planning of our set dates and also for self-guided trips as we're able to reserve rooms at our preferred accommodations even before we've got all the details.
Historical and natural wonders of the route
As it crosses the country from the Irish Sea to the North Sea, the Way of the Roses route passes through stunning areas of natural beauty, such as the Lune Valley, the Forest of Bowland, the Yorkshire Dales, Nidderdale AONB, the Vale of York and the Yorkshire Wolds. We also cycle through the historic cities of Lancaster and York, while hitting plenty of charming villages like Settle, Grassington and Pateley Bridge along the route.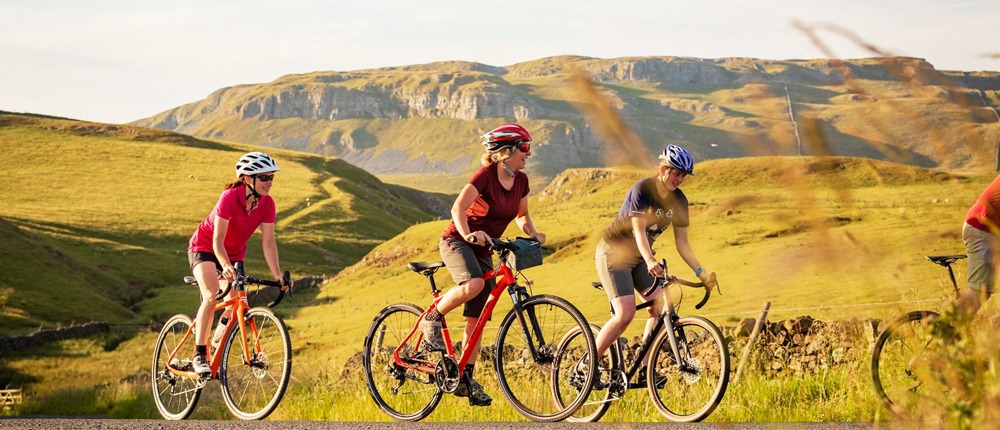 'The Way of the Roses route has loads of places of interest and whenever circumstances allow, we try to stop and let the group take in those places,' Rob tells us.
Morecambe Bay forms the largest single area of continuous intertidal mudflats and sandflats in the UK, and a short distance from the official start of the route lies the wonderful statue of Eric Morecambe. 'Even the most reserved of groups find it impossible not to sing 'Bring Me Sunshine' whilst balancing precariously on one leg for a pre-departure photo,' Rob declares.
During our first day of cycling, we pass through Lancaster, a place with a rich industrial and cultural history before the cycling gets a bit more challenging as we start to tackle the hills of the Yorkshire Dales. You are rewarded with stunning views of Ingleborough, Pen-y-Ghent and Whernside, the famous Yorkshire Three Peaks.
The highest point of the route, Greenhaw Hill at 402 meters, greets us at the end of Day 3. Coldstones Cut is waiting to greet you at the top, a massive monumental artwork (the largest and highest in Yorkshire) with fantastic views over Nidderdale. This is a great place to relax before taking on the challenging descent to Pateley Bridge where we stay for the night.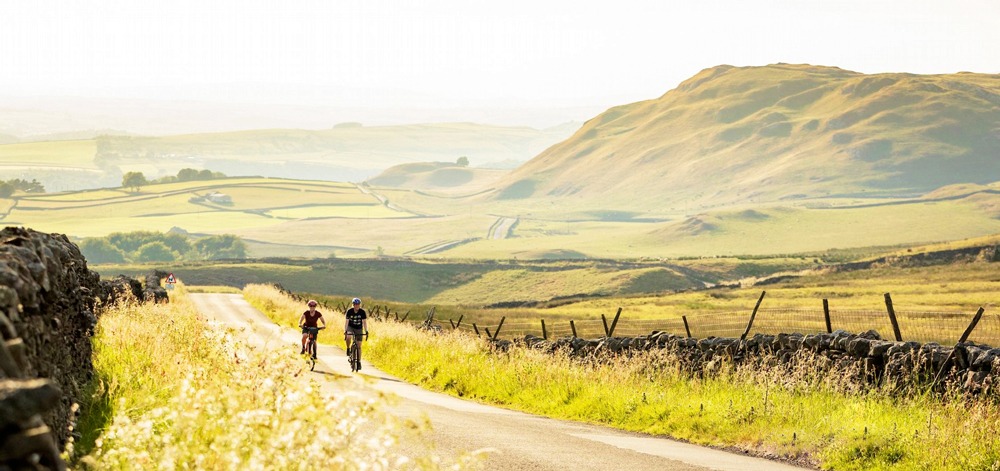 On Day 4 we climb up to the famous Brimham Rocks – a weird and wonderful collection of eroded Millstone Grit rocks that are scattered over a wide area with great views and are apparently associated with the druids, Mother Shipton, and even the Devil – before dropping down into Ripon past one of the most interesting sites on the route, the Fountains Abbey and Studley Royal World Heritage Site.
A nice evening out awaits us in the historic walled city of York, home to the impressive 13th-century Gothic cathedral that dominates the city and now widely considered to be one of Europe's finest medieval buildings. York Minster is not only the largest Gothic Cathedral in Northern Europe but also contains more medieval stained glass than any other cathedral in Britain.
Walking through York is like stepping back into the middle ages – the overhanging timber-framed houses and traditional shopfronts of The Shambles makes it one of the UK's most historic and picturesque streets. 'As someone who went to university in York, I love the city and all it has to offer and will grab any opportunity to visit this vibrant, historic, beautiful place,' Rob tells us.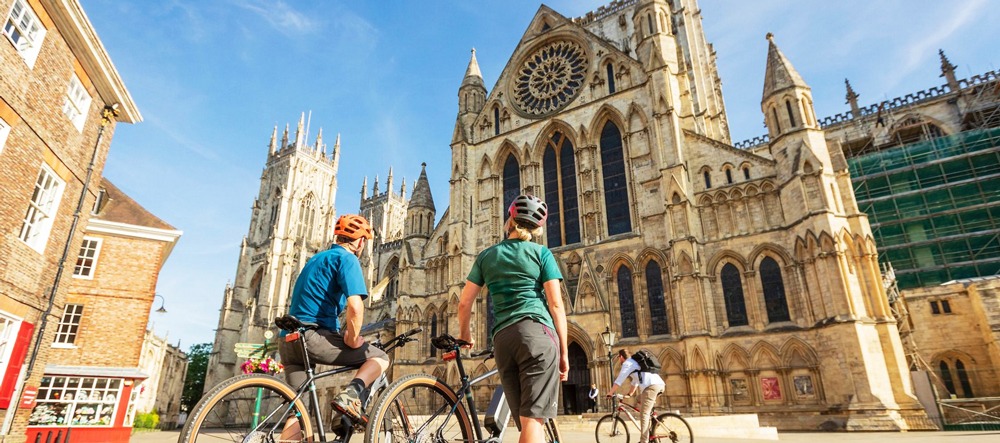 The last couple of days see us cycling through the vast expanse of the Yorkshire Wolds. This is David Hockney country – gently undulating chalk hills, colourful fields, charming market towns, and sweeping coastline. 'Have a look at some of Hockney's Yorkshire landscape paintings such as The Road Across The Wolds, Looking Towards Huggate and A Larger Valley, Millington,' Rob recommends.
So much more than just Yorkshire puds (though we'll take a couple of those, too)…
Spending all day on a bike, you can work up quite an appetite. Luckily, there are great places to eat in many of the towns along the Way of the Roses route, from the fabulous seafood offerings along the coast to the rural specialities of the Dales and Moors. And it's not just Wallace & Gromit who love Yorkshire's dairy products – from cheese to ice cream there are plenty of artisan food options to tempt the taste buds and help replenish those fuel stores.
Yorkshire Curd Tart and Yorkshire Parkin are delicious sweet snacks and perfect for refuelling between breakfast, morning coffee, lunch, afternoon tea, and dinner. 'Pateley Bridge is pork pie nirvana with a dizzying array of sweet and savoury toppings available – the delicacy is said by some to be the perfect post-ride recovery product featuring a perfect combination of essential proteins and nutrients,' Rob explains.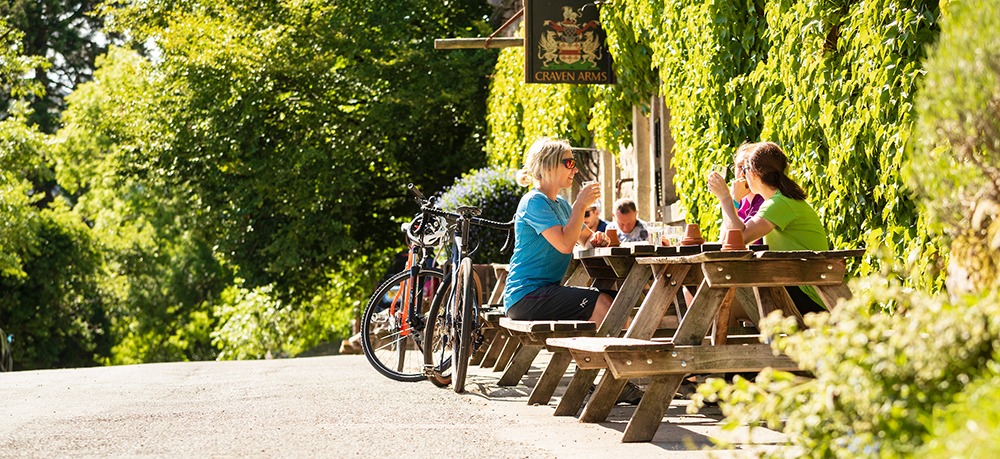 'Foodwise I've taken evening meals at lots of the pubs and restaurants where we stay overnight and certainly have my favourite haunts for these now,' says Rob 'There's nothing worse than a bad meal after a tiring day on the bike and so knowing the best places and next best options (in case of emergencies, etc.) is always something I make sure is set-up well in advance.'
One of our favourite food-focused accommodations is the Yorkshire Wolds Cookery School where we spend the last night of the trip. 'It's always lovely to spend the last night of the trip all together at the well-appointed Yorkshire Wolds Cookery School where the staff prepare a tasty, home­-cooked meal which we enjoy around one big table before retiring to the well-appointed lounge for a nightcap and a natter,' Rob tells us.
Home of strong tea and real ale
Given it's Yorkshire, you can be assured a strong cup of tea anytime you like, but at the end of a long day on the bike, there is nothing quite like a pint of Yorkshire ale to revive you. Yorkshire is famous for its 'real ale' and there are plenty of pubs along the route and where we stay each night to grab a cheeky pint. Real ale is a natural product brewed using traditional ingredients and left to mature via a secondary fermentation in the cask or bottle from which it is served directly in the pub. It is this in-cask secondary fermentation process that makes real ale unique and develops wonderful tastes and aromas. 'My personal favourites include Timothy Taylor's classic Landlord, Sette Brewery's Epic IPA , York Brewery's Guzzler, and Wold Top Brewery's Wold Gold,' Rob beams. 'So be sure to give them all a taste.'
One of our favourite places for a cup of tea along the route is the Kilnwick Percy Hall Buddhist Centre just outside Pocklington. Set in lovely grounds, this welcoming centre offers up a peaceful and relaxing place for a cup of tea and contemplation.
The accomplishment of completing a coast-to-coast route
Any long-distance cycling route is a challenge and this one is no different. But this ride, in particular, has a certain appealing completionist aspect to it since it traverses the entire width of one portion of England. The sense of accomplishment at the end is fantastic and you can look forward to fish and chips in Bridlington's waterfront to celebrate your achievement!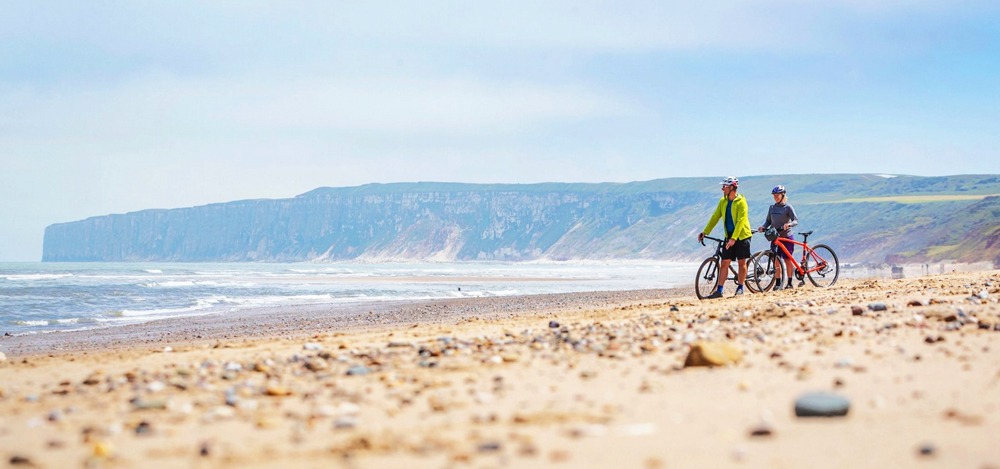 As with any multi-day tour, we enjoy experiencing the highlights and challenges along with you. 'I love how people gain confidence along the way with their riding,' Rob tells us. 'There's no better feeling than catching someone looking chuffed with themselves after making it up a steep hill, especially if it's the type of hill they'd not even have attempted before.'
'I'm always proud as punch to have led a group all the way from the Irish Sea to the North Sea and seeing everyone on the Prom at Brid clamouring for the end of ride photo always plonks a daft smile on my face and fills me with pride,' Rob continues.
Ready to complete your own coast-to-coast tour through the best parts of Lancashire and Yorkshire? Check out our Way of The Roses trip that comes in self-guided (so you can cycle at your own pace) and guided by our lovely guides options.