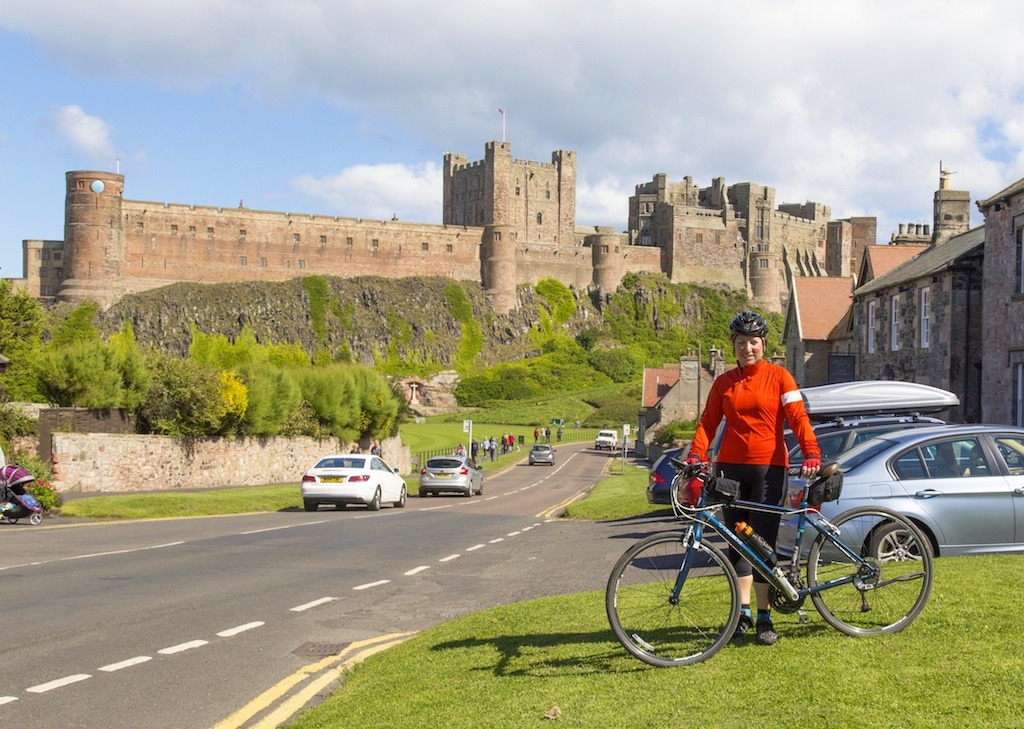 Tales of Kings, Queens and battles gone by are a key aspect of British heritage, and with the most castles of any county in the UK, Northumberland is a secret cultural hotspot with plenty of history to share. Combining culture and nature, our Coast and Castles takes you on a journey exploring some of the most magnificent historic fortresses, all with a coastal view to boot. In search of these spectacular sights, cyclist David Bentley shares his experience of this tour below, with some pretty epic shots to accompany. NB: For those who have not enjoyed this stretch of coastline before, prepare to be amazed…
As we drove up the A1 the sense of excitement was tempered with a palatable element of trepidation. Yes, my wife Leila and I are both cyclists, but does 30 miles on a road bike on a Sunday morning really prepare you for four consecutive days averaging 50 miles on the Coast and Castles route from Newcastle to Edinburgh? Well, that was something we were about to find out, and whilst we both had been to Newcastle and Edinburgh before, what lay between was very much a mystery. So for us this would truly be a voyage of discovery.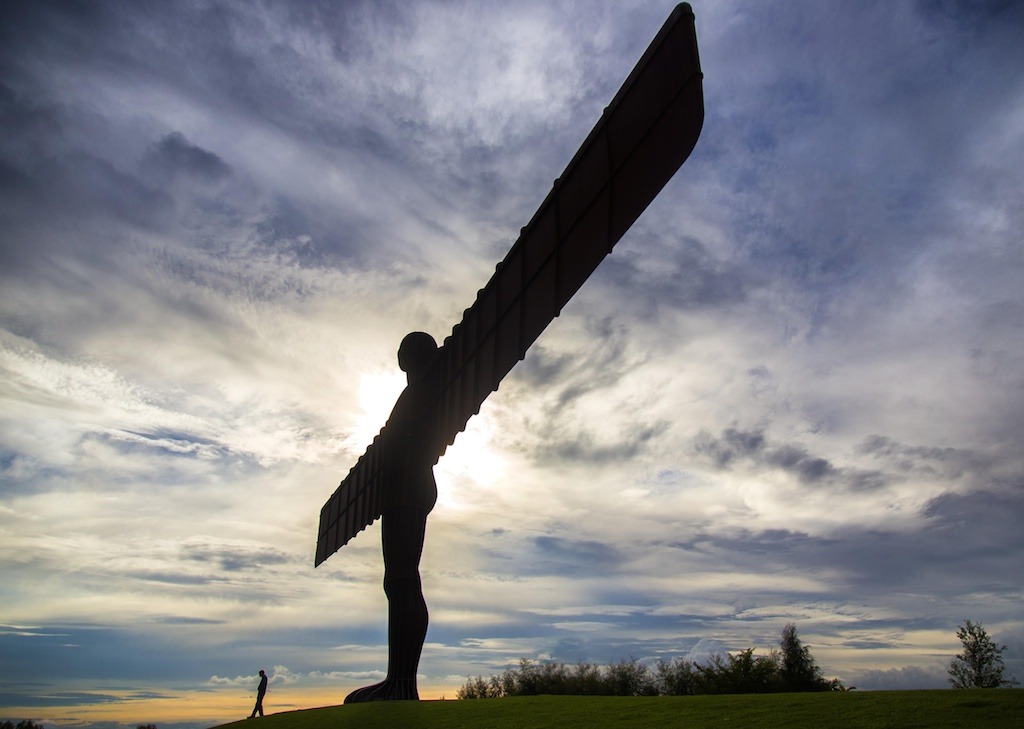 After a fleeting stop for the customary photo shoot at the Angel of the North, we found our way to our hotel for the night on the Gateshead quayside. The car was secured in the hotel car park (free parking for the duration of our trip) and Leila's hybrid bike was safely locked away by the concierge.  We then strolled out along the quayside in search of food, settled on an Italian restaurant to load up with pasta, and to study the map/trip notes for one last time.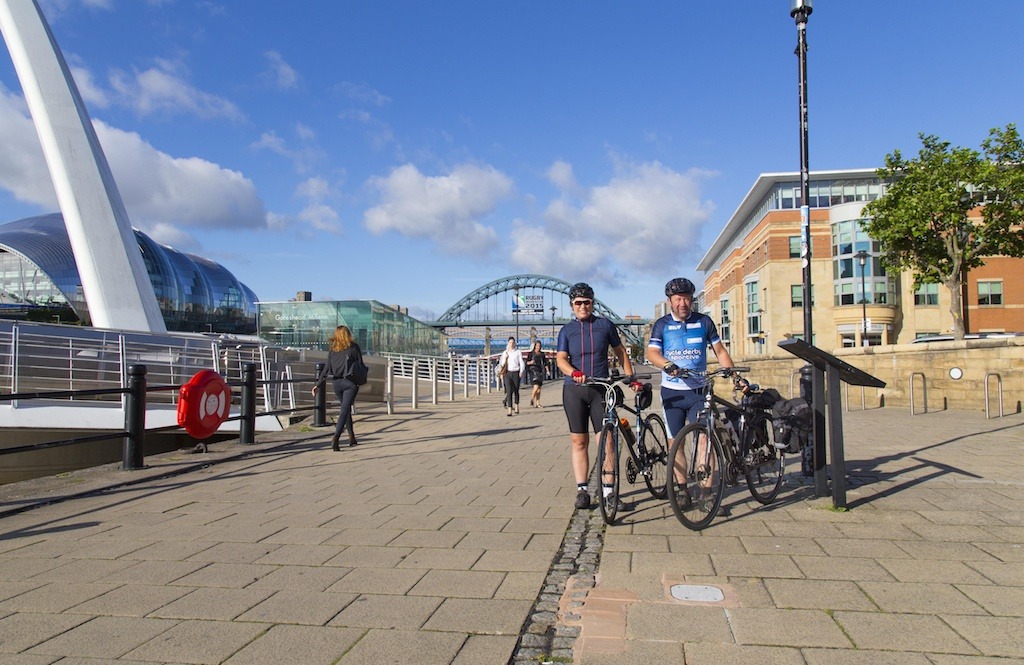 Day 1 – 51 miles (Newcastle to Alnmouth)
The following morning at 9.00 am saw us on the quayside once again, this time next to the Millennium Bridge all ready for our 'official start'. My hire bike had arrived complete with panniers, the sun was shining, and everything was good to go. It would have been nice for a cheering crowd to wave us off, but we made do with a few smiles and glances from morning commuters as we pedaled slowly east along cycle route 72. The going was fairly easy with good signage on a mix of cycle paths and minor roads until just over an hour later we reached the North Sea at Tynemouth.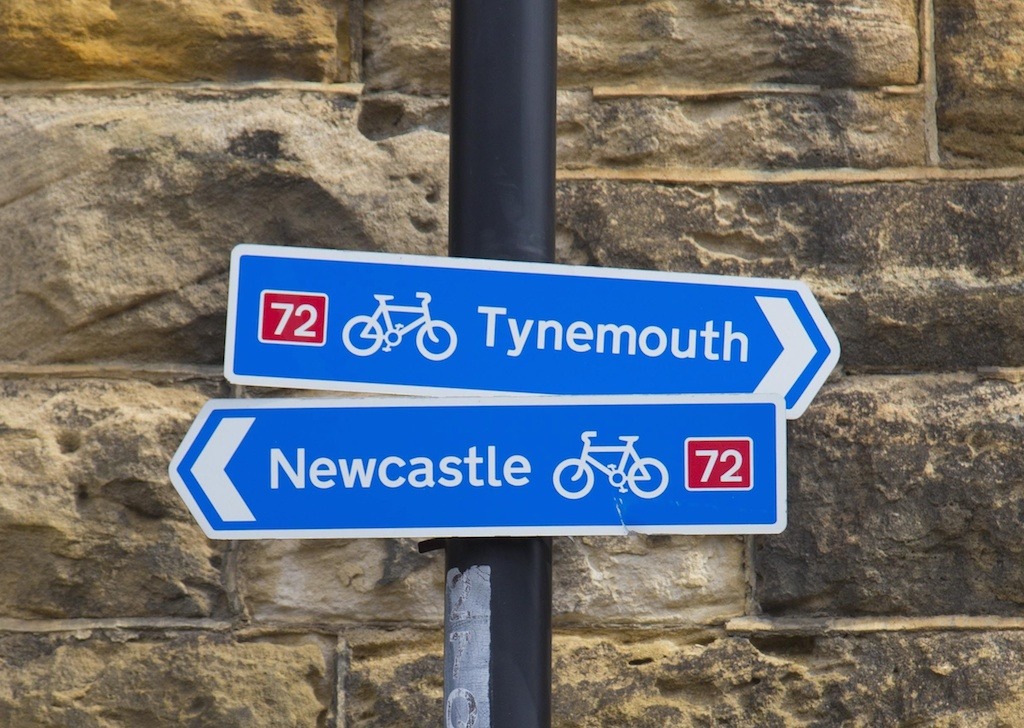 Turning north we changed onto 'Route 1' which would be our constant companion all the way to Edinburgh, and so far we hadn't needed to look at the map or trip notes once.
The rest of the morning was just as straightforward, there was no rush as we passed Tynemouth Priory and Castle, Whitley Bay, St Mary's Lighthouse and Blythe until we stopped for a late lunch at The Drift Café in Cresswell (37 miles completed). The trip notes came out for a second time to confirm we had only 14 miles to go and we were quite pleased with ourselves. We probably spent too long enjoying the cakes on offer, as the legs just didn't want to start pedaling when we eventually got back to the bikes. As a result the last few miles went even slower, but it was a good chance to enjoy the scenery as we rode through nature reserves, the small coastal town of Amble and on to Warkworth Castle. A final couple of miles and we reached the Hope and Anchor pub at Alnmouth for a welcome shower followed by an excellent meal in the restaurant.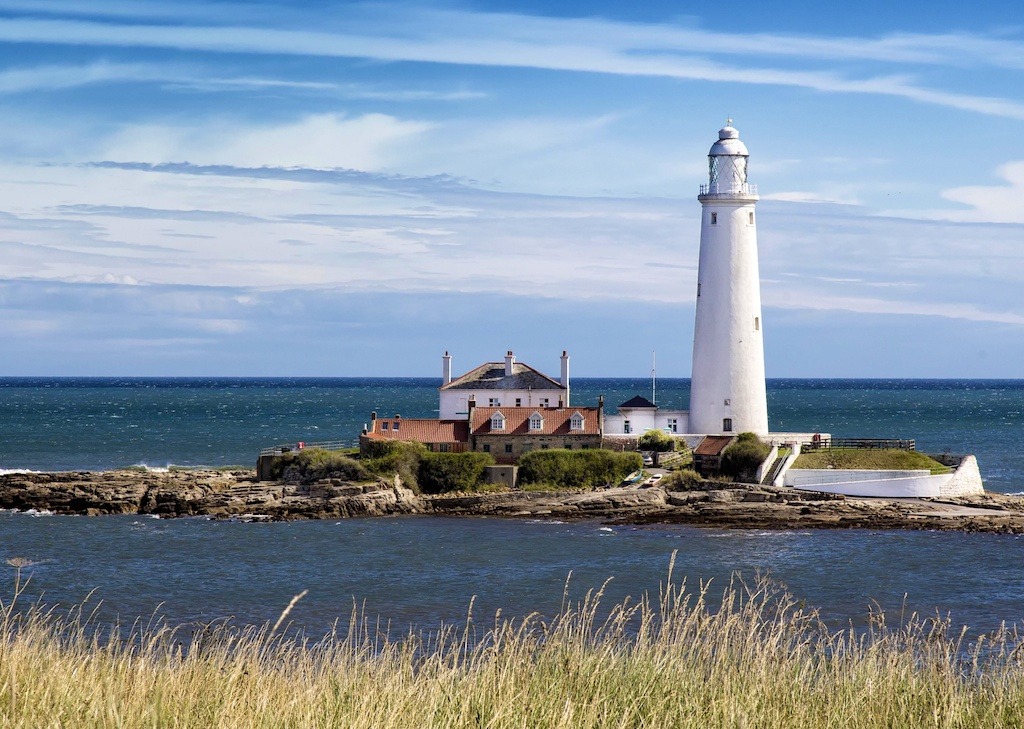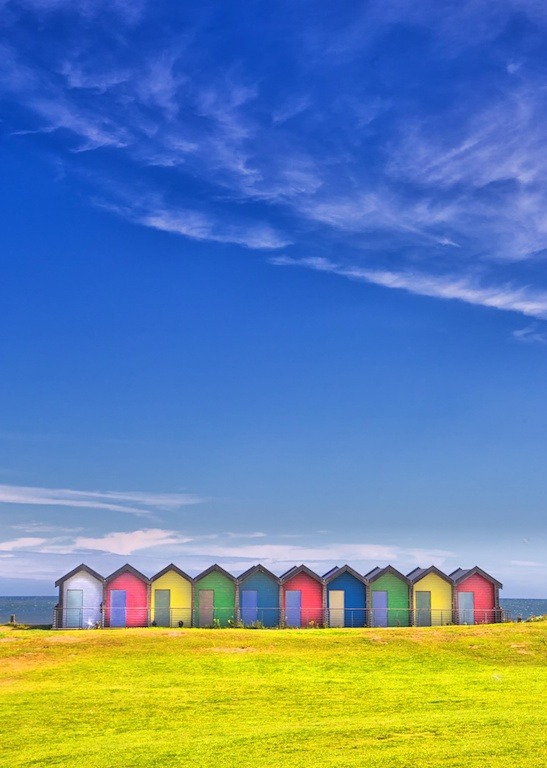 So first day done, and so far so good. My only regret was that I hadn't brought my own bike seat!
Day 2 – 50 miles (Alnmouth to Berwick upon Tweed)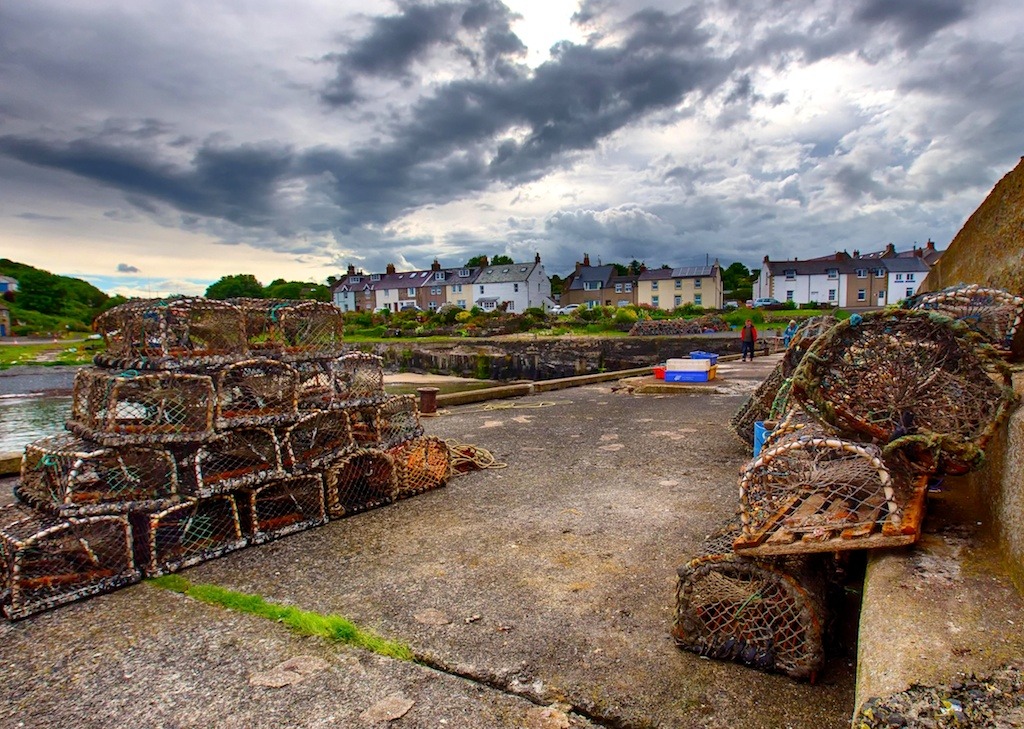 We were greeted with light rain when we peered out of the window the following morning. But for once the weather forecast was correct and it soon subsided as we cycled north out of the village. It was still overcast when we reached Craster, famous for its smoked kippers so we didn't stop too long. A short distance along the coast is Dunstanburgh Castle (which is well worth the detour), and by the time we had taken a few photos the sun had finally appeared. On to Seahouses reputed to have the best fish and chips in the UK, so that pretty much decided what we were having for lunch. For dessert we cycled a few miles further to the imposing Bamburgh Castle for a cream tea sitting outside in the sun. I really could get used to this type of cycling!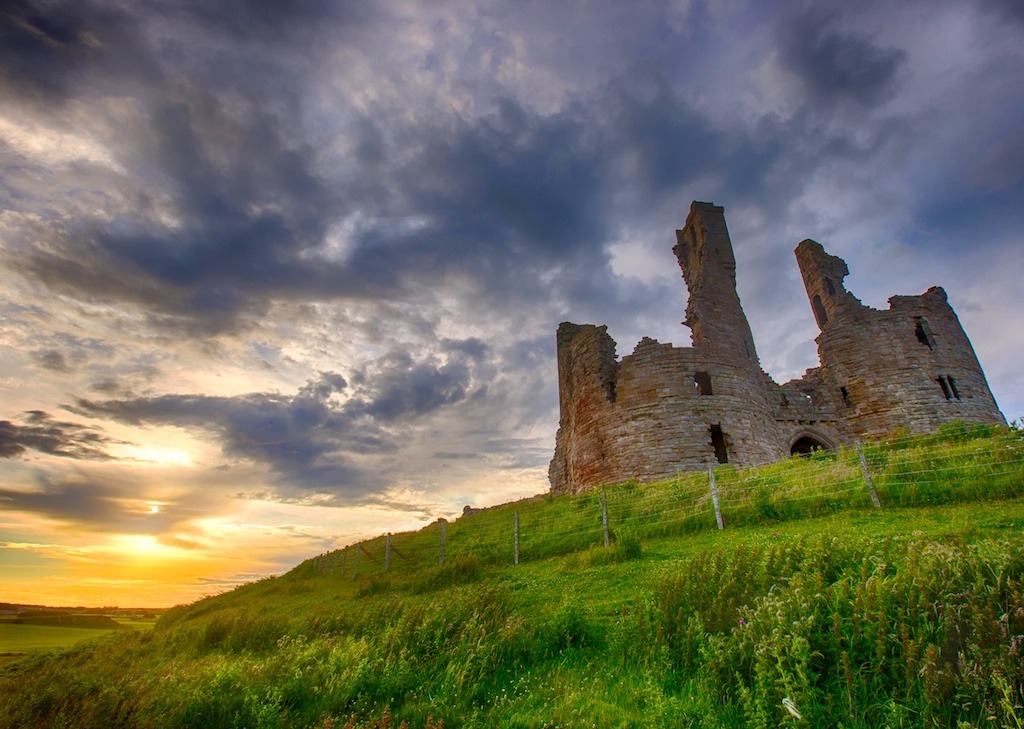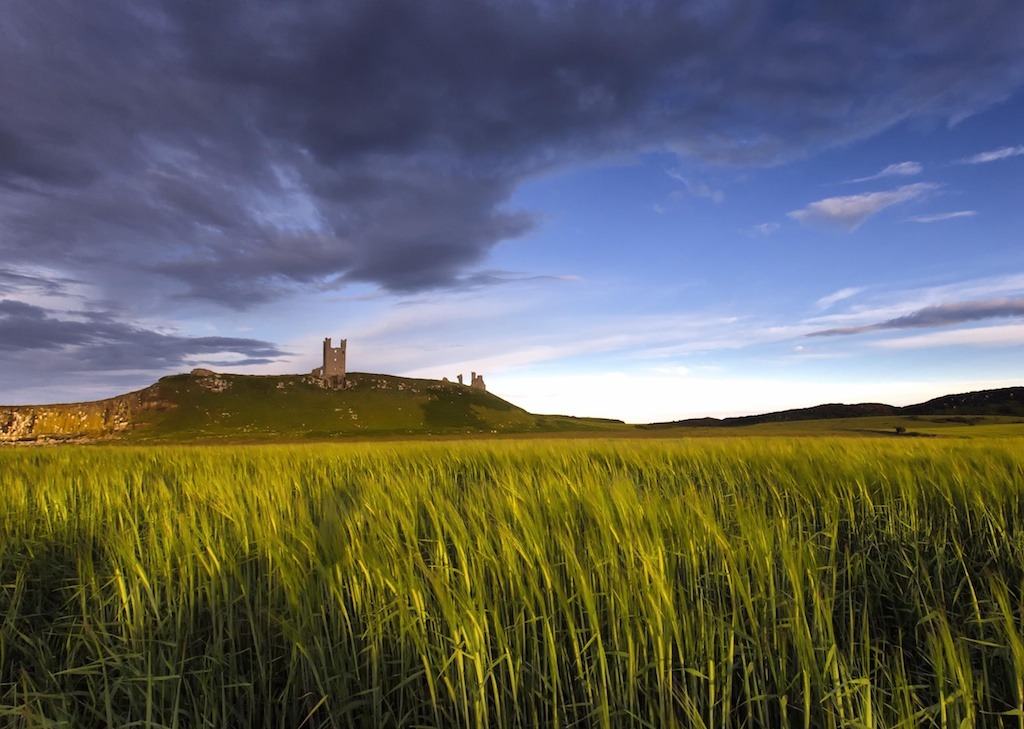 Again we probably stayed too long, we still had 25 miles to go so we decided to give Holy Island a miss (a good excuse to come back another day) and press on to Berwick. A large proportion of these latter miles were on coastal grass and our pace really did slow down. We were grateful when we eventually came round the headland to see Berwick upon Tweed below us.
The Elizabethan Town House was another gem, and with the bikes stored safely and after the obligatory shower we walked into town for something to eat. Berwick is another place we will have to come back to when we have more time.
Day 3 – 45 miles (Berwick upon Tweed to Melrose)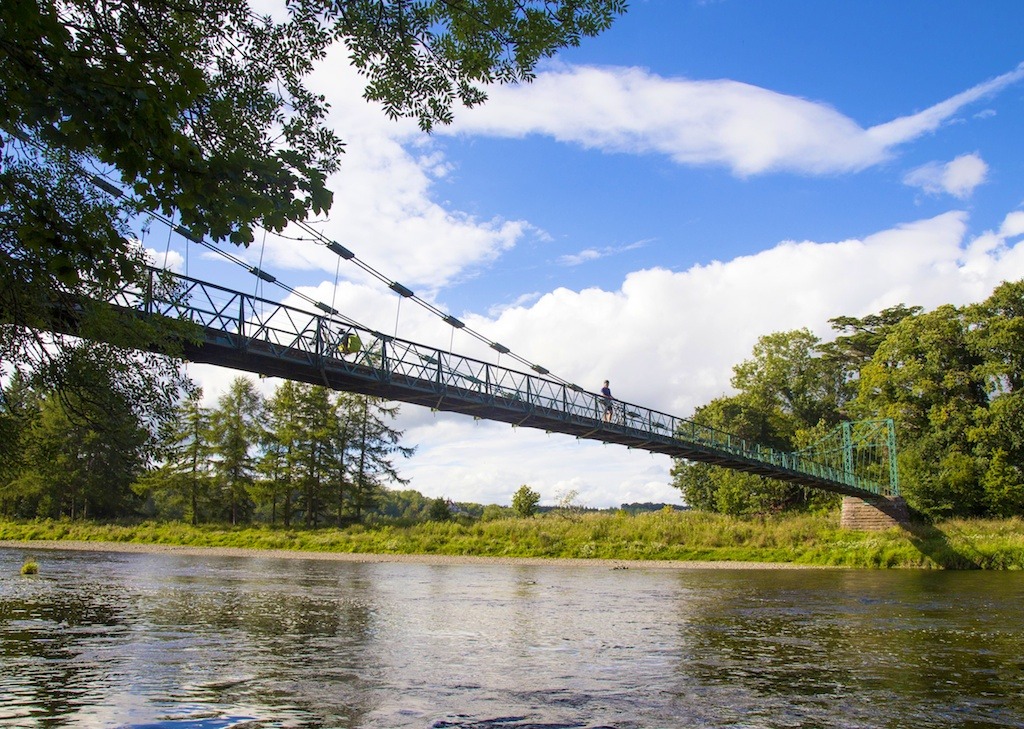 What was meant to be an easier and shorter day travelling west along the banks of the River Tweed turned into a bit of a grueller, cycling against strong winds which were constantly in our faces. The scenery of the border country however more than compensated as we travelled on, never too far from the river and crossing it on several occasions. Again we didn't plan our lunch stop very well and it was well into the afternoon when we arrived in Kelso with only 14 miles to go. We were very pleased to see cycles in all the shop windows in celebration of our achievement, until someone suggested it might be for the Tour of Britain which was coming past in a couple of weeks!
The wind didn't subside in the afternoon and we were quite tired by the time we arrived in Melrose. The restaurant next door to our B+B, received our custom because we couldn't be bothered to walk any further, and after another excellent meal we had an early night to prepare for our final push.
Day 4 – 54 Miles (Melrose to Edinburgh)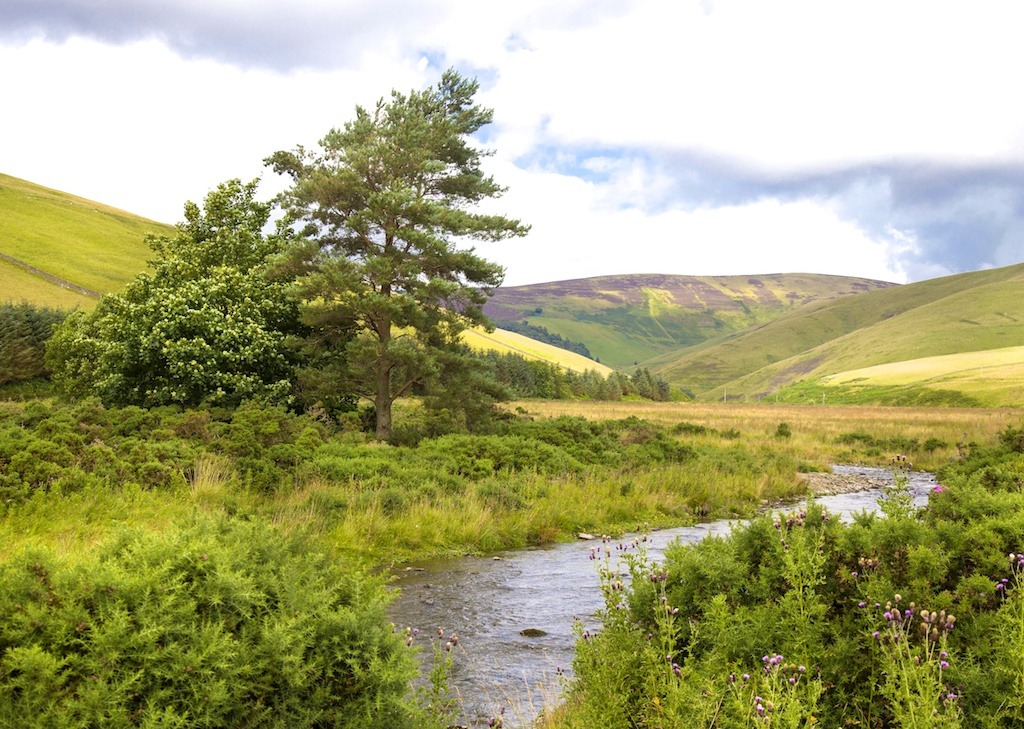 The last day was meant to be the hilliest in addition to the longest miles so we set off early travelling west to Innerleithen. This is the last town to stock up before turning North over the Moorfoot hills. So we had a break (and a cake) before tackling the seven mile climb we had been told about. The scenery just got better and better as we climbed gently out of town. The wind which had caused us so much trouble the day before was now at our backs, and we over the top with Edinburgh in view before we even realised it. An exhilarating descent down to Bonnyrigg, then on to Dalkeith where some local jokers had turned a couple of the signs around. This was the first time we really needed the map, but after a couple of minutes of indecision we were on the correct way again. The last few miles into Edinburgh on an old railway line zoomed by, and before we knew it we'd reached The Royal Mile with The Fringe Festival in full swing. A couple of pictures then we were off to meet our smiling Saddle Skedaddle rep to whisk us back down the A1 to our hotel on Tyneside .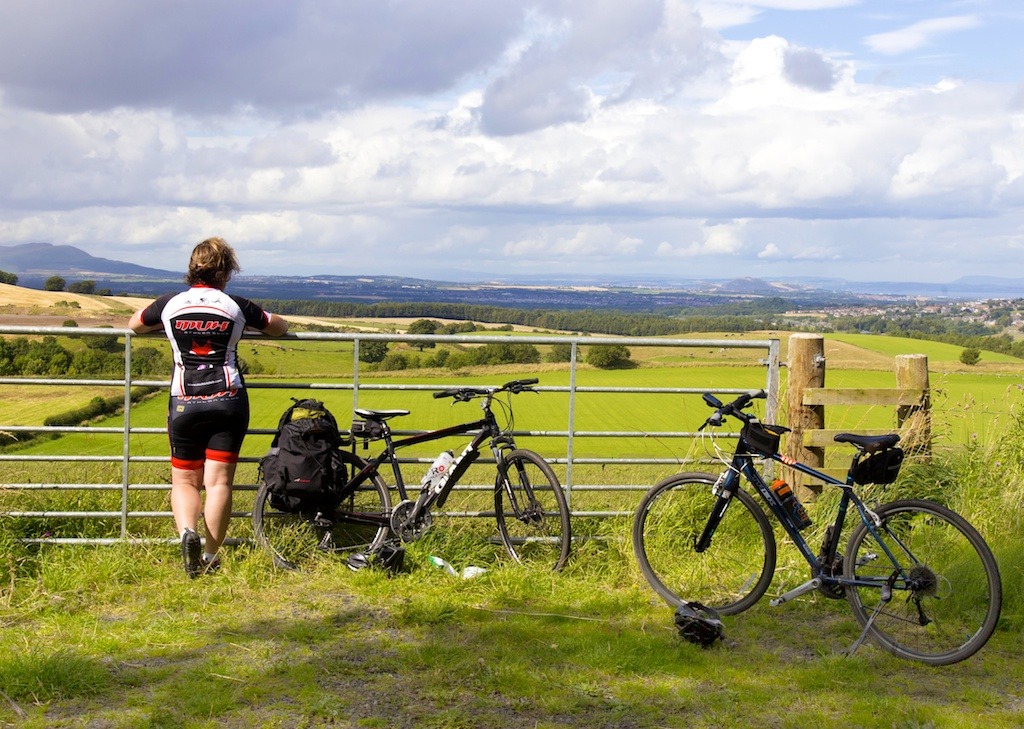 Looking back now only a few weeks later those four days cycling seem like a blur. We covered so much ground, and saw so many sights that you would never see from a car window. So, Cycle Touring a hit or a miss? Well, we've just been pouring over the Saddle Skedaddle brochure to see what we can book up next. I think we're hooked.
David is the winner of Customer Competition and has won £250 of Skedaddle vouchers, to put towards a holiday of his choice in the future. He will also be entered into our final year draw for the chance to win a further £1000, so do keep your eyes peeled to find out how he gets on! For more information about our Coast and Castles holidays CLICK HERE.