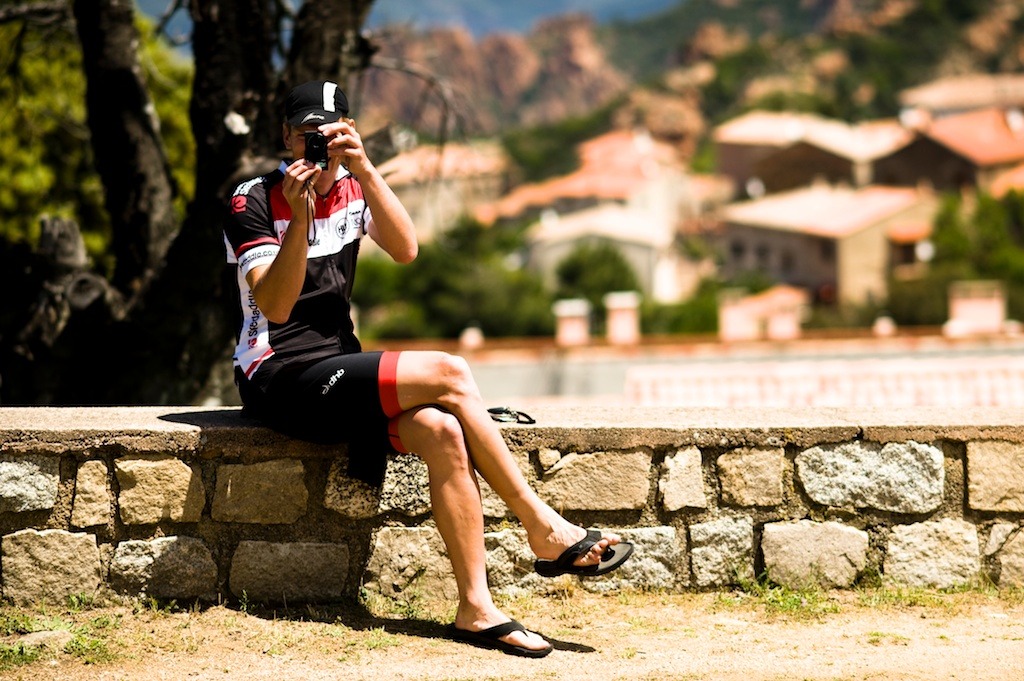 We're extremely proud of our tour guides and the amazing work they do to make each holiday extra special. It seems their talents know no bounds and includes leading daily riding, preparing lavish lunches and bringing bags of character and smiles to boot (yes we really do think they have superhuman qualities!) Alongside expertly juggling all these tasks they're also pretty nifty with their cameras and technology too. So, credit where credits due we say and wanting to celebrate these exceptional abilities, we're running a Guides Competition with lots of fab prizes up for grabs.
Since its launch in February 2015, we've picked a monthly winner, based on their media entries. With everything from tweets, to photos, blogs and videos considered as part of the competition, we've received some amazing content and lovely customer feedback to boot. With a years worth of cycling journeys to report back on, it's safe to say we've had some fantastic guide interaction, with everything from fun on the beach in Costa Rica, to behind-the-scenes trip recce's in the UK. All of this communication has helped us gain a greater insight into the world of our much-loved guides and allows you to find out what we're up to across the globe!
Over the past 12 months we've selected our monthly winners, who each provided invaluable content that filled our social feeds with fantastic in-the-moment guiding experiences. We've had everything from tweeting on trips, photos, blogs and even a staff takeover on our Instagram feed. As part of their win, each guide received a pair of Endura cycling shorts and the chance to be put forward to our final year prize, the much-lusted after Giant bike (RRP £2000). Without further ado, here are the 12 monthly winners:
February – Alastair Clark
March – Lieven Loots
April – Tom Owen
May – Stephen Watson
June – Richard Blackmore
July – Les Haddon
August – John Walsh
September – Dan Smith
October – Tony Stoddart
November – Al Cuthbertson
December – Hannah Reynolds
January – David Hall/ Tomás Castrillón
With the bike prize now in sight, we've whittled down the winners to 5 shortlisted guides, who each went above and beyond in 2015/6 and will now be put to the public vote to win our annual guide prizes (1st place: Giant bike, 2nd place: £200 & 3rd prize: £100). We now need your help to choose an overall winner and help us crown our guide of the year and the runners up.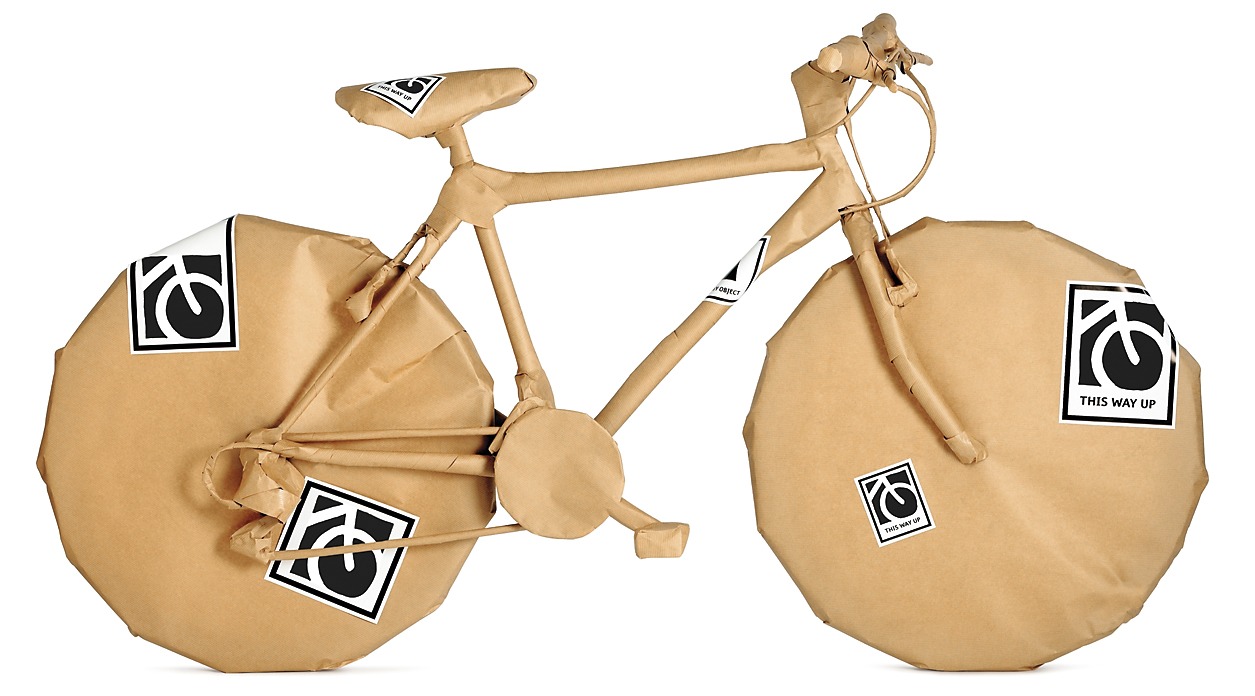 The Shortlist
'Locals in Colombia are as gentle as you get them…'
In January we handed over the reigns of our Instagram account to Colombian local and our cycling man on the ground, Tomas, who helped bring a taste of the exotic to our picture driven social feed. With expert local knowledge and 'on the move' insights, this is a fantastic entry helping to raise the profile of this increasingly popular destination. For those of you who have seen Netflix's smash hit Narcos, you'll think you've walked on the set, for those who haven't, prepare to be captivated by this stunning country.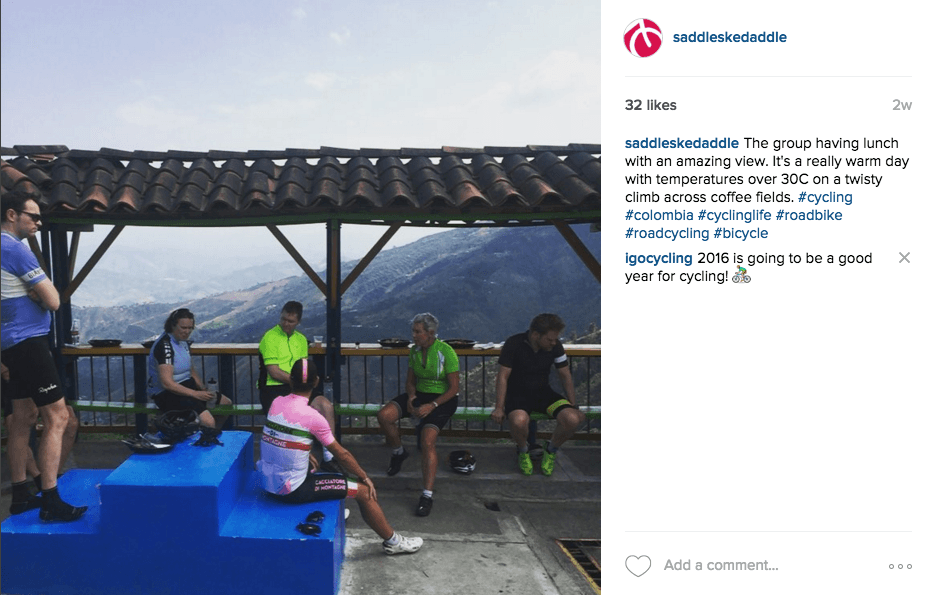 Click here to check out our Instagram page and see Tomas' entry for yourself!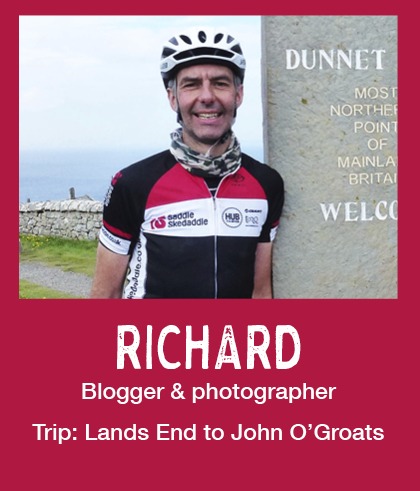 'Eager anticipation. We've practically made it, only 51miles and 780 meters to climb.'
Setting up your own blog is a daunting task for many, combine that with the fact you're writing this on the road, whilst undertaking the UK's most challenging cycling journey, Land End to John O'Groats, and you've got yourself a fair challenge. Cue Richard Blackmore, the jack of all trades, who gave us a day-by-day account (accompanied by some smashing photos) of one of our most popular UK tours. Hats off to you Blackmore, that's some impressive time management you've got there!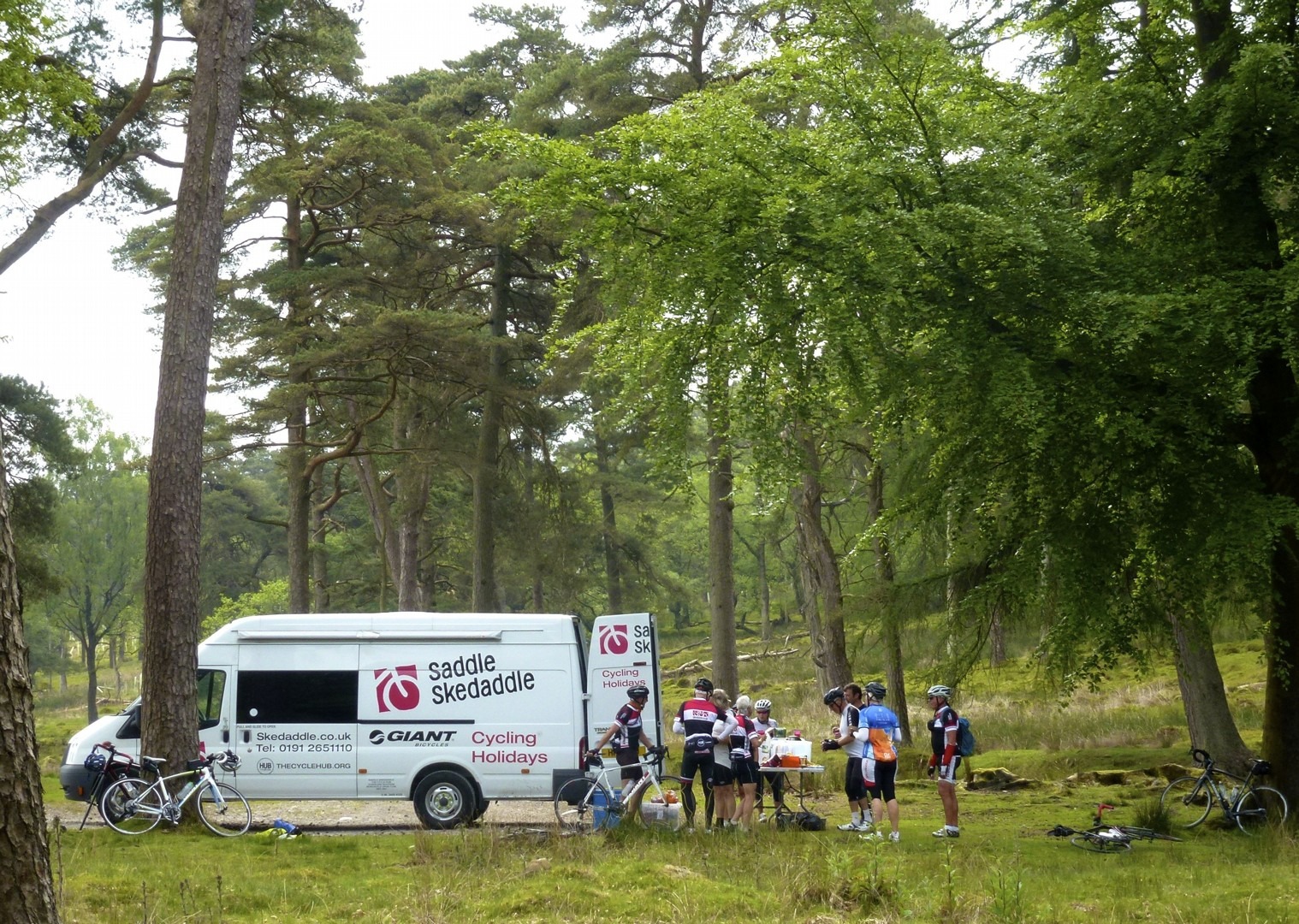 Want to read his blog in full? Click here.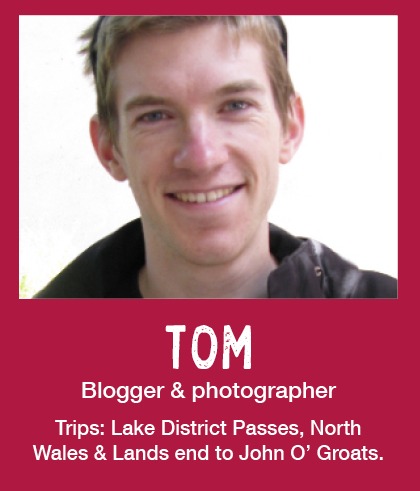 'The weekend got off to a good start on arrival at the accommodation on Friday with a fine spread of afternoon tea and Welsh cakes. All fuelling up was appreciated on the first climb of the weekend as the road reached up to the 500m contour at the head of the Cwm Hirnant valley.'
New guide on the block, Tom Owen, wowed us with his wonderful post-trip blogs, which helped provide a new window into some of our more popular road cycling holidays. From cheeky tea breaks, to that all-important skedaddle picnic set up; Tom knows the ingredients for the perfect skedaddle tour.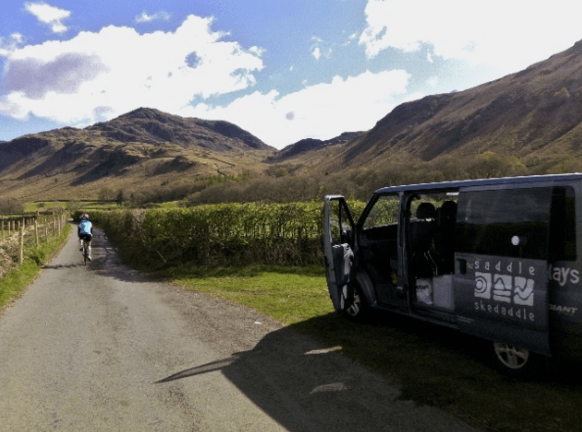 Check out Tom's fantastic blog by clicking here.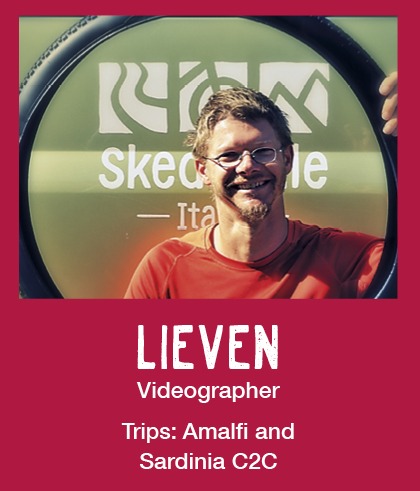 It's no secret our guide in Italy likes to get out on the trails with his camera in tow, and this year we've been lucky enough to see some more great footage from Lieven! Winner of our March competition for a fantastic Amalfi video, he has since gone on to provide us another fab video from the sun-kissed climes of Sardinia.
Here's a flavour of what he can capture whilst out on the bikes:
Sardinia – Coast to Coast – Mountain Bike Holiday from Saddle Skedaddle on Vimeo.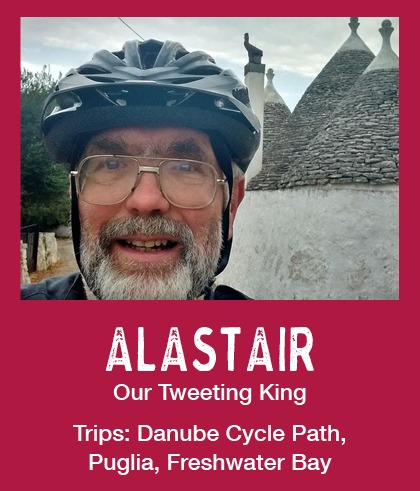 Having won our first guide competition tweeting task at last years guide weekend, Alastair proved he'd taken to twitter like a real pro. Throughout the year he's kept up his technological prowess with prolific tweeting from each of the trips he's taken on. From selfies infront of the famous Trulli home of Italy's heel Puglia, to snaps of his customers taking to the trails in Freshwater Bay, we've certainly been kept smiling in the office by Alastair's top tweets.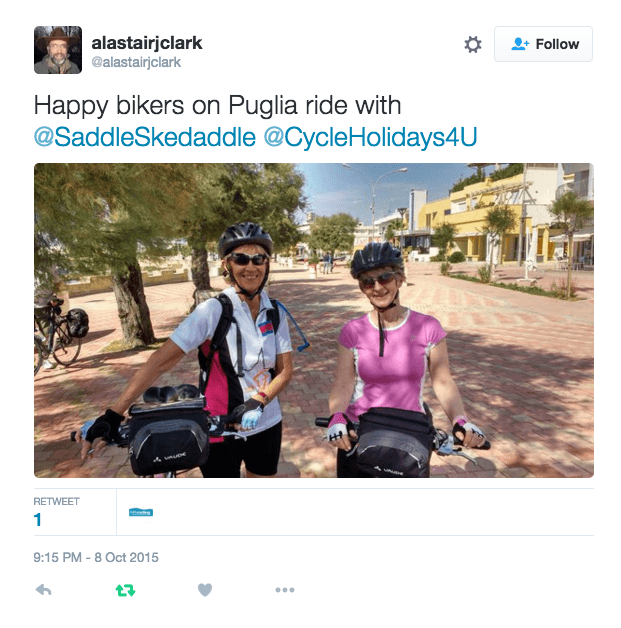 Want to see Alastair in action? Head over to our HFH twitter feed by clicking here.
Now it's over to YOU! Join in the fun and help your favourite guide win the big prize. Whether you've been lucky enough to join us on a trip with one of the above shortlist entries as your guide, or you simply want to see their hard work rewarded, this is your chance to have your say. To cast your vote, click here.
Voting closes at 6PM on saturday 27th February, so you'll have to be quick! In the meantime, keep your eyes peeled for behind-the-scenes access to our annual company gathering, which takes place from February 26th. With office staff and guides gathered from accross the globe, we'll be bringing you all the latest goings on from the people behind the wheels. Follow #guidesweek to keep-up-to date!