Just across the English Channel lies Brittany a place that is simply bursting with cycling opportunities all waiting your arrival. Whilst it is the starting point for our two week cycling tour that goes from St. Malo to Nice, it is also a place where you are able to do a much gentler cycling holiday.Starting and finishing in St. Malo, the average cycling distance is around 25 miles a day and it explores the rolling countryside of the area  and visits along the way  Dinan, Combourg, Pontorson and Vivier-sur-Mer.
Need to know a little more then check out the below customer story or click here to request the Brittany Cycling Holiday tour notes for the self guided tour.
Having a Wheely Good Time – Robbie Thurgood
If you are one of those people who last climbed on a bike when you were 10, you do not know what you've been missing. No, seriously. Even the most hardened getting-drunk-in-the-sun package holidaymaker (er, us) cannot fail to be won over by the freedom of pedalling along quiet country lanes.
It's also a beautifully cheap holiday that can be enjoyed at home or anywhere in the world. But it does help if the somewhere in the world is flat-ish. While Lycra-clad nuts on pricey bikes go for the land speed record cycling up an Alp or two, for most of us a gentle pedal between pubs is more appealing "with the bonus that the booze doesn't count when you're in the saddle all day. So operating on the principles that we wanted flat ground, good food, good drinking and lovely scenery, we decided to take our first cycling holiday in Brittany. And as we didn't fancy lumping our bags around, we plumped for a company that offered to transfer your main luggage between hotels while you got on your bike every day with nothing weightier than a water bottle and a map. Saddle Skedaddle is a small firm based in Newcastle run by an ordinary group of blokes who all love cycling. We figured they were a good bet for nervous novices like us. The company offers either self-guided or  in the UK, Europe or guided tours or and far-flung places like Cuba and Chile.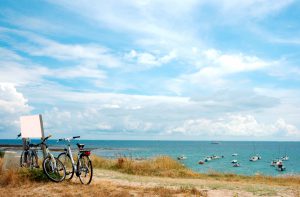 We chose to go it alone on our week-long trip, although if you want to make lasting mates the group trips sound a very good bet. Skedaddle supply hire bikes, helmets and locks in your country of choice as well as detailed and easy-to-understand route maps. You can choose easy trips (fantastic if you've got kids) where you cycle between 15 and 25 miles a day on level ground, through gentle (up to 40 miles a day with a few cheeky hills) to masochist (70 miles and mountains).
Naturally, we chose easy and set off on a high-speed catamaran Condor ferry from Poole in Dorset to the beautiful port of St Malo on the north coast of Brittany. The crossing takes around five hours and you can take your own bikes free. Skedaddle works closely with cycling tour specialists in your destination country and we were welcomed by the lovely Valerie  when we arrived. All the maps, local information and 24-hour help numbers were waiting for us in our spotless hotel room.
We were both a bit nervous on our first day of cycling – foreign country, unfamiliar terrain and wine hangovers  – but once we were out of the busy suburbs of St. Malo we knew we were in for a treat. We soon found ourselves on a blissfully empty country road near the banks of the Rance River. There were days when we cycled for five hours and saw only two or three cars. Skedaddle had picked the route with such expertise that every day was a peaceful pleasure with French cows and soaring eagles watching your progress.
The French appreciate cycling and cyclists too, which means even wobbly beginners are treated with respect and a cheerful – bonjour by the few drivers you do see. Before we knew it our first day was over and we were on the quaint cobbled streets of Dinan. We'd never heard of it either but the town is absolutely beautiful, all crooked half-timbered homes and fairytale French spires.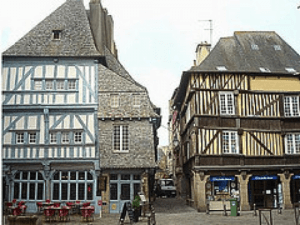 Delightful Dinan
Our bags were ready and waiting for us in that night's hotel, set in the centre of the ancient town. And there is nothing more satisfying than sinking that first 1664 beer after a day in the fresh air on a bike. Sheer bliss.
The days are organised so you've got lots of time to enjoy a leisurely breakfast and to go sightseeing en route to your next destination. We stopped so many times to photograph amazing French chateaux and huge skies over sweeping landscapes that we were out of the saddle more than in it.
Our second stop was Combourg where our hotel was in the grounds of Cinderella's castle. Well, that's what it looked like. And the food in the Hotel du Lac was superb even by French standards. Once again our luggage arrived before us and the bikes were securely looked after in the hotel's garage. By day three we were so relaxed we were chatting about cycling from Land's End to John O'Groats UK tour when we got back home – cycling is incredibly addictive when it's made this easy.
The real highlight of our five days on bikes, though, was pedalling towards the magnificent Mont St Michel, a walled medieval town and abbey set on a rocky island off the coast. It's one of Brittany's most visited locations but few people have the pleasure, as we did, of pedalling along a deserted river path and watching one of the most spectacular sites in France emerge through the early morning mist. It was so incredibly beautiful. From there it was on to the pretty resort of Cancale (famous for its oysters) and back to St Malo for our last night of celebration.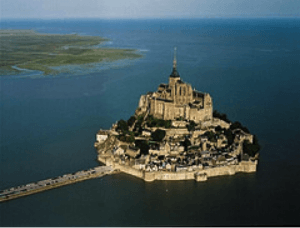 Mont St Michel – beautiful!!
There aren't many holidays where you feel so relaxed, satisfied and just plain happy at the end of it – Land's End to John O'Groats, here we come!
Saddle Skedaddle's self guided Brittany cycling tour  runs from Saturday to Saturday from April through to October or you can join their guided cycling tour option if your prefer. For the self-guided tour costs £705 per person including seven nights' bed and breakfast in two and three-star hotels. Minimum of two people. Bike hire costs an additional £95 per person. The services of Skedaddle's in country French cycling specialist are available 24/7 and if you get too tired they'll even pick you up and transport you and your bike to the next stop. Main luggage is transferred by secure taxi service every day for you.
They also have lots of other guided and self-guided options throughout France.
The firm offers cycling holidays all year round from the iconic British cycle journeys from Spring to Autumn and lots of other superb cycling holiday destinations including Cuba, Chile, Borneo, Vietnam and Cambodia in the British winter.