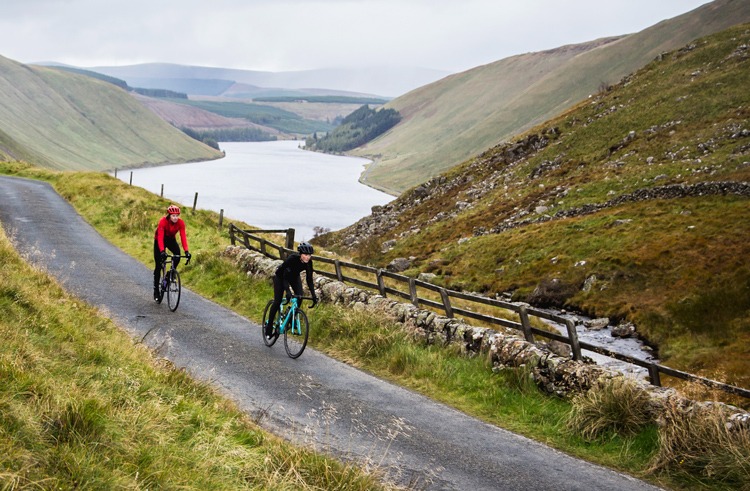 If you normally only ride in summer or flee the UK winters to pedal in far-flung exotic locations, or if you are one of the many people new to cycling this year – riding in winter may be a daunting new experience. Let us guide you through how to dress to enjoy your winter cycling. With the right kit, there is no such thing as bad weather!
Skedaddle guides spend a lot of time on their bikes in a wide range of conditions, and one of the reasons they are able to stay so happy and chirpy in the rain is that they know how to kit out the right way. We're all big fans of Endura, a Scottish based cycle clothing company . There's a nice parallel between our two brands. At about the same time in 1993, Endura Director Jim McFarlane was putting together his first range of kit and Skedaddle founders Paul Snedker and Andrew Straw were getting ready for their momentous year-long trip to Chile.
Being based in Scotland, the Endura team know a thing or two about dressing for bad weather, "We make the right kind of kit for tough conditions. We ride because that's what we do. It's a habit, it's part of us, it's a constant." If you're a fair-weather cyclist living in Scotland you won't get many miles in per year, just ask Aviemore based Skedaddle guide, Laura Mcauley.
But we aren't all hardcore, most of us like snuggling up under the duvet and listening to the rain on the window from inside the house! So how can you make the outside feel (almost) as comfortable as the inside?
Layer up and protect your core
Maintaining a comfortable temperature throughout your ride begins with insulating and protecting your chest and torso. Your core houses your vital organs and your body depends on keeping it a stable temperature. If your core gets cold your body's defence mechanism is to stop sending warm blood out to your limbs and reserve it for your vital organs. To keep your arms, legs, feet and hands feeling warm, you need to keep your core warm.
Temperature regulation is all about layering and having a range of versatile clothes that you can add or remove easily, depending on the weather. Most winter days you will need at least two layers, often three. Firstly, a base layer, a tight-fitting vest that is worn next to the skin to trap warm air and wick sweat away when you are pedalling hard. It might look like an old-fashioned vest or long-john top but unlike cotton, modern technical fabrics ensure that you always stay dry and warm. On top of that is your mid-layer, something that offers some warmth and cosy insulation such as a fleece, jersey or merino top. Above that is the outer layer that offers protection from the wind and/or rain. Each layer needs to be breathable to ensure that your skin stays dry, however hard you are working.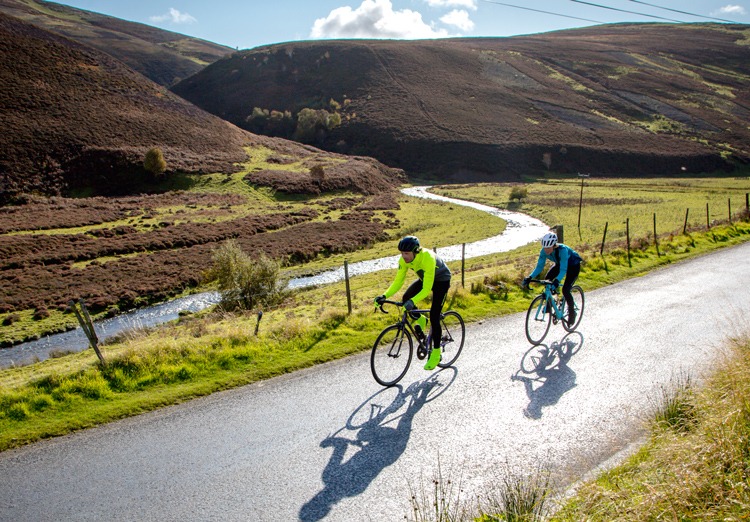 Whilst there are loads of different options allowing you to fine-tune your clothing to every condition, you can essentially build the top part of your outfit from four key basics: long-sleeve base layer, long-sleeve thermal jersey (or mid-layer), windproof jacket and waterproof jacket.
'Mix and Match' cheatsheet:
Wet and warm = base layer + rain jacket
Cool and dry = base layer + mid-layer
Cold and dry = base layer + mid-layer + windproof jacket
Cold and wet = base layer + mid-layer + rain jacket
Shorts, tights or trousers
In winter your knees need covering. That's a non-negotiable fact. Your knee joint needs to be protected from the cold if you don't want to have creaking joints and painful ligaments. How you cover up your legs is very much about personal style or and comfort preferences; bib-tights and cycling trousers are all designed for warmth and protection. You can choose from thermal, windproof or spray-resistant so you may want to have a couple of different options in your cycling wardrobe.
Hands, feet and head
Cold extremities can really make a ride feel unpleasant but there is a huge range of gloves, overshoes and head coverings that make use of the best technical fabrics to help protect and insulate in all-weather conditions. Thicker doesn't necessarily equal warmer as modern fabrics are designed to feel lightweight and allow flexibility. This is particularly important for gloves, where you need the dexterity to control your bike. These fully waterproof and insulated gloves are yet to be beaten by any winter condition!
Overshoes pull on over your cycling shoes to keep out the spray, wind and rain. They make a huge difference to how your feet feel and are a winter essential, whether riding on or off-road. If you are riding a lot in winter you may want to go one step further and invest in winter boots. Remember though, the first rule of warm hands and feet is a warm torso. If your hands and feet start getting cold make sure you have enough layers on – a gilet is great for keeping your core warm without overheating.
Watch out for wind
The wind is both the cyclist's best friend and his greatest enemy. The wind behind you can make you feel superhuman but slogging into a headwind is enough to make grown men cry. When it comes to keeping warm it is windchill more than getting wet even, that you need to watch out for. Whether your skin is damp from sweat or rain, add a cold wind and you are at risk of feeling your temperature plummet, so protecting from Windchill is one of the most important jobs your kit can do, in any condition.
When reading the weather forecast before a ride, don't forget to check wind strength and direction – some forecasts will give you a 'feels like' indicator which combines air temperature and wind strength, or you can calculate your own here.
Dress for the weather, the type of ride you are doing and the terrain

When choosing your outfit there are three factors to consider; the weather, the ride you are doing and the terrain. Slower rides and commutes where you might be stopped at lights, you need to dress a little warmer. Road rides with your mates, thrashing each other up every hill, you might be able to skip the mid-layer, but as soon as you stop you will cool down rapidly. It is worth carrying a lightweight, packable jacket in case of punctures or long descents. If you are mountain biking you can get very warm climbing or pushing up-hill but feel a chill if you are waiting at the top or descending, so a dry mid-layer in your pack is really handy.
Invest in technology
We know cycling kit isn't cheap, particularly if you are buying a full winter wardrobe from scratch, but it is an investment worth making. If you feel warm and comfortable outside you are far more likely to enjoy and look forward to cycling. Riding through winter keeps you fit, healthy and ready for your next adventure. As the saying goes, winter miles equal summer smiles!
Why keep cycling through the winter?
Getting outside in winter is more challenging than in the long, sunny days of summer but it can be just as rewarding. Cycling is great for your physical and mental health, it's good for the planet, it saves on travel expenses and it's fun!

One of the strongest reasons for cycling through winter is maintaining the fitness you acquired during summer. There is nothing more demoralising than getting on your bike in the spring and struggling up a climb you found easy just a few months before.
If you are struggling with the stress and strain of 2020, getting out on your bike can make a difference to how you feel as cycling has been shown to have a really positive effect on mental health.
With short winter days, it's even more important to get outside in the light when you can. Spending time in natural light is an important part of keeping your body in sync with the seasons, aids Vitamin D production and can help with seasonal affective disorder.
One of the easiest ways to motivate yourself to cycle is to use your bike for transport, whether that is nipping to the shop or riding to work. It's a journey you intend to do anyway so gives a little bit of extra purpose to the ride. Cycling also saves money on fuel or travel costs for you and reduces pollution and congestion for everyone.
Exclusive Endura offer for you!
We want to make sure everyone gets to benefit from our amazing partners! That's why all folk who book a holiday with us in 2022 will be eligible for an exclusive 15% off at Endura – the perfect way to make savings on specialist kit for your two-wheeled adventures. Think you're eligible for the discount or have any questions? Drop our team a line to find out more and get your discount code!