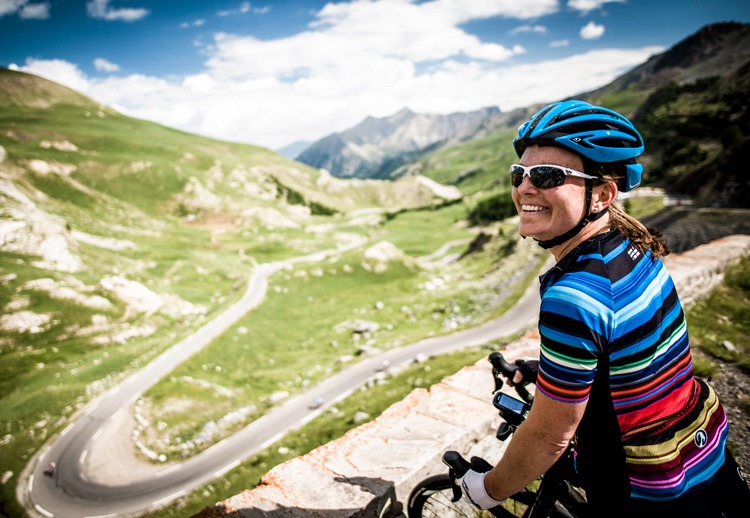 Isobel first joined the Skedaddle scene 8 years ago on a trip to the Pyrenees, crossing the mountain range from the Atlantic to the Med – she certainly set her sights high from the get-go! Since then she has guided for us in the French Alps, Corsica, Italy, Spain and the UK multiple times. Having ticked off some incredible destinations by bike with us, we thought it was high time we caught up with Izzy for a little Q&A and even reminisce on some of her favourite cycling stories…
Full name: Isobel Riley or Izzy
Tell us a little bit more about where you're from…
Lancashire is my true home. I live in Lancaster and ride regularly in the beautiful Forest of Bowland, but can also easily get out into the Yorkshire Dales and Cumbria. I love a cheeky climb, the punchier the better, so living in the heart of the hilly North West is perfect. The folk are friendly and the hills are plenty. It's not always grim up north, in fact, most of the time it's rather spectacular! Just need to put your 'big coat' on. The local sticky toffee pudding and Cumberland sausages are also quite nice.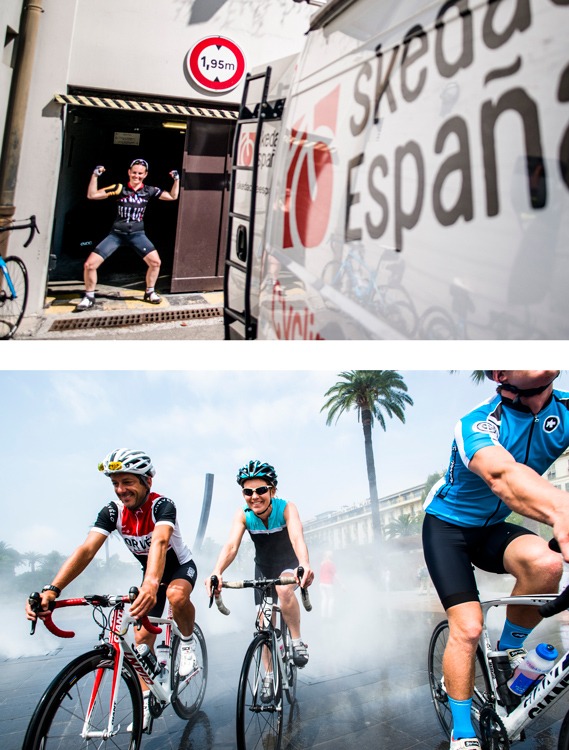 What got you passionate about cycling?
I've been riding since I was a child, always 'bezzing around' with my friends on mini-adventures. About 20 years ago I did a mini-tour from Lancaster to John O'Groats, my first real taste of a 2-wheeled journey. I love the freedom cycling brings, the opportunity to explore new places and meet like-minded people.
Working for Skedaddle has brought all those things. I've been lucky enough to have had guided on such a variety of tours over the last 11 years and have met some amazing people, many of whom I still keep in touch with. I'm not an indoors person, so what better way to explore the world than on a bike!
Tell us briefly your history with Skedaddle?
I joined Skedaddle in 2009 – my first trip was the Trans Pyrenees Challenge which certainly taught me a few things about climbing big hills! Since then I've done trips to the French Alps, the Pyrenees, Corsica, Provence, Spain, Tuscany and the UK. What's great is that each time you visit a place there is always something new to discover. One year you may ride a climb in perfect sunshine, the next year in a storm! The trips are never the same and always bring fresh adventures and new people to meet.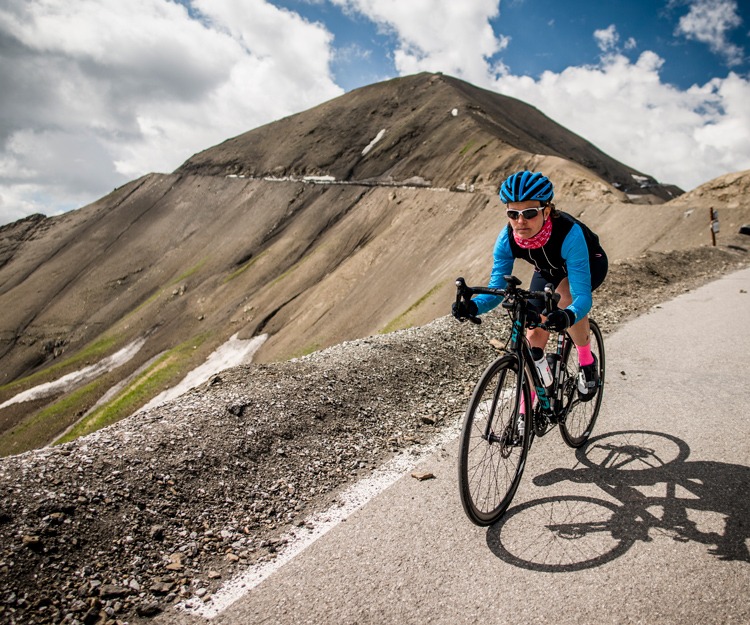 What is your favourite day on a bike with us and why?
So difficult to pick a favourite but Day 4 of the Mont Ventoux to Alpe d'Huez trip is up there. It takes on two very different climbs – the Col du Vars and the Col d'Izoard. After having breakfast in a chateau (what's not to like already?), we conquer the challenging Vars, the highlight being the massive 'tarte au myrtilles' in the café at the top. The descent to Guillestre is awesome; then the afternoon is spent riding the Izouard, with its dramatic scenery up through a forest and the last few km riding through the 'Casse Deserte' – the moon-scape, rocky landscape which defines this iconic climb – one of my most memorable riding experiences to date. A perfect day on the bike!
Give your best pre-trip piece of advice for Skedaddlers…
Don't underestimate Mother Nature. On the mountain, trips take the kit for all weathers, even in summer. I am quite good at getting cold and have learnt that for long descents you might need to wear all your kit! Also, a decent bike check by a decent mechanic is vital. Skedaddle can help with mechanicals during a trip but prevention is always better than cure. Also pack decent shorts, a sense of humour and a sense of adventure!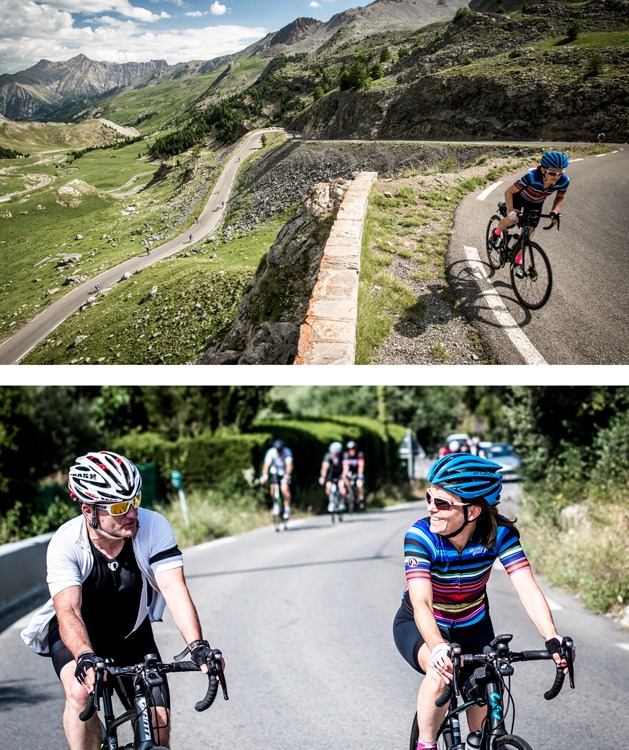 What's your favourite power snack and why?
My stand out snack memory was when our Columbian guide, Tomas, handed me a little square parcel up a long climb in Corsica. Not usually in the habit of accepting packages from newly acquainted Columbians, I decided to throw caution to the wind and it turned out to be just delicious: it was called 'bocadillo', guava sweet wrapped in a plantain leaf. Melt in the mouth, great energy and in a biodegradable wrapping. I'd been wondering what was powering Tomas so fast up the mountains!
Do you have a favourite cycling-themed film?
For me, the bike is a symbol of freedom and adventure so I've chosen two films that represent this.
My all-time favourite film is The Goonies! What I love is that the story of the kids' adventure hinges on their ability to get around by bike; this reminds me of my 80s childhood where the only thing I had to worry about is whether I could go play out on my bike after tea! Bikes enable kids to have the freedom to explore, get together with friends and gain independence – skills that will set you for life.
The cycling film that most moved me is Afghan Cycles – a documentary following a new generation of brave young Afghan female cyclists. The film uses the bike to tell a story of women's rights and how the girls are given a voice via their bike riding. It portrays the bike as a symbol of freedom, power and independence. I highly recommend it!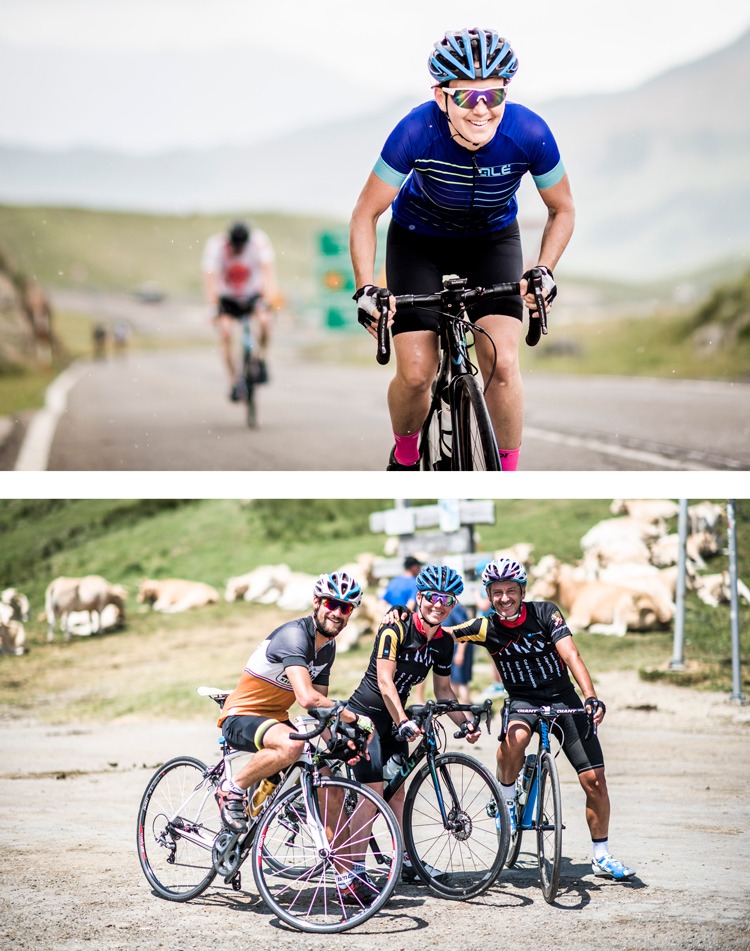 Tell us something about you we might not know…
My first descent of Mont Ventoux was with my photographer friend in the pitch black, with no bike lights, wearing only shorts, jersey and fingerless gloves. I was FREEZING. Lesson learnt: never ride up a big mountain with a photographer who is trying to convince you that sunset is the best time of day to stay on top of a mountain as the 'light is amazing'. It will never end well!

What are you most looking forward to after lockdown?
I can't wait to go on a bike ride with a bunch of friends and stop at a café without having to wear a mask! Saying that lockdown has made me more creative in my route choices and be more inventive with snack stops; certainly more al fresco picnics in random places I would never usually stop. Homemade butties in Lake District forests have replaced café beans on toast!
I've explored more of the UK too, including the Scottish west coast this summer, but I must say I can't wait to pack my bike bag again and jet off to tackle some big alpine cols again with the sun on my face and French boulangerie fare to keep me fuelled.
Find out more about our Guides and Team here!
Want to know more about our amazing guides? Check out our guide section on the blog to get to know our team a little bit better and for more expert advice on all things cycling!