Adventure is around every bend in Peru, an epic South American destination famed for its ancient culture and dramatic high-altitude scenery! Whether discovering the floating reed islands of Uros in Lake Titicaca, navigating the Sacred Valley's many ancient Incan ruins, heading high up into the dramatic Andes to tackle some singletrack or exploring the historical capital Cusco with your family… Peru offers a melting pot of experiences and different terrain to inspire every rider (big or small!). And two wheels are by far the best way to access remote Peru, just ask our incredible local team! We caught up with JC and Xavi for a little Q&A for your chance to get to know them a little bit better and for them to warmly invite you for a visit…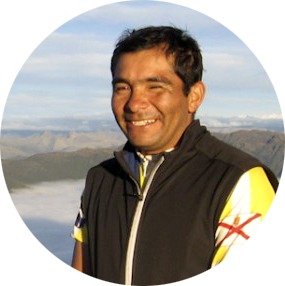 Full names…
JC: Juan Carlos Salazar Triveño, but most of you will know me as 'JC' or 'Juanca' which is a bit rude, but it makes you all laugh so I'm ok with it. My friends also call me 'El Chato' – or 'the short one' as I'm not very tall.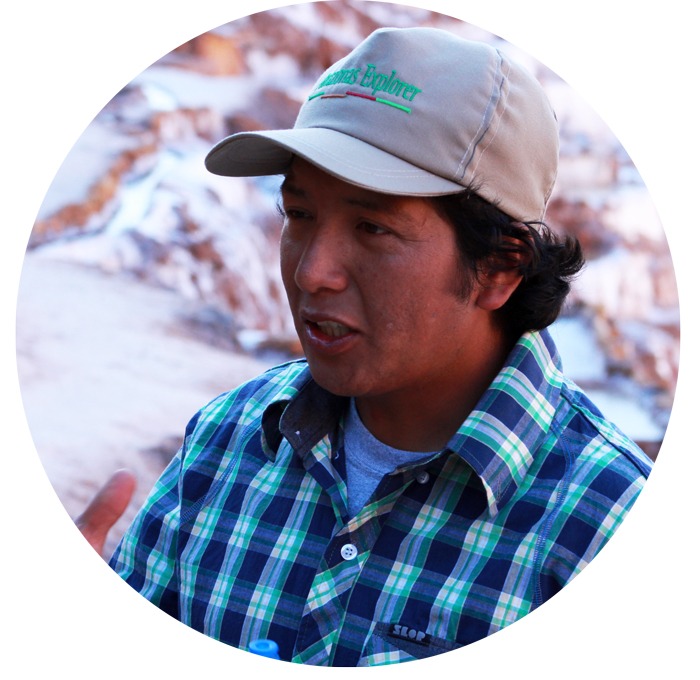 Xavi: My name is Xavier Ccoa Triveño, but everyone calls me 'Xavi' (pronounced 'Havi'). I and JC are brothers, as you have probably already known or guessed!
Tell us a little bit more about where you're from…
JC: We're from Cusco, the south of Peru and a gateway to Machu Picchu. It's a beautiful small city, very high in the Andes at 3245m, surrounded by magnificent countryside. It was the home of the Incas and then taken over by the Spanish, so all around you are ruins, Inca trails and amazing Colonial buildings. Modern Cusco is a vibrant mix of the new and the old, and a very fun place to live! You can have the most amazing adventures and then head to the best restaurants, explore incredible markets, enjoy crazy nightlife and do it all again every day of the year! It also has the best singletrack in the world – not that I've ever been anywhere else, but I don't need to, I'm still not finished exploring my home patch!
Xavi: Cusco is really a beautiful town, with old buildings that hide lots of history, mystery and culture. I love Cusco because its mountain bike trails are very easy to reach (that's if you're used to the altitude, though) and the local people are incredibly friendly and are always there with a smile to greet you.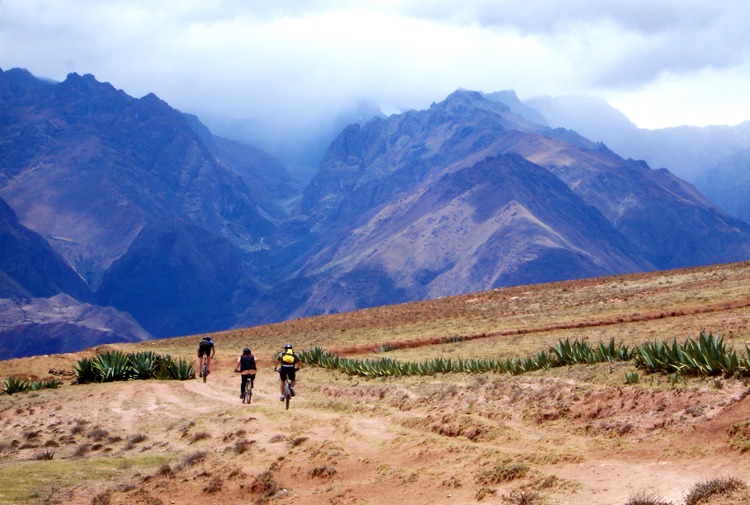 What got you passionate about cycling?
JC: Two people did! One – our other brother Jose, who would always come back from his bike rides so happy, full of great stories and who set me up to look after his bike shop. And Paul Cripps, the owner of Amazonas Explorer, who in 1997 grabbed me out of the bike shop and took me to the mountains on what was probably the first-ever mountain bike trip in Peru! We had so much fun and we've gone on to have many more adventures since then together, including me seeing the ocean for the first time and going on an airplane for the first time which was awesome.
Xavi: My brothers got me into mountain biking around 15 years ago. Biking to me is something that is hard to explain in words, it takes me to places where no one else is, it gives me freedom. And my job now gives me a chance to meet people from all over the world and of course, make my living doing something I'm actually passionate about.
JC: Biking in Peru is so much fun. We joke that 'the Incas may not have invented the wheel, but they perfected the singletrack'! We have so many good trails out here, we are still exploring new ones all the time. And living in the Andes, the downhills are HUGE and are so much fun – they put a huge smile on my face every time! I have gone on to study at university and become a full cultural guide too, so I can guide in the ruins and on the treks, including the famous Inca Trail.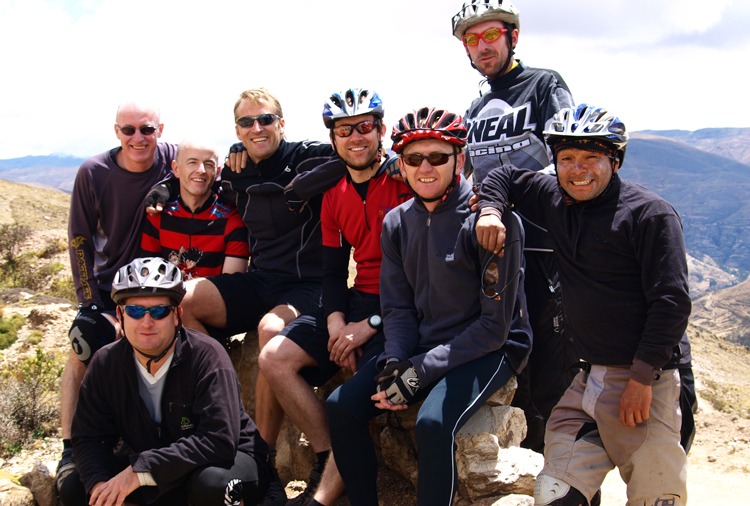 Tell us briefly your history with Skedaddle?
JC: I started as a mechanic about 15 years ago and have gone on to guide all the Skedaddle trips here in Peru. I think I most love the Sacred Singletrack trip, the Titicaca to Cusco Andean Journey is tough but a real adventure and, to be honest, running a family biking adventure in Peru is equally rewarding. I'm just happiest when I'm on my bike.
Xavi: I've been working as a biking guide for the last 10 years and actually my first trip was with Saddle Skedaddle. We cycled from Cusco to the Amazon rainforest and it was something new for me that literally blew my mind. Now I guide all kind of biking trips from singletrack to family to e-bikes – I love them all.
What is your favourite day on a bike in Peru and why?
JC: I don't have a favourite day, they are all good. The feeling of being able to show my new friends around Peru is the best! I love sharing my knowledge of the trails, the history and culture of Peru. I love helping people improve their step jumping or singletrack skills, or just stopping and sharing an amazing view while chatting with locals. I'm so proud of my Inca heritage and culture. We live in the most amazing place with the best bike riding opportunities ever. Just come and let us show you!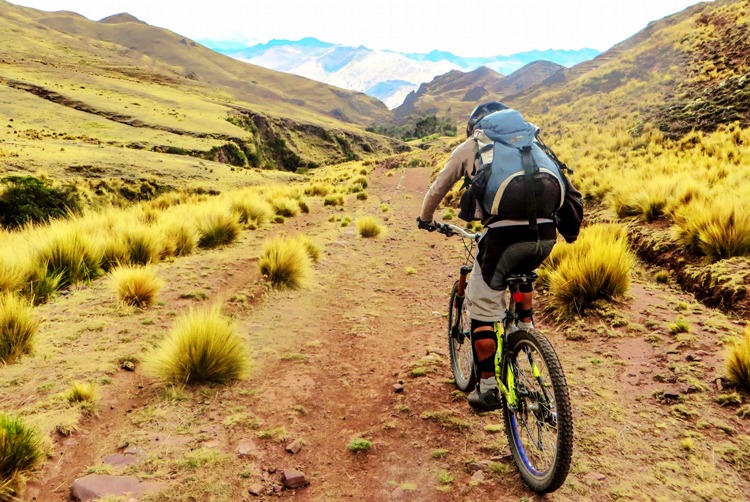 Xavi: I have more than one favourite day, but you cannot beat the sunrise at Tres Cruces overlooking the Amazon jungle and the massive downhill that follows or the campsite at Tinajani Canyon on the route from Lake Titicaca to Cusco. Both places make me feel alive, blessed to be there and get me into a wonderfully peaceful state of mind. The guests can get the same feeling when they see for the first time the unique natural rock formations at Tinajani Canyon that look unreal, as if they are from another world. Or just by lying down outside the tent and appreciating the sky filled with stars in either of these two locations!
Do you have a favourite cycling-themed film?
Xavi: The Huayhuash short film is spectacular. It was made in the Peruvian Andes and is about how three mountain bikepackers rode trails at a super high altitude. They were carrying their own gear which was impressive and they got themselves into a proper adventure for sure!
JC: Not a film really, but you have to just Google 'Inca Avalanche' and watch the videos of one of the craziest bike races in the world! Imagine 250 people at 4500m high in the Andes, all setting off together to try and be the first to get to 2800m over 17kms of wasteland, bog and crazy singletrack. I was a part of it actually a few times – I was doing really well one year till I forgot about 'the Big jump' and ended up in the hospital with a broken ankle, oops. It is possibly the craziest thing that I do every year! I promise to give you a taste of it if you come on the Sacred Singletrack trip.
Tell us something about you we might not know…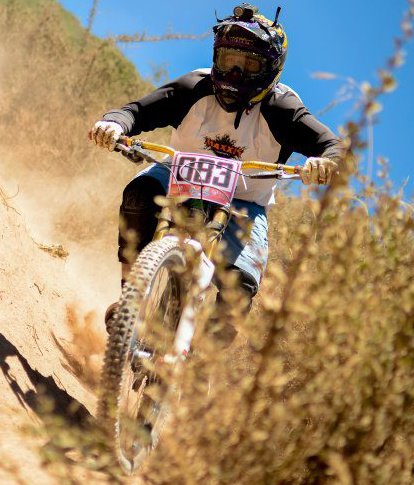 JC: I really wanted to be a whitewater raft guide, but Paul convinced me otherwise on our 10-day rafting trip to the jungle, that we actually did with the BBC. He made me swim every little rapid which I'm not very good at, as I'm from the Andes – we don't really ever learn to swim! I came back convinced to become a mountain biking guide instead…
Xavi: I'm expecting my second child now and I was a National Downhill Champion in 2018. Oh, and the biggest jump on the course that I've ever done was a 10 meters road gap!
JC: Another one… I thought e-bikes were for losers until I tried one from our new fleet. They are amazing and so perfect for the high altitude in the Andes. It's like having my best friend running behind me, offering to give me a push whenever I need it.
What are you most looking forward to?
Xavi: To greet our guests at Cusco's airport and feel free to go anywhere. To go for a hike or a bike ride and to show new friends our favourite routes. And to see my family together and to welcome my new child to this brand new world, soon…
JC: My batteries are now totally recharged though and I'm SO ready to get back out there. For the past 20 years, I have lived my dream to be a guide and I've matured a lot (but not too much to lose my sense of fun). Thanks to tourism, I've met my wife on my university course and we now have 2 kids, Alvaro age 8 nicknamed 'Terremoto' (the 'earthquake') who shares my love of cycling, and Micaela nicknamed 'Tsunami'. They are my reason to live now!
Both: Sending you all massive HUGS from Cusco. Hope to see you all here very soon!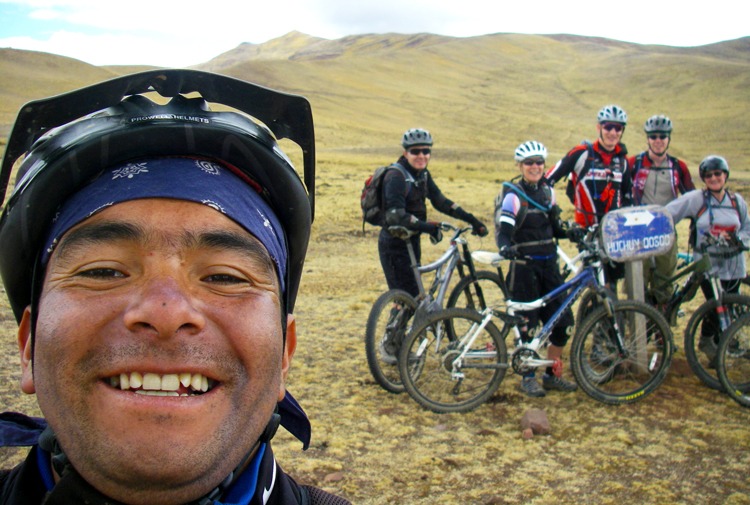 Want to know more about our amazing guides? Check out our guide section on the blog to get to know our team a little bit better and for more expert advice on all things cycling!