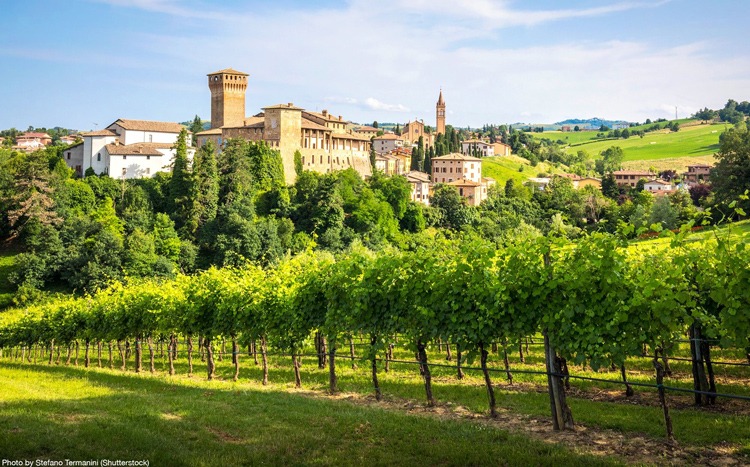 Buongiorno! We're getting into the Italian swing of things as we take a closer look at a recent addition to our Skedaddle Italia range. That's right, it's time to raise a glass for our leisure cycling holiday in Emilia-Romagna… but don't worry if it's a place you aren't too familiar with. That's why we're here! Naomi and her local team in Italy have lots to share about this underrated region and we're certain once they're done, you'll be eager to sign up to see for yourself. But first, ask yourself, are you a bit of a foodie and love to indulge in delicious local delicacies? If you're nodding eagerly at the screen right now, you're going to want to read on…
Why we love Emilia-Romagna
Based North of its better-known neighbour Tuscany, Emilia-Romagna may not be one of the first places travellers to Italy think about visiting, but here's why it should be. First up, it's the epicentre of Italian gastronomy. Oh yes, this region has the bragging rights to many of Italy's best-loved food, including parma ham, parmesan cheese and balsamic vinegar. You're certainly going to eat like a king here, dining on some of the freshest, and most local ingredients you'll find in the country.
As one of Italy's biggest agricultural regions, our journey through Emilia-Romagna explores many rural landscapes. The calm and intimate rhythm of the countryside is a joy at the speed of the bike, but for those after more of a buzz, the countless cultural gems along the way will not disappoint. From the impressive medieval cities of Parma, Modena and Bologna, to enchanting castles and UNESCO heritage sites, there are absolutely tons to see here. Verdi and Pavarotti even hailed from these fair lands and their legacies are suitably celebrated in their hometowns, which you'll also visit during the tour! To add to all these incredible ingredients, the cycling here is also easy to moderate, so accessible to most – what's not to like?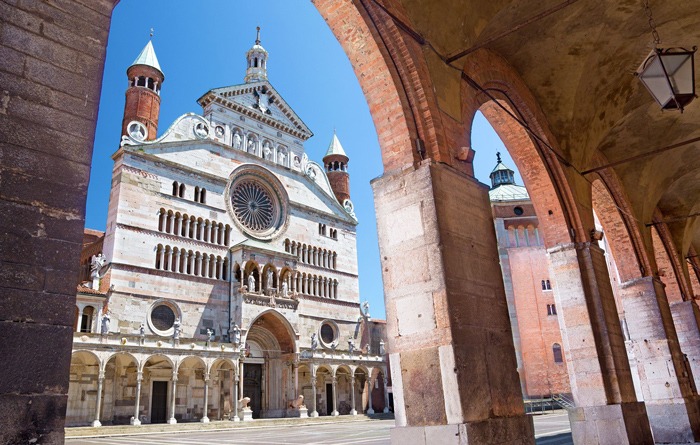 A food
extravaganza
There's no doubt that sampling the delicious local delicacies as you pass through Emilia-Romagna is an absolute must and one of the big highlights of this journey! With so many passionate local producers based here, we highly recommend you make a pit stop to see how the food you'll savour each day is carefully (and masterfully) created. Here at Skedaddle, we've always believed the best producers are small, family-run businesses, who offer an unrivalled opportunity to learn more about the people that make this place so special. Italian guide and local expert Cristina Navarra recently recced the route for us and here are her top food highlights not to miss…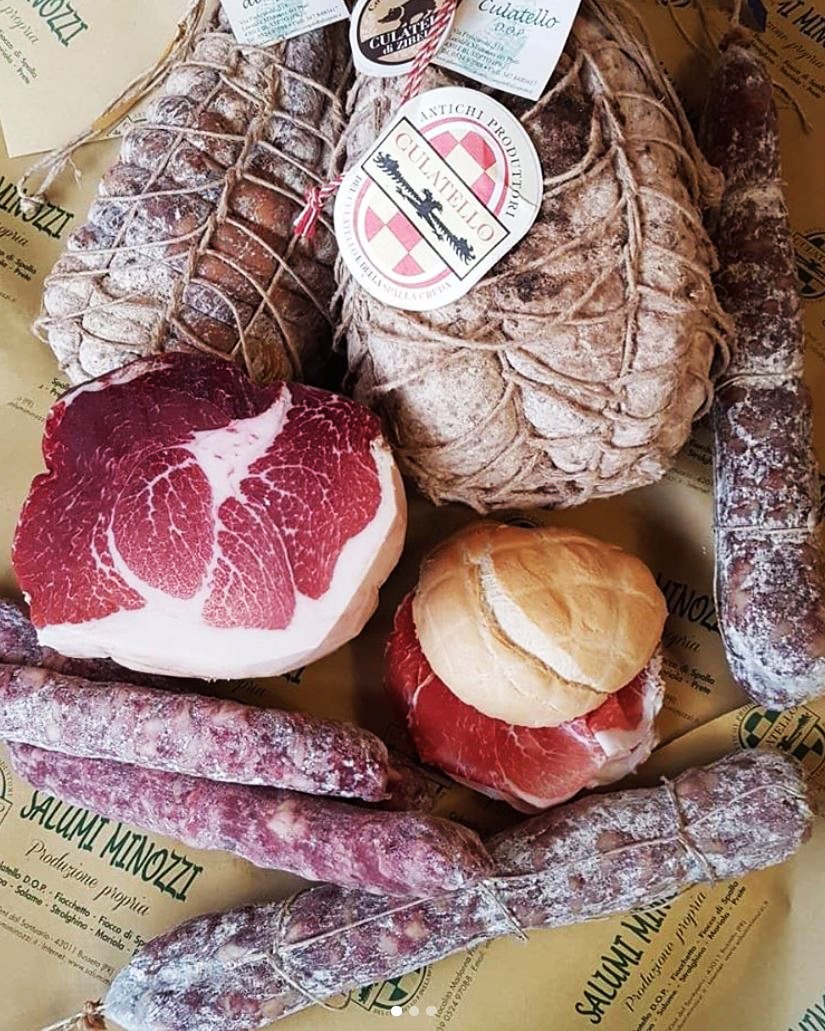 Meat eaters will not want to miss an unforgettable visit to the Minozzi salami factory on Day 2. This is your first day in the saddle and we have a real treat to kick things off! Here you'll be greeted by Mrs Pamela who will readily explain the step-by-step process behind a slice of culatello (that's Italian ham, for anyone curious). The dedication and the time taken to produce such a product, a whopping 24 months to be exact, means that it is not a simple cured meat, but a culinary masterpiece made in a truly artisanal way. Each cut of a new culatello embodies the time, commitment, care and professionalism that her husband invests year after year. The results are tangible because the smell of seasoning given off at the first cut is just indescribable. The care with which the products are handled and the enthusiasm mixed with pride is evident throughout the visit!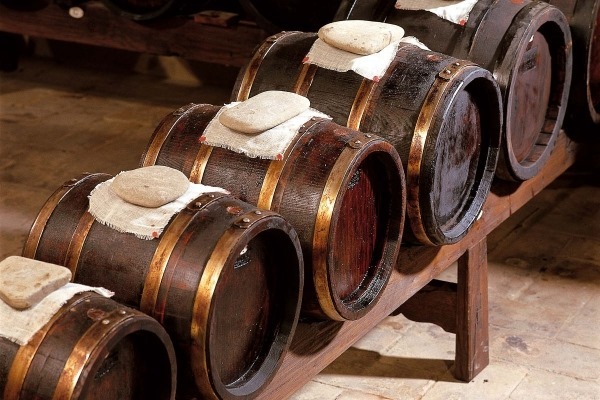 On Day 6 you'll have the option of a rest day based in vibrant Modena, but for those eager to get out of the city and back on the bikes, we've got a great optional ride available too! Our suggested loop ride takes you out along the Panaro River in the direction of Spilamberto, famous as the regional centre for the production of Aceto Balsamico. En route, you can you visit a balsamic vinegar maker at Acetaia dei Bago and meet Mrs Patrizia and her English speaking son. The tour is free and lasts approximately an hour. You'll be shown their vinegar vats in the cellar and of course enjoy tastings of their delicious balsamic. If this sounds too good to miss (we don't blame you!), you'll just need to book a few days ahead of arrival. It really is the perfect place to buy a gift for loved ones back home and they even do international shipping orders so you don't have to carry a bottle with you for the rest of the trip.
For those of you that are looking to be inspired for your mealtimes here, beyond the well-known classics, there's lots more to sample that is not to be missed! Here are a few must-try dishes all the locals can't get enough of…
Tigelle or crescentine are small discs made from wheat flour that are used to accompany salami, hams and local cheeses. They're a bit like English muffins! Originally cooked between stacked terracotta slabs and placed in fireplaces, today they're prepared in a more modern way.
Similarly, in the region's lower Po valley you find the gnocco or fried cake. It's a soft and foamy pancake, with light and salty dough. This is a traditional recipe of the region and you'll find them as a regular accompaniment to local platters and dishes in all Emilian trattorias (casual Italian eateries) and restaurants.
One of our favourite snacks here is the erbazzone, a savoury oven-baked puff pastry filled with spinach and sprinkled with lard or bacon, typical of the province of Reggio Emilia. It can be found in bars, grocery stores or bakeries.
No visit to Italy would be complete without indulging in some of the country's world-renowned pasta! Lovers of lasagna will be pleased to hear Emilia-Romagna is the region that gave the world the widely recognised bechamel layered dish. Whilst tortelli stuffed with sausage, or pumpkin, are also definitely worth a taste. 
A special place to call home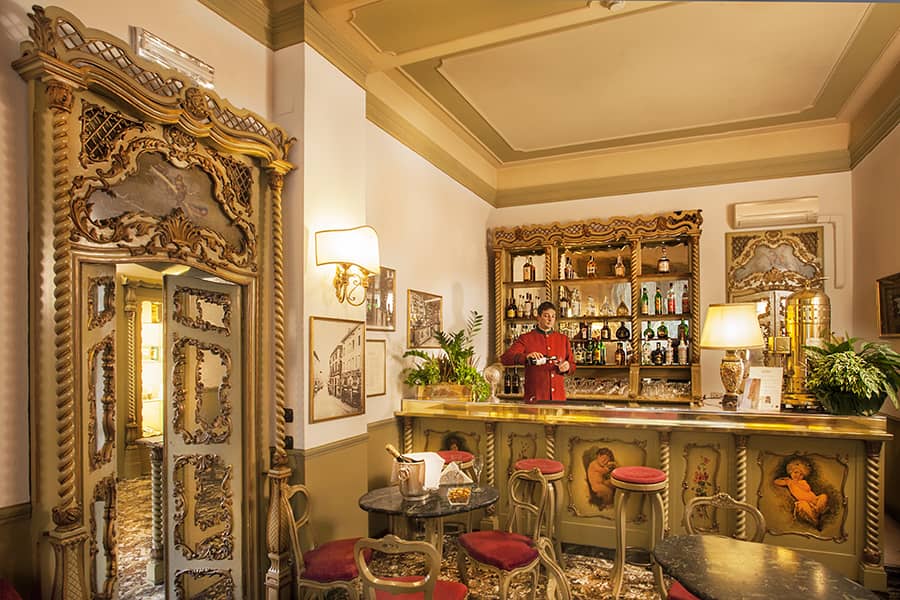 Alongside great food, we know the accommodation you'll stay at on our cycle tours is a big part of the holiday experience too. We want to make sure you always get the most authentic experience possible when you travel, that's why Skedaddle tend to stay at smaller guesthouses and boutique hotels, bursting with local flavour. One place we're especially excited for you to experience on here is the historic Hotel Posta on Day 4, found in the heart of the medieval town of Reggio Emilia.
Build in the 13th century, it has a whopping 500 years of hospitality experience and its current owners, the Sidoli Terrachini family, have been in charge since 1919! It's safe to say they know a thing or two about how to make sure their guests are well looked after. The hotel perfectly combines art, history and tradition with every imaginable modern comfort to give you a really unforgettable stay. All that, plus the hotel overlooks the gorgeous Piazza Grande – the perfect place for a cheeky sundowner after a day in the saddle!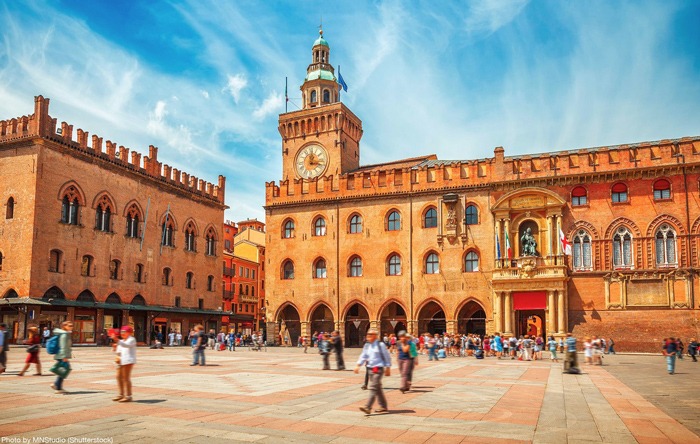 The riding
We've talked a lot about all the amazing things you're going to experience on this route, and that's before barely scratching the surface of the cycling you're going to enjoy each day here. So what can you expect from the riding? Well, as we mentioned before the great thing about this cycle tour in Emilia-Romagna is that it offers an accessible journey for all kinds of cyclists. In total, our journey offers 5 days of manageable cycling, ranging from 25 to 43 miles each day. As this is a self-guided tour, you can go at the pace you're comfortable with, so no worrying about having to keep up with anyone! We've even thrown in a rest day on Day 6 so you can kick back, relax and take in the sights of beautiful Modena, or get back on your bikes for an optional loop ride if you feel so inclined.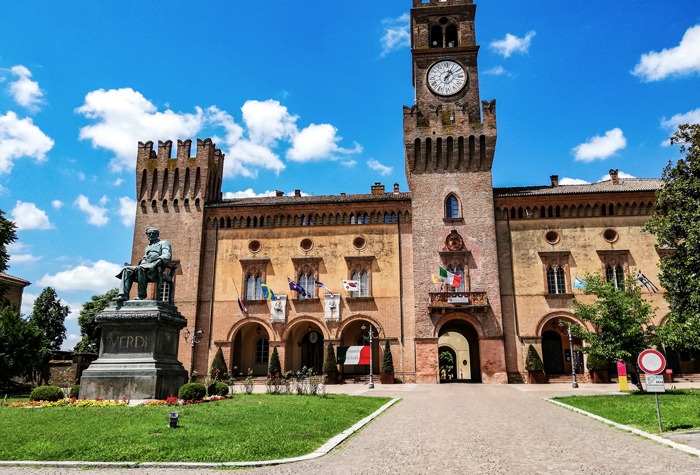 Throughout the tour you'll be cycling on mainly quiet, country roads alongside designated cycle paths. The first few days take in the gorgeous, green banks of the river Po, with alternating views of cornfields, sunflowers and quaint, small villages. Day 2, your first official days riding is extra special given you'll pass through the birthplace of Verdi, one of the greatest masters of classical music. The short distance this day (25 miles) will not only ease you into the holiday but also allows time for you to check out the Giuseppe Verdi National Museum based in Bussetto, where you'll be based that evening. 
Day 4, from Parma to Reggio Emilia is probably the toughest and longest day of the tour as the journey heads closer to the hills. But don't let this put you off! This is also one of the best days of the journey too! It's the day you'll visit the UNESCO World Heritage Site Torrechiara, an incredible 15th-century castle with great views out over the countryside – well worth the effort.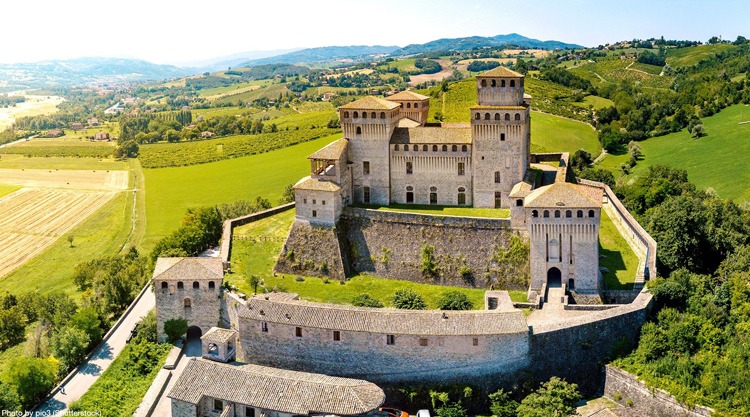 The last leg of your journey takes you through more of the region's pleasant, green countryside, where plenty gentle pedallin' awaits! Our tour finally ends in the region's capital city of Bologna, which boasts the bragging rights to the oldest university in Europe, fondly earning it the nickname la dotta (which means 'the learned'). It's one of Italy's most underrated destinations with plenty to see and do off the bike – a fitting place to celebrate your cycling achievements!
Feeling inspired? Find out more about our delicious journey through this incredible Italian region here.