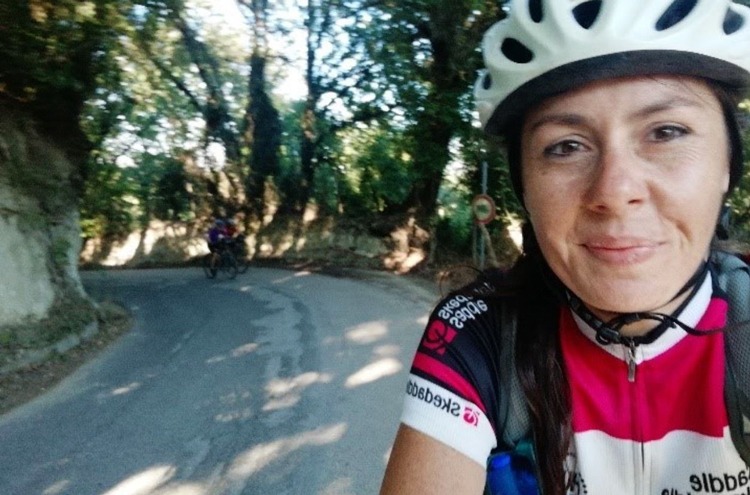 Ciao! Meet Cristina, our amazing Italian guide who calls the heel of the Italian boot, the beautiful coastal region of Puglia, her home…
Full name: Maria Cristina Navarra, or just Cristina
Tell us a little bit more about where you're from…
The heel of the Italian boot is my home! It's one of the longest coastal regions of Italy but it's also so varied! Landscapes, traditions and food – you can discover something different every day, all while staying in the same region. The geographical features are so varied from the inner territories to the sides, that your view could extend from rolling hills to wider plateau, passing through pinewoods or grazing lands to finally end in the crystal seawater. Due to its position in the Mediterranean, the culture, architecture, art and history has been influenced by several civilizations and cultures during the centuries and the richness of heritage handed on is incredible – it's one of the reasons that makes me so proud to live here, there's so much to discover.
I live in Bari, a big sea-town in the south-east of Italy. What I love about it is the chance to split your day between the modern city, with its commercial boulevards, theatres and universities, and then enjoy the microcosmos of the labyrinthic old hamlets, surrounded by ancient walls, where folklore, culture and traditions are expressed in all their forms. Also, Bari is totally flat with a long seaside, so perfect for cycling!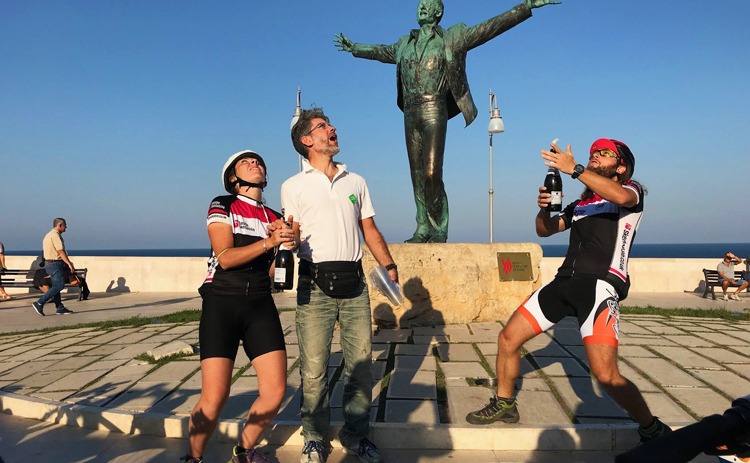 What got you passionate about pedallin'?
The freedom to go where I want just with the strength of my body and the willpower of my mind. The eyes full of wonder when reaching new places, the emotions of performing a task that I thought was impossible before, the adrenaline along a great descent and taking control during a climb – there's nothing else like it. Sharing big and small adventures with fellow cyclists, friends and family is so rewarding. The magic and power of the group, ready to support you at all times! And last but not least, I love to feel connected with nature – with its scents, sounds and life around me.
Tell us briefly your history with Skedaddle, when did you start and what trips you can be found on?
I started in 2017 when Skedaddle launched a tour in Puglia, the Italian region where I was born and still live. After a guide training in Tuscany, I've joined a tour with another Skedaddle guide (who is now a good friend). Learning from her previous experiences and getting to know all the secrets of being a good tour leader was a great way to start. Since then I have done more tours not only in Puglia, but also in Tuscany ('Tuscany to Rome'), in Sardinia ('Island Flavours') and even crossed the border into Austria ('La Via Claudia').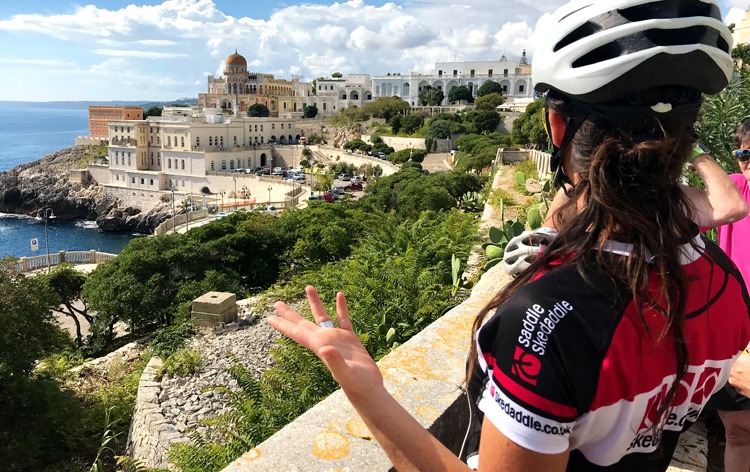 What is your favourite day on a bike with us and why?
I remember back in 2018 cycling along the Via Francigena, in Tuscany. That tour was confirmed with eight guests and I remember that at the beginning I was a little bit nervous both for the age differences and for the heterogeneity of the group that consisted of two couples, two solo travellers and a mum with her teen boy! But all of this was not important and already during our first dinner together the atmosphere was really relaxed in the beautiful setting of San Giminiano. All worked out well and turns out I had nothing to worry about.
What I still have in my memory so clearly was the day from Siena to San Quirico d'Orcia, where the rolling countryside is surrounded by vineyards, iconic cypress trees and poppies. The beauty of nature and the confidence our group has developed during the previous days, all made it feel like we were family. Smiles were always on everyone's faces and many funny moments made the day, such as a little the gravel climbing 'race' we had with everyone joining in and supporting each other. I looked at everyone and it was almost like seeing my family! That moment, I recall that this fulfilled my day, not only with joy, but also seeing the human social power, even among people who live a thousand miles apart! We followed the traces of 'Eroica' (a famous vintage bike route) between the lands of Monteroni and Ponte d'Arbia and then towards Torrenieri, supported by the wind and gold graze lands. The day ends in the cute middle-aged hamlet of San Quirico d'Orcia with a wine and olive oil tasting, celebrating the wonderful day spent together.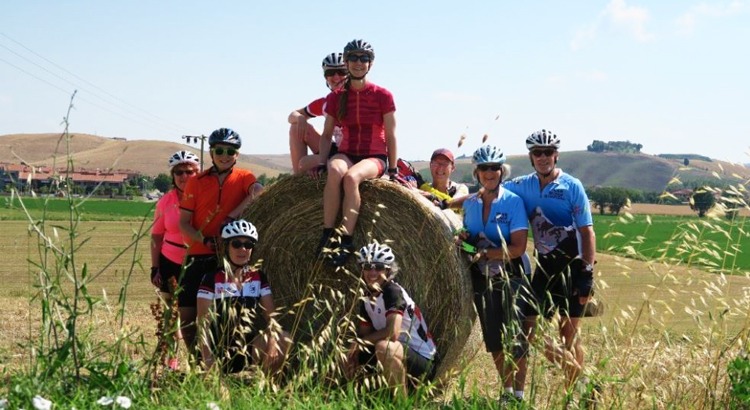 Do you have a favourite adventure film? Why do you love it?
'Into the wild' – I like its tales of travelling to remote lands, the curiosity and fortitude of a young boy who challenges himself to find a connection with nature and explores the meanings of human existence. His enthusiasm, self-control, and at the same time, the strength and authenticity of nature with its own laws. And finally, of course, the hypnotic Eddy Vedder's soundtrack completes the film perfectly!
If you could cycle with anyone dead or alive who would it be?
Without doubt… Leonardo da Vinci!
Tell us something about you we might not know…
I have a passion for dance-theatre and body improvisation. In fact, I've done classes focused on improvisation movement and contemporary dance, especially when I was at university. At the same time, probably due to my old experience in ballet, I've been fascinated by the structured dances that are related to folklore and culture, such as Flamenco and Argentine Tango that follow proper figures with very precise body language and have so much history behind them.
Did you know? In addition to leading tours for Skedaddle, Cristina also leads day rides based in her local region Puglia. To find out more or make a booking simply drop her a message to: navarra.cristina@gmail.com
https://www.instagram.com/p/CAczZqCAe8V/?utm_source=ig_web_copy_link
Find out more about our Guides and Team here!
Want to know more about our amazing guides? Check out our guide section on the blog to get to know our team a little bit better and for more expert advice on all things cycling.