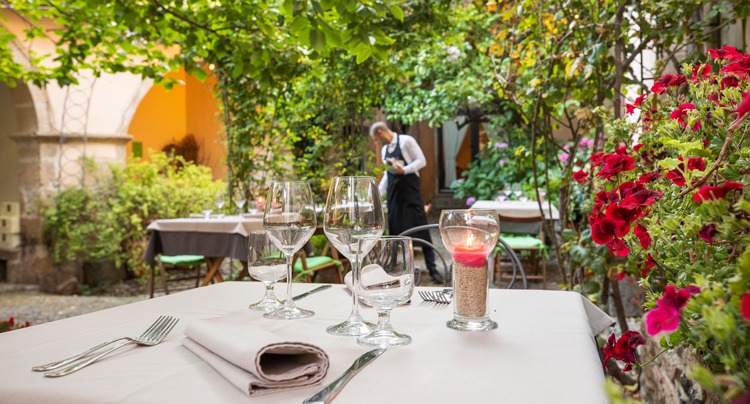 Here at Saddle Skedaddle one of our core beliefs has always been to ensure that your cycling holiday has a positive impact on the places you visit. That means we develop our tours so that they maximise the benefits to the areas and communities we visit, involving long term connections with local partners. 
From our glorious guides to the guesthouses we call home for the night, the relationships we've forged with specialists worldwide is what makes us proud. We believe in doing so we enable those who travel with us to see the very best a destination has to offer, giving you an unrivalled opportunity to connect with these fantastic local cultures and communities. Ultimately, their stories and personalities, smiles and kindness are what authentically and lastingly attach us to a place. Read on to hear from a few of the people that help make our Skedaddle tours so special for your chance to get a flavour of what to expect…
We've been working with this family-run business for almost 20 years now and their stunning 'Albergo diffuso' brings to life some of Sardinia's most delicious local flavours. – Naomi, head of Skedaddle Italia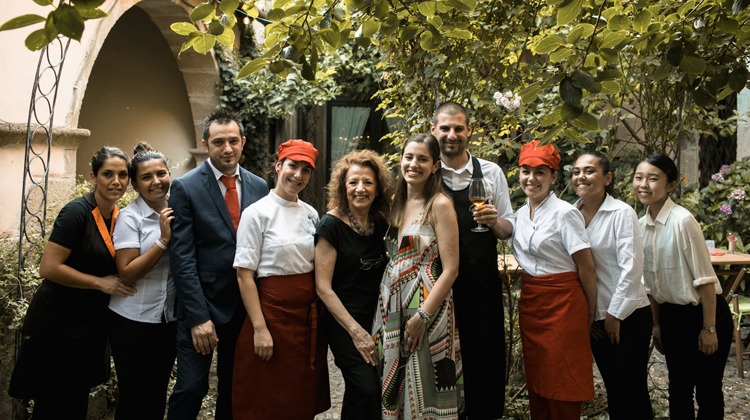 Tell us a bit about the place you call home?
We're based on the Italian island of Sardinia in the small, medieval town of Santu Lussurgiu, a place set in the hills home to quaint narrow, cobbled streets and high tower houses. It's got a typical village-feel and is surrounded by lush, green countryside. The main house of the hotel was built back in the 18th century, by our ancestors. My mum Gabriella started renovating it back in the 90s and it was the first official B&B in Sardinia. Since then we've added an additional 4 houses around town for guests to stay in, hence why we are a 'albergo diffuso'. Each place has a lot of spaces to relax and unwind in. We also have a library and lovely gardens. There is a lovely mixture of different styles, with tiled floors and most furniture acquired from the family – with lots of historical flavours. Each room guests stay in is different and special, full of personality. In the main house, you'll find the reception, and on the ground floor, there is a beautiful courtyard that guests enjoy breakfast and dinner in. This is our family's home so has special meaning to us.
Is there anything special guests will encounter when they stay with you?
Gabriela is part of the slow food movement in Sardinia, and Santu Lussurgiu has 2 recognised products (Presidia) that are part of this movement, a cow breed known as Sardo Modicana (known for its bright red fur) which can be enjoyed as steak and which also produces a cheese known as Casizzolu. The movement started in the 80s in the north of Italy, then went international. It was set up by folk passionate about good food, who are focussed on how things are grown and cared for. Basically all the steps from the vegetable patch to the kitchen table. We, of course, want to bring this knowledge and passion to the food we serve guests. Our restaurant offers a gourmet set tasting menu, consisting of 5 courses, starter to desert (taking into account dietary requests). Every day the menu changes so it provides the freshest products, and we shop at local farmer markets to source all the ingredients. Recipes are designed by our chef Sara and done in a modern way but done so that they still showcase the traditional Sardinian flavours. We also have a large wine cellar, with lots of local Sardinian wines, but also wines from Italy and Europe too.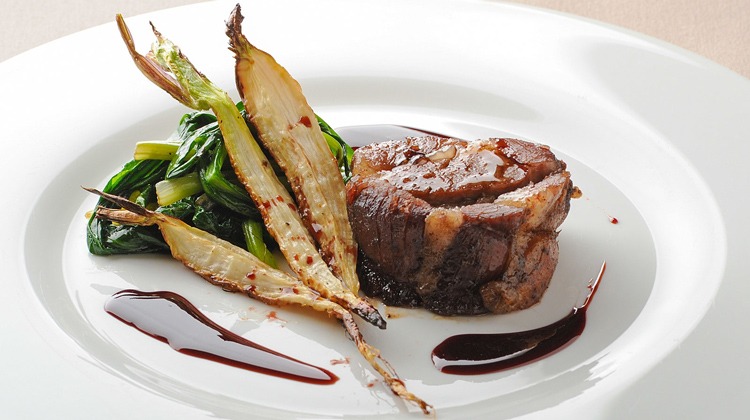 How have you found the coronavirus outbreak?
The rhythm of the day is of course very different, but we are just trying to keep busy. Trying to see this as an opportunity, focussing on research, thinking about how we may have to change to make our hotel as safe as possible for travellers visiting us. Our chef has been studying how she can provide virtual cooking classes. Gabriella has been working hard on the garden, planting lots of vegetables, including salads and tomatoes. My partner is also a sommelier and alongside selling to local businesses, he has started selling wines to locals in the town – the demand has certainly gone up!
What would you say to someone considering joining you here in the future?
Sardinia is a very beautiful island. There is a lot of space here with a lot of different landscapes, tastes and flavours to explore. It makes travel here very interesting, you're going to see a lot of different places. 
What do you love about what you do?
I love being surrounded by people and meeting new people, helping them enjoy their time here. I personally love to travel and know how important it is to get the most out of these experiences. I have a lot of local knowledge and want to share that with anyone who visits us, whatever you are interested in, so you can make the most of your experience and come away with great memories of the place I call home.
For the chance to stay at Lucilla's hotel you can join us on our road cycling holiday Coastal Explorer.
This special eco guesthouse is found in the heart of Andalucia and boasts incredible views out on to rural, Spanish countryside – your chance to escape the hustle and bustle and reconnect with nature. – Dan, head of Skedaddle España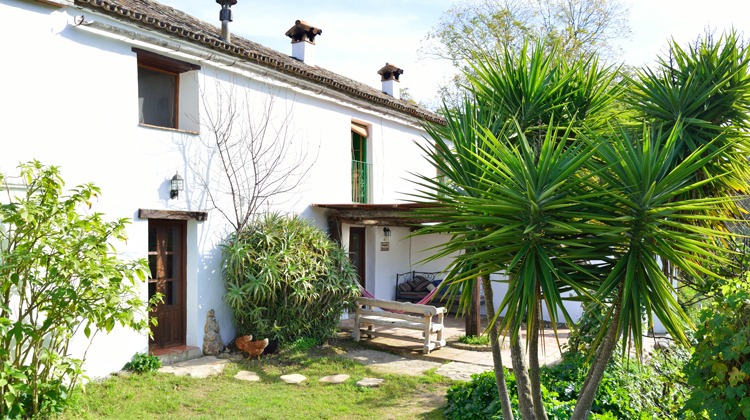 Tell us a bit about the place you call home?
We are based on the edge of a small pueblos blancos (that's what we locals call a 'white village' which you'll typically find in Andalucia) called Colmenar. Southern Spain is usually very dry but here is a natural paradise! We get some of the most rain in the whole of Spain over winter, so for that reason, it is very green, even during the summer. The village is located in the Alcornocales Natural Park, which stretches all the way down to the sea, so all of the trees here are protected, many of which are ancient corks. Located at the bottom of the garden is the beautiful river Guadiaro. The guest house itself is a renovated old farm and offers guests a peaceful, rustic escape, rather than high-end luxuries. Instead of a TV at the end of your bed, here all the bedrooms come with doors that open out onto a small terrace and our gardens. With exposed stone walls and old furniture, they have tons of traditional charm – simple, but special places to relax and unwind. 
Is there anything special guests will encounter when they stay with you?
The original name of our guesthouse was centro de terapia natural which means 'natural therapy centre' and we have tried to keep a hold of this ethos, by combining good food with healthy practices to offer a really holistic experience for those who stay with us. Our base means there are lots of great walking trails surrounding us, and guests are encouraged to head down to the river for a swim (one of our favourite things to do!) But we also offer massages, yoga and even kayaks. For those looking to really detox, we have some spa facilities too. Alongside a jacuzzi and sauna, you'll find a clay bath, where you can immerse yourself in natural red clay – which is great for your skin!
As for food, we have an open kitchen (dining room and kitchen are in the same space) so travellers can see all the meals being prepared in front of them. Everything you'll eat is homemade on-site, including our ice cream! Most ingredients are organic certified and sourced locally from farmers markets. As we have a large garden we grow lots of our own vegetables and cook very seasonally, in autumn the park is filled with mushrooms so this is a staple then! Alongside our garden we have an orangery that produces its own special local variety of orange – you'll find these ripe from may through to august and they're much smaller and sweeter than the typical Spanish orange you may have come across – a real treat for our guests to enjoy.  Guests are allowed to pick the oranges from the trees, but if you come outside of their ripe season you won't be disappointed as we have many other fruit trees, from avocado to pears and plums, which means most of the year you can walk around the garden and see lots of fruit growing.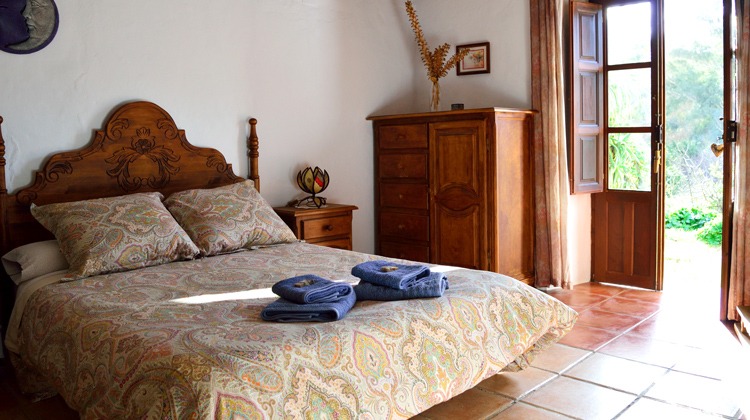 How have you found the coronavirus outbreak?
We are closed at the minute and not sure really how this will affect us. There's a lot of uncertainty. We have 3 folks we hire at the hotel who can't work at the minute, all of which come from the local village of Colmenar and who have families to look after, so we want to get back up and running as soon as it's safe to, not just for us, but for them too. On a personal level, we used to live a very stressful life in Barcelona, but in recent years have stepped away from this to lead a quieter, more simple life,  which we much prefer and are now very used to. Whilst the economical issues are a definite worry we are just living in the moment enjoying time together as a family – we have a 3-year-old who is getting our undivided attention. I think this experience helps you focus on the really important things.
What would you say to someone considering joining you here in the future?
Do you want to rest or enter into another stressful travel experience? Our place is perfect for those eager to recharge their batteries, to unwind and to connect with yourself and with nature. So, if you are looking to escape busy cities and overcrowded spaces, and instead explore remote and unspoilt nature, we think our guesthouse is perfect for you.
What does hospitality mean to you?
When we travel, we always really value being welcomed in a simple and honest way, with no false pretences. Honest connection mean a lot to us. It's so important to understand what people are looking for and we try to find that out so we can make our guests feel as comfortable as possible. Cyclists usually arrive exhausted after exploring the national park and so we aim to help restore them for another day's ride – connecting with these people on a personal level. This is our family house after all and it is open to everyone – we'll treat you like family here!
To stay at Casa Rural Ahora you can join us on our mountain biking tours Trans Andaluz or Sierras Explorer. Alternatively, our road cycling tour Los Puebloc Plancos also stays here.
Janet and Graham | Arden House Bed & Breakfast, Kingussie, Scotland, UK
Located in the heart of the Scottish Highlands this traditional B&B is an ideal retreat for lovers of the great outdoors and comes with lots of modern amenities to help you relax and unwind. We've been staying at Arden House for several years now with groups of cyclists it's always a pleasure! – Steve, legendary UK guide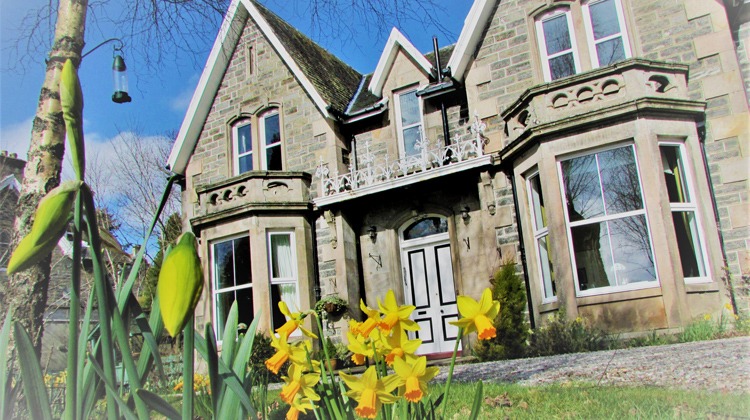 Tell us a bit about the place you call home?
Based in the small town of Kingussie, we're ideally located to benefit not only from the stunning Cairngorms National Park which surrounds us and provides great views but also from the convenience of the town which is a 5-minute walk from us and includes shops and places to eat. Despite our rural postcode, there is lots to see and do here, especially if you love the great outdoors; from walks to wild swimming and even the UK's first-ever open-air museum, where you can experience traditional Highland way of life, dating back hundreds of years. As for our B&B Arden House, it's a big, beautiful Victorian building dating back over 150 years, so there are lots of lovely period features. We have kept the traditional feel, but this comes with modern touches to make an overnight stay nice and comfortable. We have 5 bedrooms in total and each room is individually decorated, named after a famous local whisky and comes complete with an en suite bathroom, your own seating area as well as tea and coffee making facilities. We also make sure guests have their own hot water bottle (well we are in Scotland!) and, if you're lucky, you might even find some homemade shortbread waiting for you in your room on arrival. The house is surrounded by a nice garden with a lovely outdoor seating area where guests can relax and unwind after a day exploring.
Is there anything special guests will encounter when they stay with you?
Aside from a warm Scottish welcome from us and our friendly dogs Isla and Ozzy (a labrador and lab-springer cross), our place is great for cyclists as we have plenty of secure storage for bikes, outdoor taps and hoses to clean any dirty steeds, as well as space to dry any wet kit. Graham is a cyclist himself and used to commute to work every day so he knows what's needed when it comes to cycling amenities in the UK!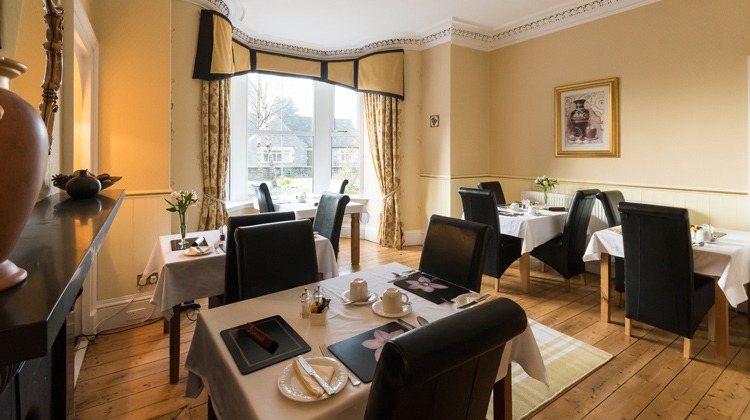 We also pride ourselves on our wide selection of options for breakfast, from cooked to continental, as well as porridge is done the traditional way with a Scottish spurtle (a wooden stirring stick). We try to shop for our products as locally as possible, so all the meat is sourced from an award-winning local butcher that's supplied by local farms. For folk who don't eat meat you're also in luck as we serve a great veggie breakfast option here – complete with meat-free sausages, Scottish tatties and halloumi, it's so popular even meat-eaters sometimes opt for this. Breakfast is ordered the night before so it's ready for guests when they come down the next morning and is served up in Janet's favourite room of the house, the dining room – where you'll find stripped wooden floors and big windows when Skedaddlers stay we'll usually arrange the tables so you can all eat together too. In the past year, we have also made a real effort to look at ways we can be more sustainable and have made steps to reduce single-use plastic items, wherever possible. Things like small jam pots and bottles of water have now been replaced to reduce our plastic waste.
How have you found the coronavirus outbreak?
Some days feel very long! We've had no guests since 23rd March and are completely closed pending government guidance, this also means at the minute we have no income at all. Usually, the summer is our busy time and the winter is a lot quieter with not as many tourists visiting. We hope that we may be able to open up later this year but we will see, we have been able to access some government grants to help keep us going for the next few months.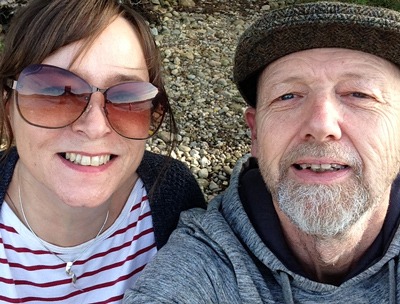 Over winter we actually did a bit of renovation on the building so this downtime has given us lots of time to just relax, a novelty when we'd usually be quite busy by now! We've enjoyed lots of walks with the dogs and have been blessed with some great weather so far this year which has given us the chance to potter about in the garden and get that looking good. We're also involved in a few b and b groups and have participated in zoom calls to keep in touch with other people in a similar situation and to share ideas. At the minute we are thinking about ways to make Arden House a safer place to stay, things like introducing breakfast trays for guests to enjoy in their rooms, rather than hosting them in the dining room.
What would you say to someone considering joining you here in the future?
This is a good place for anyone looking for a really personal experience, we'll meet you when you arrive and be sure to find out exactly what you need to make sure your stay here is comfortable. Basically we want to give you a truly Scottish experience so you can have a really special stay. Usually, we have folk saying they wish they could stay longer, so that's a good sign! We can also direct you to go to places that are a bit more off the beaten track too. You don't need to go very far from the B&B to feel completely on your own. We're based in some of the most remote landscapes in the UK and so you can look around and feel like you're in the middle of the wilderness.
What does hospitality mean to you?
We get to live in an amazing house and we like the variety day-to-day. It's not your usual 9 to 5 job. We really do enjoy this lifestyle and we love to talk to people who stay here too. You just never know who is going to come through the door and have met so many interesting people over the years, everyone has got their own story and we love hearing about them!