Photos by Lighttrapper Photography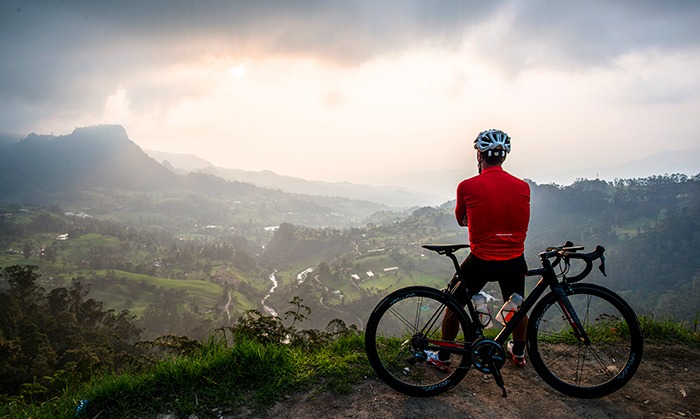 Have you ever wondered why Colombia produces so many superb cyclists? Or dreamed about those mythical mountains where Colombian riders have honed their skills? Then let us tell you everything you need to know about our most ambitious and exciting long-haul road trip…  
What is great about cycling holidays, is that they are always accompanied by a sweet sense of achievement and this is especially true on our fantastic road cycling holiday in Colombia that is guaranteed to get even the most experienced road cycling adventure seekers grinning ear-to-ear. We're talking big landscapes, remote roads and friendly, fun-loving culture. Beginning in the high altitude of Colombia's cosmopolitan capital Bogota and finishing on the Caribbean coast, with some of the world's most impressive climbs, including the mighty Alto de Letras (reputed to be the world's longest), in between. Need we say more or are you already packing your bike? 
---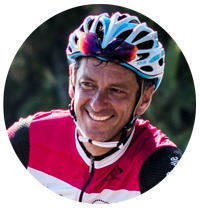 Getting Skedaddle to Colombia 
If you haven't already met, let us introduce you to David Hall – our resident road cycling specialist and one of our most seasoned tour leaders. David is the man who essentially brought Saddle Skedaddle to Colombia. Now sit back and enjoy, as we reminisce about how it all began… 
'It all sort of started with a book, Matt Rendell's 'Kings of the Mountains: How Colombia's Cycling Heroes Changed Their Nation's History'. It's a fascinating account of how the sport of cycling was able to bring the country together, even during the most troubled times. It also describes a beautiful country of enormous mountains and a population obsessed by the men prepared to push themselves and their bicycles to extremes to conquer them. I met the author back in 2011 just after my first visit to the country, we chatted as he signed my copy of his book and we both agreed that he should consider rewriting the ending to reflect the positive changes the country had undergone since the book was first published.'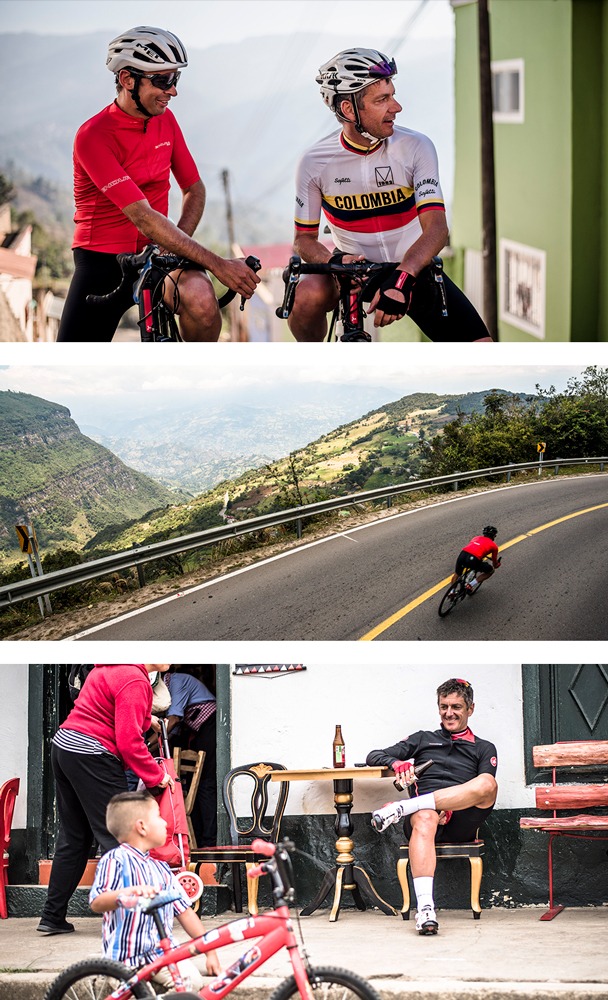 The national obsession with cycling began back in the late 1940s with the first edition of the Vuelta a Colombia staged in 1951. It wasn't until the mid-1980s however that the prowess of Colombia riders caught the attention of the international scene when heroic climbers such as Lucho Herrera and Fabio Parra made their presence known in the Tour de France. Since that time Colombians have become a permanent fixture in international professional racing with the likes Mauricio Soler, Nairo Quintana and Rigoberto Uran all featuring significantly in some of the world's biggest teams. And let's not forget the latest Egan Bernal – the sensational 22-year-old winner of the 2019 Tour de France and the first Colombian rider ever to ride into Paris wearing the yellow jersey.  
'Of course, I was already well-aware of the country's rich cycling history. I'd always wanted to visit and was intrigued with how well I'd cope riding at such high altitude. Unfortunately, because of Colombia's troubled past, it had been out of bounds for many years. Matt's account of a struggling country coming together once a year, forgetting their differences for a few days and standing shoulder to shoulder to cheer their heroes as they crossed the Andes really struck a chord. It's a romantic and sometimes heartbreaking story that fed my fascination the more I learned. I decided that I really had to go and experience it for myself.'  
Getting Colombia on a travel map at Skedaddle wasn't very straightforward. As recently as 2010 when we started the process of trip creation, the country was still considered by some to be a risky destination with few travellers visiting. You might say, we needed some convincing… 
'Every year when the time would come for us to sit down and talk about what new destinations we would want to add to our range – I would always mention Colombia. I still remember being told: 'David, forget it, we will never offer a trip in Colombia!'. It was hard to convince the team it could work, having never been there myself!' 
Eventually, David decided he had to visit himself. So, after leading one of our Costa Rica Christmas trips he boarded a plane from San Jose to Bogota armed with a Lonely Planet guide to Colombia, the second book to play a significant role in the story.  
'Listed under "Guided Cycling Tours" in the guide I found a number for one Snr Tomas Castrillon. If you happen to visit Colombia with us, you'll meet him as he's been our local partner ever since. So, I called Tomas from Costa Rica and told him that I was coming to Colombia and asked him if he could help me with everything on arrival – and he instantly said yes. And that's how we met!'  
It turned out that Tomas, a very strong and enthusiastic mountain biker, was just starting out with his dream of becoming a tour guide.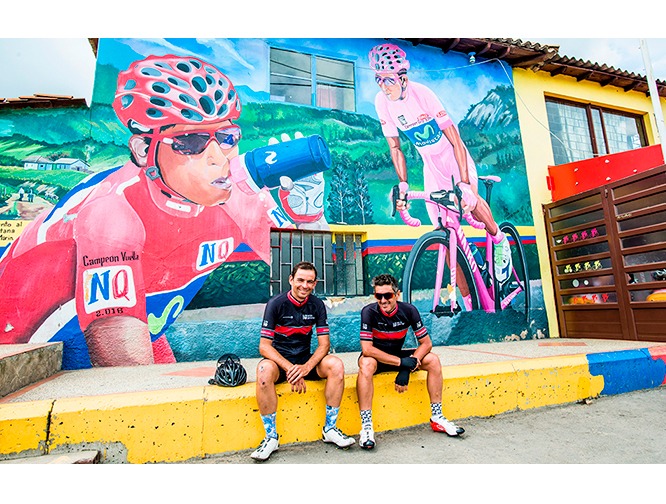 'The first time we met, he turned up on his mountain bike! But of course, on the day it didn't matter that I was riding a lightweight carbon road bike and he was on full-susser – I could still barely keep up! I'd decided in advance not to mention that I was working for Skedaddle, as far as Tomas would be concerned, I was just a regular punter with a bike looking for an adventure. Tomas and I got on very well, in fact, we've since become very good friends – and after a few days, I finally confessed what I was doing for a living. He was, predictably, very excited and eager to get involved. When it was time to say goodbye, I told him that seeing for myself how fantastic it was to ride in Colombia, I thought I could convince the team to give it a go. I left him thinking about a possible itinerary for us.'  
Not long after returning to the UK, David found himself travelling to a training event with Paul Snedker, Skedaddle co-founder and Managing Director. Naturally, the conversation turned to his recent holiday in Colombia and the amazing riding he'd experienced. To which Paul's question followed: – 'So David, why aren't we offering trips there?'  
'I always joke that I'm very happy for everyone (including Paul) to believe that it was his idea to offer tours in Colombia! After this conversation, I immediately got on a Skype call with Tomas and said to him 'You know that itinerary I asked you for? You better start working on it… now!' 
---
Early days of the tour
After some work, Tomas came back with the first draft of an itinerary fit for kings – Colombian kings of the mountains that is!  
'I looked at what Tomas had proposed – it was a fantastic itinerary… but it was simply massive, too demanding, too ambitious. I told Tomas we needed to reduce the distances and daily altitude gains by about a half and reminded him we were looking for a "cycling holiday". The scale of the mountains in Colombia is enormous and at the time I don't think Tomas, a Colombian who had grown up amongst them, could really appreciate how daunting that could be to anyone unaccustomed to such terrain. Luckily he came back with a great option that's proved a hit ever since!' 
Eleven months after David and Tomas first met in Colombia, the first Skedaddlers were heading to the country for a memorable inaugural trip in December 2011.  
'Believe it or not, we were the first group of tourists to ride across Colombia, at least in an organised tour scenario. To our surprise, keen to make sure that everything went according to plan, the authorities laid on a police escort to accompany us almost the entire journey. That wasn't something we had anticipated or particularly wanted and nor was it in the slightest bit necessary. But once we got used to it, those guys really became part of our tour and added to the experience.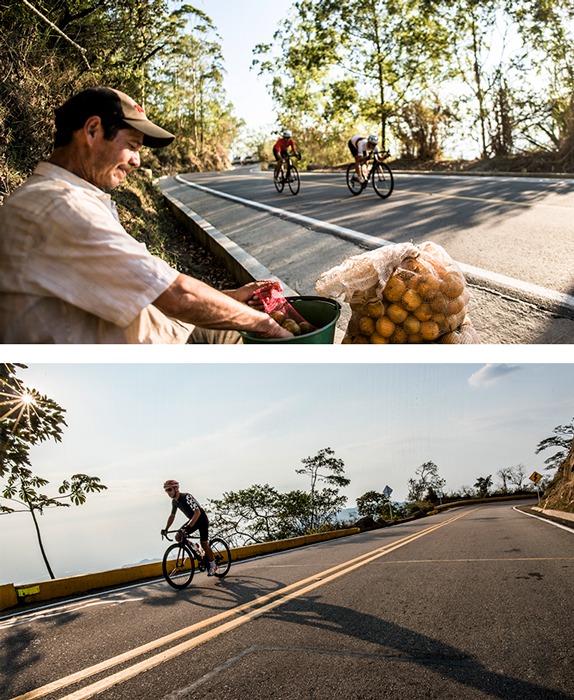 I'll never forget the day we left Medellin for the first time. For some reason the local police decided that we deserved VIP treatment and, having looked at our proposed route out of town (which we'd carefully planned to deliver us to the surrounding countryside via the quietest city roads and cycle-lanes that we could find), they figuratively tore up our map. Next thing we knew they'd closed an entire road of the inner-city highway and were putting on a full scale, blue-light, sirens-screaming, rolling roadblock all the way to the city limit! While individual policemen do occasionally kindly enquire if we need assistance, we mostly get left alone these days which is probably for the best…' 
Not only was a group of foreign cyclists travelling through Colombia considered pioneering, because the route takes in some very remote Andean towns and villages, in many places it seemed that David and Tomas were leading the first groups of foreign tourists ever to visit. Certainly, they were the first to do it on bikes. 
'Back then, it wasn't normal to see a group of foreigners riding into some of those tiny villages in the Andes. And in fact, it still isn't. The hotels and accommodation we use in remote areas know us now, but if for any reason we go off our own beaten track – we're trailblazers again, even to this day. I remember we used to go to this town down in the lowlands – one morning, over breakfast, I got the message that the police wanted to see us. I was a little concerned, of course. So, I went outside, and the local police chief was waiting for me with his entourage and a translator. What happened next, I didn't expect. They'd put up a small stage from where the guy was preparing to make a presentation, saying that he was there to thank us for visiting Colombia, especially his city, and that we were the first group of foreigners to have done that. He was delighted that we were there, he gave everybody a gift and he asked us to go home and be ambassadors for Colombia – and as you know by now, we've done just that!'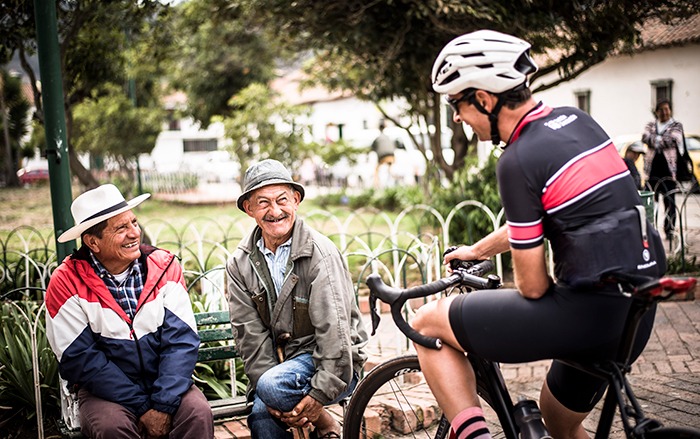 Fast forward to now, our Emerald Mountains trip in Colombia is our most successful and exciting long-haul road cycling itinerary to date.
'Times change but we are committed to keeping the tour as authentic as possible and that's why we still need someone like Tomas. He's an encyclopedia of knowledge and he's the man if you have any questions about history, flora, fauna, politics or culture and customs. His local team is also superb! When you travel around Colombia with them, they seem to know somebody in every town, every village, and there's always a cousin or a friend ready to lend a helping hand in some corner of Bogota or Medellin. It's incredible! I always encourage people not to be put off by the old reputation of Colombia as a dangerous destination, it's outdated now. Colombians are the friendliest, most welcoming people you could wish to meet, and they can't wait for you to discover their country.'  
---
Emerald Mountains: Holiday Highlights
For roads that still remain largely unexplored by the modern world, Colombia is the place to visit. Our tour takes you out into the lush, rural landscapes, and so-called 'mythical mountains' of Colombia for an unforgettable journey that will inspire even the most seasoned road cyclists. 
Colombia is crossed from north to south by the Andes, which are divided into three mountain ranges – three separate branches, or cordilleras (Western, Central and Eastern), which stretch like fingers over vast swathes of the country. Our tour takes us up close and personal with all of them as we explore the country.  
We start our ride just outside of Bogota, the enormous, bustling capital. Within less than 10km we encounter our first Colombian village. It's an exciting transition from the high-rise tower blocks of the megapolis to where life is suddenly much simpler. Here we find kids running around in jeans and baseball caps and older folk wearing more traditional garments.  
'Within 20km we're in the beautiful Andean green countryside and you can see the city from the high points as we start climbing. Bogota is like a bowl surrounded by towering mountains – the vast inhabited region seems to have expanded more every time I visit. But when it stops – it's just the countryside around, and as we climb we can see the city's boundaries from above – it's quite a sight and a special moment as we are finally on the road to discover the amazing beauty of the country.' 
It's not long until the Andes will open up in front of us for the first time and we start to descend. The scale is almost overwhelming – it's breathtaking in every way (including the altitude!). We see the terrain and countryside changing before our eyes but also because we are losing significant altitude – the temperature changes dramatically. By the time we approach the end of our first stage, we'll be searching for the lightest, coolest summer gear, even though we may have started out layered up with winter kit.  
'One very special thing for me is rolling into some tiny village in the middle of the Andes and being recognised by the locals. It's lovely to be remembered by the staff in the bars and restaurants, to be greeted, welcomed with open arms and invited to sit down for a coffee or a post-ride beer. It's just so unusual in such remote places and everyone absolutely loves it.'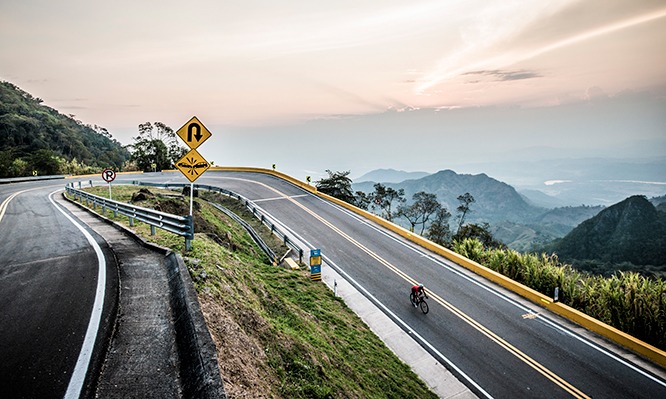 Leaving Bogota and the first branch of the Andes behind, we descend right down to the bottom of the incredible Magdalena river valley, as the Central (biggest) Cordillera of the Andes looms into view. The Magdalena River is the most important river in Colombia, it's the river that the Conquistadors used to enter South America so there's a lot of history and romance associated with it.
Next up is the big day! It's the day cyclists talk about before coming here – it's mighty Alto de Letras day. Known by the locals as 'Letras', it's a giant among mountain passes. The pass crosses the entire Central Cordillera, rising from 400m all the way up to 3690m, in one single climb that is 52 miles long – it is reputed to be the world's longest climb and is a big lure for mountain warriors around the world. No wonder that Lucho Herrara, the Colombian climbing hero of the 1980s, once complained European mountains were too short! There's a lot of scenery to take in on the way to the top as we go through different vegetation systems. At the bottom it's tropical, warm and humid but it gets cooler as we rise…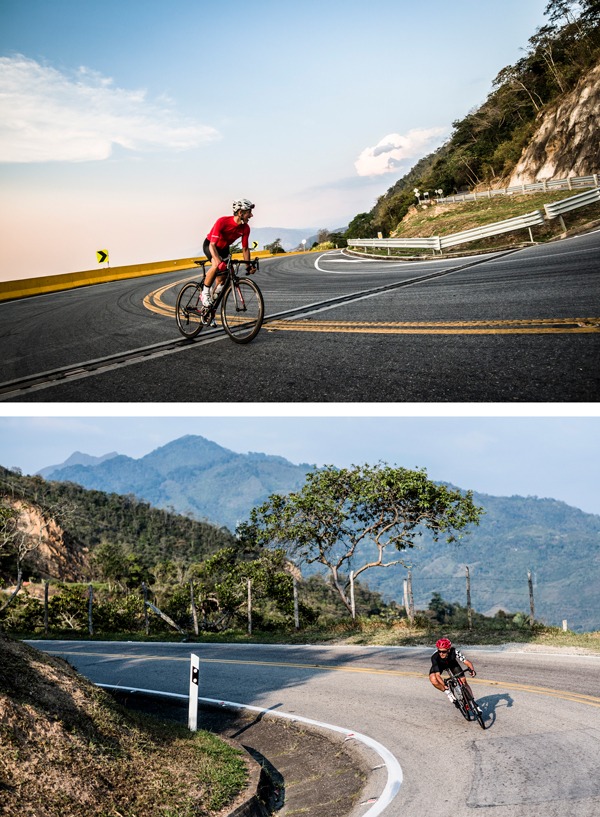 'We get massive views, coffee plantations, enormous vistas of green as far as you can see at the beginning. We called the trip Emerald Mountains for two reasons – first is that the emerald is something they get from the Andes, but also the emerald green colour of the vegetation you will see here – it's stunning. We will often go through clouds and rain, but then it opens again as we push through it. After lunch, we start feeling the altitude and that's when it begins to feel tougher. The scenery starts to get a little bit more barren too, as there's much less vegetation as we pass the 3000m mark. And when we get to the summit it can be really chilly. 
Because we're climbing gradually, most folks find that they acclimatise as they go and rarely does the altitude really hinder progress. People who drive to the summit quickly by car very often feel sick, but it's not the case for us. Tomas and I have done the climb more times than I care to count now, so for us it's no longer about getting to the top – the best reward is helping people get there with us and being a part of their achievement.'  
After conquering the Central Cordillera, we descend into the Colombian coffee region, also known as the Coffee Triangle. It's one of the most beautiful regions as coffee cultivation can often enhance the landscape instead of ruining it – it's a beautiful sight. Afternoons in the small towns around here are often are very lively, especially at weekends when everyone is out strolling in the streets. It's an opportunity to experience the traditional bustling life of rural Colombia and a pleasant antidote to the big cities.  
The highest of the cordilleras is well behind us by now but that doesn't mean that the climbing is all over and these few days in the coffee region are not without challenges, it's also a lot warmer here and there is still plenty to take in from the saddle…  
'The day from Anserma to La Pintada, is one of my favourites. Why do I love it so much? The scenery in the morning is superb as we climb gently through little towns in the mountains. The descent which follows is exhilarating and just feels like it goes on forever as it leads us down into the Cauca river valley. Every day in Colombia is full of contrasts, but I think this one has the most packed into a single stage. We begin the day riding through the low cloud in the coffee region and end it sipping Caipirinhas next to the pool overlooking the Cauca river – perfect!'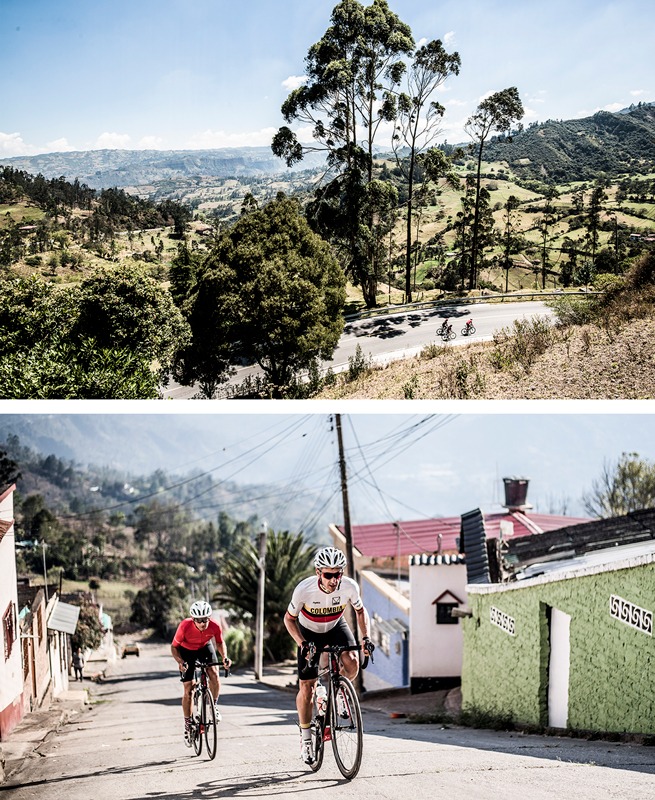 Next up is the city of Medellin, a massive modern centre where we have a rest-day scheduled to allow us to take advantage of the sophisticated hotels, fancy restaurants and perhaps even indulge in some nightlife. If the preceding exposed us to a traditional and simple way of life, now is our time to relax in some big-city luxury.  
As we leave the city to head back to the mountains we pass close to one the poorer neighbourhoods, or 'barrios' where we have a chance to see some of Medellin's famous cable cars. They're an award-winning innovation, built to connect the people of these hillside barrios to the city below and hence provide greater opportunities of employment, education and healthcare – they're not only a fantastic provision for the communities but also now quite a tourist attraction.   
'If we, as we usually do, leave Medellin on a Sunday morning, we get to sample riding in the weekly "Ciclovia", when hundreds of kilometres of road are closed to motorised traffic and reserved for cyclists, joggers and skaters. It's quite a lovely experience but we have to keep an eye on each other so as not to get lost in the crowds! Later we join a route very popular with the local riders as we make our way back into the high mountains. And once again, just like most cities in Colombia, we suddenly find ourselves surrounded by masses of rural green countryside, the transition always happens very suddenly.'  
We then arrive in the region famous for milk production and the scenery changes to something that will be familiar to many, it almost feels Alpine you might say. The climate here is wet, lush, green and cool – quite different from everything we've seen so far and it is where we start to say our goodbyes to the most dramatic of Colombia's mountains with one final and enormous descent. 
The last few days will be quite different from what we have experienced until now. It's flatter and it's hot – it's a completely different type of challenge as we head for the Caribbean coast and we notice some significant changes in the climate, the scenery, the people and even the pace of life.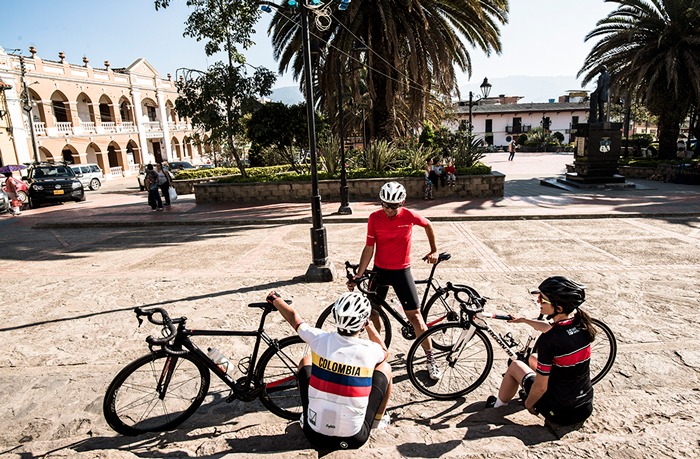 'It takes a little bit of getting used to as it's very different from Colombia that we have experienced so far, but I love it. Often by this point, people have been a bit spoiled by the mountain scenery and comment that if feels less dramatic – but there is much to enjoy here and the contrasting landscape is just as beautiful in its own way. Culturally the coastal region also has so much to offer.' 
Our last day on bikes is the day we reach Cartagena, a gorgeous port city on Colombia's Caribbean coast. We will enter the city with the Caribbean Sea on our right side after a day of beautiful riding in the countryside. As we approach, we can spot the ancient walled city from many kilometres away, juxtaposed in front of a long line of modern skyscrapers and goosebumps are guaranteed as we reach our final destination. Riding right through the main gate of the old fortress, we finish our ride on the city walls themselves with amazing views of the Caribbean sea in front of us and the beautiful Centro Historico behind us. Celebratory mojitos as the sun sets are customary as we mark the end of an incredible journey.
---
Is it for me?
'Taking on some of the world's largest mountains by bike is easy', said no one, ever! Combine this with high altitude and tropical heat and you've got yourself a road cycling challenge with a twist. So naturally, you might be asking yourself right now if this could be for you, we get it! Here's what you will want to consider…  
'It's a Grade 4 trip and we're expecting people who join to be relatively fit. There are no gentle days in Colombia, let's be clear – but it's not impossible! One of the things about 'long mountain climbing' is that it's mostly not that steep, so a good level of fitness is required but you don't have to be a Tour de France cyclist.'  
One of the most important things to bear in mind is that it's a high-altitude trip to a large extent, it's a significant feature of it and is a challenge people need to expect. Bogota alone is 2,600m above sea level and we will be climbing, on occasion to almost 3,700m. Generally, it's not high enough for most people to experience altitude sickness which can be very serious. However, it's natural to feel the effects of altitude on your body until you acclimatise. It is high enough for those who live at the sea level to feel some effects on their fitness, especially in the early days of the tour. As your body is getting used to coping with less available oxygen it will make exercise feel more difficult – you feel tired quicker, so you will need to pace yourself differently here until your body gets used to it. But don't worry! This is exactly why we built the itinerary with the time needed for acclimatisation in mind.  
'We do suggest people consider arriving a day or two before the start of the tour, it's not compulsory as we will be pacing ourselves on the first few days but it does help with acclimatisation. We begin with a series of small climbs that allow people to test themselves and experience what we're talking about when we say that your fitness level will feel different here. Things sometimes go wrong when people start to push themselves and ride as they would at home, and that's why we focus on acclimatisation for the first couple of days.'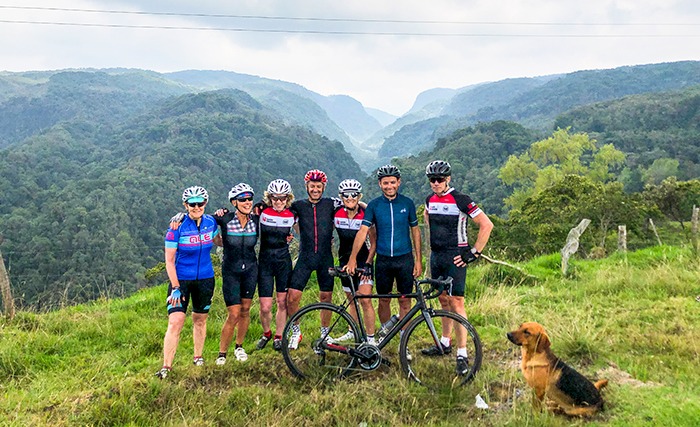 Colombia is a big country, very close to the equator and has multiple climatic zones of which you will get to fully experience at least two – The Andes and the savanna. The differences are mainly due to the altitude, which affects the temperature dramatically and makes it feel like two completely different worlds ranging from barren cold mountain tops to lush tropics and high humidity – so you will need to pack accordingly and be prepared for both.  
'The other thing we're looking for is the experience in cycling in different conditions ranging from cold mountain summits to really hot conditions. You need to know how to hydrate, pace yourself and know about the equipment you might need for safety and comfort. It's not really about the level of fitness, it's as much about knowing what you are doing and being comfortable in different weather and road conditions.'  
Think you have what it takes? Come join us in Colombia and allow our team to introduce you to one of the most vibrant and beautiful countries in the world and one of the best cycling destinations fit for the kings of the mountains!