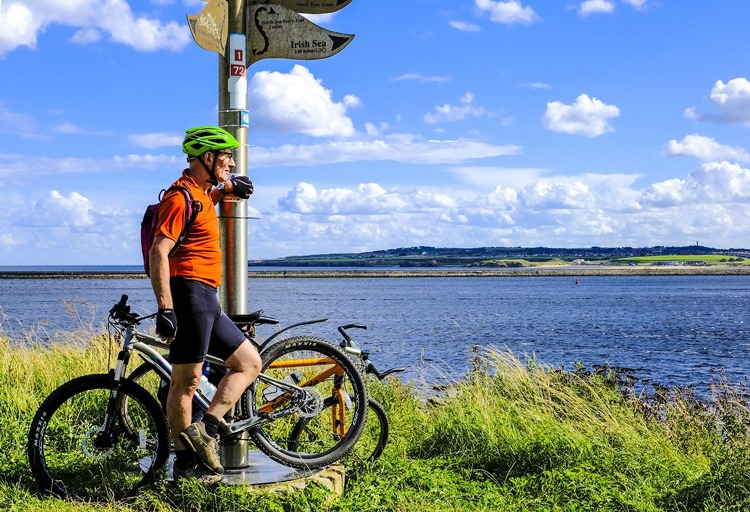 The C2C, also known as the Sea to Sea or Coast to Coast, is undoubtedly the UK's best-loved challenge ride and attracts a vast array of enthusiastic cyclists each year to take on its legendary ups and downs. This rewarding multi–day adventure has become somewhat of a rite of passage for us here in the UK and despite its infamous challenges, it's manageable for most fit and eager folk. Call us biased (we're lucky to call this neck of the woods our home) but it also boasts some of the UK's most beautiful and remote landscapes, making it an ideal journey for those eager to escape from the hustle and bustle of modern-day life. Whilst you may think you know all there is to know about this iconic challenge, we've got lots more to tell you, so strap in as we take a closer look at this classic journey by bike…
Find all our 'C2C – Coast to Coast' itineraries here!
Where it all began…
We can't claim the bragging rights to this legendary route, but we've done some digging to find out more about the C2C's humble beginnings. The idea itself was conjured up back in the early 90s by John Grimshaw, the man who founded the inspiring charity Sustrans. Set up to make it easier for people to cycle and walk, Sustrans is now one of the UK's leading charities and one we're incredibly proud to partner with (more on that in a bit!)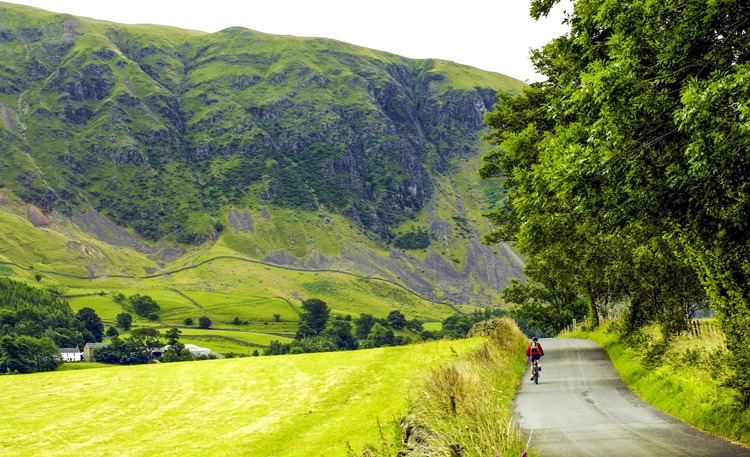 At the time, John wanted to connect new railway path networks in the county of Cumbria with a railway path over in Consett and Sunderland in the North East of England, passing through the glorious Pennines along the way. To make his dream a reality, he enlisted the help of David Gray, Sustrans' first-ever employee in the North East to coordinate the project. According to Sustrans, there was a big debate about what the route would be called and originally they agreed upon the "Roof of England Cycle Route". However, their minds were changed when a local artist started doodling on a pad, he came up with the C2C name, a neat way of paying homage to the journey that links the Irish and North Seas. We agree it's got a much better ring to it. With the name decided, it officially launched way back in 1994 (just one year before our co-founders got on their bikes to explore Chile, but that's a whole other story for another day!) and the first-ever cyclists to take on the journey were a Danish cycling club!
The route was also specifically designed to help boost local economies in the region. Sustrans even set up a card stamping scheme to encourage people riding the route to use local shops and businesses, and farms began opening cafes and places to stop for the night. It was even known for a post office along the route to start selling jiffy bags so users could post their dirty laundry home and not have to carry it further! Over the years it's been developed to include more off-road sections as well as an alternative end in the bonny seaside town of Tynemouth (this is where all the Skedaddle routes finish!) Ultimately, the C2C set the benchmark for other northern journeys by bike, including Hadrian's Cycleway and the Coast and Castles, so we have a lot to thank for its success!
Sea to Sea, the Skedaddle way
Did you know we've been running C2C cycle tours since the early 2000s?! Yes, we're really that old. Jokes aside, that means we have a whopping 2 decades of experience, so we know a thing or two about how to make sure you have the best experience possible.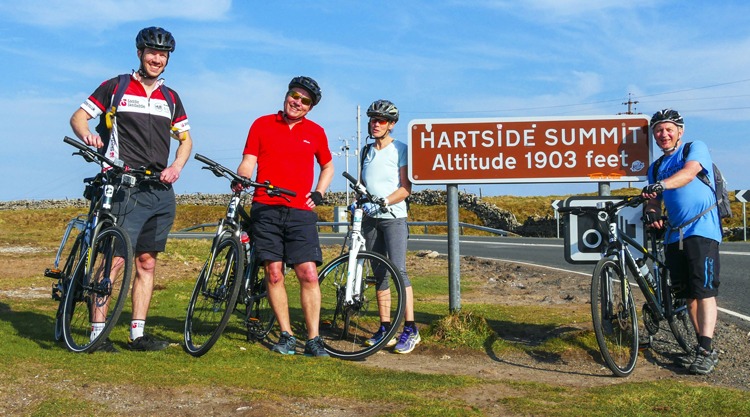 Whilst we take our hats off to the intrepid adventurers who choose to conquer this 140-mile journey on their own, here at Saddle Skedaddle we pride ourselves on providing cyclists all the support they need. From detailed maps to comfortable accommodation and luggage transfers each day – we've got it covered! You'll also benefit from the unrivalled knowledge and enthusiasm of our local team, that's everyone from our trusty transfer guys, to the friendly guesthouse owners whose homes you'll stay at en route. For those joining our supported tour you'll be joined by one or two of our glorious guides and have the comfort of knowing our trusty van is never too far away, should you need a helping hand. In short, we go the extra mile so you can just turn up and have a great time!
This is manageable for most cyclists, you just need to keep turning the pedals! We know where folk will struggle and have our trusty van stopped at handy points on the route where we think folk might need a little boost with a snack or some friendly encouragement! It really cheers folk up and gets them to the top of some of the cheekier climbs. – Brian James, regular C2C guide
We also want to inspire as many folk to try this route as possible, that's why we've developed a range of flexible C2C itineraries, catering to different fitness levels and providing different types of the holiday experience. Generally, the 4-day cycling itinerary tends to be the most popular option, but you can make this easier or more challenging with our alternative 5 or 3 days' cycling options. Our 5-day itinerary is also ideal for families eager to take on the challenge together! To find out which option suits you best, simply give our friendly team a call and we'll help you find your perfect tour.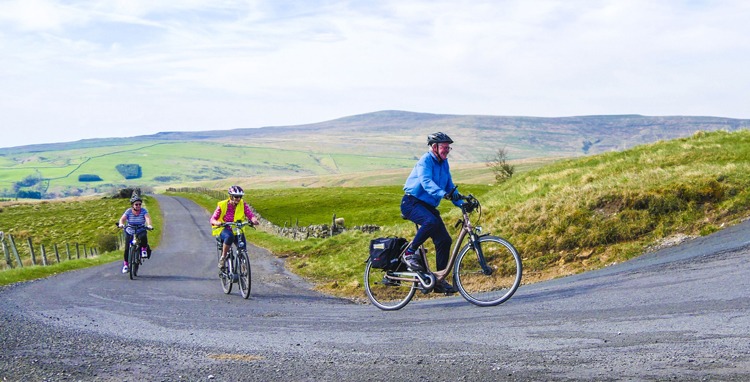 If that wasn't enough, one of the other benefits of booking the C2C with us is the knowledge that you're giving back. Back in 2010, we helped pioneer a scheme alongside partners Sustrans, which enabled us to support the amazing cycling infrastructure the charity is dedicated to improving in the UK. Since then, we've been committed to donating 5p for every mile Skedaddler cycles on the National Cycle Network. So that's £7 we donate for every cyclist who joins us on the C2C!
But don't take our word for it, here's what our community of Skedaddlers have to say…
"What a fantastic trip you guys have put together for the C2C! Communication, planning, information before the ride was spot on, and that was before the ride even started. I'd like to save my biggest thanks to the guides. Personally, having an illness like MS, I was unsure whether I would complete every day before I started. With everything the guys did, it meant I could focus 100% on efforts out on the road. Without their assistance, I may not have made it, it's as simple as that! Would I recommend it? In a heartbeat!" Mark, UK
"The approach and clarity are what makes Saddle Skedaddle an excellent organisation. For my wife and I, this Coast to Coast was our first organised ride. The whole experience was outstanding, such attention to detail. Being first-timers I had several questions and all were dealt with by the appropriate expert with good humour. Nothing seemed too much trouble! A pity more organisations do not have the same approach. Can't wait for the next holiday!" Peter, UK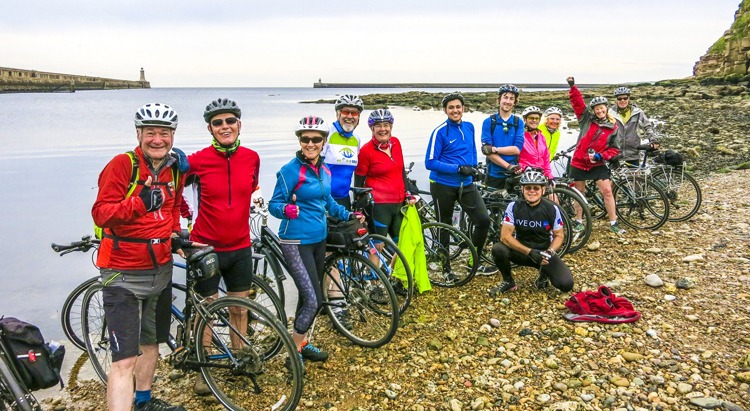 "Our guide was excellent and kept us stocked up with water, snacks and encouraging words! He was very knowledgeable about the areas we were going through, giving detailed information so the route was easy to follow and he picked beautiful places for coffee and lunch breaks. We would definitely recommend Skedaddle – you were actually recommended to me by a fellow cyclist and I am delighted we followed his advice to book with you. The support and thought that had gone into every element of the holiday added a bit of luxury to our C2C experience." Liz, UK
The Holiday Highlights
The Coast to Coast is traditionally ridden west to east, taking advantage of prevailing winds, and most will be familiar with its start and finish points at the Irish and the North Sea. In between, you're going to encounter some incredible spaces of solitude as we head into the heart of Northern England.
Here you'll savour some of the country's most staggering countryside. From the picture-postcard beauty of the Lake District National Park, now a UNESCO World Heritage Site, to the rugged and remote landscapes of the North Pennines, an Area of Outstanding Natural Beauty. These lush, green landscapes are also blessed with many quiet roads and punctuated by small, sleepy villages that look little-changed for centuries. It really is a special route best savoured at the speed of the bike.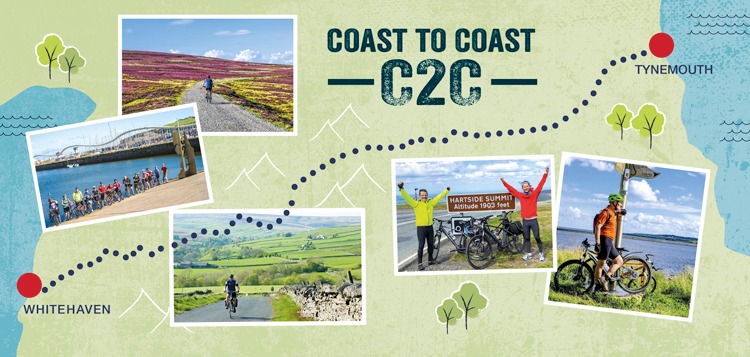 With so much to experience on this varied journey, we thought who better to share the highlights than our guide Brian James, who has led supported C2C tours for us several times in recent years. Here are his personal highlights…
We pass by a stone circle

early on in the

tour, just outside of Keswick, known as Castle Rigg, which is an ancient

neolithic

site. We always like to

regroup

here as the views are just spectacular, a beautiful spot where you can see out over the impressive Lake District peaks. Often there is an ice cream van nearby too, which we, of course, like to fuel up at!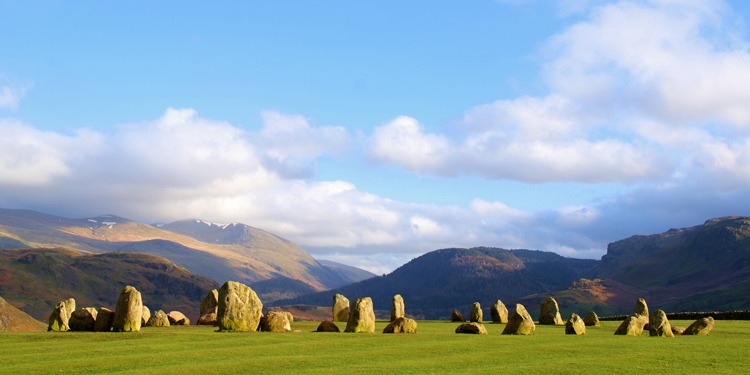 The section from

Threlkeld

to Alston (

the 2nd-day

cycling on our supported itinerary)

is probably my

favourite

part of the journey. This is the day you'll ride up

H

artside

P

ass, which is

a

very iconic

climb which

you can see

as you leave

Penrith

. Before we leave,

perched on the hill east of town,

we ask folk to pause for a short while and look back. On a good day you can see the

Lakeland

fells and

countryside we h

ave

ridden

through

and it's beautiful. After riding along quiet roads and gorgeous scenery in the morning, we have a lovely picnic lunch at

Langwathby village green and then we're ready to tackle the big climb.

The climb up is quite tough but very rewarding. It's just shy of 2,000 feet and that can be quite daunting to cyclists

.

W

e have had a lot of folk

from down south

riding it and they've not seen such big climbs in the UK before! The views at the top are

absolutely great

though and afterwards, you have a lovely, long descent into the town of Alston, reputedly the highest market town in England, so it's freewheeling for the rest of the day.

Coming into Newcastle Upon Tyne with all of

its

bridges is very iconic, the contrast of riding from the remote landscapes up past the quayside's impressive architecture and heritage is quite impressive. We always stop at the Cycle HUB which is Saddle

Skedaddle's

main UK base and home to a lovely cafe with a great view. It's the ideal pit stop before the last push to the finish.

The last day

always comes with a great sense of achievement

as we arrive into

picturesque

Tynemouth

and finish

looking over

the mouth of the

R

iver

T

yne

, with

Tynemouth

Priory and Castle beside us

. T

here's a nice

C2C

sign which we

gather around for

a

g

roup

photo

. We

also

have a little celebratory glass of bubbly to mark the occasion!
Please, Skedaddle! Can I have some more?
We couldn't talk about a great cycling journey without sharing some of the delicious local goodies you can sample on the route! Whilst most of the food you can find here will be very familiar to British cyclists, for those less familiar, there's some absolute classics that hail from this region, which we recommend all riders try.
Top of the list is the mighty Cumberland sausage, served in distinctive coil and bursting with flavour – it's delicious served with creamy mash and is a favourite pub grub meal, so you're sure to find it on most evening menus on your journey. For cyclists with a sweet tooth, the classic dessert sticky toffee pudding also originates from the Lake District (yes, really!) so if you're going to indulge, well, this is the place to do so.
One of the accommodation and food highlights included on all of our C2C tours (bar the 3-day version) is the Horse and Farrier, where you are sure to sample a great range of classic British meals. Not only is the food fantastic and always a big hit with Skedaddlers, this former travellers' coaching inn dates back to 1688 and has a lovely olde worlde feel. It also backs directly onto the beautiful Blencathra fell giving it a pretty special location. A great selection of local real ales provides the cherry on the icing here!
Our picnic lunches served each day on the supported C2C tour aim to provide cyclists with plenty to keep them fuelled for the cheeky climbs you'll encounter on the route, and where possible, serve up locally sourced products. A noteworthy mention goes to the Alston Wholefoods shop which guides like to frequent to source a tasty local cheese for the picnic that day – we urge any self-guided cyclists to go check it out too – they have a great selection with most winning awards over the years!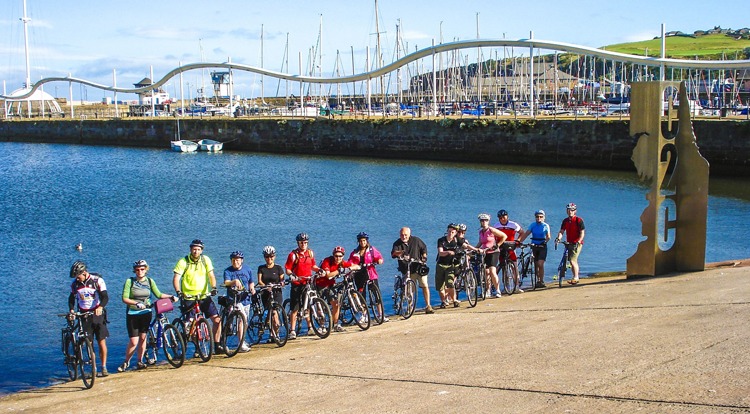 Find all our 'C2C – Coast to Coast' itineraries here!
Keen to conquer a Coast to Coast cycling holiday with us? Head to our website today to find out more information and to book your place. For those in need of more convincing don't miss this great customer story inspired by the route.