Vietnam – Mountains and Coast from Saddle Skedaddle on Vimeo.
Vibrant Vietnam offers a real feast for the cycling soul and our media maverick Olly Townsend couldn't resist the lure of this exotic destination. Find out how he got on during our Mountains and Coast cycling tour here:
A cello in a protective case. Twenty or so goldfish swimming around in little plastic bags that you used to see at fairgrounds in the 1980s. Most of the stock from a decent sized garden centre. A section of metal tube about 20 feet long, being held vertically up in the air. Eight crates of beer. Mum, Dad, small child and granny too, just for good measure. A six foot long oxyacetylene gas cylinder carried widthways. A live, fully-grown pig, fitted into a torpedo shaped metal cage. A hundred or so helium balloons in a variety of shapes, sizes and designs. A large wooden and glass cabinet. And finally, the clear winner – the biggest block of ice I've ever seen – about 5 feet long and carried widthways.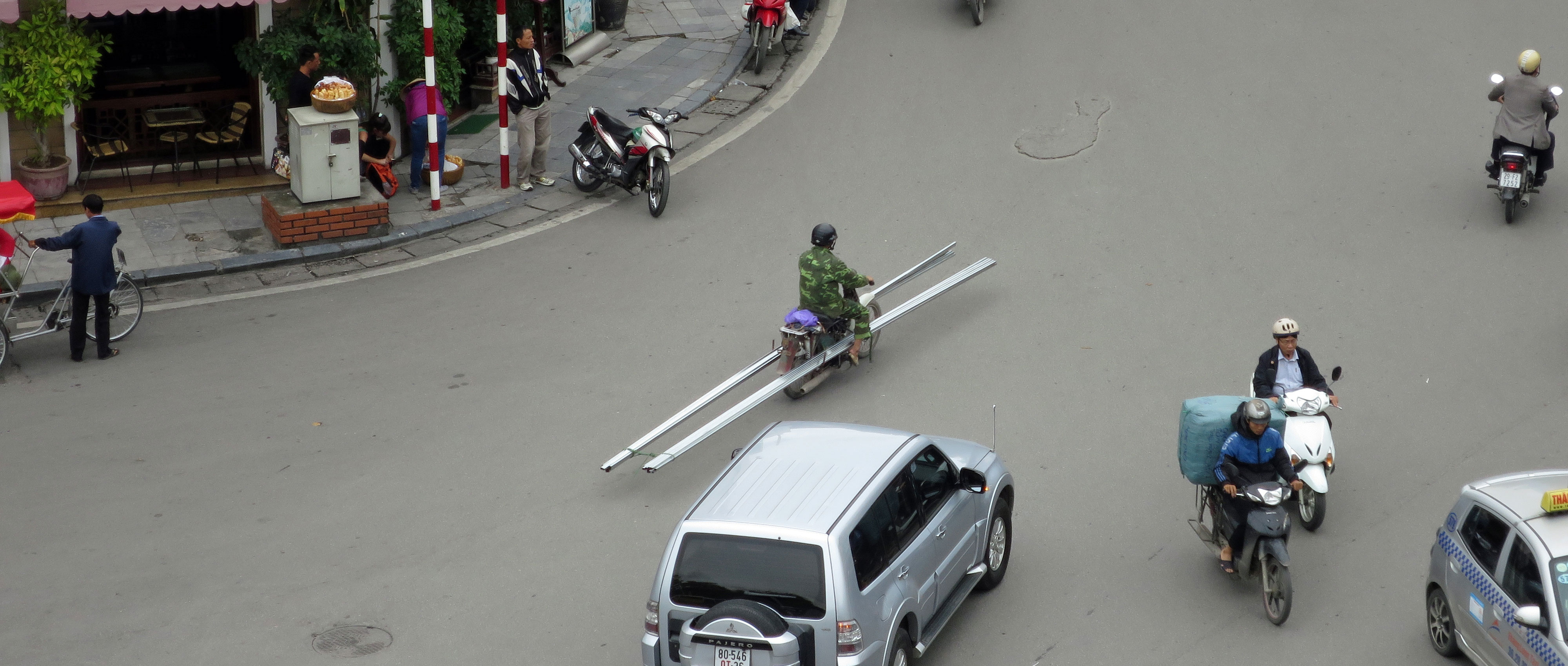 The above, believe it or not, are some of the incredible things that we witnessed being carried on mopeds in Vietnam during the latest departure of Saddle Skedaddle's Vietnam – Mountains & Coast holiday. There are something like 40 million mopeds on the roads of Vietnam, which compares with around 1 million in the UK. Mopeds are "the" way to get around in Vietnam. They're personal transport, company cars, urban taxis, school busses, tractors and works' vans all rolled into one. The sheer variety of goods and people that can be carried on these little bikes is staggering. And the volume of mopeds is equally incredible.
It can be best described a shoal of fish. Most of the time everyone is going the same way and the whole thing "flows" incredibly well. Occasionally someone joins from a side street (the unwritten rule here is that the main shoal move sideways a little and the newcomer joins without the need to stop at the junction). Quite frequently someone rides the wrong way down the street, towards the oncoming traffic. In the UK there would be a mass pile-up, police involvement and legal cases, but in Vietnam, there's a collective rolling of eyes and the shoal change direction on mass and allow the non-conformist to pass against the flow of everyone else without so much as an angry word or a rude hand gesture.
Initially just crossing the road in Ho Chi Minh City (or Saigon, as it's still called by most of the local population) seems to be an impossible task, with what seems like the majority of Vietnam's 40 million mopeds all heading down the road you want to cross. However, once you've been in Vietnam for a few days you start to "get your eye in" and both crossing roads and actually being part of the traffic flow feels less nerve wracking.
You may wonder what all of this has to do with cycling? Well the answer is that riding on two wheels is a massive part of Vietnamese culture. Pretty much everyone starts on a bicycle and then works up to a moped, so seeing things from the perspective of two wheels, rather than a four wheels, is the default. This means that although the traffic might seem a little chaotic, cycling through this amazing country actually feels remarkably safe.
Pretty much every day we would comment on how respectful, patient and understanding truck and bus drivers were when it came to overtaking us. Everyone gives a couple of quick toots on their horn (to let you know they're there, and that they're about to overtake) and then the vast majority overtake safely, giving you plenty of room. The difference from riding in some bits of the UK was quite startling!
Of course the vast majority of the trip you're not actually riding on busy roads and then it's the non-motorised transport that causes the raised eyebrows – a herd of cows being driven the "wrong way" down the road by a teenager cowherd one day, a mother pig and a litter of piglets strolling quite happily down the verge another, a flock of goats all over the road on one memorable climb or the most involving of all – a gaggle of small children stood patiently at the roadside, an expectant look on their faces and one hand held up in the air, awaiting a High5.
No matter how remote the village we were riding through, small children would appear as if by magic and smile, wave, say Hello as loudly as they possibly could and the braver ones would stand by the roadside expecting a High5. I'm not sure that taking your hand off the handlebars to greet a small child is exactly written into the handbook for safe cycling in Vietnam (not that such a thing exists of course), but the smiles and squeaks of delight from the children was pretty much impossible to resist.
When I got back from the trip, I started the mammoth task of going through the nearly 2000 images that I took during my time in Vietnam. Trying to whittle this selection down to something a little more manageable was quite a task. Trying to find one image that summed up the trip, was nearly impossible. Until I found this one.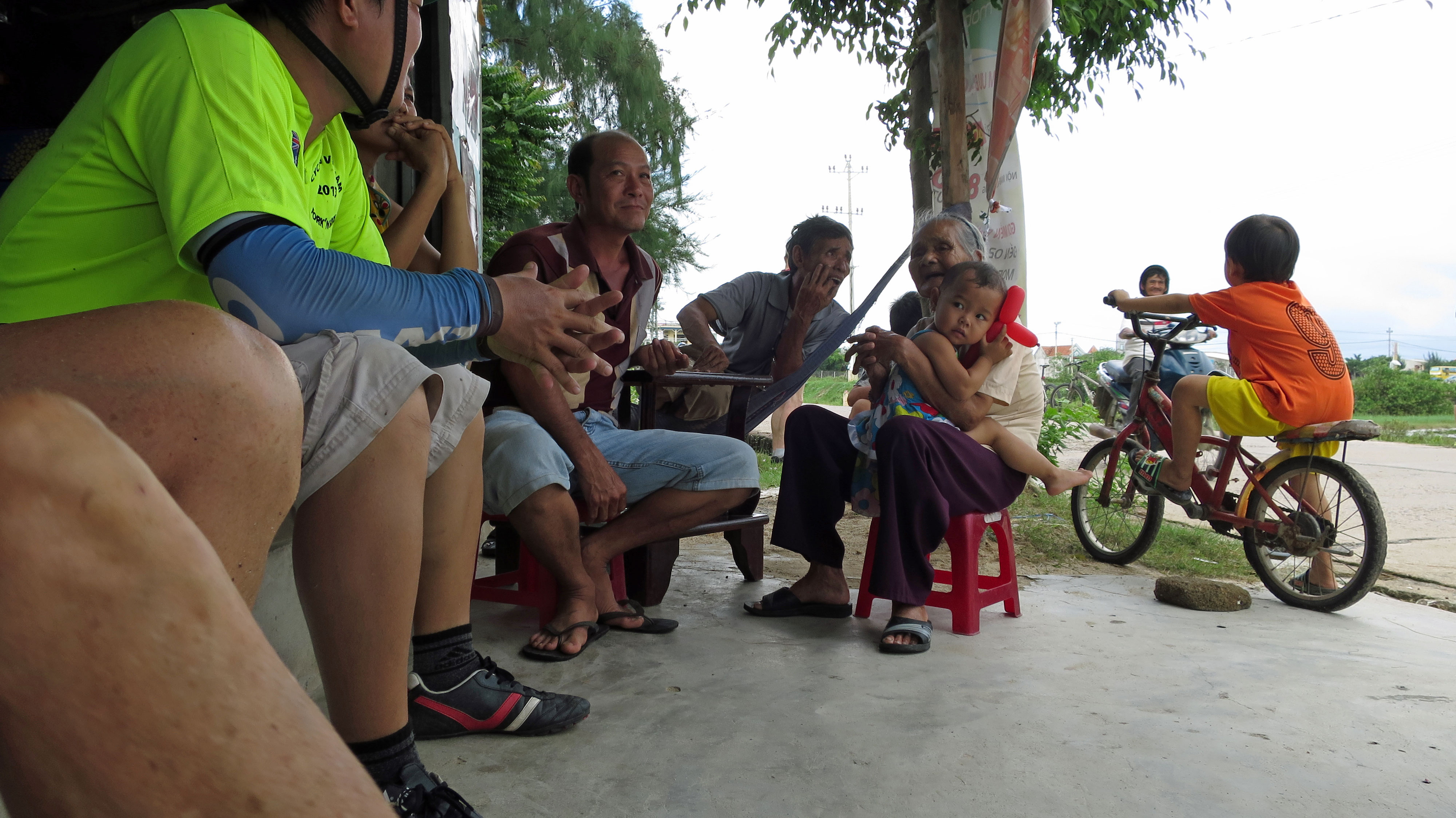 I took this shot of a family who owned a small village shop. We had stopped there when we realised that one of the group had left their bag behind at one of our drinks stops. Our local guide Trung (or Bobby as he was nicknamed) screeched to a halt, rushed over to the family and asked them if he could borrow their moped which was sitting outside their shop. They looked at him as though this was the most natural thing in the world to happen, instantly agreed and so off he sped to retrieve the lost bag. While we waited we sat and did our best to communicate with the family. Four generations were sitting outside the shop watching the world go by. Their small boy was happily riding his bike up and down, mum ran the shop, dad made sure the world was still running ok, grandpa was supervising and great granny was babysitting. They were incredibly friendly and welcoming and didn't bat an eyelid when a group of slightly dishevelled lycra-clad westerners descended on them en-masse.
This neatly sums up Vietnam in a few thoughts – no matter how remote we were, how poor the villages looked, how few tourists they must ever get to see and no matter what the weather was doing, the local people were without fail the friendliest I have ever met. Everyone from tiny children to wrinkly grannies would smile and make us feel welcome. The fact that we generally arrived on bikes (no matter is some of were wearing somewhat garish cycling kit) meant we had an instant connection with them and for this reason alone, Vietnam is pretty much the perfect destination to visit by bike. Two wheels good, as the saying goes.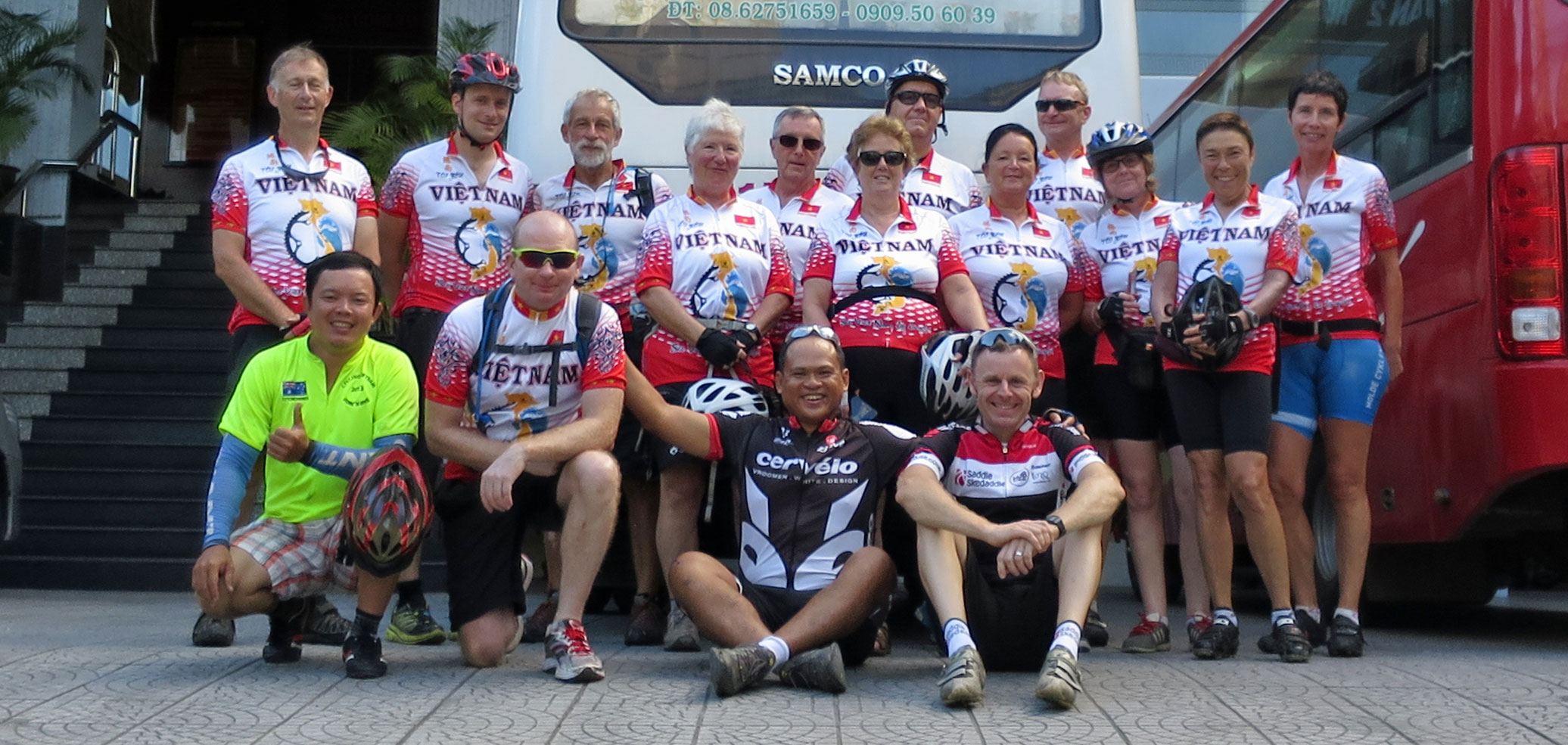 Olly travelled on the November departure of the Vietnam – Mountains & Coast trip and is now trying to work out how he can get to back out there again! He made a short film of the trip which tries to capture some of the highlights of this amazing country.