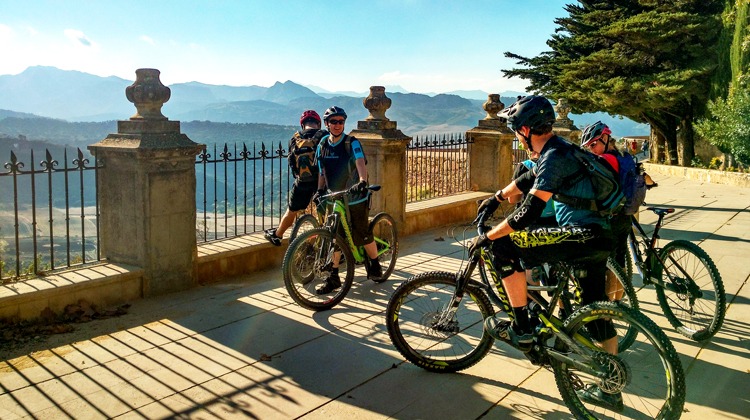 A fun and flexible mountain bike holiday from the mountain town of Ronda in the high sierras to the historical town of Tarifa on the wild Costa de la Luz. Expect a mixture of enjoyable singletrack and dirt tracks, with some decent climbs to get your legs into and earn those post-ride vinos. Sierras Explorer comes in guided or self-guided and is suitable for mountain bikers of all abilities.
Here's our man in Spain, Dan Hirst, with the whole story…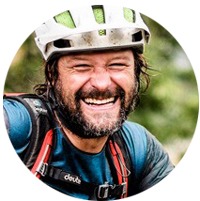 This thrilling ride through the Spanish region of Andalucia is the fruit of 17 years of expertise and knowledge riding my bike here!
For the first recce in 2003 I installed a 'sleeping platform' in a VW minibus before heading out to Ronda. My girlfriend at the time, Sal, nervously laughed when I introduced her to our 'brand new camper van'.  Besides waking up with ice on the inside of the windows, the trip opened our eyes to the richness of the sierras and the perennial relationship between humans and the land. From the villages of Moorish origin to the terracing and irrigation of often brutal terrain, all connected by an indelible tapestry of ancient trails.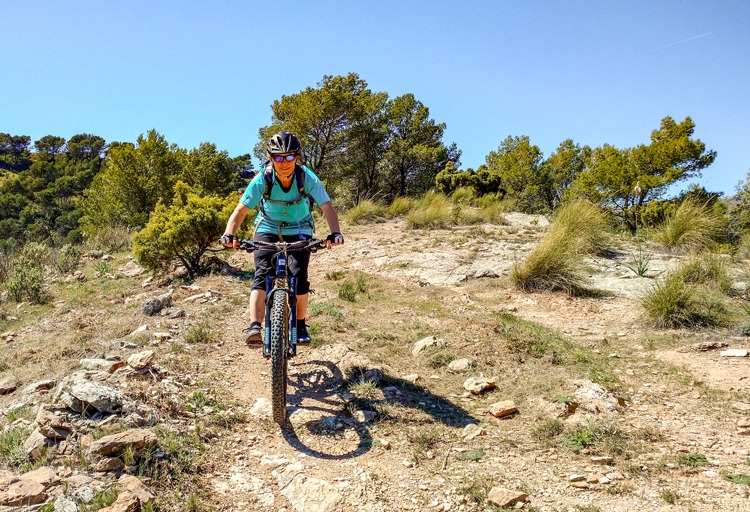 We spotted shepherds on the mountainsides. Isolated figures in an unaltered way of life, grazing their sheep and goats while helping to sustain the bloom of flora that cloaks the hillsides in spring. Riding through the dehesa, a type of agroforestry that is unique to southern and central Spain, we kept our eyes peeled for Iberian boars and the variety of mushrooms on offer.
It was our first time through the northern part of the Alcornocales Natural Park, a vast wilderness of the venerable forest. Guided by a crudely marked Spanish Geographical Institute map, it took us three days to find a suitable route. Fortunately for us, we did eventually find the GR 7, a long-distance footpath from Tarifa to Athens. As we explored, we plotted more trails into, around and out of Tarifa through the southern part of the Alcornocales Natural Park and the Parque Natural del Estrecho.
The first time I rode the 'costa' single-track along the Straits of Gibraltar I felt incredible. I've ridden it over 50 times now and it still moves me. It's the perfect balance of effort and skill, beauty and wildness, with a dramatic finish through Tarifa's fortified walls. Tarifa itself is enthralling. Its white sandy beaches, surf culture, surrounding MTB trails, boundless history, and wealth of tapas places.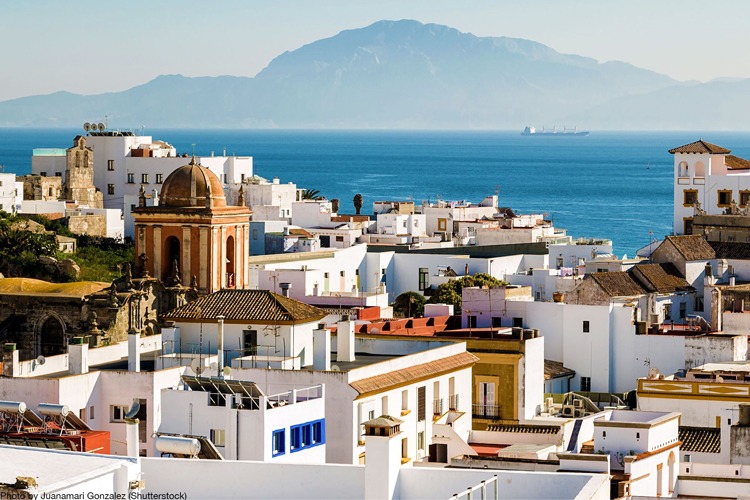 One day we rode the southernmost stretch of the GR 7 through a valley called Puertollano and down a hillside called La Pena to the sands of Los Lances. Something jumped inside me when I rode through that valley, something supremely calming and satisfying.  A few years later, I and Sal were searching for a place to live in Puertollano. We've called it home for 16 years since then and our two boys were born in the house we cycle past to conclude the Sierras Explorer trip.
Dan's favourite day
It's tough because I have an emotional attachment to each one. But, if I had to crown a winner I'd say Day 3 and the ride from Colmenar to Castillo de Castellar.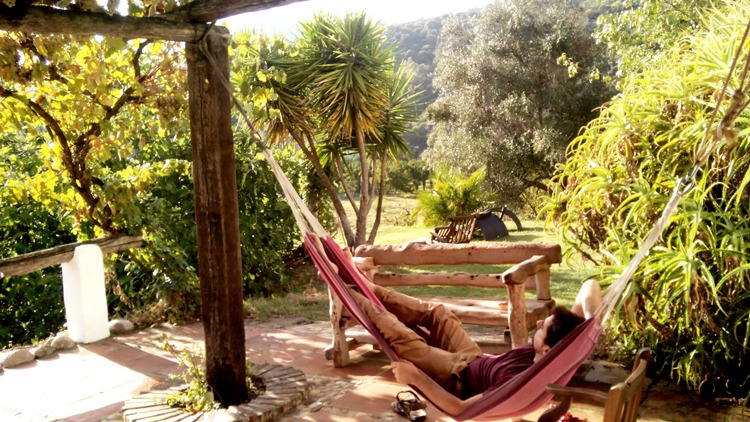 Waking up at Ahora Casa Rural is a revitalising experience. Rooms open out onto a garden and orchard, as day breaks to wake you gently. Breakfast in the dining room is always serene, with lots of natural light and a bit of Miles Davis or John Coltrane playing in the background.  You can expect juice from homegrown oranges, strong coffee, homemade wholemeal bread with olive oil, jams and marmalades, homegrown avocados, goats cheese from the village, and freshly baked fruit cake.
From the village on both our guided and self-guided tours, we'll take a minibus transfer so our day starts high on the main ridge of the Alcornocales, with its atmospheric mist settling on the upper forest in the morning before the sun gets high and hot. It's an easy start on trails through the forest, morning light dappling the way. We pick up the GR 7 Sendero through dense cloud forest strewn with ancient oaks cloaked in thick moss and ferns. The trail is challenging at times then fast and flowing down the side of a babbling stream.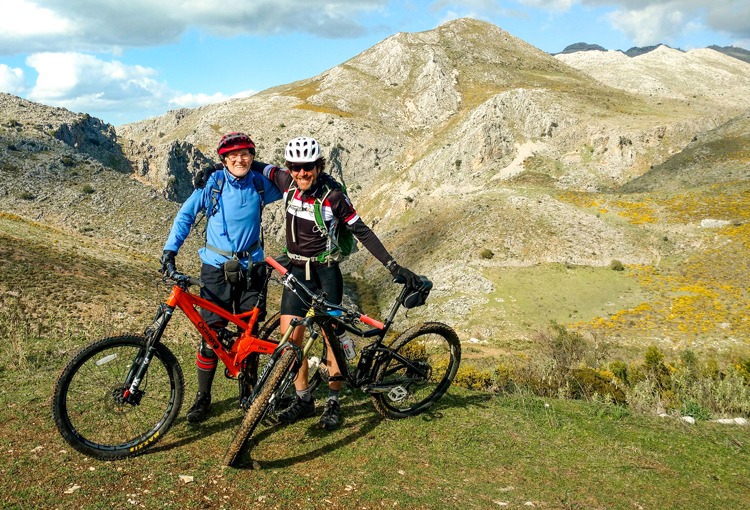 After a short climb, we arrive at a viewpoint overlooking the rolling ridges of the natural park. The valley seems a long way down and the descent feels never-ending as it switches between fast trails and flowing singletrack to the valley floor.  We enter Jimena de la Frontera and take a stiff climb up to the castle for views and a brief history lesson among the huge cliffs, before shooting down a path to the river for lunch. In warmer weather, the Rio Hozgarganta is an amazing place to swim. The river comes out of the park with crystal clear pools surrounded by blooming rhododendrons.
The afternoon ride is easy-going down the valley through forests and orchards before the final climb to the fortified Castillo de Castellar. The hotel rooms, set into the 13th-century Arab castle, are the perfect place to unwind with the setting sun framed by the ancient stonewalls.
An unmissable opportunity
If there's time at the end of Day 1 or start of Day 2, the Cueva de la Pileta is a must-see. The caves cut into the limestone of the Grazalema mountains are home to art dating back to Paleolithic times. Local farmer, Jose Bullon, discovered the paintings when collecting guano from bats to fertilize his crop. And you still get shown around by members of the Bullon family. The walk up to the cave is steep and inside you're equipped with oil lamps. Through tight tunnels, hundreds of undulating steps separate galleries of deer, humans, and huge fish on this astounding look back into our prehistoric past.
Winding and dining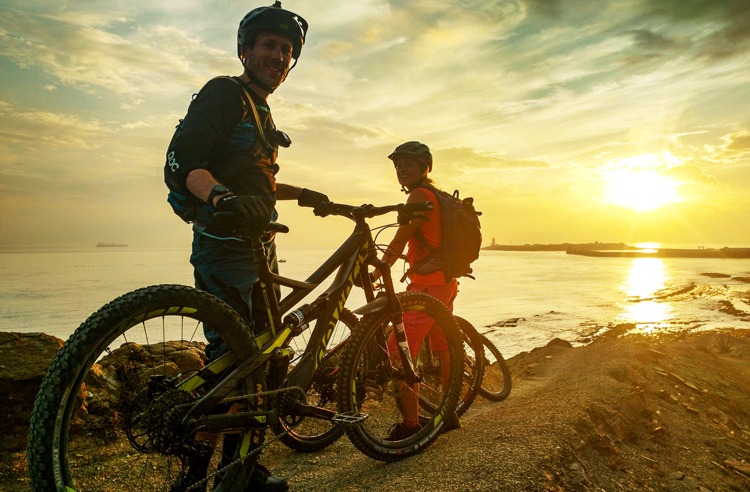 When it comes to food (and wine), we look for local produce in locally run restaurants. We buy local from village shops, recycle everything we can and try to avoid single-use plastics. We also cook everything fresh for picnics and fill water from mountain springs.
One of the best ways to feast responsibly is to eat locally and sample the incredible regional delicacies. Aside from the biking, it's our favourite part of the holiday experience. So, here are few local treats you won't want to miss…
Rondan wine is part of the 'DO' of Malaga, producing red and white wines from over 40 wineries, many of which are certified organic. On day one we set the tone with a wine tour. My personal favourite is the Descalzos Viejas winery owned by an eccentric Argentinian family. It's housed in an early 16th-century convent beneath Ronda's famous cliffs. The tour of the winery includes a visit to the convent to see its frescos and a tasting in the beautiful chapel.
Andalusia is also synonymous with sherry and we encourage you to try different types as aperitifs, whether it's a bone-dry, crystal clear fino, or a thick sweet burnt raisin taste of Pedro Ximenez. There are a few bars on the route that will blend sherry straight from the barrel to your taste. Hermanos Macias does an excellent job of this as well as serving the best oxtail stew I've tasted.
The Serrania de Ronda and Sierra de Grazalema are famed for their cheeses, the prize being a creamy, spicy Payoyo goats' cheese.
The Alcornocales forests are home to many types of game: wild boar, venison, partridge, and rabbit. All feature on the menus of local restaurants, including those in Castillo de Castellar.
Tarifa is one of three places on the Costa de la Luz that catch bluefin tuna using a method called the Almadraba. It was originally developed by the Phoenicians, where an elaborate netting system is layed and individual fish are chosen. The catch in spring is the prize tuna as it is extremely fatty from wintering in cold water, making the fish almost melt in your mouth. The tuna is also salted and air-dried to create mojama, try when finely sliced and soaked in quality olive oil.
Another seafood dish to try is arroz con 'chipi' en su tinta, that's cuttlefish cooked in their own ink, which goes perfectly with a bottle of crisp white from Cadiz. For a vegetarian alternative, try aubergine frittas fried in honey! Bar Frances in Tarifa is one of our favourite places to eat these dishes!
Last but by no means least is Anca Curro, another gem in Tarifa. It's a tiny place you wouldn't find unless you were taken there. 'Seating' is at the bar and the decor is full-on Andaluz with bullfighting, flamenco, and photos of local prize beef cattle and Iberian black pigs. Once we're at the bar, we'll place an order with Curro, the bar's enigmatic owner. Solomillo Iberico is served on a board, carved into thin slices, tender and perfectly salted. On the side are homegrown tomatoes, with a creamy blue cheese dressing and revuelto de tagarninas (scrambled eggs with wild thistle hearts). Before finishing the order, Curro has a bottle of Crianza poured into copas on the bar and another one ready. When it comes to paying, a 'mas o menos' calculation is done in Curro's head and a chilled glass of Malaga dulce sweet wine served.
Feeling inspired? Find out more about our new and improved Skedaddle classic here. You can join one of our group departures or enjoy it exclusively with those who matter most on a self-guided version of the route.