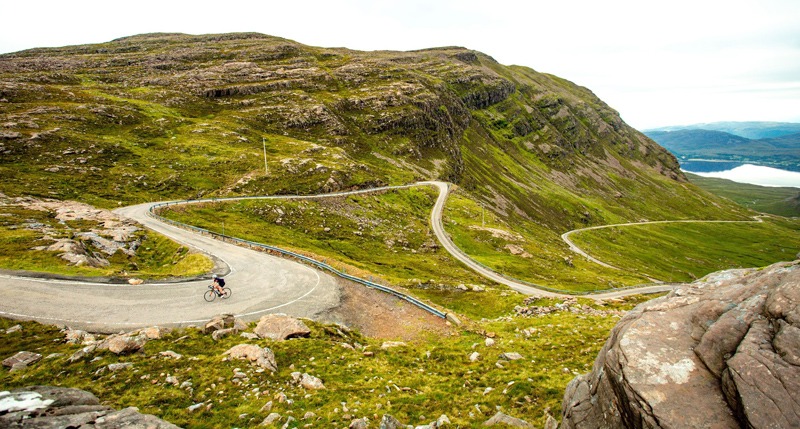 If you want true wilderness and a sense of remoteness, combined with warm hospitality, the Highlands of Scotland is the place to head. 
Our latest addition to the road calendar, the Tour d'Ecosse, weaves its way through rugged mountains and vast, untamed wilderness. It traces the intricate coastline, where misty islands drift in and out of view and take you to tucked-away villages full of character. Breathtaking landscapes contrast with warm Highland's hospitality, where a hearty meal and a 'wee dram' by the fire provides the perfect opportunity for relaxation and storytelling.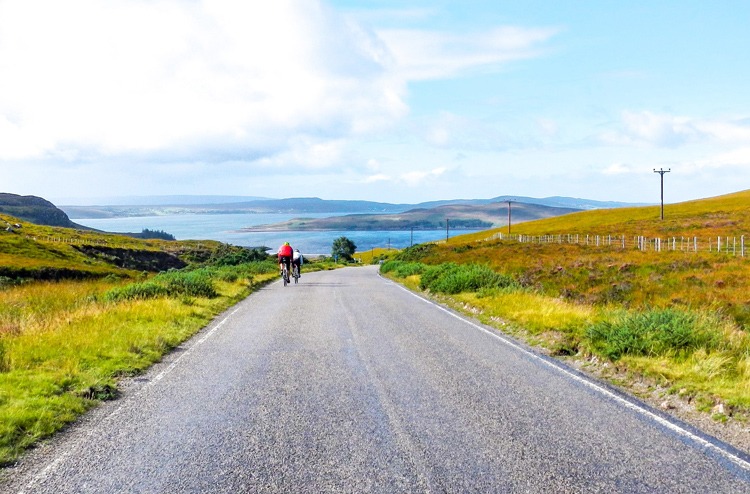 Our Product Specialist for Road Cycling, David Hall, inspired by his own experiences of Scottish cycling designed the route, "Every time we reach the Highlands during our Land's End to John o'Groats tours someone says something like 'wouldn't it be great if the whole trip was like this?'" It's true, as you work your way up to the more remote reaches of the LEJOG route, a sense of ease overtakes many groups. Partly it is to do with being well over halfway to the destination, but more than that it is the open spaces and the sheer grandeur of the scenery, which puts our daily worries into perspective.
David adds "I actually think it's a bit of injustice because the entire LEJOG route is superb but there is something really special about riding in the Highlands – the remoteness, the dramatic terrain, the lack of people. Its scenery is spectacular in all weathers, but on a sunny day it's sometimes difficult to put your camera away as the colours and light are like nowhere else." With Skedaddlers and the guiding teams loving the Highlands so much, it was a no brainer to put together a route that showcases the best of it.
North Coast 500 – done our way 
Five years ago, a few people started talking about the new route around Scotland, called the North Coast 500 (also known as the NC500). By 2018 it had gained 100,000 social media followers from all around the world as word spread about this spectacular 516-mile route around the coastal edges of the North Highlands of Scotland. With popularity suddenly exploding amongst not just cyclists, but motorbike riders and motorists, it wasn't long before folks were asking us if we could offer a guided tour for cyclists along those lines.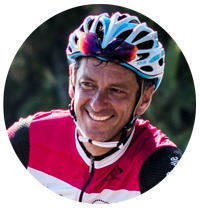 Every new trip starts with a kernel of an idea that grabs our imagination. Often it is a place someone has been and wants to explore further, or a place they are passionate about and want to share with others. "I've always been a fan of Scotland and have spent quite a bit of time in the Highlands over the years," David explains "When we decided to work on an itinerary, I knew almost instantly what the overall route would look like."
Being Skedaddle (and being David Hall), it was never going to be a carbon copy of the NC500, "It is an impressive route for sure but because of its increasing popularity with drivers and motorcyclists, some sections can be a bit busy. I was keen to incorporate it into our itinerary but with that in mind I wanted to give it a unique Skedaddle twist. The result is a combination of some of my own favourite Highland riding with the best bits the NC500 has to offer."
Recce reminiscing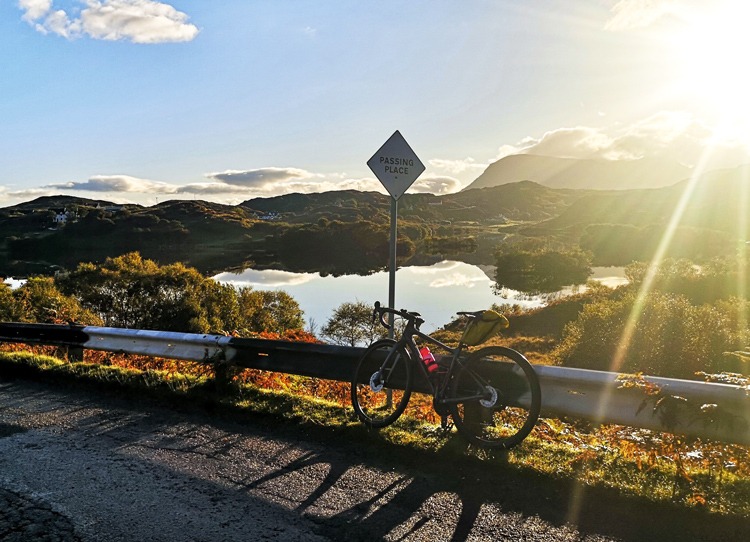 No trip gets off the ground and makes it onto our website without a thorough reconnaissance trip, these aren't just about route planning and risk assessments, it is also a chance to delve a bit deeper into what experiences the route will offer. The Highlands pulled out the stops to give us an impressive show. Usually, recces mean very long days, but the bonus for our early start was that the mornings were amazing. 
Although it can be chilly it's worth putting up with. Watching the sunrise over the mountains and turn the lochs into liquid gold is a memory that stays with us. But it's not just the sun that gets up early. Mornings are also when we have the best chance of seeing wildlife. It's not uncommon to share the dawn roads with deer which is really special and if we're very lucky we sometimes see golden eagles, ospreys and even otters.
With any recce, there is always one day of the planned trip that as a guide you know clients are going to love as soon as you plan it. While all of the days of the Tour d'Ecosse have something special and unique, so much so it is hard to choose between them, the day we tackle the Bealach Na Ba is particularly memorable. It's the signature climb of the entire tour and it really is dramatic.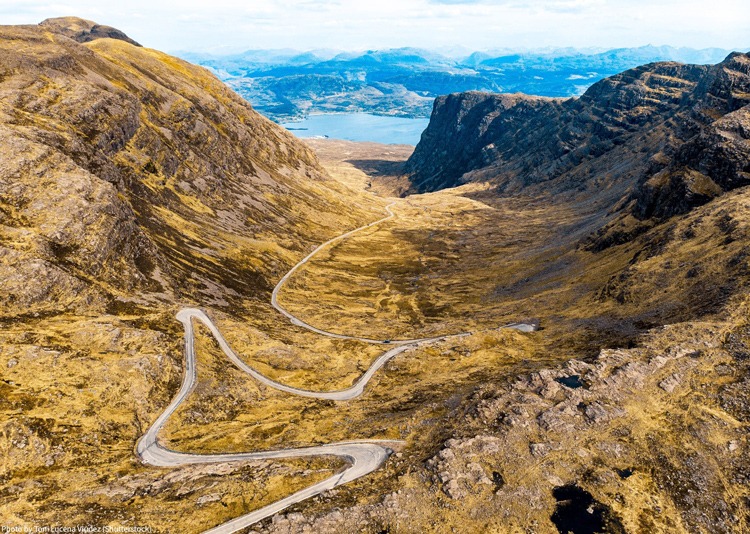 "On paper, it's an absolute brute – enough to get people talking the night before if they've been following the elevations – but in reality, it isn't too bad" David reveals, "I like to think of it as an achievable challenge". Getting to the top feels amazing, and the views from the summit are spectacular, you can see across much of Wester Ross, the whole of Skye, and the Islands of Rum and the Outer Hebrides. It is not a climb you will forget in a hurry.
One of the joys of this route is how quiet the roads are. For all the Highlands are accessible to many of us with just a few hours driving, they are still amazingly void of people. We see other cyclists occasionally, both locals and long-distance touring cyclists laded down by panniers and packs on their way to John o'Groats and other riders always give a nod and a wave. There is an amazing camaraderie between the riders you bump into, most likely born of being on the road together in a place where people are few and far between.
Creatures Great and Small 
When you think of Scottish wildlife your thoughts naturally turn to the bigger animals such as the red deer, the stunning, powerful birds of prey or rare animals like the native wildcats but one of the most remarkable stories is that of the salmon. Salmon begin their life in freshwater and migrate to the ocean to feed and grow, before returning to freshwater to spawn. Atlantic salmon are governed by instinct so strong they relentlessly leap against gravity and current to get upstream to their spawning grounds, it is a spectacular sight which we are occasionally lucky enough to witness.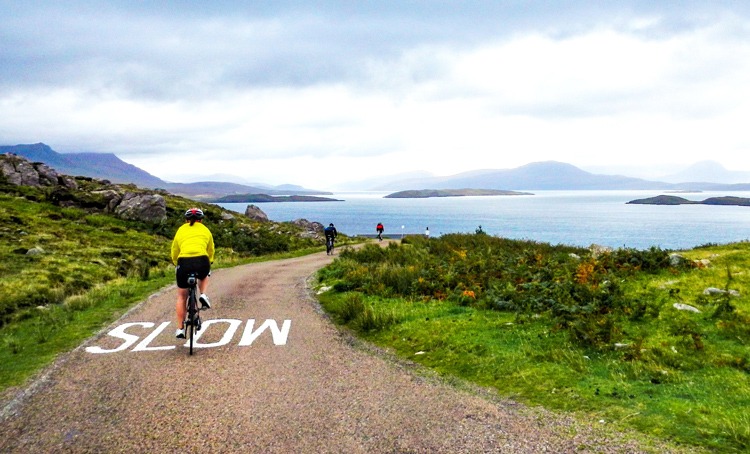 Just after the lunch stop on the first stage (Inverness to Lairg), we ride past the Falls of Shin. From the road they're marked by a fairly standard-looking visitor centre and a large car park. Without knowing more, it would be really easy to pass them by. But just a two-minute walk down a dirt track from the road and you find yourself standing over a magnificent cascading torrent. Watching the salmon battle their way upstream to spawn is fantastic, a chance to see the power of nature in action.
Many people come to Scotland for bird and animal spotting, but Scotland's most infamous 'wildlife' is a little bit smaller and a lot more annoying. You can't really mention the Highlands without talking about their most irritating resident – the midge. Midges are a type of tiny biting insect, tiresome on their own and maddening when in swarms. Midges are one of the reasons for the relatively low population of the Scottish Highlands, they help keep the wildernesses wild. Without the midge, Scotland would not be the same, so we do have that to thank them for! The great news for cyclists is that midges cannot fly faster than 7mph, as long as we keep moving they don't bother us.
Not 
everything is deep
–
fried!
One of the biggest falsehoods and stereotypes about Scottish food is that everything is deep-fried. You can of course find a deep-fried Mars bar – if you really must – but we think the quality of food in Scotland is simply outstanding! Scottish salmon is prized worldwide for its quality, "we never eat badly in Scotland!" says David, "the west coast has some fantastic seafood and for fans of smoked salmon (and other smoked delights) there's a traditional smokehouse in Altandhu which is well worth a visit."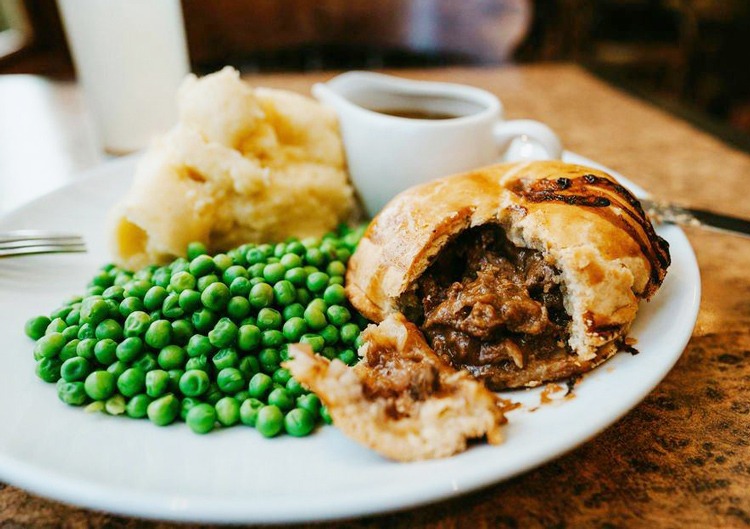 Another favourite The Lochinver Larder produces some of the best pies you have ever eaten! From traditional venison and cranberry to more modern fusion twists such as pork, chorizo and manchego and even a delicious veggie goats' cheese and sweet potato, there is something for everyone. If you fall in love with their pies, as many visitors do, you can get them delivered by mail order when you get home! While traditional game and venison feature strongly on many menus, as does the haggis, you can also look out for lighter indulgences such as the fresh raspberries and strawberries Scotland is also famous for.
When riding LEJOG it is at the breakfast table that you really notice you have crossed the border. Square sausages, known as 'Lorne' make their first appearance, and kippers or salmon with scrambled egg is often on offer. Traditional Scots porridge, seasoned just with salt, can taste strange if you are used to loading yours up with syrups and dried fruit but a belly full of that will keep you going all morning, no matter how many hills you have to climb!
Whisky, whisky all around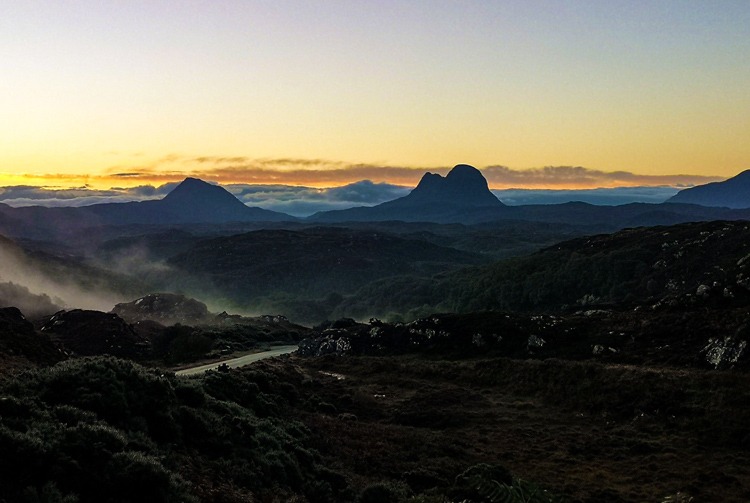 It's not just the food that is unique here – if you are a whisky drinker this route is a real treat. Not only do we pass by many distilleries, the famous and the not-so-famous, but most places we stay have a well-tended whisky selection. Explore the Highlands by day on your bike and explore its whiskies of an evening in the bar by the fire! Whisky is one of those drinks that is really of its place – its golden colour is seen in the peaty rivers and sun reflecting off the lochs and its earthy, rich smell wafts to you from the damp heather on the hills. If you weren't a whisky drinker before this might be the trip that converts you.
Near
but wildly different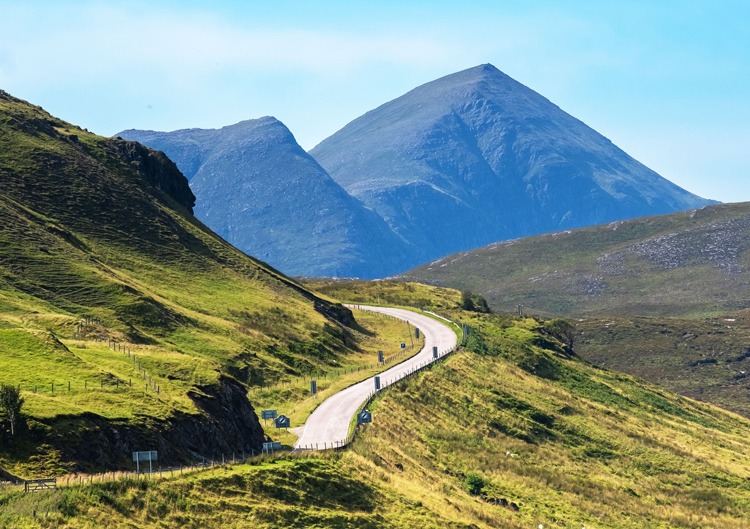 The UK is incredibly diverse in its landscapes, foods and accents, you really don't have to travel that far to explore somewhere new and have a completely different experience from your daily norm. Our start point in Inverness gives you the chance to visit a really cool, compact yet cosmopolitan city before heading out into areas that are remote, wild and peaceful. It's a real contrast to the tiny villages and secluded hamlets that we visit throughout the rest of the trip. 
The Highlands are highly accessible and are the ultimate no-fly eco-trip for UK travellers as Inverness is easily reached by train, and to make your trip even more of an adventure you can arrive on the Caledonian Sleeper.  Travel with your bike at no extra cost, just remember to book in advance, and enjoy being rocked to sleep by the sound of the rails in your own cabin room having enjoyed a delicious meal in the dining carriage!
We have cycled the length and breadth of the UK and can honestly say that the Highlands offer something completely unique to anywhere else we visit. Its wild open spaces, rugged coastlines and sublime mountains will blow the cobwebs away and leave you feeling rested and refreshed. It's a trip that will live on in your memory long after it's over. We can't wait to get back there, maybe next time you'll join us?