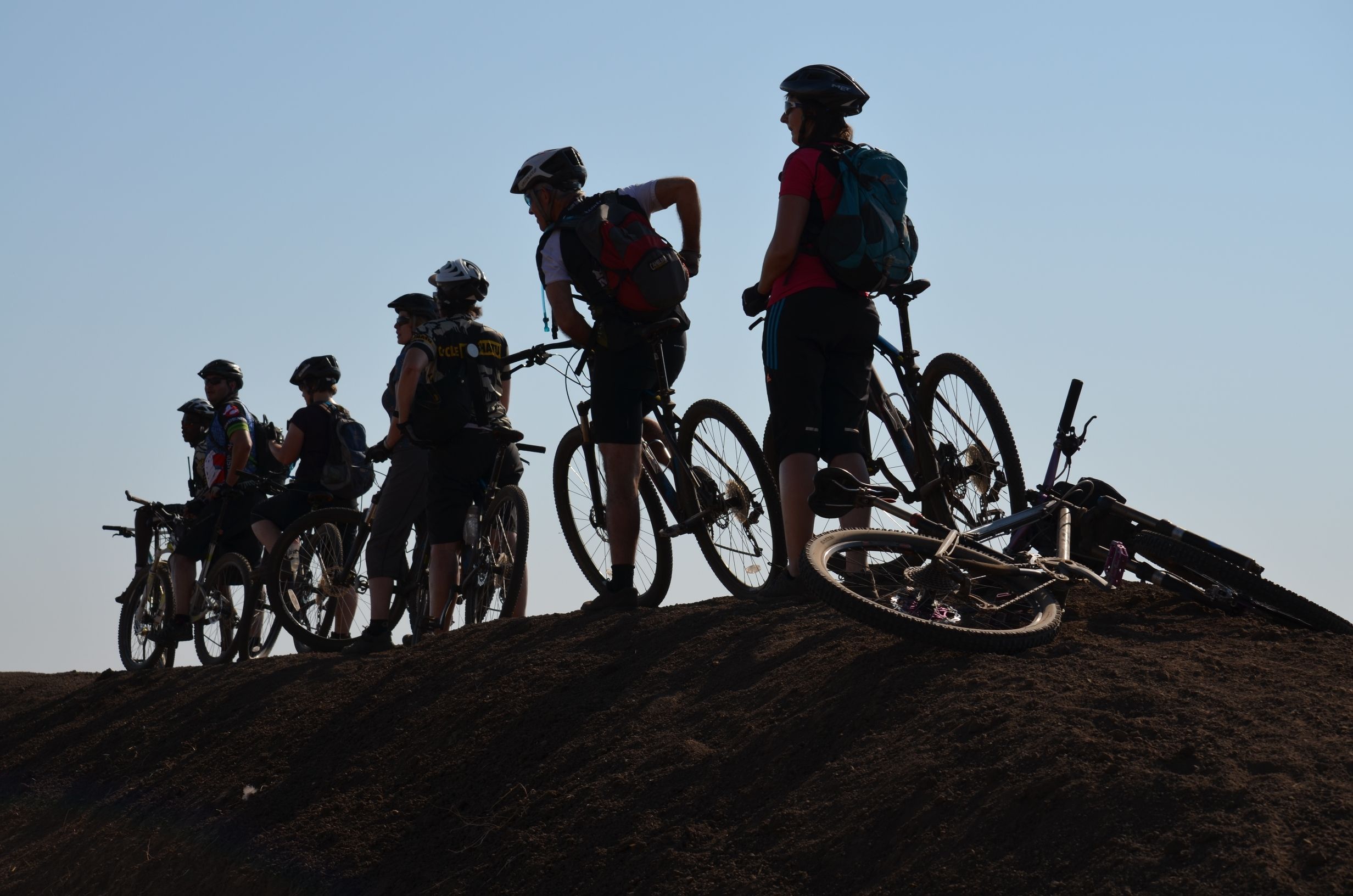 Our biking trip to South Africa & Botswana is a holiday like no other! With daily routes taking you into the heart of Africa's game reserves, and with plenty of opportunity to spot one, or all, of the big 5, our biking trip here is the perfect trip for nature and landscape lovers looking for an adventure. Having recently returned from one of our epic bike safari's John Osborne sent us in this great article about his trip away, complete with a fantastic selection of images that certainly brightened up our day in the office! We loved John's entry so much he is our October Customer Competition winner and will receive £250 worth of Skedaddle vouchers, as well as being entered into our final year competition for the chance to win a further £1000. Want to see John's entry? Time to kick back and imagine you're on the plains of Africa…
I first started considering this trip over a year ago, then, come a pre Christmas drinking session discovered that some friends had been looking at the same thing. Momentum gathered and come January five of us had booked the trip. A long wait was in store…
When finally the time was near, I set about servicing and preparing my chosen bike for the trip. Most important, as instructed in the comprehensive pre departure notes, was thorn proofing the tyres. I ride tubeless anyway but refreshed them with a generous portion of goo and crossed my fingers!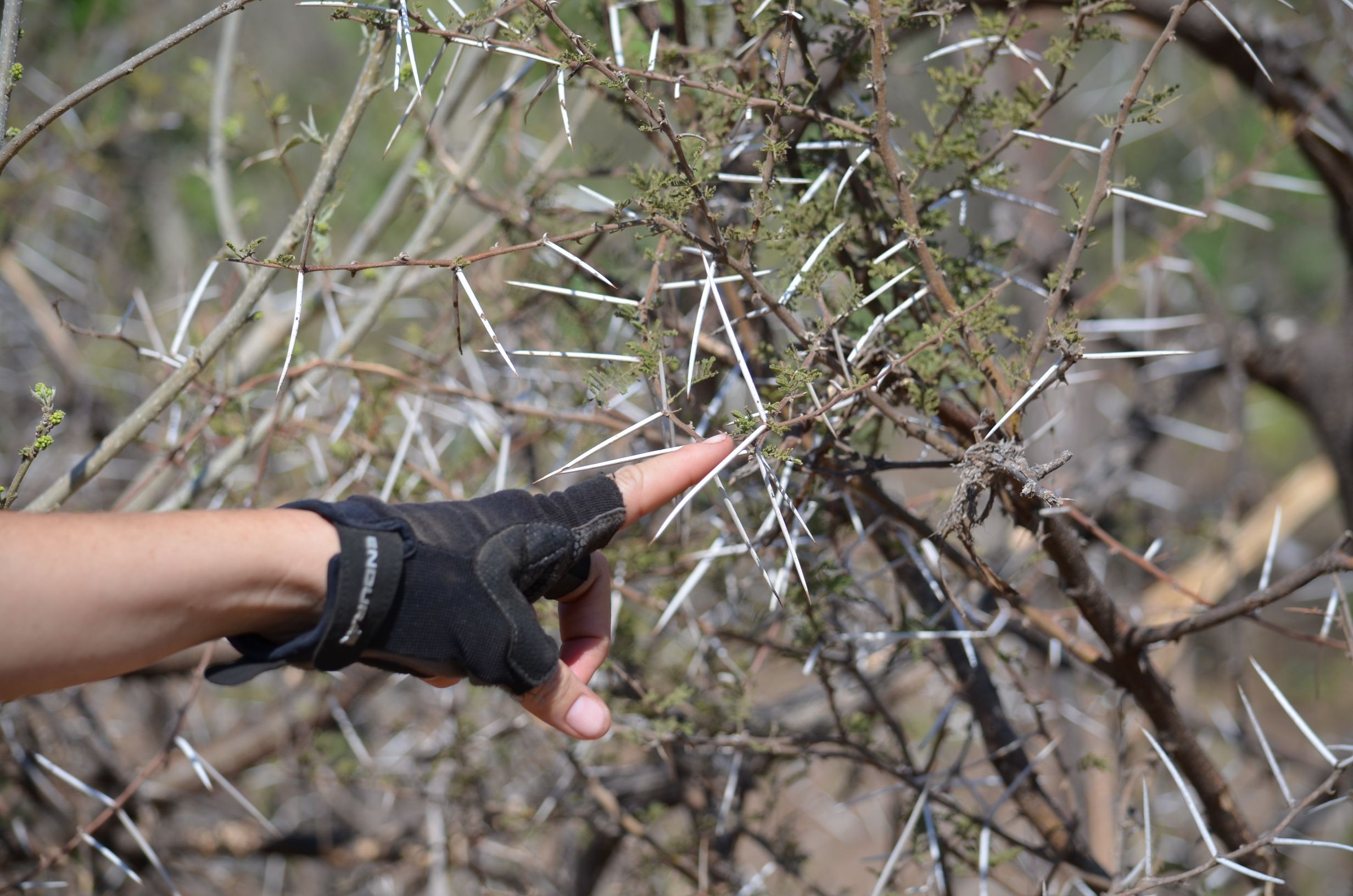 The least said about the flights the better, 11 hours overnight in economy seating is never going to come with a recommendation! The bonus for choosing South African is that they carried my bike for free.
Once we had all gathered and met Alistair and Claire we got everything loaded onto the transfer vehicle and our journey into the wilderness could begin.
The lunch stop at a petrol station introduced the first surprise, the restaurants (oh and the toilets) had a view of a waterhole which was surrounded by zebra giraffe and rhinoceros… And we're not even there yet.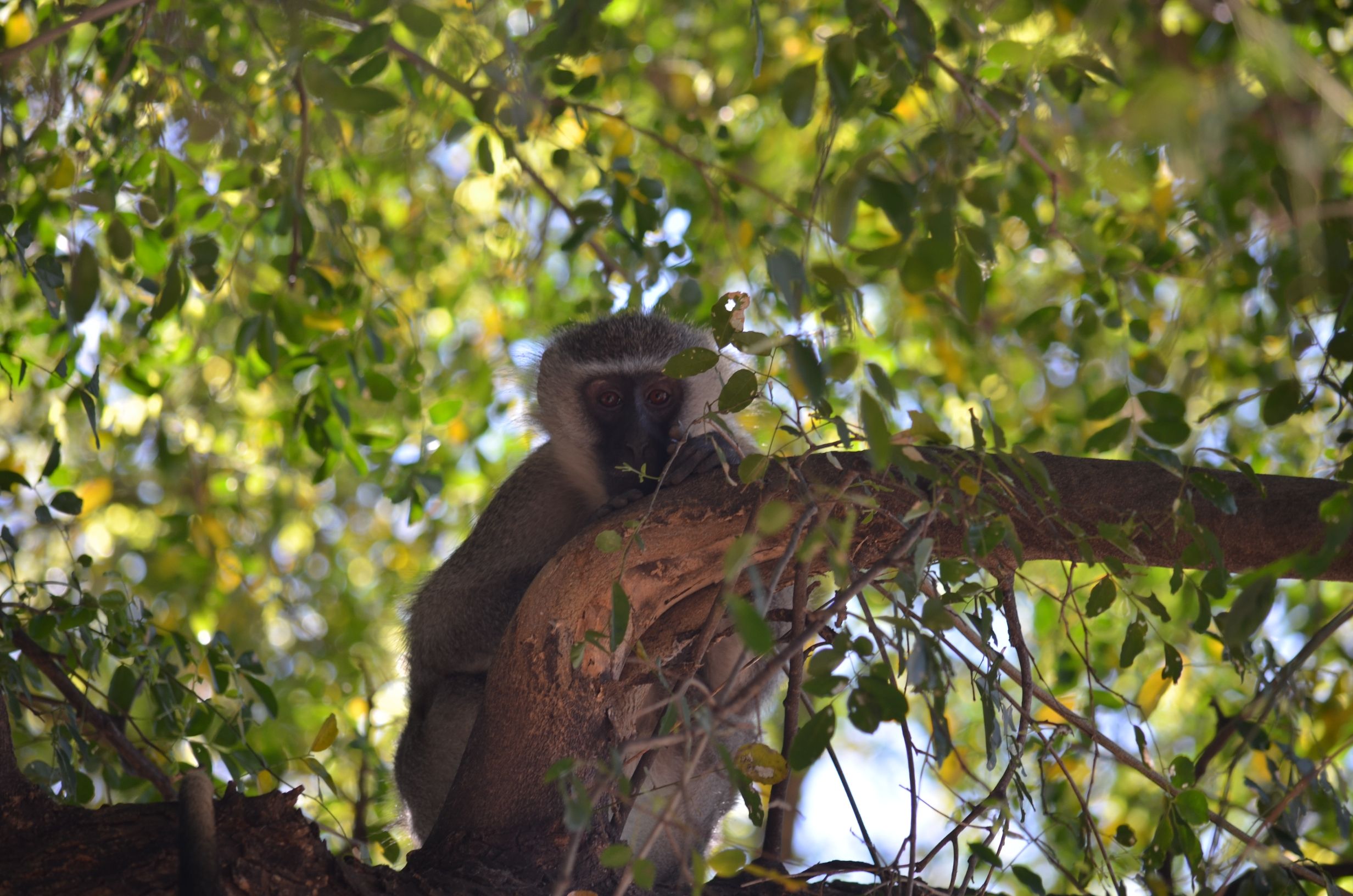 Some time later, we arrive at the gate to the mount Anderson reserve where we will stay for the first few nights. The gate is of a minimalist nature, an old Schwinn bike frame hangs from a rusty pole at the end of a dirt track. We meet Trent who will guide us in the mountains and the baggage and bike trailer is unhitched so a 4×4 can take over this duty as it turns out we have some 15km to travel up this dirt track and it will take the best part of another hour before we catch the first sight of the green roof of The Cottage nestling in a steep valley into which we drop. Drop quite a long way in fact, a height difference we will become more intimately familiar with in the morning!
For tonight though we settle into our rather magnificent accommodation, build bikes, have a really good dinner and relax by the log fire… Yep, log fire, it's actually quite chilly up here in the mountains! Oh and there was that casual warning to look out for leopards when returning to our bedrooms…
Starting early we tuck into a hearty breakfast and set off on our first ride. Remember that drop… Up we go then. Cheeky is, I believe the Skedaddle term for climbs like this, and happily once we have proved our capabilities we will not be asked to repeat the effort! Unless anyone really wants to of course….
Mount Anderson riding is at an altitude range around 1500 to 2000 metres so the lungs are tested as we ride dirt roads explore old gold mines and enjoy technical singletrack sections of trail. We encounter game, mostly at a distance, zebra, black wildebeest and various buck including reedbuck, blessbuck and eland, then there are baboon and warthog. All of a sudden there's a thundering sound, we stop and wait while a herd of wildebeest stampede across our path less than a hundred metres away!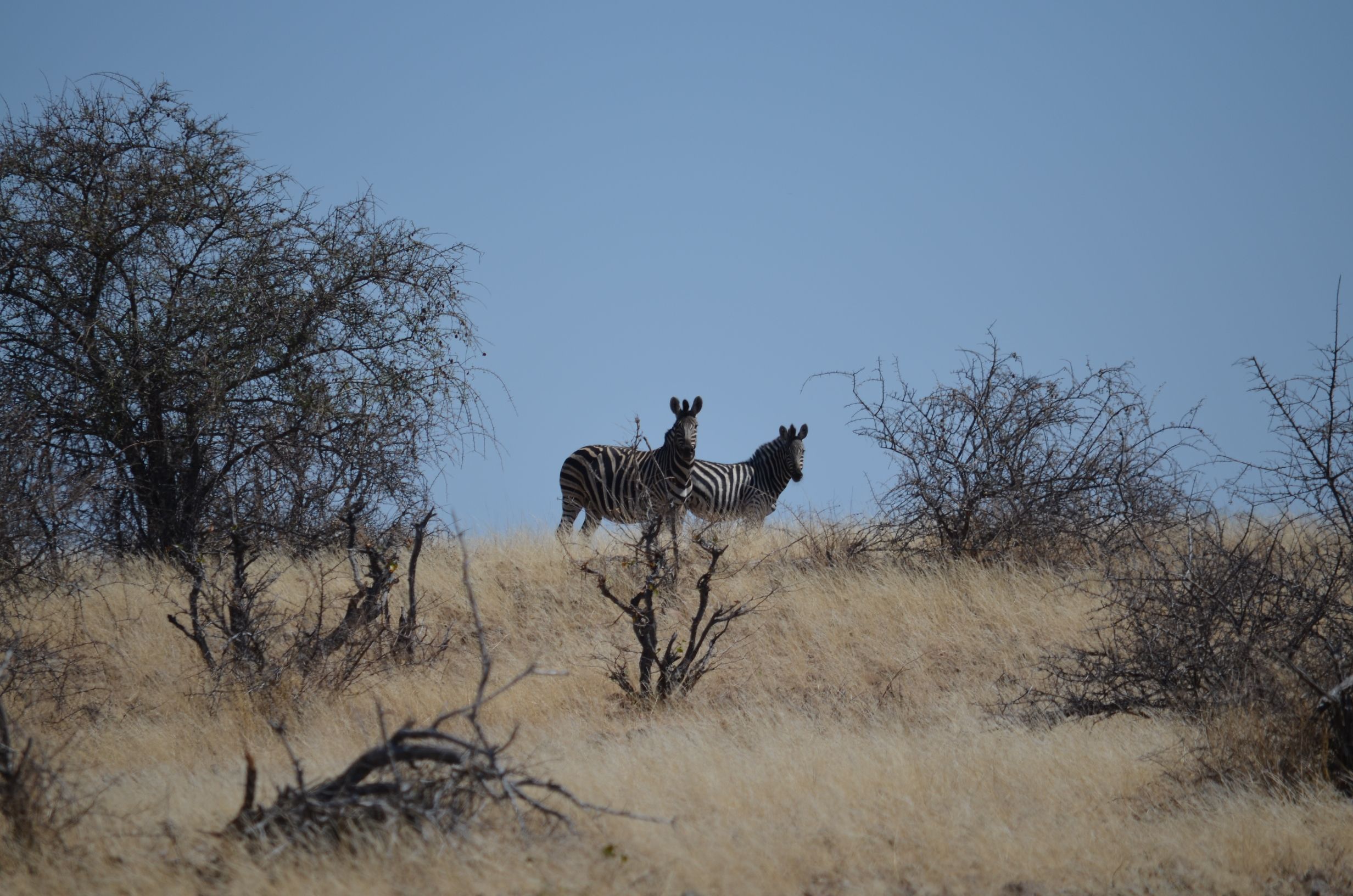 Our final ride in the mountains takes us a little further away to Johnny's pub at Pilgrim's Rest, an old mining community and the first sign of civilisation we have seen for 3 days! We have a great lunch and a few beers before transferring back to the cottage for our last night in luxury!
Next day is spent transferring north, crossing the tropic of Capricorn, (spelt wrong on the official sign!) to the Botswana border where our passports are stamped and we cycle across the dry Limpopo river bed into the Mashatu wildlife reserve where we will be wild camping for the rest of the trip.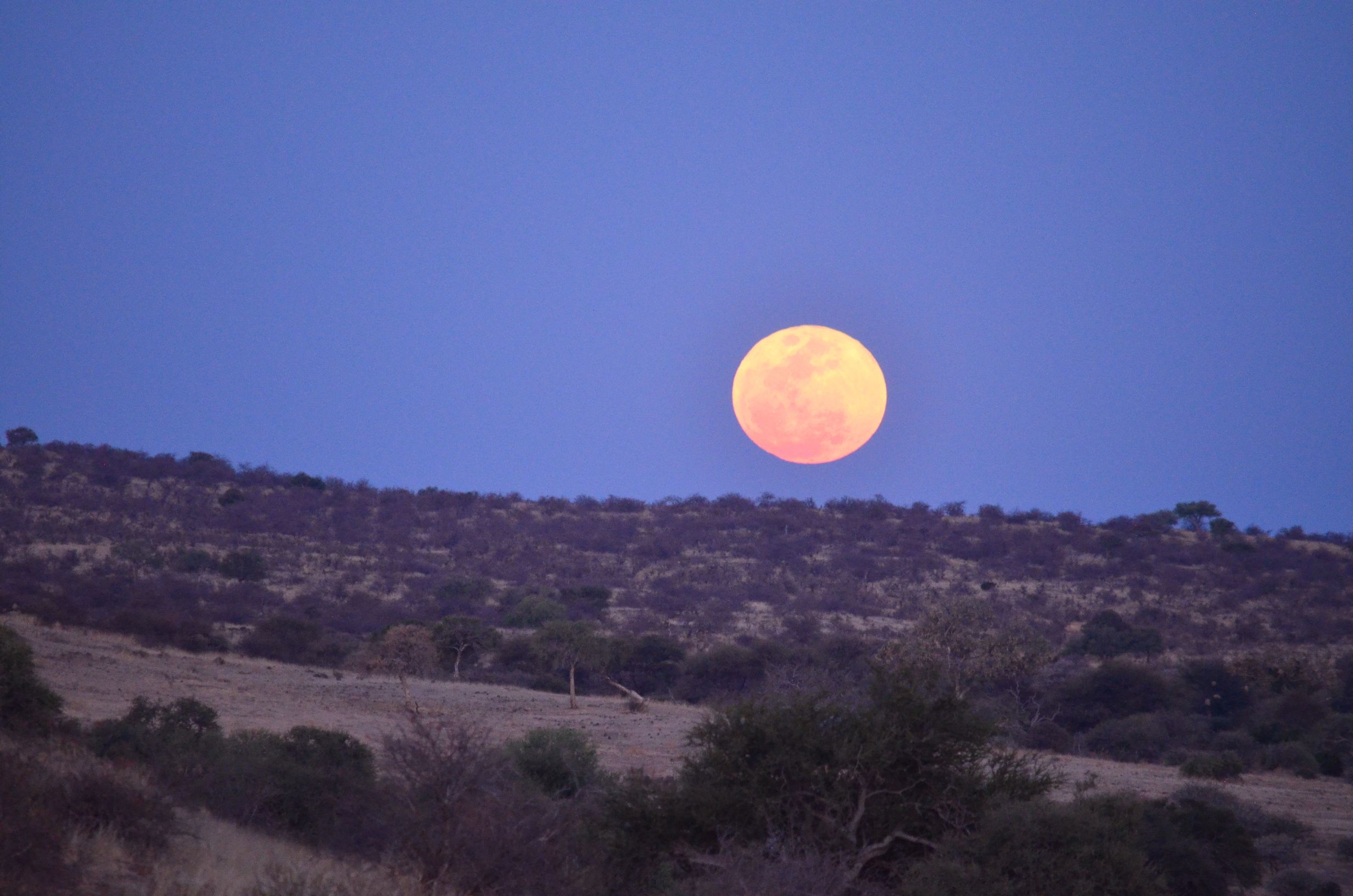 The landscape is very different now, a flat plain at about 500m altitude covered in elephant poo! Just like Mr Attenborough told us in one of his documentaries.
Our new guide, Joe gives a brief safety talk and introduces his friend, a .458 rifle which I believe is quite a serious piece of armament… before we set off into the bush.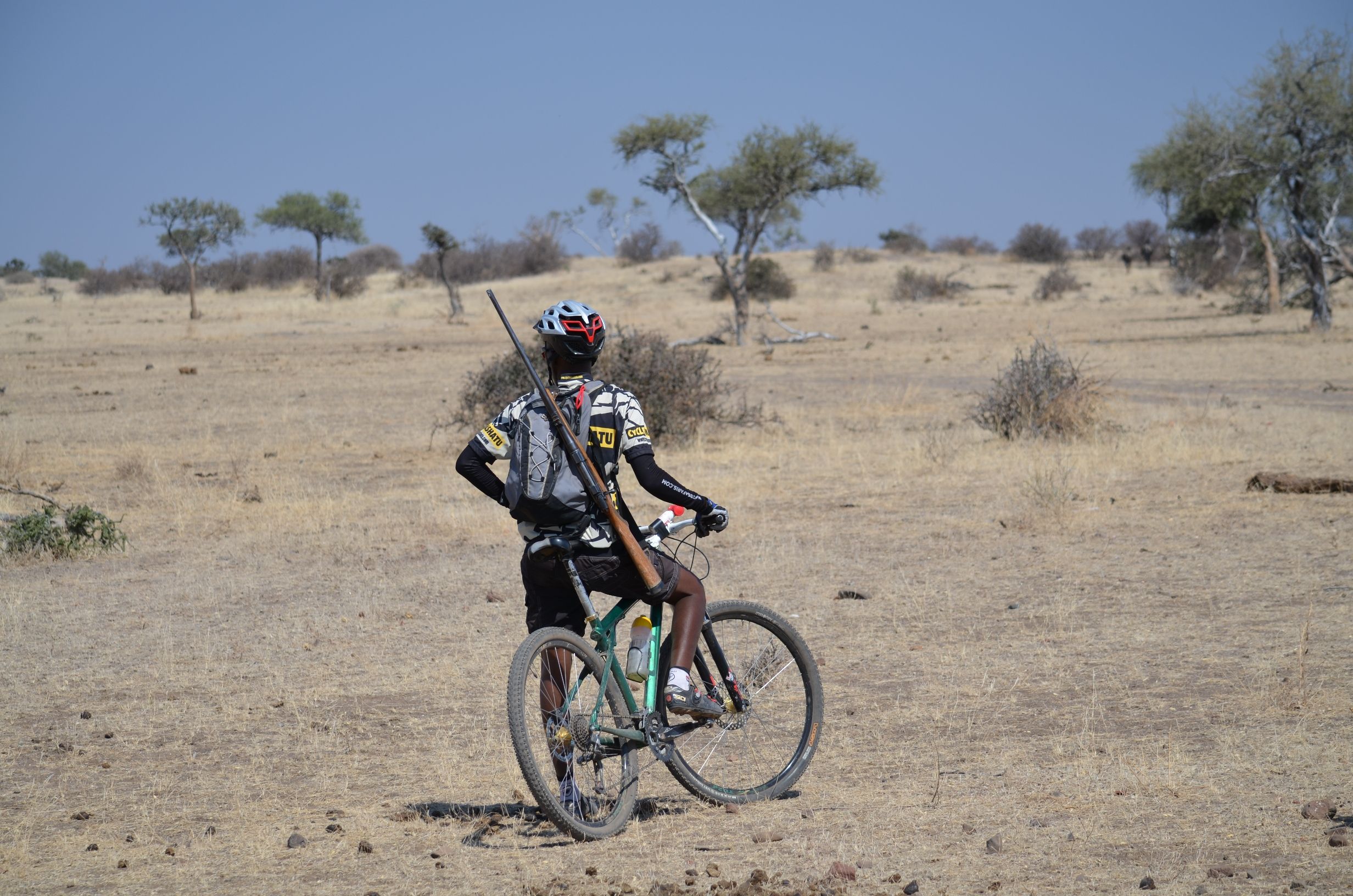 None of us can quite believe we are here, riding through terrain where big cats roam. The feeling is slightly surreal… And we find ourselves even closer to the wildlife which is prolific. It's warmer here too! We immediately start flushing out flocks of guinea fowl, and find zebras giraffes and elephants on the way to the wilderness camp we will call home for the next few nights.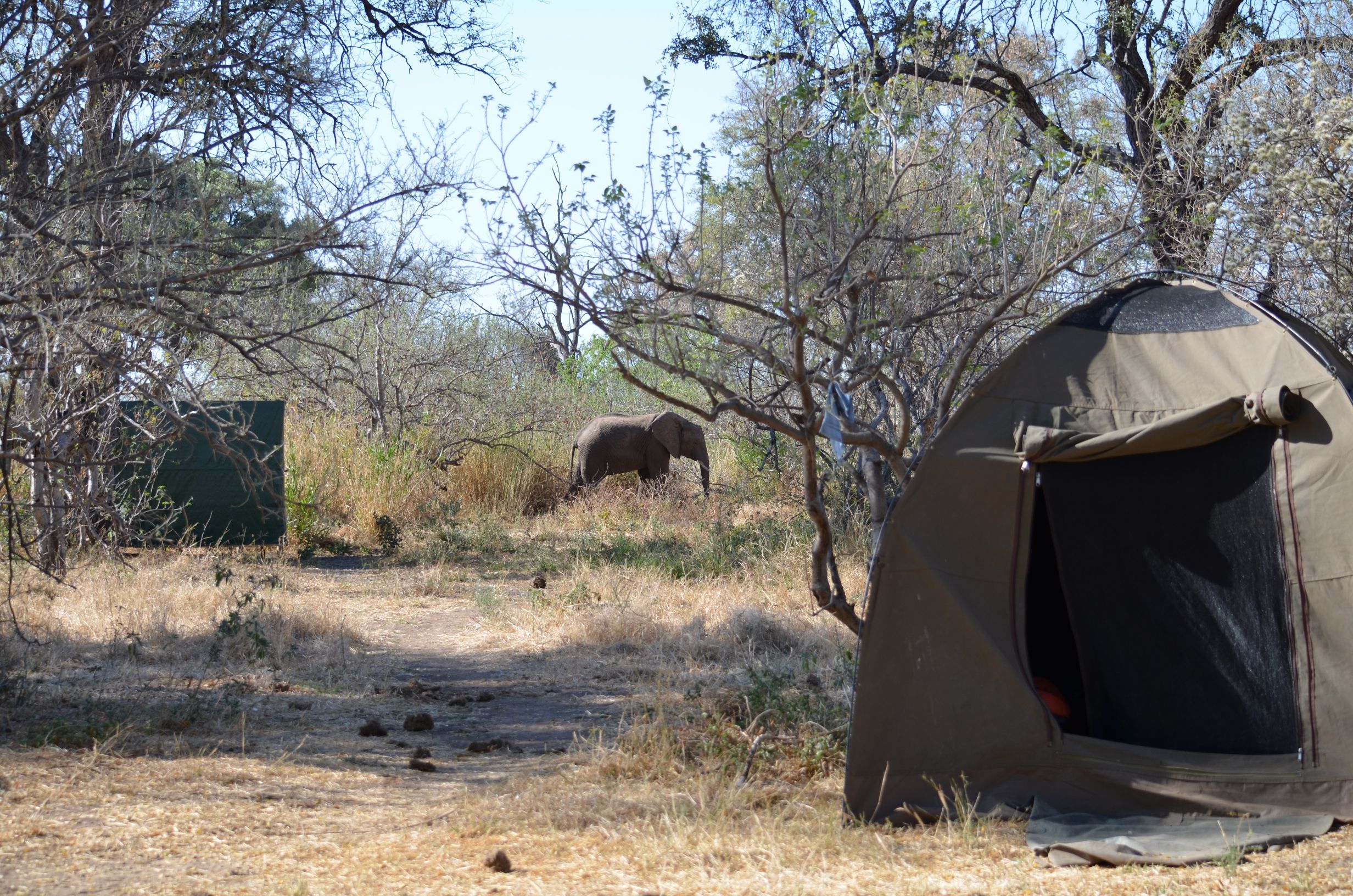 As we roll in to camp we are greeted with iced towels and cold drinks which are most appreciated. After settling into our tents, furnished with comfortable beds we get introduced to the bucket shower system which is all rather liberating!
Just because we are camping doesn't mean we can't have good food, we only ride in the mornings when the temperature is more comfortable out in the open so all meals are eaten around the campfire. Each evening starts with a game drive to a sundowner spot. Joe navigates the bush in the Landcruiser looking for and following tracks to try and find something to see. He variously finds an elephant family which comes almost close enough to touch, a jackal, and on the last night, a cheetah with four cubs settled down for the evening.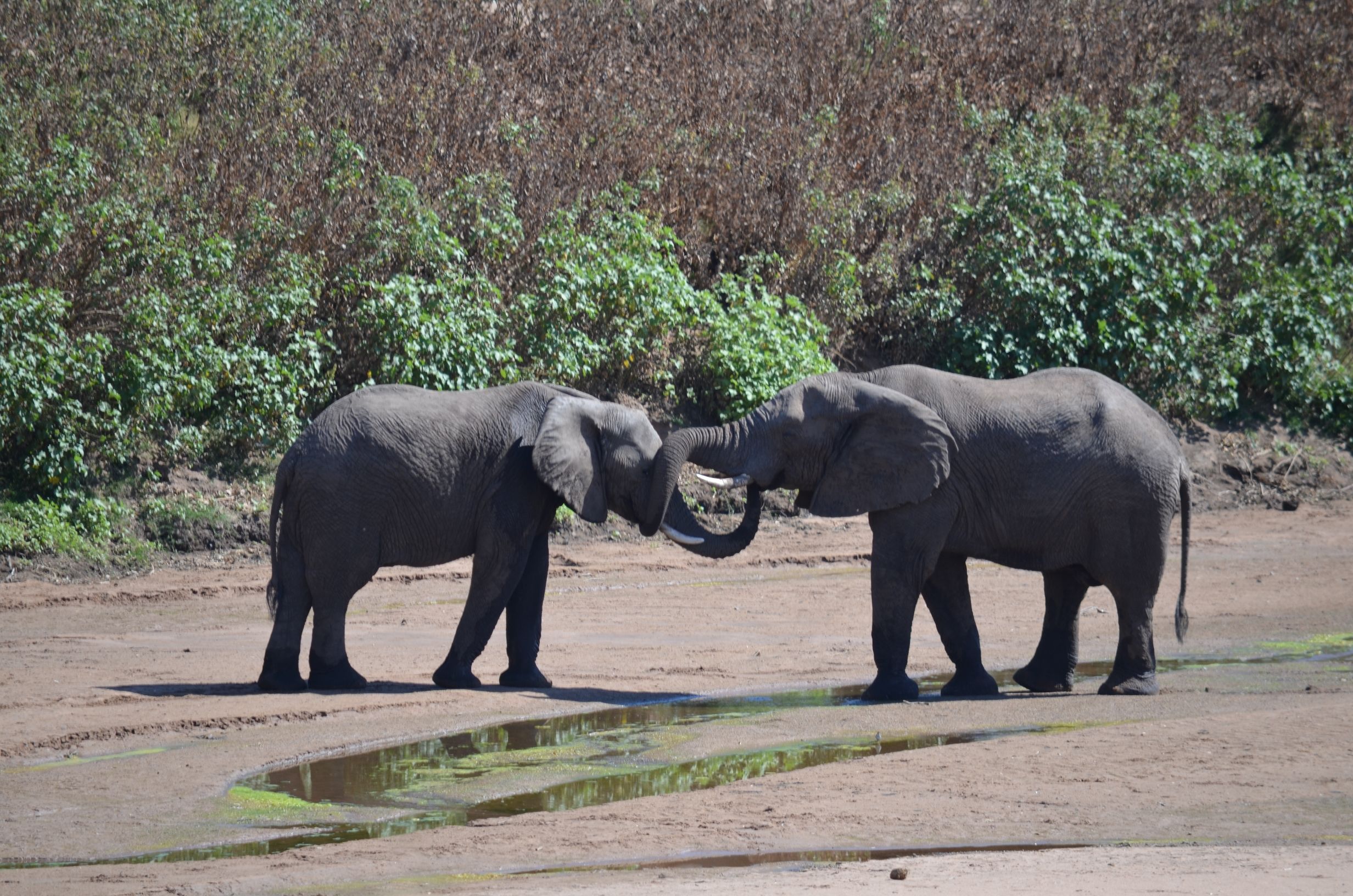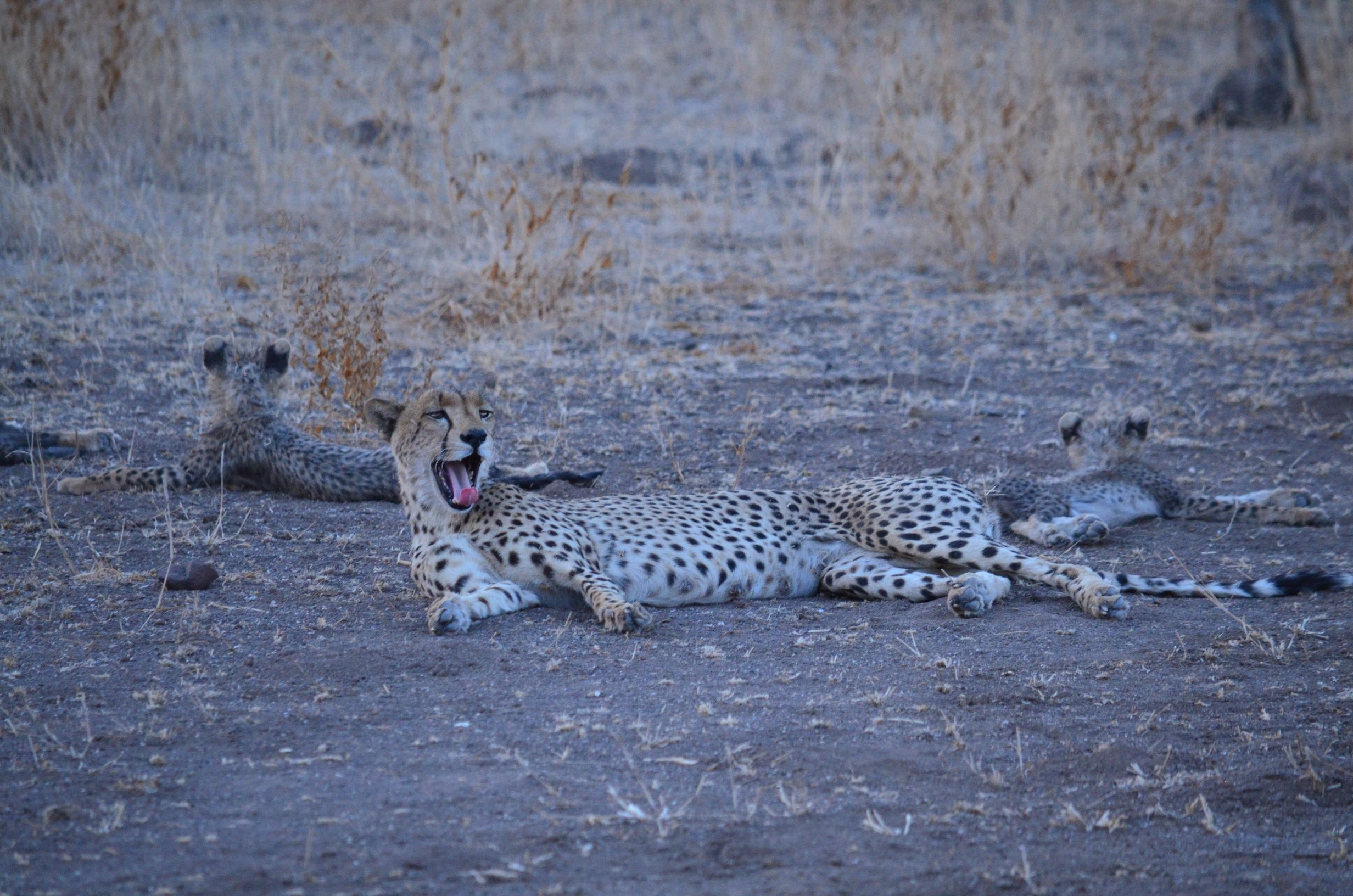 From vervet monkeys raiding the toast at breakfast, we are always aware of the proximity of the wildlife. Baboons raid one of the tents while we are out, fortunately without any real damage beyond some teeth marks… An elephant has to be encouraged around the camp rather than through it! A jackal pays a visit to the rubbish bin in the middle of the night, and needs chasing off.
Giraffes seem inquisitive creatures, when we stop for our mid morning break they stand a short distance away and just watch us watching them until we leave.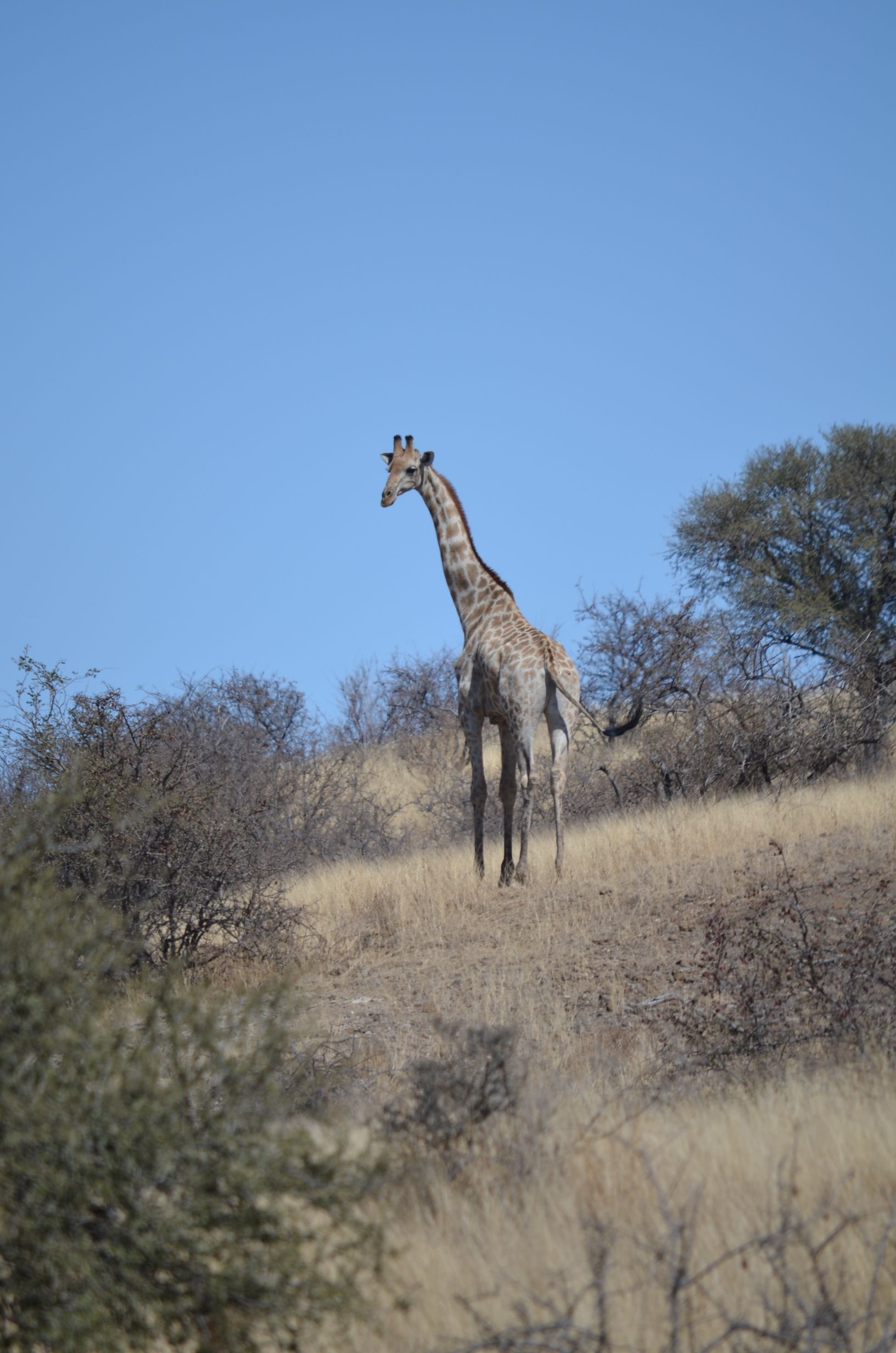 The camp is located on the bank of the Limpopo river, although very little water is flowing at this time. One afternoon brings several elephant groups together for our admiration, lost count after about 35…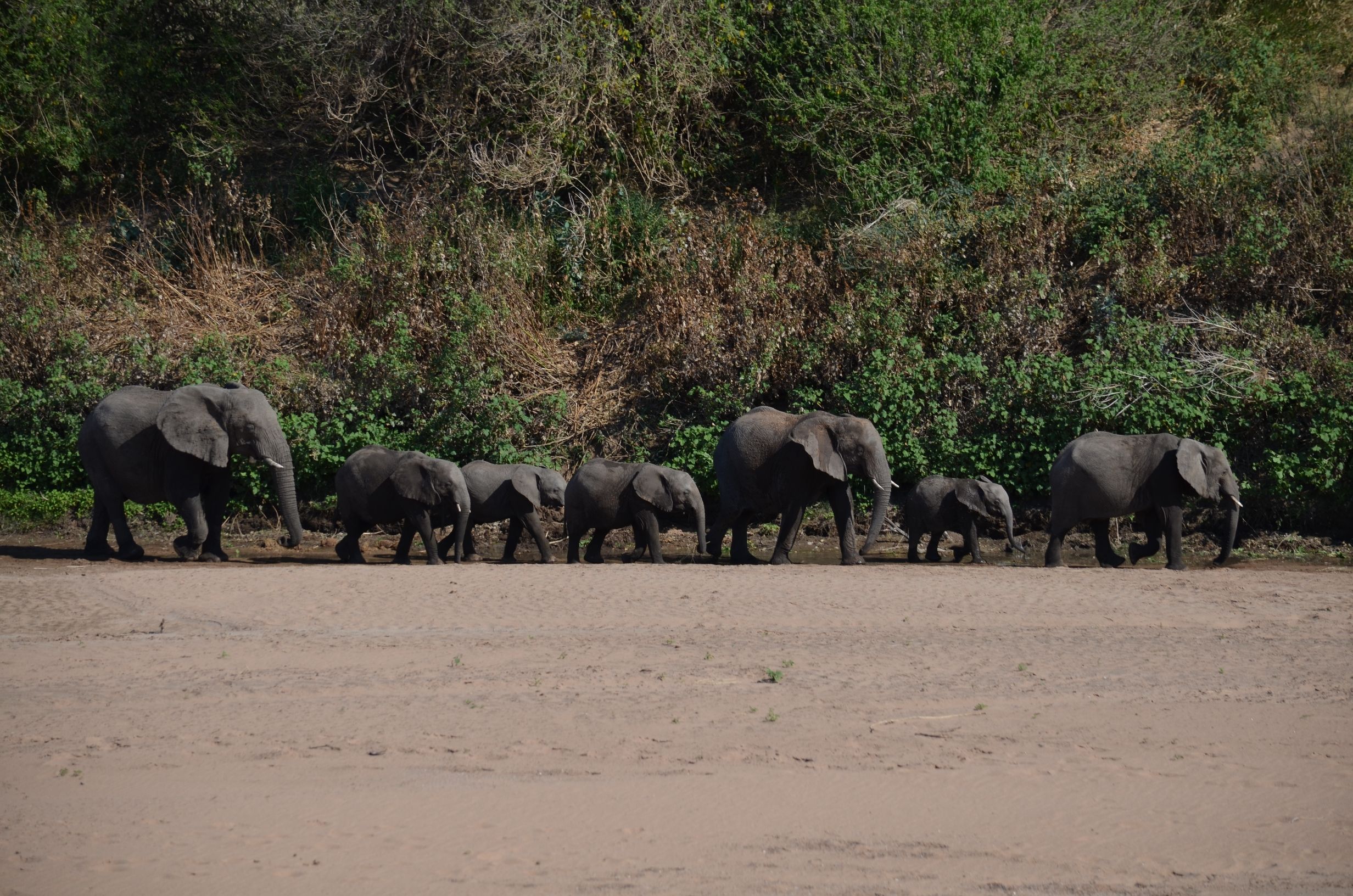 On the last day, we ride a little further than we have and the temperature rises into the high 40s before we get to the last night's Kgotla camp, like a wooden stockade where we will sleep under the stars after an excellent meal cooked over and in the campfire.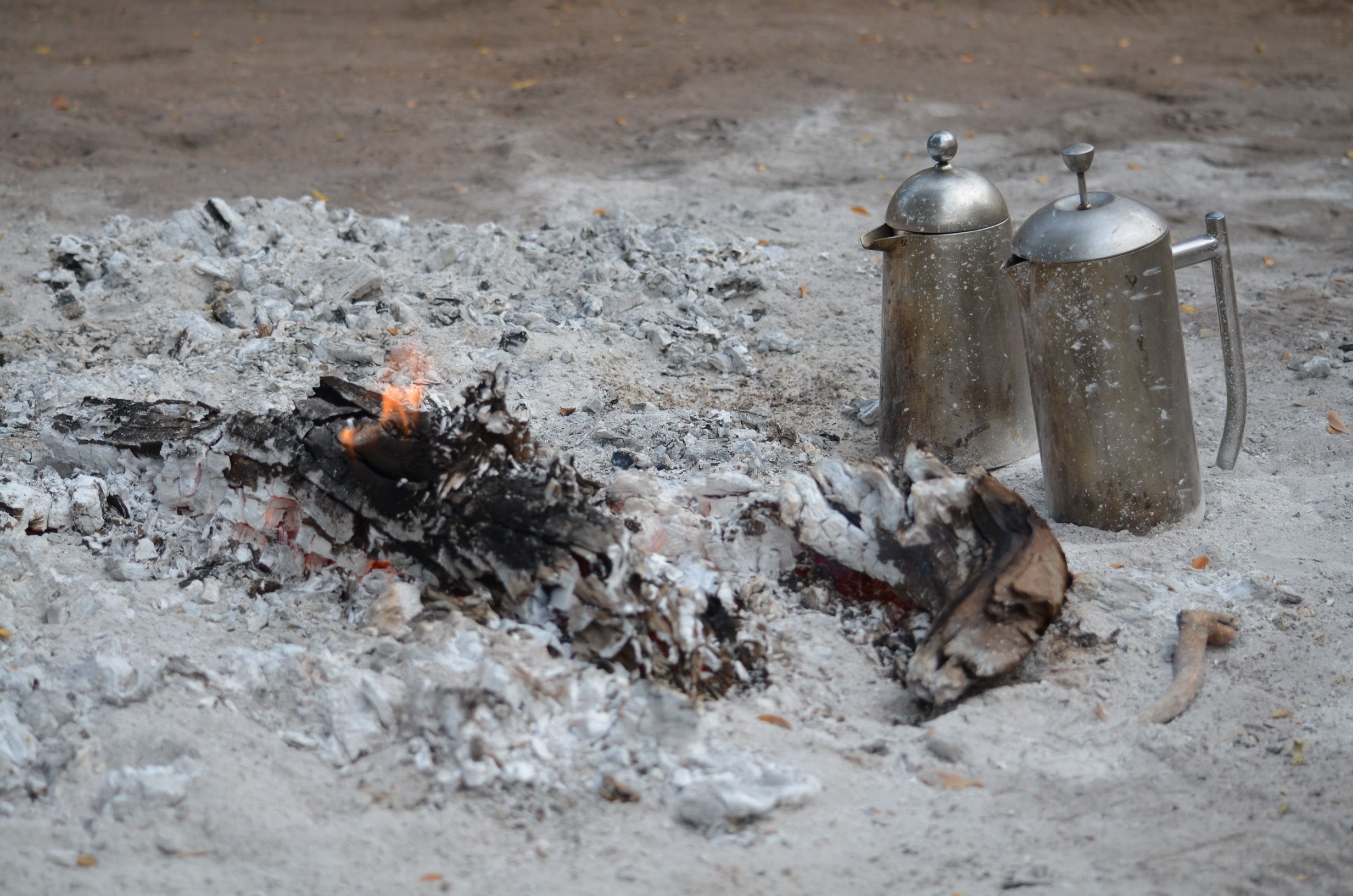 Most memorable moment of the trip, for me anyway, was on the first night in the wilderness camp. After dinner we were relaxing with a beer when a bit of an argument appeared to break out between some of the locals… Elephants trumpeting, maybe "get out of here – you're in our spot!" lions roar in reply "so – what are you going to do about it big boy?" It certainly stopped our conversation and went on for some time. Next morning Joe showed us fresh lion tracks following giraffe ones. We had only just set off and were barely more than 50 metres from the edge of the camp…
I had very high expectations of this holiday and I'm happy to say they were met and exceeded – a very thoroughly recommended trip.
Congratulations to John, what an amazing trip! Feeling inspired by his tales from the African wilderness?