HFH Cyclists Bob and Wendy Roberts headed off to Italy's stunning island of Sardinia recently to discover the self-guided coastal treasures of our Cycle Sardinia tour. Here's their write up of how they got on:
"So, does Sardinia have anything to do with sardines, then?"
"Er, no. Actually, it has a great deal to do with tuna…."
"Really?"
"Yup, they catch, cook and eat loads of it..a speciality, it seems."
One of the great things about a HFH cycling holiday is realising what you don't know, and discovering the long histories and the rich present of different places. Sardinia beats most places when it comes to long history: our trip took us away from the tourism-dominated north east corner of the island to the south west, where sites of pre-historic burials, pre-Christian Phoenician settlements, and Punic and Roman temples and baths can be found. That is before you even come to more recent history: the brutal-looking ghosts of a defunct mining industry, and the salt flats, where growing colonies of flamingos dredge for food, blissfully unaware of passing cyclists.
Spring was a wonderful time to visit: the wild flowers are stunning. Our routes often took us along deserted roads through a rural, subsistence-farming landscape, where families have worked the gruelling land for centuries, and still produce their own olives, and make their own wine from tiny vineyards. (That is, if they are not contributing to the developing and surprisingly good Sardinian wine industry.) Every so often, we would come upon a quiet village, where there might be little sign of life, especially early in the afternoon. But right in the middle would be a stunning Romanesque church, standing tall in the sunshine, and if you are lucky, a wedding!
Much of the time we rode along the coast, where Spanish watch-towers look out impervious over the ancient, blue, blue sea. Coastal roads here are not flat, like Holland or Denmark, not by any stretch of the imagination, but for every uphill drag there is a view over the coastline to die for, and at the end of every day, a warm welcome in comfortable surroundings.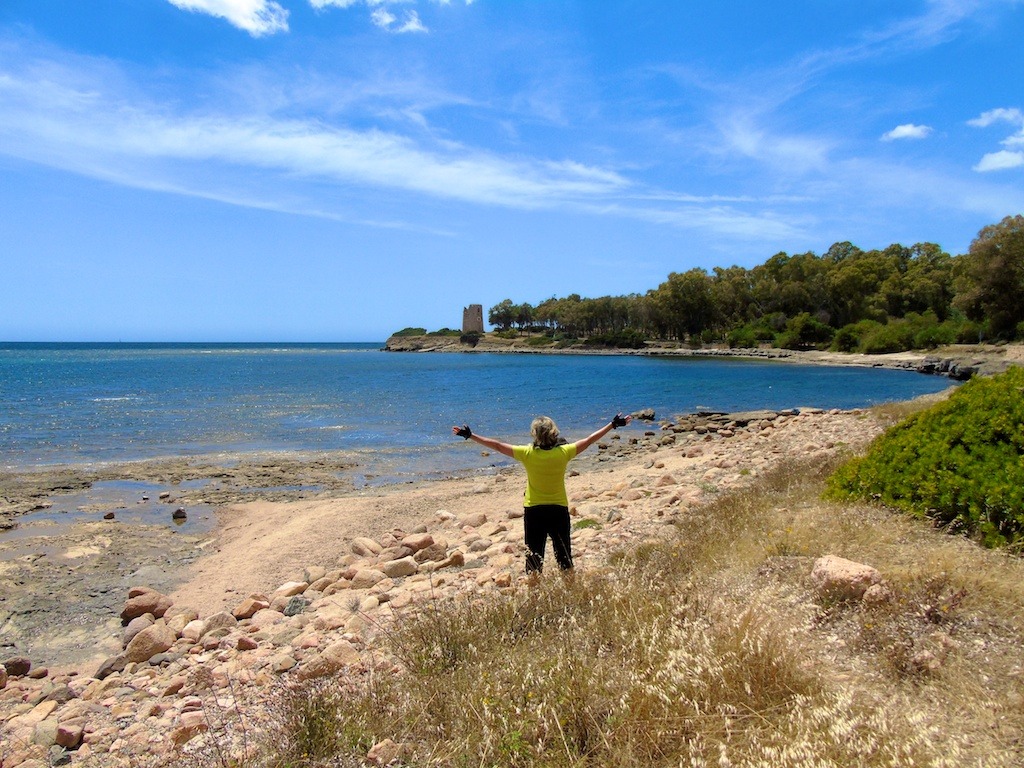 Which brings us back to the tuna: yes, Sardinian fishermen do still use time-honoured strategies for surrounding great schools of tuna, working together and catching hundreds of fish. All the menus offer variations on how to cook and present tuna, and it is delicious. We recommend you try them all.
Feeling inspired?
Bob and Wendy cycled our self guided Cycle Sardinia holiday. Click here to find out more about this holiday.