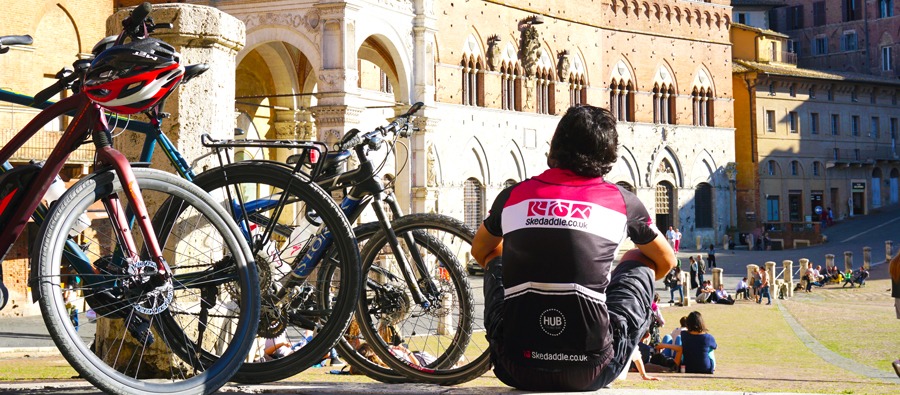 Sustainable and responsible travel has always been something we passionately care about at Skedaddle, both in our business and in our own personal lives. The way we travel, the places we visit, and even the way we spend our money has an impact on the environment and on the communities, we are in touch with, so we want to approach it with thought and care.
Weighing up every decision and researching the potential consequences of our actions takes time and commitment to being better but the root of responsible travel is simple: behaving with awareness, kindness and respect in everything we do. We've picked the brains of our guides and customers for their tips on responsible travel…
Think about what you take with you
If you make conscious decisions to live in an environmentally responsible way at home you will want to carry these values with you on the road, but travel can sometimes make it tricky. Plastic packaging, bottled water and drinking straws are everywhere and waste management can be a major issue in developing countries. Travellers have to work extra hard to minimise their plastic use as there is no comforting recycling bin to throw your waste in. Taking a few of your own reusable items will make it easier to turn down single-use plastics.
Rather than purchasing water when you travel, carry your own filter, like these that our Chief Guide Steve Woods takes on his long-haul trips so you can drink healthy water where ever you are without relying on transported bottled water. If you like to sip your cocktails through a straw consider carrying a reusable one and encourage bars to stop handing out a plastic straw in every glass. Throw a couple of cloth bags in your luggage so you can refuse plastic bags when offered them at shops or markets. Carry a flask or mug for hot drinks and even a food tub for street food so you can turn down the typical styrofoam packaging.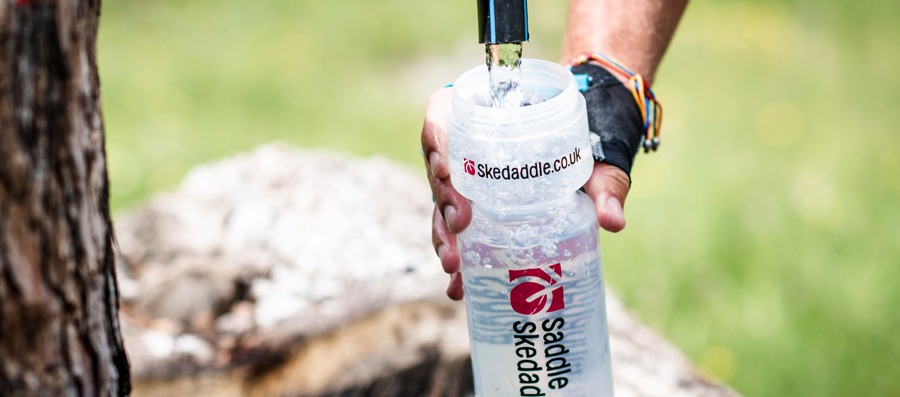 Think about what you bring home
Buying souvenirs is a fun part of travel and a way of sharing your adventures with people back home, but when spending your cash think about where you buy items, not just what you buy. Buying direct from the maker or craftsperson is a way to be sure you are injecting money directly into the local economy. Don't wait till the airport or buy from tourist traps attached to hotels as often these places sell at a premium whilst putting very little back into the community.
Be cautious when looking at the materials used to make souvenirs, despite their illegality some parts of the world still use coral, seashells or even animal products. Also, be cautious of wooden products, in some places the use of rare hardwoods in souvenirs has serious impacts. There may be a lack of awareness of the damage done by trading in these things and you may not recognise a product's origin without asking.
Speak to your guide about where and who it is best to buy from and ask about local customs on haggling. Whilst in some places striking a deal is an expected and fun interaction, other places have set prices and it may cause offence.
Be aware of the value of natural resources
Natural resources such as water, heating and even food may be scarce in some places. As a traveller, you are likely to have access to better facilities and resources than some local people so remember that while you may have clean fresh water, many don't. Appreciate what you have where you are travelling, even if to you it does not seem luxurious. Limit your showers to a maximum of 2 minutes, and never, ever, leave a tap on when brushing your teeth or washing.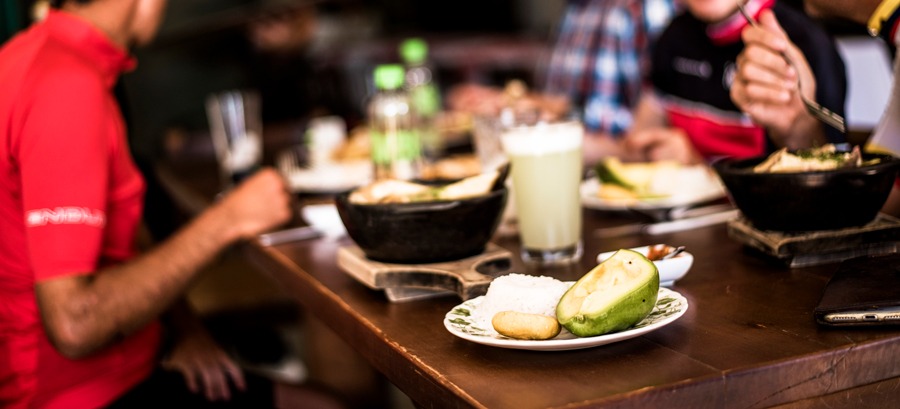 Eat and drink locally
Enjoying local foods and dining experiences is one of the most enjoyable parts of travel and you can learn a lot about a country from what you find on your dinner plate. As at home choosing foods that are grown locally and are in-season is a great way to ensure you eat well and look after the world we live in.
Eating and drinking local produce is one of the easiest ways to engage with responsible travel. Not only is the food delicious, it also supports the local economy. The use of local ingredients and produce benefits workers, restaurant owners and maintains traditional food culture and farming. Eating locally also cuts down on long carbon-intensive supply chains. At Skedaddle we make a point of seeking out the best independent food places, not only are we supporting the local economy but the food is amazing and the atmosphere hospitable!
Learn some language
A little bit of language goes a long way. Learning the very basics so you can say hello, please and thank you will be really appreciated and shows that you are approaching the person you are talking to with friendliness and respect.
Many countries around the world speak very good English so it may not be necessary to speak the local language for communication but trying will deepen your travel experience. Asking someone to teach you the word for an item you are buying or the food you are eating can generate a real connection. It can be hard if you are shy or nervous about making a mistake but most people are very forgiving of mispronunciation as they are so pleased that you are making the effort!
Our local guides always have excellent English and love teaching their language, they will be very pleased to help you practice some keywords!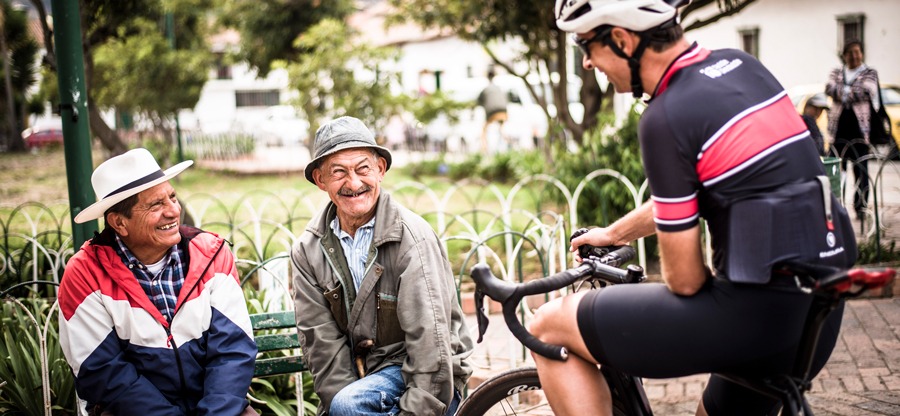 Research before you go
Anticipation is part of the fun of a holiday and spending some time reading about the area you are travelling to or watching documentaries can help you to get more from your experience when you arrive. Having some basic understanding of culture, traditions and social etiquette will make your first few days feel less disorientating and give you the confidence to interact with those you meet.
It can also help you with planning your packing. For example, religious sites around the world have an expected level of dress code; for example, if you visit a Duomo – Cathedral- in Italy you will need to have your knees, shoulders and abdomen covered and hats are not permitted. In other places, you will need to cover your legs and arms entirely and women will need to cover their hair.
Plan your journeys with thought
Flying is fraught with problems for the conscientious traveller as air travel is a huge cause of environmental pollutants. If you choose to fly then direct flights are better as take-off and landings contribute a disproportionate amount of the pollution of the whole flight. Carrying less baggage – always a good idea anyway- reduces load and fuel consumption. Where possible used shared or public transport rather than a single-person taxi.
Most of our European and UK trips are accessible by train or ferry and while it might take longer the journey is often a great way of relaxing and decompressing ahead of the start of your trip, as well as seeing a few more parts of the country you are visiting. Our amazingly knowledgeable sales team can help you plan your journey in a responsible way.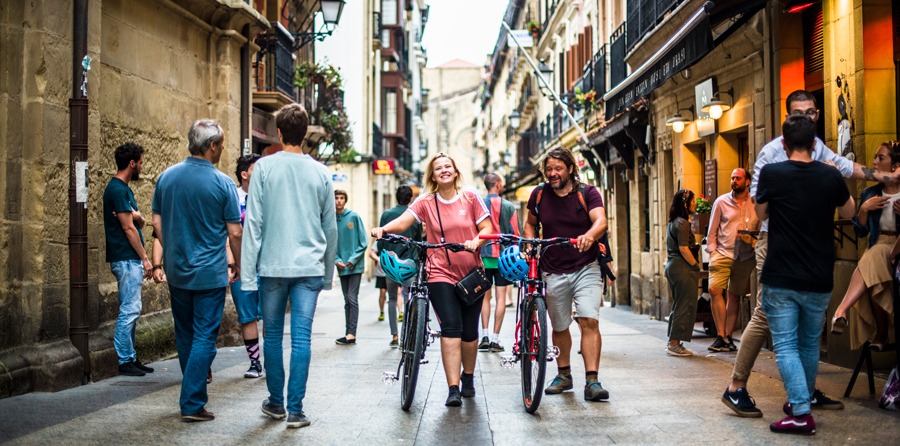 Use biodegradable products
Whether at home or away increasing our use of biodegradable and environmentally sensitive detergents and oils is something we can all do to help our planet. Many cosmetics now come in solid bars which also negates the need for plastics bottles, we like The Ethical Superstore for a wide variety of thoughtful products from bamboo toothbrushes to shampoo bars and much more.
When it comes to cleaning and looking after our bikes we use Green Oil on all our UK bike hire fleet and carry it with us on the trips. Made with plant-based biodegradable formulas and packaged in recycled plastic bottles, in our opinion it is the best range of eco-bike products available. Using biodegradable oils on bikes is crucially important, especially for mountain bikers. Oil can be washed off your chain and into puddles or streams causing damage to ecologically sensitive watercourses if not biodegradable.
Engage and connect
One of the greatest rewards we can have when we travel is learning about different cultures and religions. Most people when travelling want to be respectful but how you show respect can be different in different countries and cultures.
The very first step is to understand what respect means in the place you are by doing some research in advance, asking questions of your Skedaddle guides, or just pausing and observing what others do. Some things are universal such as asking before taking photos, especially of children and recognising when someone is turning away and doesn't want to be included.
Some ways of showing respect you may not agree with and may even make you feel uncomfortable, but in most circumstances, it would be inappropriate or rude to call it out. Try to understand why certain traditions exist by connecting and listening without first throwing up barriers, you may ultimately still disagree but you will have a deeper comprehension.
Respect is simple really and very few people need reminding of it. Behave as you would expect a guest to behave in your home- respecting your traditions, being polite and not being greedy with your resources.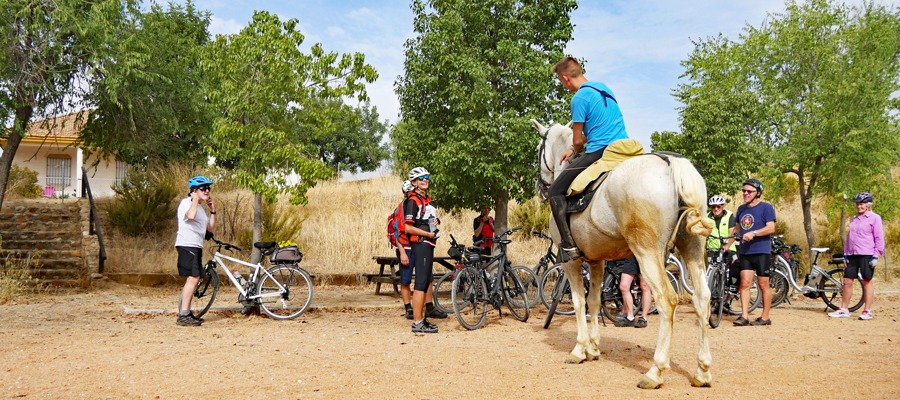 Choose Skedaddle
Being a responsible traveller takes a little thought and effort to understand the consequences of your travel choices but you can be confident that when you travel with us we will have researched the best way for our trips to be run in a responsible and sustainable way.
We work with trusted local partners to make sure we have a positive impact on the places we visit. We plan routes that allow you to see all the best places but actively avoids areas where bike travel could create issues of erosion or disruption to wildlife, especially nesting birds. We travel in small groups to minimise any disruption to local communities and ecosystems. We use facilities and services owned by local people to help preserve the local communities and cultures and contribute to their economies.
Cycling, already a low impact activity, enables us to travel at a pace that allows us to make the most of what each country has to offer while sensitively interacting with its people, their way of life and their natural environment. We believe we can be more than tourists. We don't do passing by, we do pedallin' through.
Find out more about our Pedalin' Promise to you and local communities here!