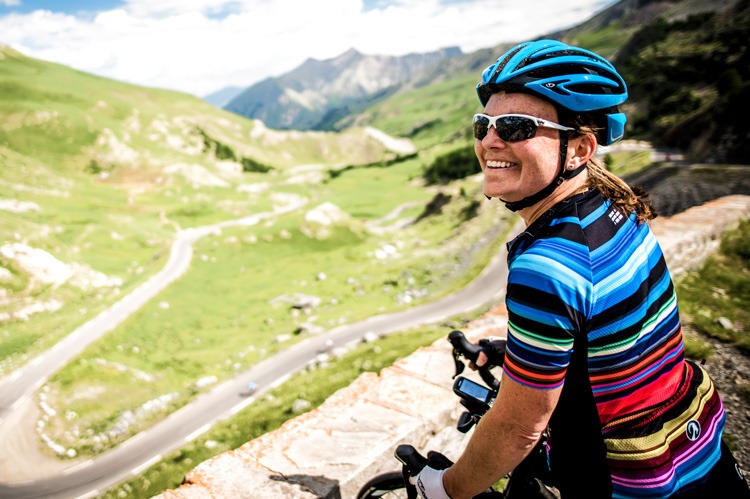 Here at Skedaddle, we believe there is no better way to explore than by bike and we have 25 years of experience of bringing you cycling holidays to back it up! Community and camaraderie have never been more important and we're one caring community built on enthusiasm, support and having fun – all essential ingredients that make our guided group trips so special.
Ride, eat, sleep, repeat. Life on the road is simple. When you are in the trip bubble the worries of your day reduce only to the important things: What is for breakfast? Where is the café stop? How far to the picnic? With so little to worry about your mind has space to dream, to think, to enjoy the small and beautiful things you see as you pedal. To give you a little taste of our holidays, we take a trip inside the mind of a Skedaddle cyclist as they navigate their day on tour…
10 simple pleasures of a cycling holiday that you will want to look forward to!
---
Breakfast
'Great buffet! But what makes a good cycling breakfast? I should just have some fruit or cereal, or fruit and cereal. Hang on a moment I missed the cooked food table, scrambled eggs eh. Scrambled eggs and bacon. I'll have some fruit as well, keep it healthy. Oh, chocolate croissant, I do like a breakfast dessert. Maybe another coffee to go with it, wake myself up. Everyone else has left the breakfast room. Must get ready to ride!'
---
Kit faff
'Where are my shorts? How is my cycling kit bag all over the floor? Does this jersey go with these socks? Shall I wear arm warmers? No weather forecast is good. I'll put some sunscreen on. Oh, better find my sunglasses. Do I need my cap? No glasses and cap look silly together – do they? Actually I think I will wear my arm warmers. No, I won't, gotta work on the tan lines, it's definitely going to be sunny. Dammit, I'm going to have to sit on my kitbag to get the zip done up – why does this always happen – I think it shrinks overnight. Ok, on my way.'
---
Bike Faff
'Morning! I like your jersey, yes it would go with my socks. Looking forward to today? That climb after lunch looks good (did I really say good, I think I meant hard). Can I borrow the pump after you? I'll have a quick look at the map and load up on snacks. This route looks fantastic! Glad I had that extra croissant, think I'm going to need it. Ok, briefing. Must listen. Must remember important details of where the coffee shop is – priorities! Picnic after 50km, noted. Guide is wearing arm warmers. I must need my arm warmers – WHERE ARE MY ARM WARMERS?'
---
The first part of the ride
'Ah, it feels good to be turning the pedals. I can feel the wind in my hair, sun on my face. I'm just going to take this morning easy, let my breakfast digest and enjoy a chat. No rush. I'm going to save my energy for this afternoon's climb. Might be a good time to get some pictures. I'll just dash on ahead for a minute and get my phone out. Brilliant – looks pretty pro if I do say so myself. Everyone at home will be so jealous, maybe this will convince them to finally come along! Right, quick pedal, time to catch back up.'
---
Coffee stop
'Mmm, coffee, that smells good. Breakfast coffee has worn off and this one is even better than the hotel one, good enough to have seconds. Ah ha, the snack box is out! Chocolate biscuit or Haribo? Too early for Haribo I think. Biscuits now, sweets later. Bananas! I'd better have a banana before they all go – oh not to worry, the guide has ten more bunches. Does he think he is feeding monkeys?! Fair point. We do eat a lot of bananas.'
---
The second part of the ride
'Right, I feel warmed up and ready to ride faster. Looks like I'm not the only one, this line is getting a bit pacy. This is fun, I wonder if this is how a Tour de France riders feel. I feel pretty pro. Oh look that nice old lady in her front garden is waving at us, we must look good. The guide is inviting someone else has a go at the front for a bit. No one else? Suppose I should do my bit. This feels amazing!'
---

Picnic
'Almost time for one of those famous Skedaddle picnics, I know it! What was the name of that village that we absolutely must stop at? Must keep looking around, did it begin with an A? Ah, there it is – a SKEDADDLE VAN. That means lunch. What a morning! How great did that section feel? I'll just have some salad, stay light for this afternoons climb, and maybe some quiche. That cheese looks good, I might just try the pate. Uh oh, the guide is bringing out a cake, well it would be rude not to. I need that energy!'
Try out these 8 delicious recipes inspired by the legendary Skedaddle picnics.
---
The final part of the ride
'Right we're all going to keep it steady behind the guide till the bottom of the climb, then we are free to ride at our own pace and re-group at the top. I'm glad we're taking it steady, that picnic really filled me up. Ok, we're off the leash. Shall I go with the quick guy, no I'll keep it steady, no I'll go. Too late, I'll never catch up. Never mind, this is a nice pace. I'll just chat for a bit, good to have some company on a long climb. Oh look I can see the top. Ah, not the top, just a corner. Last part is a bit cheeky, isn't it? Well, I'm ready for it. Is that my lowest gear? I can hear cheering, one last sprint, phew, made it. Can someone take a photo of me with the Col sign, please? And a group shot!'
Check out our top mind hacks to keep you happy up hills!
---
Arrival at the hotel
'Fab day, great riding, so much fun, loved the last climb. Glad I didn't wear arm warmers, check out my tan! Right, gotta wash the bike, wash shorts, nap and then dinner. Oh, are you going to the bar on that famous square just around the corner from the hotel (I googled it before, it's beautiful)? Yes, I'd love a beer, thank you. No, no more for me thanks, I've had two – I still have to wash my shorts. Go on then, just a small one. An hour to dinner, I've got this. I'll wash my shorts in the shower whilst I wash myself, that always works. Yep, made it to the reception with one minute to spare, nailed it. Who needs a nap anyway?!'
---
Dinner
'Everything looks sooooo good. Must make a decision. What's everyone else having? Do I need a starter? I am hungry and it's a big day again tomorrow. Dessert menu? No thank you. Oh go on then, I'll take a look. Well, I'll have the chocolate mousse, I mean it is mainly air. Air and chocolate, and cream… but mainly air. I am on holiday after all!'
Bed
'Ah bed. Lovely lovely bed. That feels so good, this hotel is so nice. Legs are aching just a little bit, feel pretty good really, I'm definitely getting stronger. Can't wait for tomorrow. A bit more climbing – bring it on. I think I'm beginning to like climbing, I never used to, definitely getting stronger. I love my bike! And food, I love food too. Food and sleep. Set the alarm clock. Must not be last to breakfast tomorrow. I need an extra five mins to sort out my kit bag. Now, where did I put my arm warmers?'
Feeling inspired? Check out our guides' 27 favourite days in the saddle for some ultimate travel inspiration! Or get in touch to join us on one of our guided cycling holidays in the UK, Europe or further afield to experience it all first hand.