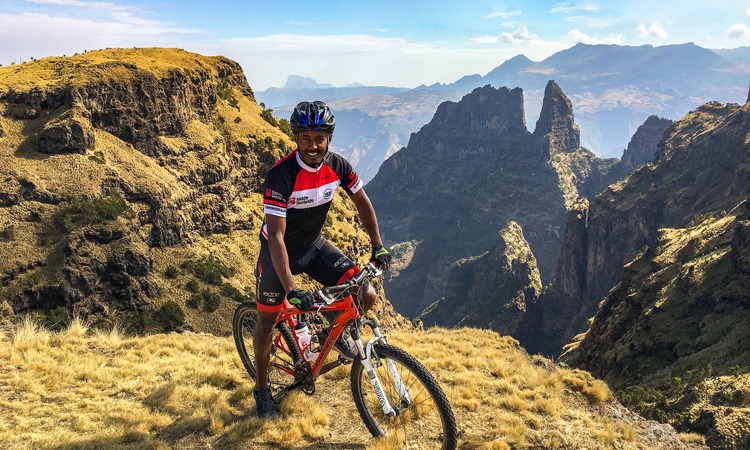 Ethiopia is simply one of the most exciting places to visit and is home to spectacular natural wonders, fascinating ancient heritage and incredibly welcoming people. Meet Chewy, our incredible guide here who can't wait for you to come and discover his home! Chewy has been pedallin' since he was a little boy and became a professional cyclist at the age of 18. Today, Chewy is not racing anymore, however, he can't live without his bike and is eager to share his passion with adventurous travellers…
Full name: Getachew Alemu or just 'Chewy', I think it was too much of a mouthful for my mother to shout at me when I tried to get out of my homework and head out on my bike!
What got you passionate about cycling?
We are more famous in Ethiopia for runners such as Haile Gebrselassie but whilst I love to run I found that I could see more by bike and get out of my hometown of Gondar (which we visit on the Skedaddle trip) and escape its hustle and bustle quicker by bike. I started in tourism by taking guests around Gondar Castle and eventually was able to buy a bike with the money I have saved.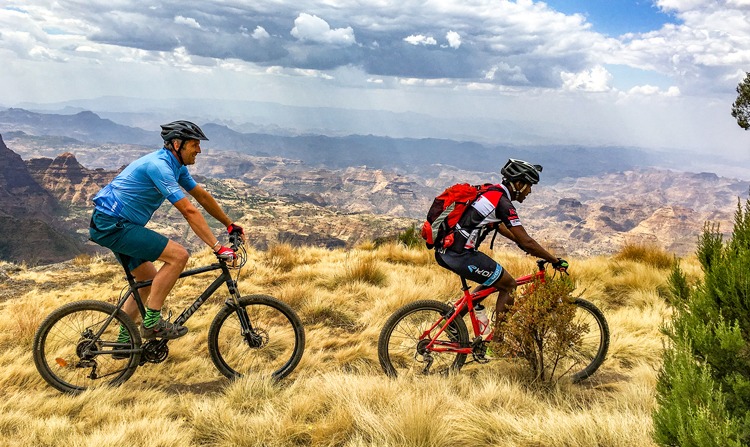 Tell us briefly your history with Skedaddle?
I'm the organizer and main guide for the Enchanting Ethiopia trip. I was in contact with Andrew and after lots of emails and chats he came over to Addis and between us we created the itinerary for the trip. We had an amazing time exploring my beloved country and we had a real adventure from start to finish – he really is my brother from another mother! I loved his relaxed approach to researching things and creating unique adventures. Of course, the research of the local beer makers was absolutely needed too!
What is your favourite day on a bike with us and why?
This is a very tricky question as every day of our tour here has something special about it. If I had to choose, then getting to the first campsite in the Simien Mountains has a real wow factor for me. The look on people's faces when they see these views – I never knew eyes could go so wide and jaws drop so much. Day 11 when we explore the Gheralta Mountains, is always a great day out on the bike too. We top off our time in this region by walking up to the uniquely positioned Abuna Yemata Church. Set within a cliff face, halfway up a sheer rock pinnacle, it's not for the faint-hearted, but for those brave enough, it is one of the absolute highlights of the trip.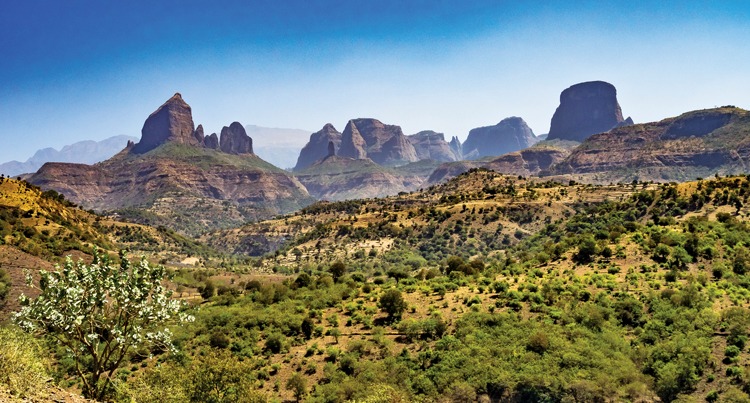 Do you have a favourite adventure or cycling-themed book?
I find it tricky to sit and read and like to be outdoors as much as possible. Andrew left me The Rider by Tim Krabbe which I'm currently reading. It's not a long book and so not too daunting of a prospect and I like the style of it. I lived in France for a few years and rode a few professional road races for Ethiopia too, so it makes it more relatable for me too.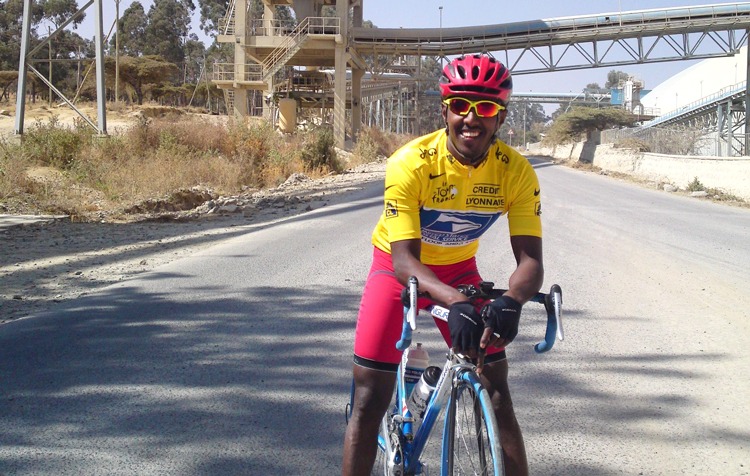 Tell us something about you we might not know…
I'm soon going to be a father and so excited as it will be my first child! Family is very important in Ethiopia and I can't wait to show them the country (of course by bike!) when they are older.
If you could cycle with anyone dead or alive who would it be?
Can I have two please? Thanks! Haile Selassie of course – no question. He was an amazing person and was instrumental in putting Ethiopia on the world map! He did a state visit in 1954 and met the Queen, so I would ask him all about this and how the world was back then. The other person would be Lucy, if I could go back in time even further. She was the oldest direct ancestor to humans that was ever found and her skeleton is in the National Museum in Addis here in Ethiopia. Imagine arriving to see her on a bike, how fantastic would that be!
What are you most looking forward to after lockdown?
Seeing my family, giving them a huge Ethiopian style hug and catching up properly over a huge meal of 'Yetsom Beyaynetu' (mixed platter of food) with homemade 'Injera' (a traditional flatbread) and enjoying a traditional coffee (my sister makes the best coffee!) and then falling asleep.
Find out more about our adventure in Ethiopia here!
Want to know more about our amazing guides? Check out our guide section on the blog to get to know our team a little bit better and for more expert advice on all things cycling!