Ethiopia is simply one of the most exciting places on earth to visit and cycling is the best way to explore this country packed with World Heritage Sites, rich biodiversity and ancient culture. From the baboons of the beautiful Simien Mountains to the rock-hewn churches of Lalibela, Ethiopia will leave you spellbound!
Why cycle in Ethiopia
The landlocked African nation of Ethiopia stirs up many emotional responses. It is impossible to ignore the charms of a country that offers something to inspire every traveller. It's wild open landscapes and rich history that lead us there, but it is the warm hospitality and charming people that have affirmed our belief that this is one of the world's undiscovered gems.
Home of some of the oldest languages still in use and the oldest known hominid (that's the group of primates that humans and chimpanzees belong to) remains, centuries of fascinating history have left their mark. All this means that today, modern Ethiopia boasts the most UNESCO World Heritage Sites in Africa (9, to be precise).
Its treasures don't stop there. Ethiopia is also a land of incredible geographical contrasts. The vast fertile west of the country contrasts with the world's hottest settlement of Dallol in the north, while the rugged Ethiopian Highlands are the largest continuous mountain range on the African continent, giving rise to their nickname the 'Roof of Africa'.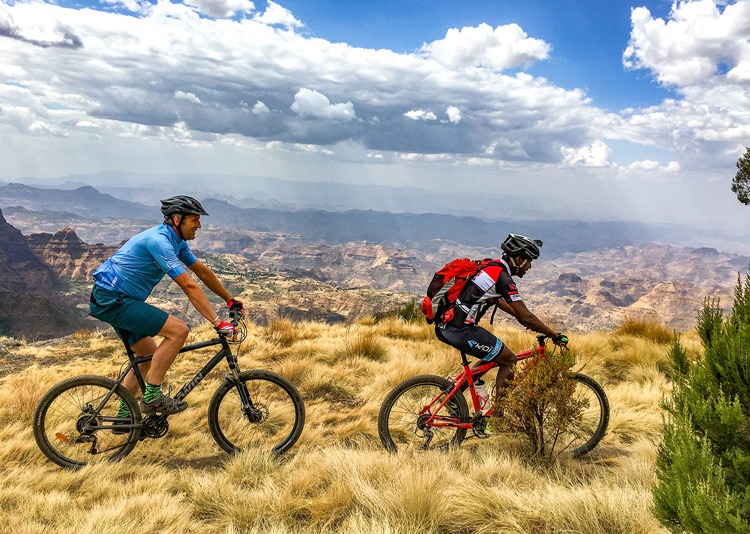 So, what about the Skedaddle experience in Ethiopia? Here, you will be welcomed by the amazing team lead by Getachew Alemu, fondly referred to as Chewy. Chewy has been pedallin' since he was a little boy and became a professional cyclist at the age of 18. Today, Chewy is not racing anymore however, he can't live without his bike and is eager to share his local passion with travellers to his country.
This journey will take you into the heart of a true adventure playground and is a part of our Cycling Adventures range, perfect for those in search of remote destinations and 'riding the route less travelled'.
The Itinerary – and exploration of the incredible diversity of this ancient nation
The tour begins with arrival into the bustling capital Addis Ababa, home to over 3 million people and located 2,355 metres above sea level. The highlight of many travellers visiting this wonderful city is a visit to see Lucy, the world's oldest human skeleton.
From here, a domestic flight will take us north to Bahir Dar, the source of Blue Nile River. We embark on a boat journey across Lake Tana to the Ura Kidane Mihret monastery via the outlet of the Blue Nile which is a great place to spot hippos!
Back on dry land, our first ride takes us through beautiful rural scenery and past small villages to the Blue Nile waterfall. The walk to the waterfall takes us over the oldest stone bridge in Ethiopia as well as a long suspension bridge that takes us to a beautiful viewpoint of the falls. Hear more about that later!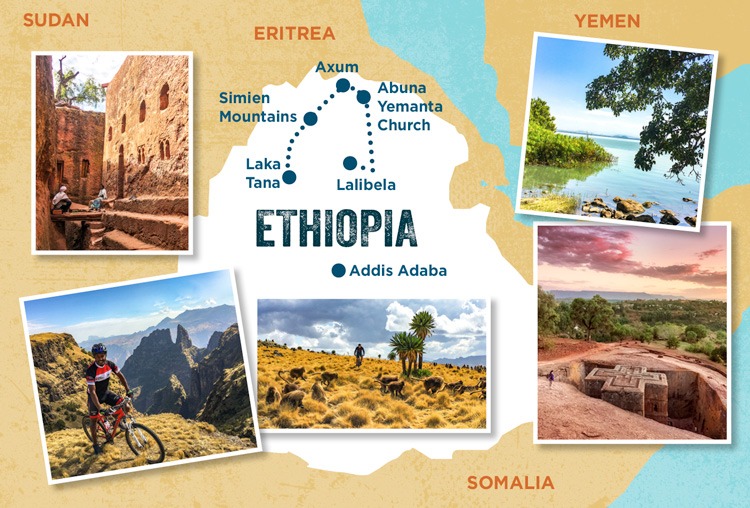 The next day is a longer route through fertile agricultural land leading us towards the 17th century capital city of Gondar. This strategic city was the crossing point of several ancient trading routes and it boasts intriguing Art Deco architecture as a result of its occupation by the Italians during WWII.
Leaving Gondar we will tackle some of the more significant climbs on the route, ascending into the Simien Mountains National Park. The altitude of around 3,000 metres above sea level will be felt by everyone, but the support vehicles are close by for anyone needing a little assistance. Our camps staff will be waiting to welcome you to a stunning location for our first night under canvas.
The next two days we will spend exploring the Simian foothills on foot. The scenery is spectacular, with soaring ridgelines and lofty escarpments. The breathtaking Geech Abyss will be a highlight, where the Jinbar River plunges for some 500 metres/1650 feet. Birdwatchers should keep an eye out for the Lammergeyer (Bearded Vultures) and Thick-Billed Ravens. A short evening hike to enjoy sunset will also give us the chance to see Gelada Baboons as they forage in the vegetation of the surrounding mountain side. Our second day of hiking takes us through past the towering cliffs of Imet-Gogo (3,926m/12,800ft) before descending into the Jinbair Rift Valley where we may be lucky enough to see the elusive Ethiopian Ibex.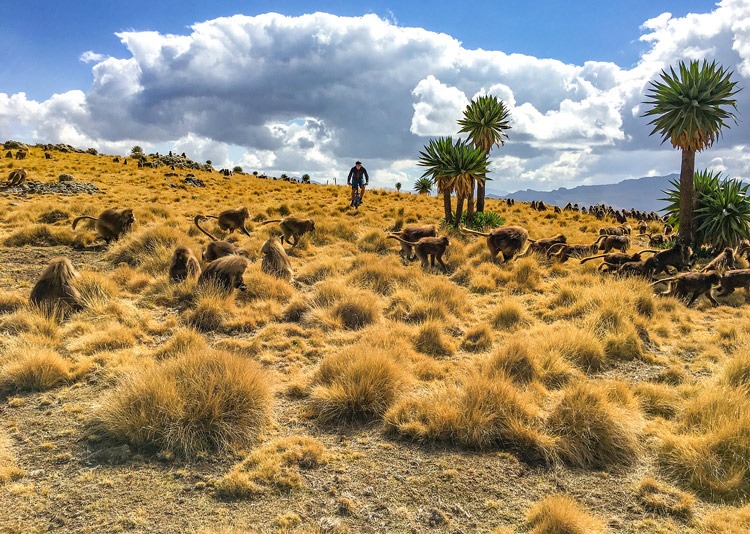 Back on two wheels, we make our way down the zig-zag descent of Lemalimo and through the beautiful mountains of Tekeze as we head towards the town of Axum. known for its tall, carved obelisks, relics of the ancient Kingdom of Aksum. Axum has so much to offer that a full day is set aside to explore its many wonders. A city tour will take us to Church of Zion (the final resting place of the original Ark of Covenant), the stone inscription of Ezana, the Tomb of Kaleb and Gebre Meskel and the Swimming Pool and Palace of the Queen of Sheeba.
Leaving Axum our route heads through the Adwa Mountains. It's here where numerous Ethiopians lost their lives in 1896, after a courageous battle (which they won!) against the Italians. We roll towards the region of Tigra and the Gheralta Mountains, a landscape of flat dry plains and towering rock outcrops. Those with a head for heights can take on the incredible optional barefoot climb to the church of Abuna Yemata in Gar'Alta Hawzen.
Our journey now heads into the lowlands of the Alamata Kobo region, then over the Weldiya Pass at over 3600 metres / 11,800 feet. As you would expect the views from here are superb and it serves as the perfect starting point for our final biking day, finishing in the iconic UNESCO World Heritage site of Lalibela.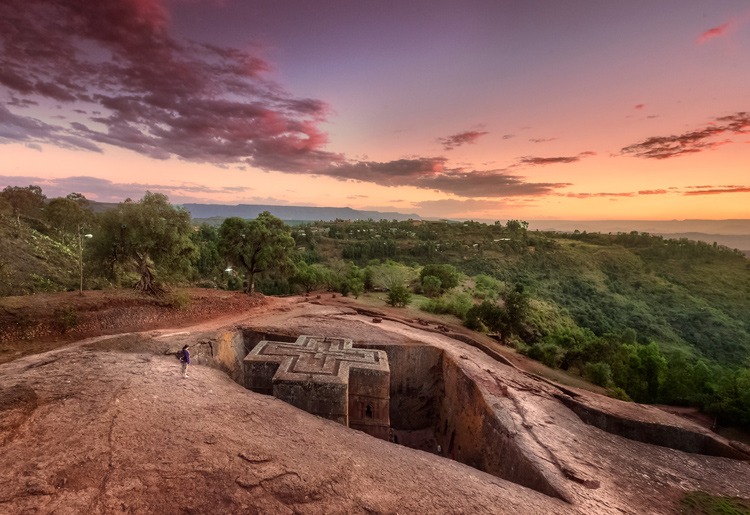 Photo: Michail Vorobyev (Shutterstock)
We have a full day to explore the site comprising an ancient group of eleven monolithic and semi-monolithic structures carved directly into the stone of the mountain by King Lalibela. We end the day with sunset views over Bet Giorgis (House of St. George), a church that was carved in the shape of a cross into the rock.
After a relaxing morning, we are transferred to Lalibela Airport to catch our flight to Addis. A farewell dinner at a famous Addis restaurant is an opportunity to see dancers perform the traditional shoulder dance.
Find out how you can join us in Ethiopia HERE!
The ultimate combination of natural spectacles and fascinating ancient culture.
• The Rock-Hewn Churches of Lalibela are truly magnificent with the complex boasting the largest monolithic church in the world, a maze of passageways and tunnels and intricately carved reliefs.
• The spellbinding Simien Mountains are like nowhere else in the world and offer stunning views of awe-inspiring jagged and sharp peaks. Its Gelada Baboons who you will spot here are amazingly friendly, and we have a great opportunity to see them at close quarters. Their distinctive red chests make them unique among primates, along with their grass-eating habits, and have earned them the nickname, the 'bleeding heart monkey'. Ethiopia is the only place in the world where you can see them graze naturally. Discover more about the amazing Gelada here.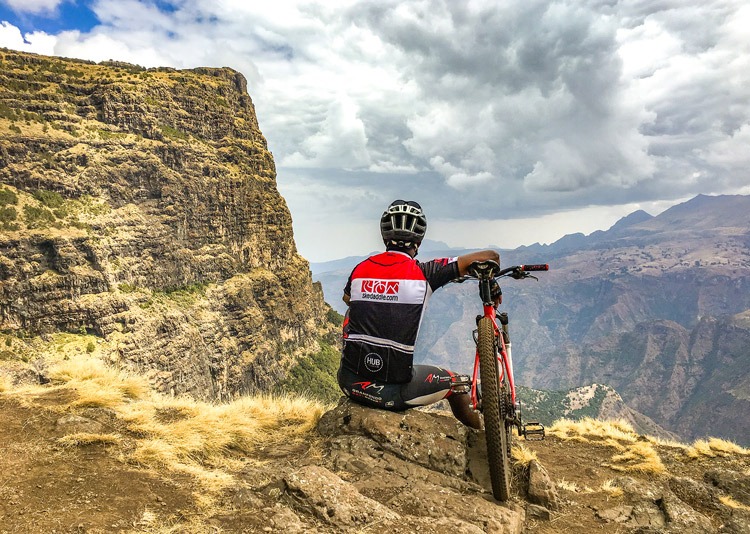 • Not only is Lake Tana a UNESCO Biosphere Reserve recognising its international natural and cultural importance, but it is also the source of the legendary Blue Nile. Here's what Metro has to say about one of the highlights of our trip, the Blue Nile Falls:
"The Blue Nile Falls are estimated at anything from 37 to 45 metres high. Alas, the flow of its channels has been much impacted by regulation of Lake Tana, about 20 miles upstream, and by hydroelectric stations. A safe time to visit is September, just after rainy season — which, happily, is exactly when Saddle Skedaddle's first trip departs."
Escape Extra: A bicycle-based Ethiopia tour from the River Nile to rock-hewn churches, Metro
• While not for the faint-hearted, the climb to Abuna Yemana Guh Rock Church is a once in a lifetime experience. The rock church is sited at a height of 2,580 metres / 8,400 feet, within a cliff face, halfway up a sheer rock pinnacle and only one way to reach it!
Flavours of Ethiopia
Ethiopian food is one of the most diverse on the planet, with the foundation of almost every meal injera, a pancake-like flatbread with a bitter, slightly sour taste that contrasts beautifully with the sauces, mounds of spicy meat stews and tasty vegetable curries that usually accompany it.
Vegetarians and vegans will be in food heaven here! One dish you'll want to try is Yetsom Beyaynetu, also known as a fasting platter. This is a delicious mixed vegetarian platter that usually includes several types of lentil and split pea stews.
Mahberawi is perfect for those who enjoy meat and want to try "a little bit" of all Ethiopian main dishes and comes served to you on one plate. It usually combines several stews such as key wat (beef), tibs (lamb, beef or goat cubes cooked with herbs), and kitfo (raw ground beef).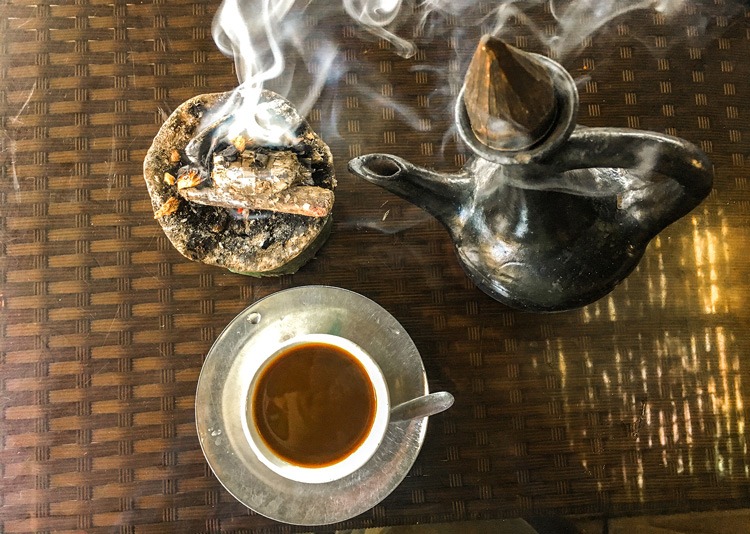 Finally, did you know that the coffee bean is believed to be first discovered in Ethiopia? According to an Ethiopian origin story, they were discovered by shepherds when their goats became hyperactive after eating the beans. We will probably never know if it's a true story however, there is no doubt that coffee has been part of Ethiopian culture for centuries. Coffee connoisseurs will therefore enjoy their morning brew here, especially if done the traditional way.
Feeling inspired? Find out more about our new epic adventure and how you can join us in Ethiopia here.