Forget the spiritual home of cycling (sorry, France!) and say hello to the spiritual land of Burma, a destination where temples greet you at every turn. Having packed our head honcho, Andrew Straw, off to explore by bike last year, here are a few of his unexpected discoveries en route…
1. The legend behind the impressive Pindaya caves
With 8,000 Buddha statues stashed within its limestone walls, jumping off your saddle at Pindaya is a must! Locals claim this is named after a monster spider attempted to trap seven princesses within. A prince then shot dead the spider claiming "pingu-ya" (the spider is dead) and so the cave was aptly named.
2. Diamond mangos are the tastiest
A native fruit of South East Asia, this juicy treat has become a big part of culture in Burma. With over 100 varieties, you've many to try but my favourite has to be the diamond mangos, known locally as Sein Ta Lone, it's a great refreshment post-ride.
3. I've heard of Blue Nun the dreadful 80's white wine, but never pink nuns
300,000 Buddhist monks call Burma home and 20,000 of these are females dressed all in pink, rather than the classic orange robes that you may be more familiar with. These friendly souls are usually very happy to chat to travellers passing through!
by Andrew Straw
(Co-Founder & Cycling Adventure Product Manager)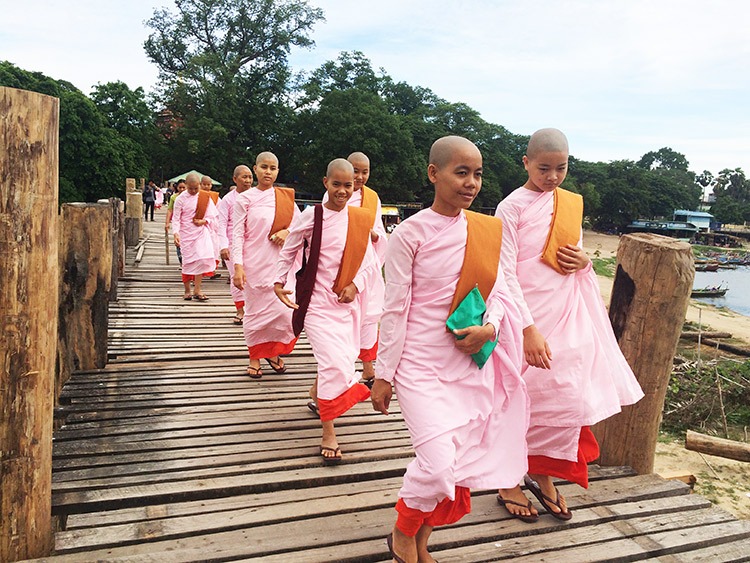 Looking for an adventure elsewhere? 
For more cycling in South East Asia we recommend checking out our holiday in Laos, a journey which sees you cycling through bamboo forests and breathtaking karst scenery.