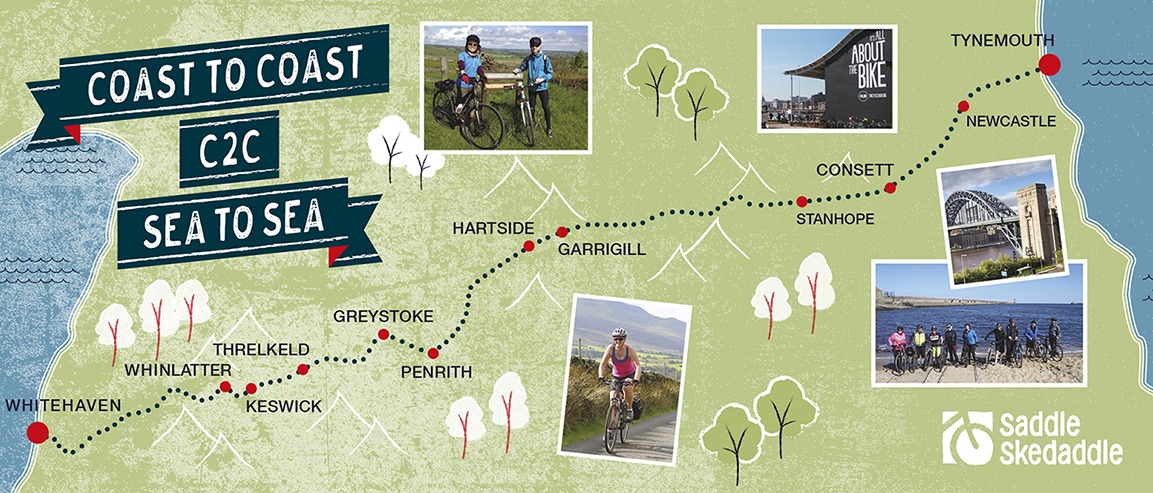 The 'must do' cycling holiday with its quiet country lanes, cycleways and paths is a wonderful way to see the varied and beautiful landscapes of northern England. If you've not taken up this classic UK challenge, it's time you took the plunge…
Having watched the pros battle their way up the infamous Hartside Pass last year during the Tour of Britain route, it's safe to say the C2C is not without its fair share of challenges. Fear not though, we don't expect you to attempt a sprint finish up this steep section of road, we'll leave that to the leaner, meaner riding machines in search of their racing jerseys.
Whether you're cycling for a cause with the nearest and dearest, are a lycra-clad roadie looking to hit some hills, or are part of a group of fun-loving lads or lasses on the look out for your next adventure together, the C2C is a cycling journey that appeals to everyone looking for an exciting challenge in the UK.
Whitehaven to Tynemouth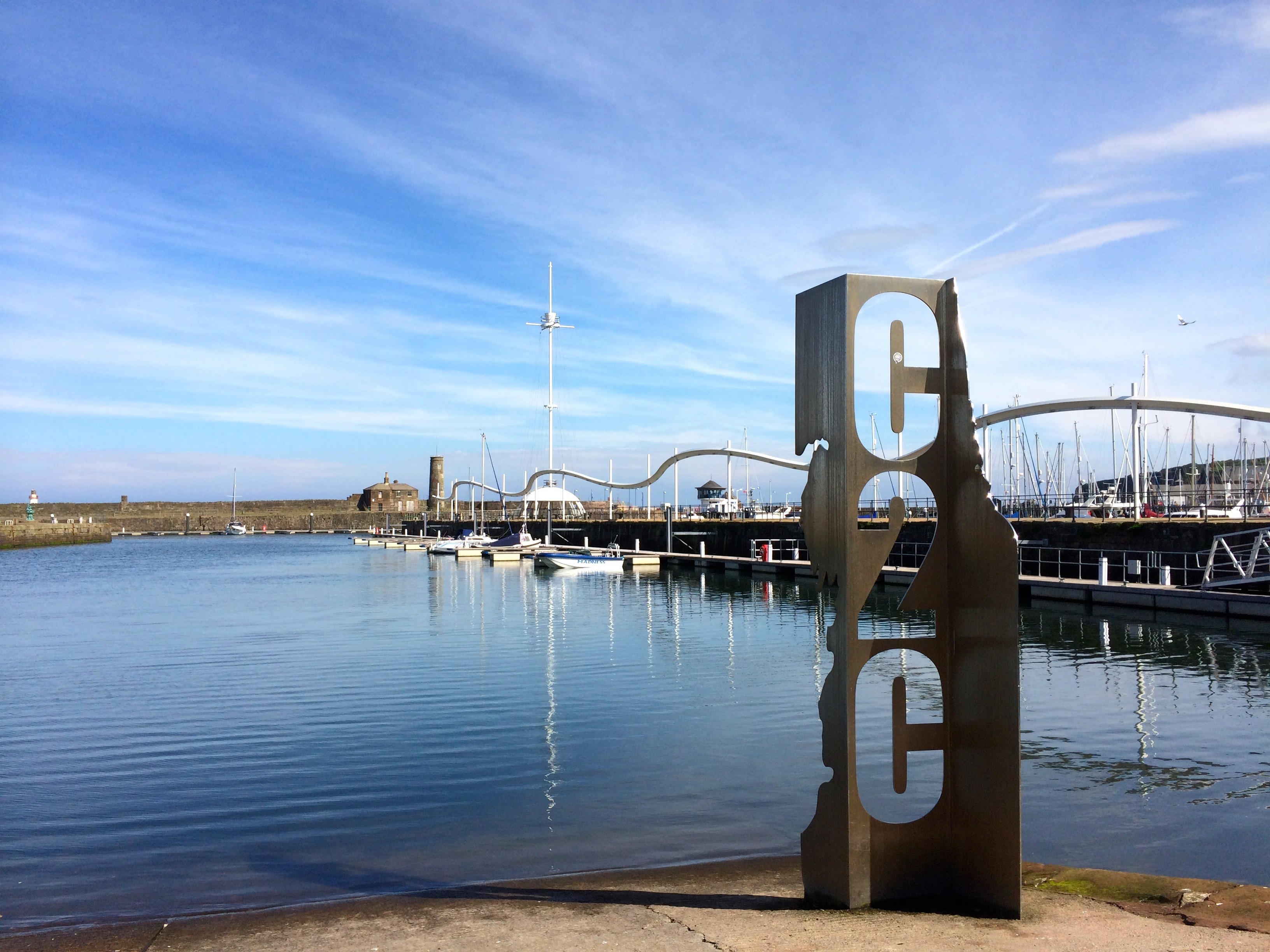 With over 15,000 people taking on this route each year, it's no surprise the C2C is one of the countries most popular long distance journeys! Covering 140 miles, your journey begins in the port town of Whitehaven, Cumbria before finishing on the picturesque shores of Tynemouth. In between you'll pass through the dramatic solitude of the northern Lake District, enjoy the verdant Eden Valley and climb up into the Pennines, also known as the 'roof of England', where you'll experience sensational panoramic views that make the climbing worthwhile! From here you'll then explore historic mining villages and make your way along old railway lines before heading to the bright lights of Newcastle (our beloved home) and onto the coast.
Best ridden from West to East, you'll take advantage of longer downhill sections and prevailing winds to help you along the way. Don't forget to dip your back tyre into the Irish Sea before you start and your front in the North Sea once you've completed your journey – it's a C2C tradition!
Sustrans
Our favourite route wouldn't be so without the invaluable support of pioneering cycling lovers Sustrans who first set up the C2C cycleway in 1994. Now part of the treasured National Cycle Network, we're proud to help support this fantastic cause. We regularly run special fundraising trips in partnership with Sustrans, helping to raise funds for the upkeep of this route.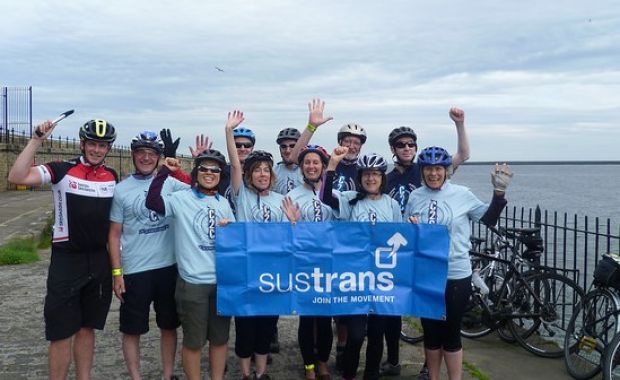 Why cycle with Skedaddle?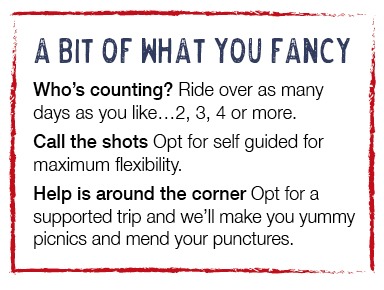 We've been running C2C holidays for over 17 years and know all the ingredients that contribute to making this journey the best it can possibly be. Having sourced the best local accommodation, provided experienced guides for those looking for a bit of support and lost count of the amount of bags we've helped transport along the way, we're certain there's no better way to tackle the C2C than the Skedaddle way!
Worried about the hills? Fear not, our great range of C2C options means there's a little something for every cyclist to give a go. From a shorter 2 day version for those looking to blast their way across the route, to lengthier tours for those wanting to take it a little easier along the way. If you feel you're in need of some on hand support, we recommend taking on one of our supported tours where there's a vehicle on hand which you can jump in to catch your breath.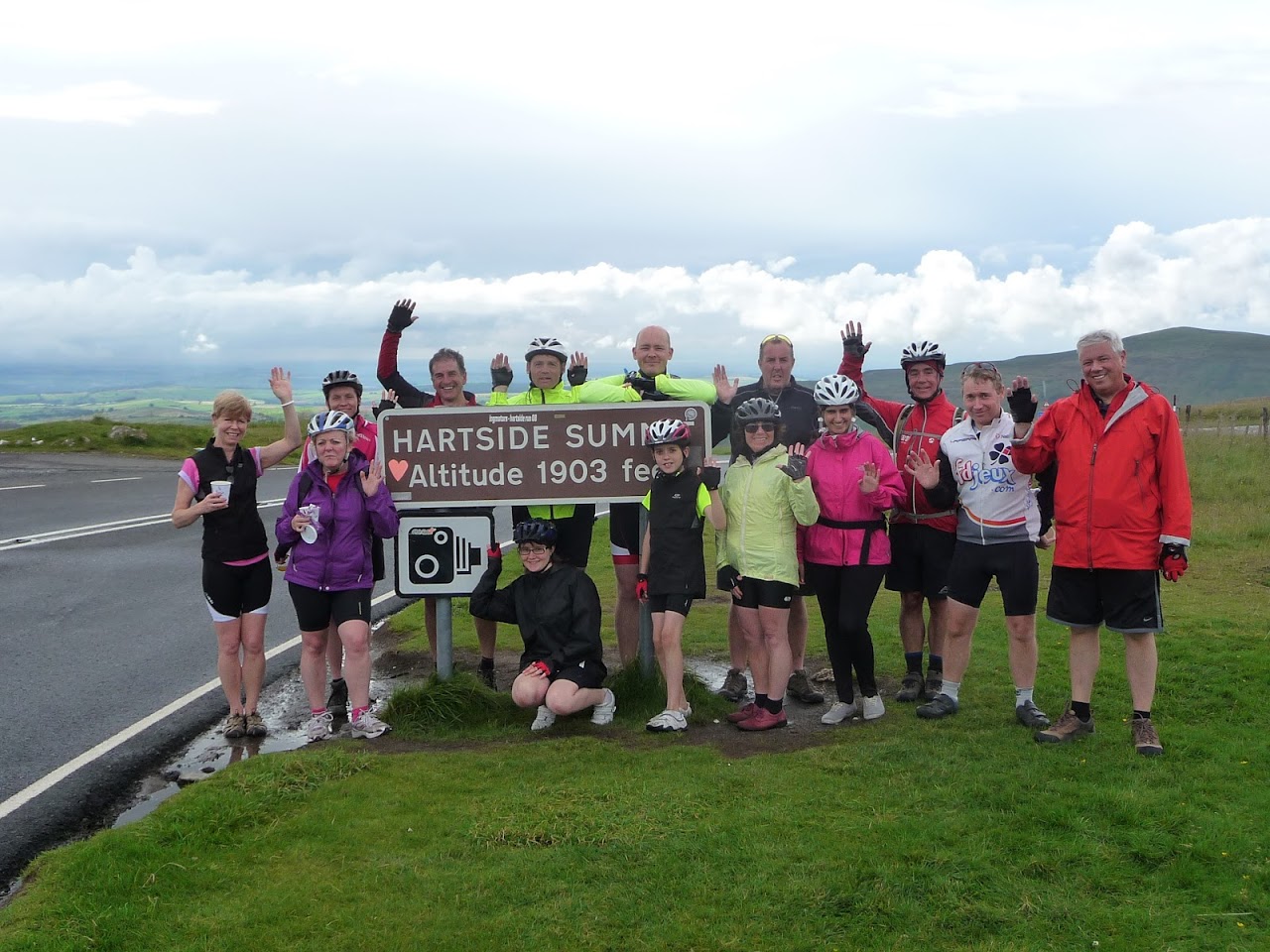 Feedback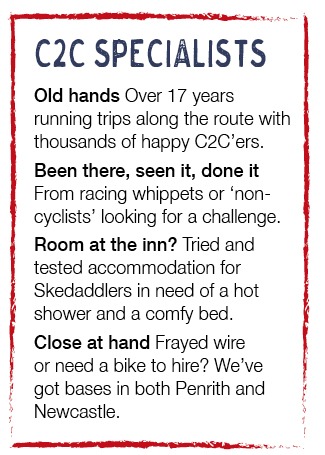 With thousands of customers having come to us over the years, we caught up with a few of our past Coast to Coast Skedaddlers to find out what they thought of their experience:
The service was top notch throughout. The accommodation supplied excellent breakfasts even for vegetarians. The lunches and snacks supplied during our rides were top notch, in the evening we chose to eat at our accommodation and every night we had brilliant meals with a great choice.
Every day was a favourite day and a new experience thanks to our group leader who told us what was coming (such as another hill) but in a nice way so we were not shaking in our boots!! Our guide was helpful at all times and always accommodated our every needs. We are already looking for our next holiday… Julie, Norwich
–
We had considered booking a self guided trip but it was well worth spending a little bit more to do the supported trip. Not having to worry about carrying food and drink, having regular meet ups with our cycling guide to make sure we were going the right way, and of course the option of hopping on the bus when it all got a bit too much!
Our guide was a cheerful presence whenever we needed him, put together some great lunches, and went above and beyond. All 4 days were so different that it's hard to pick a favourite. Day 1 was good getting to know our fellow cyclists, and it was definitely a great moment reaching the finish line on the final day, but there was amazing scenery on all four days. Catherine, Angus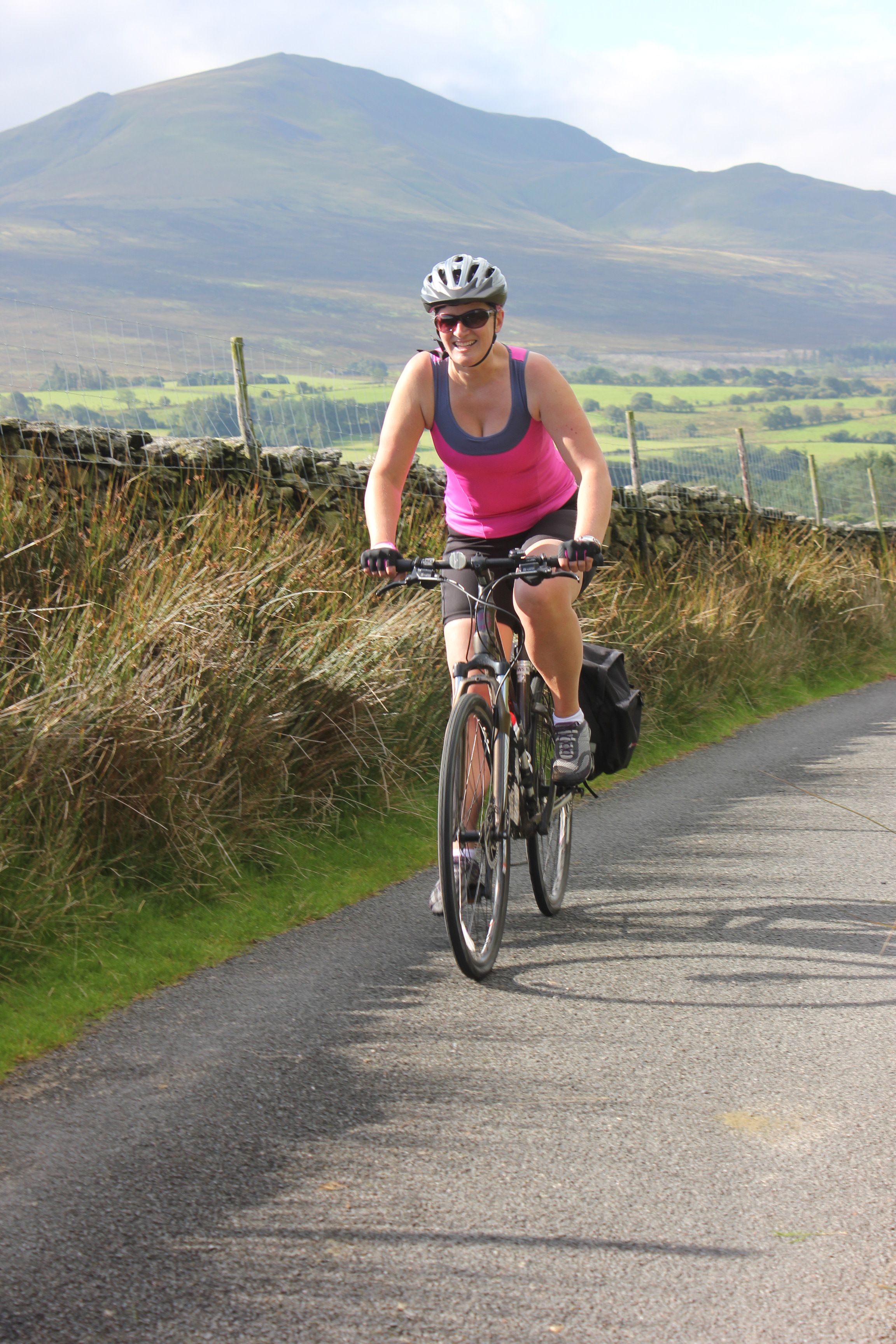 All for a good cause…
Owing to the challenges on offer, the C2C route often sees a lot of cyclists take to two wheels for a cause very close to their hearts. We've seen lots join us for different reasons over the years and these heartwarming stories help keep us smiling. Alistair White and his mum Marion are two such Skedaddlers who recently took up the challenge for a very special cause of their own.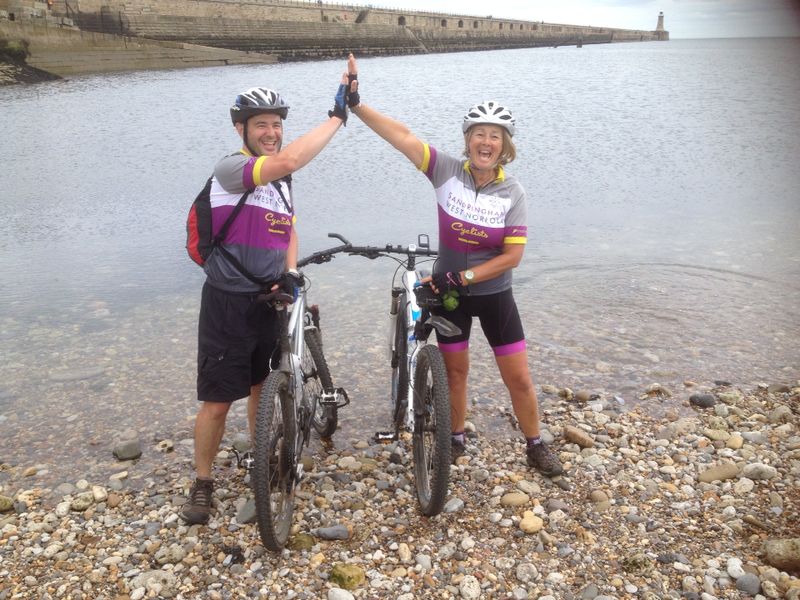 Highlights along the way…
Consett Sculptures (part of the Sunderland Sculpture trail)
Conquering the legendary Hartside Pass
Cycle cafe pit-stops: Cycle HUB & Greystoke Cafe
Discovering beautiful, un-spoilt landscapes
Feeling inspired? If you're looking for a challenge in 2016 you can't go wrong with this fantastic UK trip. Click here for a full list of tours to find the perfect cycling holiday option to suit you.