Big Cheeses at Skedaddle, Paul and Andrew, return to where it all started in South America to celebrate 20 years of Skedaddle and the little matter of Paul's 50th birthday…
'It had to be a pretty special trip to bring Andrew and I back to Chile and Argentina, after all, the last time we were there together was back in 1994 when we'd cycled the length and breadth of these countries and pretty much visited every inch of them…well so we thought! Chatting over a beer in the UK, we thought we'd set a challenge for our Chilean guide Ernesto to come up with a new trip that would allow us to check out a different area and more importantly, excite the hell out of us.
"Well there's this route that I thought would be amazing which goes through northern Patagonia. We could try that out…I think it would be just about rideable… well the locals use it and they seem to manage ‑ mind you they're on horses!" A broad smile then appeared on Ernesto's face, immediately followed by a laugh that would have shaken the snow off the top of Volcan Villarica. A few scribbles on a beer mat later, and we were nearly convinced. Just a few questions remained. "There seems to be a few sections that are, well…how do I put this…over water" puzzled Andrew. "Don't worry there's always a guy with a boat," Ernesto replied confidently. "Doesn't seem to be heavy on the accommodation front?" questioned Paul. "You could say that! We'll need to camp with the gauchos who'll also act as our support 'vehicles' and carry all our kit and spares, oh yeah and make sure we aren't eaten by the pumas and picked over by condor." Ernesto for once looked serious. We clinked our glasses, crossed ourselves and a few months later we had landed in Argentina. Along with us from the UK was Skedaddle chief guide Steve, a man who can fix most things on a bike, plus a group of hand-picked friends who we'd somehow managed to persuade to come along under the auspices of another of their annual 'Once in a Lifetime' trips.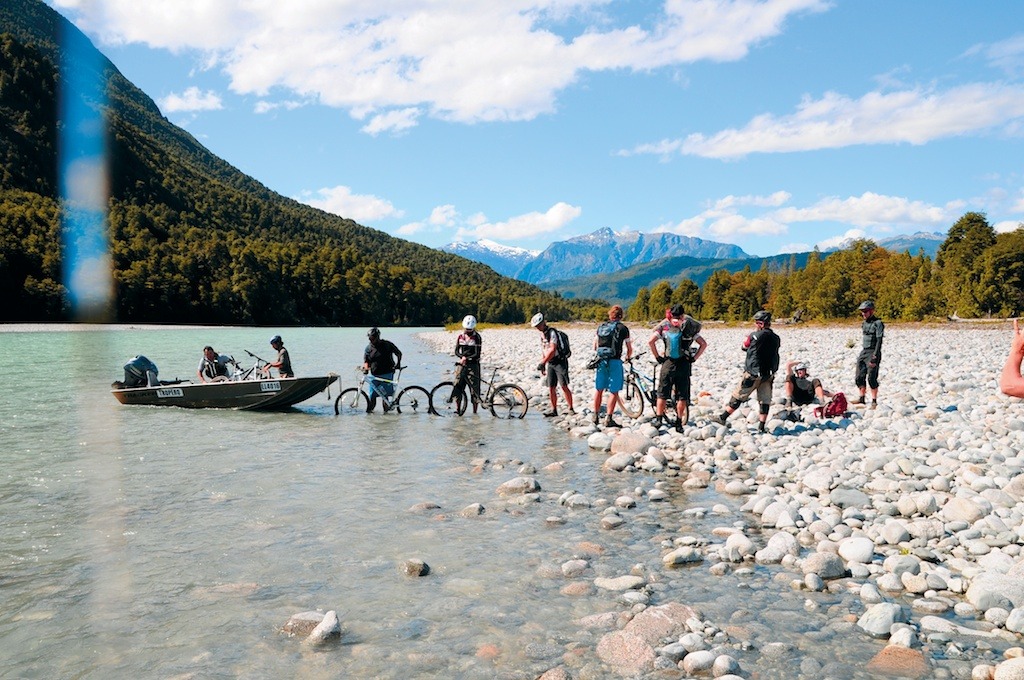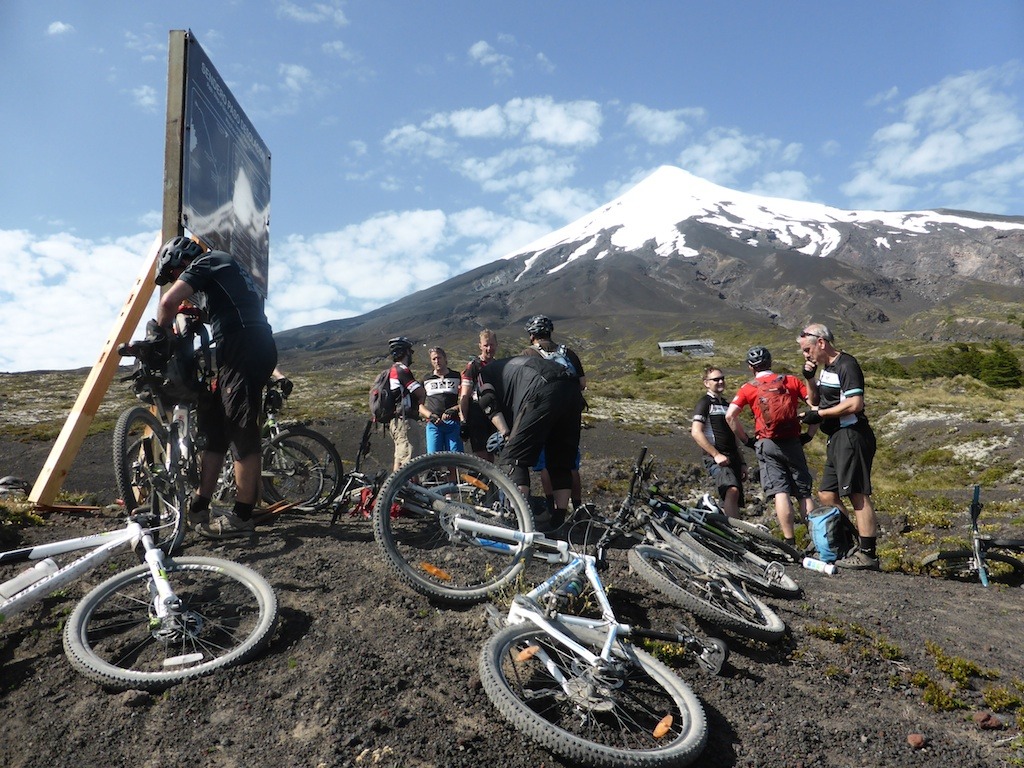 One obligatory hefty Argentinian steak and a glass or two of Malbec later and we were on our way. Our rank had swelled somewhat and we were now accompanied by ten horses, two dogs, a group of the coolest looking guauchos imaginable, Arnie who was without doubt the manliest person I've ever stood in the shadow of, plus his wife Tammy and a horse riding 'guacho girl' who we all tried to impress but failed miserably! We were soon well away from civilisation. Our guides trotted in front of us and led us deeper and deeper into the wilderness, the clip-clopping of their horses hooves a constant metronome to help with our pedalling. The first few days were wild in the true sense of the word – in scenery that was as unmistakably Patagonian as it was breath-takingly beautiful. We rode and saw not a soul, camped beside gurgling icy streams where we bathed in the evening light, dined on the freshest meat imaginable, chatted by the campfire and slept soundly beneath star filled skies. Each day's ride was as different as it was exciting. Tricky singletrack edged along mountainside ravines, wilderness trails snaked their way across high plateaus and dusty descents plummeted to streams that beckoned you in and challenged you to cross.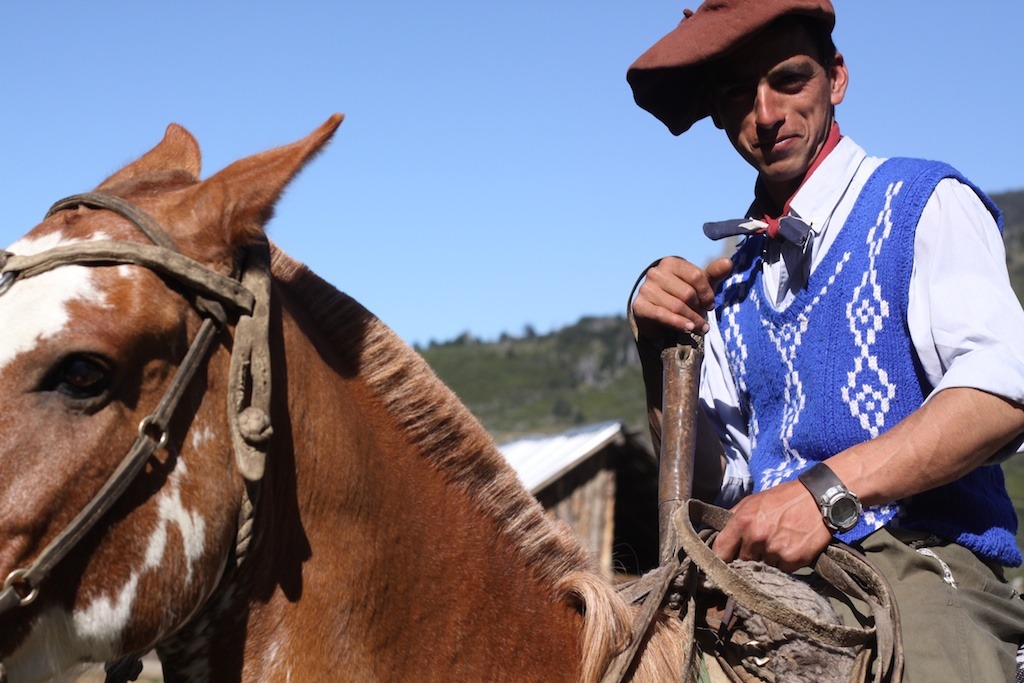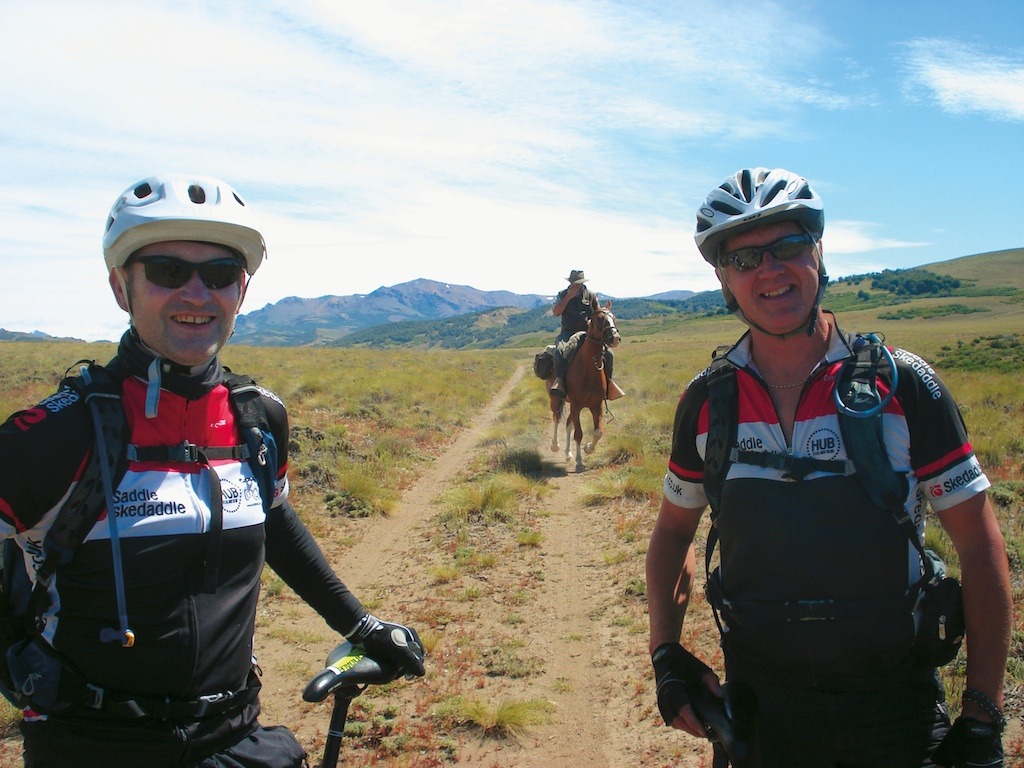 There were epic days in the saddle, some spectacular dismounts, wheels that 'decided' to bend (Andrew!) and much lunchtime tinkering of bikes by the ever patient Steve, bike mechanic genius, to make sure we were soon back on the trails. Arriving at Lago Puelo we said a fond farewell to our horse-riding companions, battled to be the first in the shower, asked hopefully if there was wi-fi and sank a few cold ones. The section through Argentina was sadly over, but next day we were heading to Chile! Passports dutifully stamped at the lakeside port-a-cabin, we donned our life-jackets strapped in our bikes, switched horse support for horse-power and left Argentina behind. I think the official border was half way across the rapids we negotiated, but can't be too sure as I was just concentrating on hanging on!! Chilean customs suitably negotiated and contraband fruit handed over, we sank our teeth into some of the best singletrack of the trip – a lush forest trail that ebbed and flowed and finally plunged us to the water's edge where our options quite literally ran out.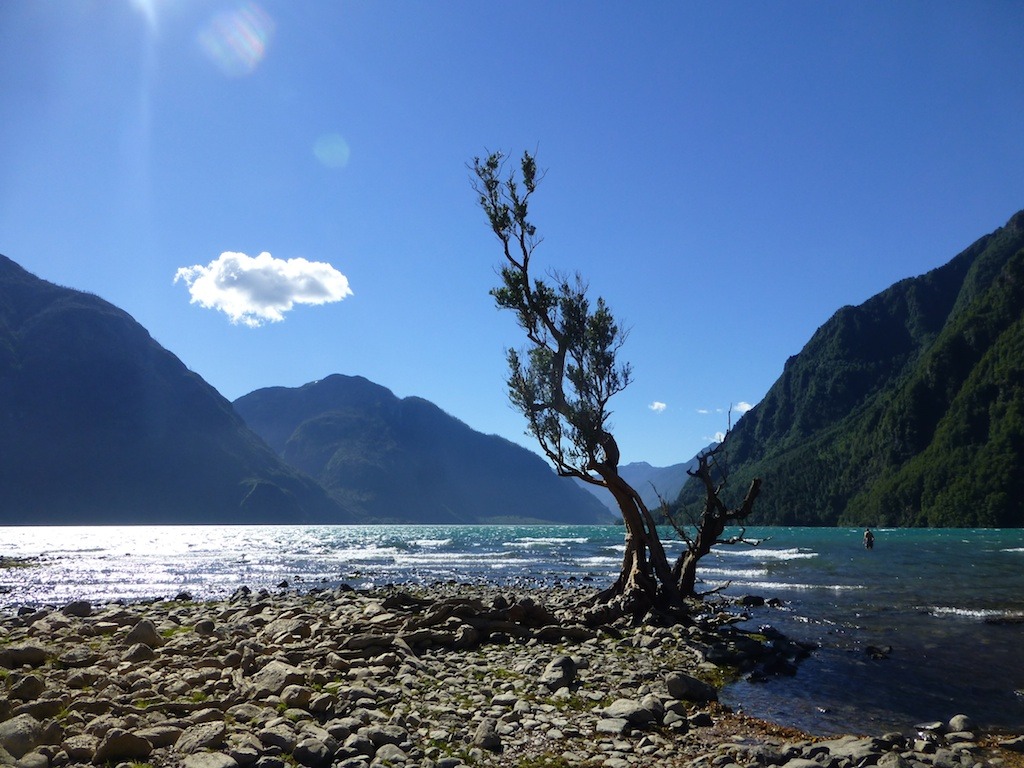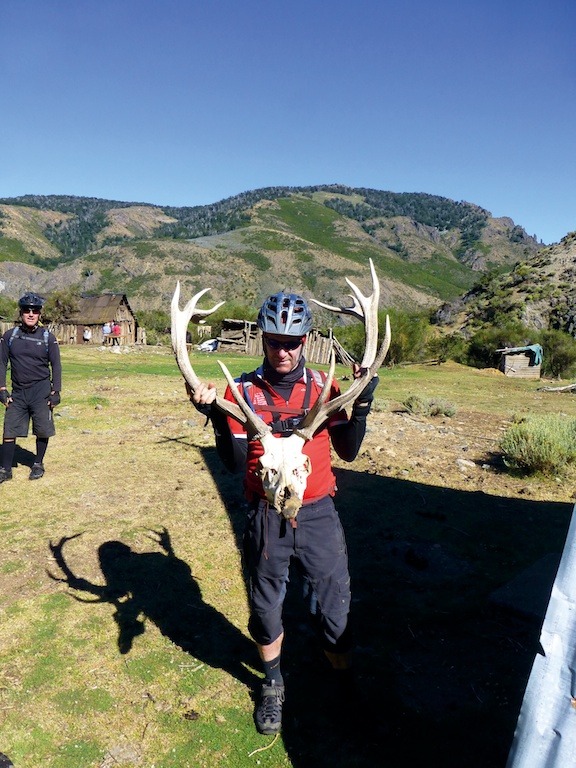 Moments later, into view came our solution slowly chugging its way across the lake to take us to our own private island for the night. Our host was Kathy, a French woman whose mother had 'discovered' the island way back in the 70s and made it her home. And what a home it was! There are moments in life that become etched in your memory for eternity, and staying there that night was one such occasion. Long after everyone had gone to sleep, I found a rock that shaped to my body perfectly and in the peace and tranquillity of the night, recalled the amazing time Andrew and I had all those years ago, which had been the seed from which Skedaddle had grown.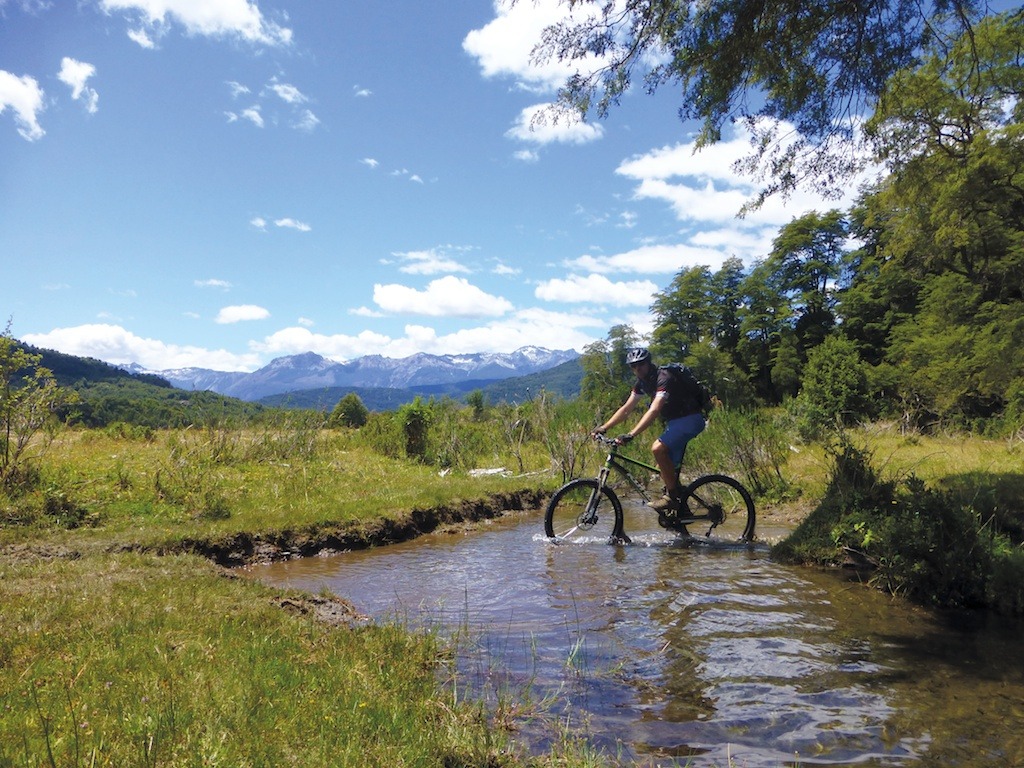 The days that followed in Chile were blissful. The scenery altered dramatically from that we'd already covered. Gone were the wide-open spaces of Patagonia, replaced with epic views of azure coloured lakes and snow-capped volcanoes. Treats were plentiful. Mitico Lodge was classy in the extreme and an icy dip in its glacial water was certainly 'refreshing', waking up to see Volcan Osorno from my bedroom window in Ensenada made me grin insanely, but the highlight for me has to be the descent from the lofty slopes of Volcan Osorno. Steep tricky trails on volcanic ash ran into fast flowing singletrack and the views were simply awesome!!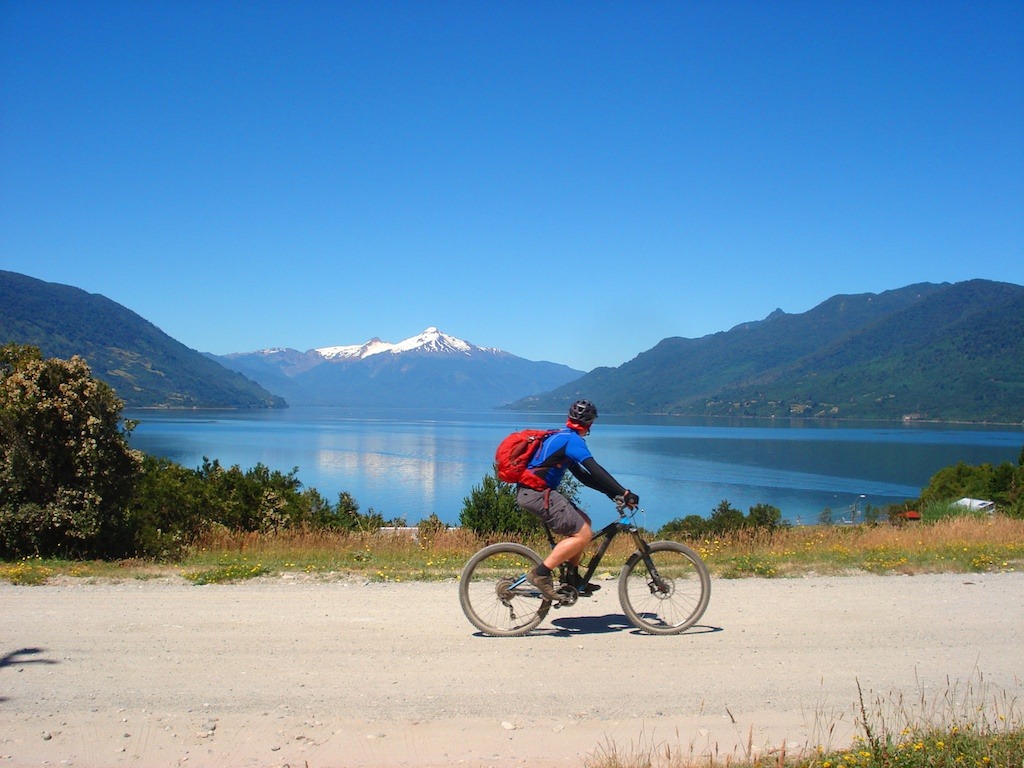 Our final night, fittingly in Santiago and a final moment to tug at my heart-strings. On our day of departure, I glanced up from my breakfast only to see before me Pepe ‑ a priest who we'd met all those years ago, and who Andrew had somehow managed to track down. Sat on the plane heading home, I'd be lying if I said I wasn't a little melancholy, but was already planning my return to a country that will always have a very special place in my heart. But this time I'm not leaving it so long before coming back with my biking buddy!'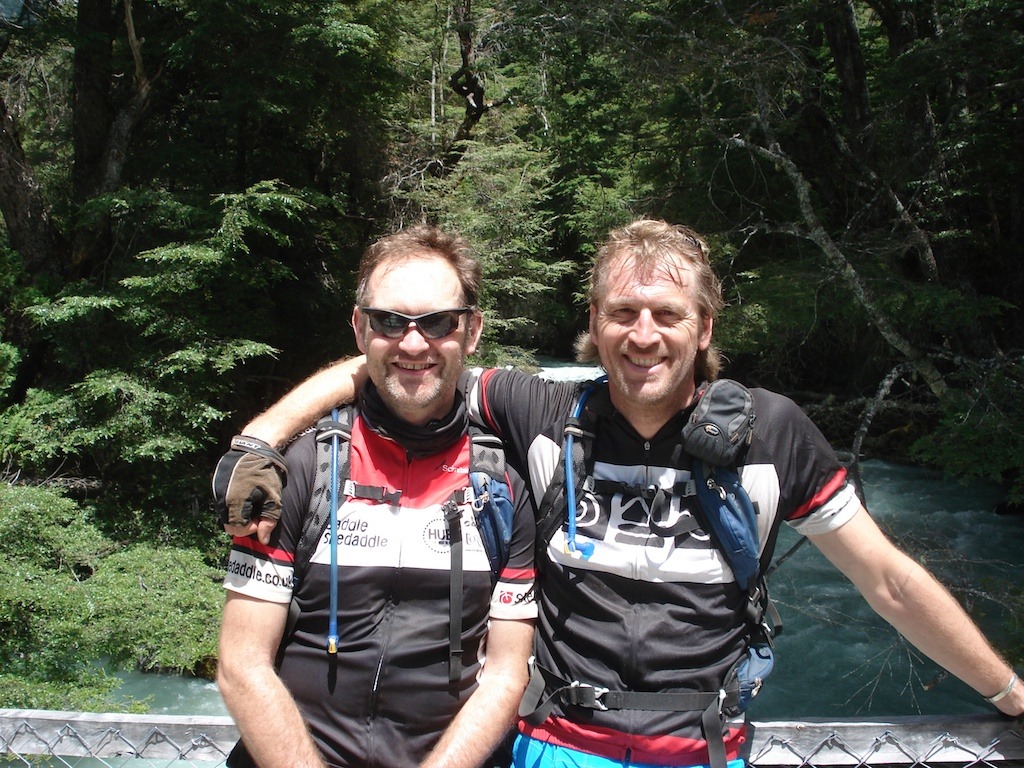 Want to see this trip come to life? Check out our video below or read more about the mountain biking holiday in Chile and Argentina.