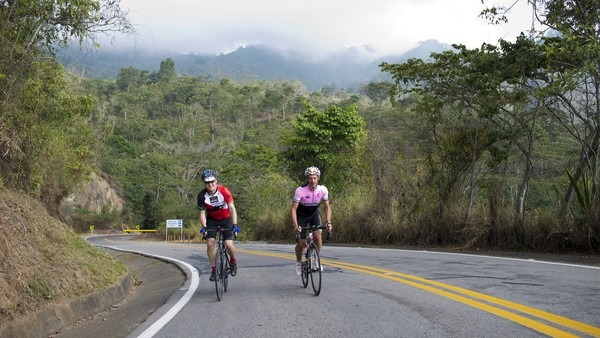 Ahhh Colombia! Famous for its delicious coffee and more recently the hit TV series Narcos, which wowed us with its stunning landscapes and extraordinary historic re-telling of this country's colourful past. This destination is less famous for it's array of incredible cycling routes and its claim on the world's longest climb, the daunting 52 mile, Altro de Letras. Having led cycling tours here for several years, we'd like to think that, along with Colombian born pro-rider Nairo Quintana (2014's Giro D' Italia winner and twice runner up of the TDF), we're certainly ahead of the pack in checking out this incredible cycling hotspot. So, when the Financial Times came knocking, looking to take on this epic route for themselves, we jumped at the opportunity to share one of our favourite long-haul road tours with a new pack of keen adventurous travellers…
Taking on this cycling holiday on the FT's behalf, journalist and keen marathon runner, Adharanand Finn, felt this was the challenge for him in 2016. Whilst nothing could quite prepare him for the task at hand, our road specialist and fellow Colombian cycling advocate David Hall was on hand to keep him safe and smiling thew whole way. So, with his cleats, lycra and eager enthusiasm in tow, he took to the challenge like a real pro and proved that this destination has plenty to offer those who are up for a true cycling test. Want to find out how he got on? See his write up below:
At some point halfway to the sky, you realise you're going to make it. You've come too far to turn back. The day still has enough light. All you have to do is keep pedalling.
Cycling the Alto de Letras, reputedly the longest climb in the cycling world, is a matter of bloody-minded persistence. The slope is rarely that steep, but it goes on and on. Sitting in a sun-baked café in the small town of Mariquita at 7am, munching on yuca bread and drinking cuploads of sugary tinto (black coffee), I chatted nervously with the other riders in our group — mostly British but with a couple of Canadians and one American. Our bikes glistened, lined up on the street outside; passers-by glanced in at us on their way to work.
"When it starts to get dark, if you're still not at the top, we may have to ask you to stop," explained our British guide, David Hall. "These roads can be dangerous to ride after dark."
It seemed inconceivable so early in the morning that some of us might still be riding up the same hill come nightfall. But this was no ordinary hill. The road up the Alto de Letras climbs continuously for 82km, starting just under 500m above sea level and rising more than three vertical kilometres to an altitude of 3,692m.
The climb was the centrepiece of a six-day cycle tour from Bogotá to Medellín. It's a varied, challenging route, crossing the three cordilleras of the Colombian Andes. This means you spend a lot of time going up or down. [Published in the Financial Times on 04 March, 2016)
Want to read the full article? Click here to find out more. Adharanand Finn joined one of the January departures for our long haul road cycling holiday Emerald Mountains in Colombia. Although he only stayed for 6 days, this is a 2 week experience covering a wide range of landscapes, sceneries and climbs, all of which give an amazing insight into an incredible corner of the world. For full details and to book on to this road cycling holiday for yourself click here.