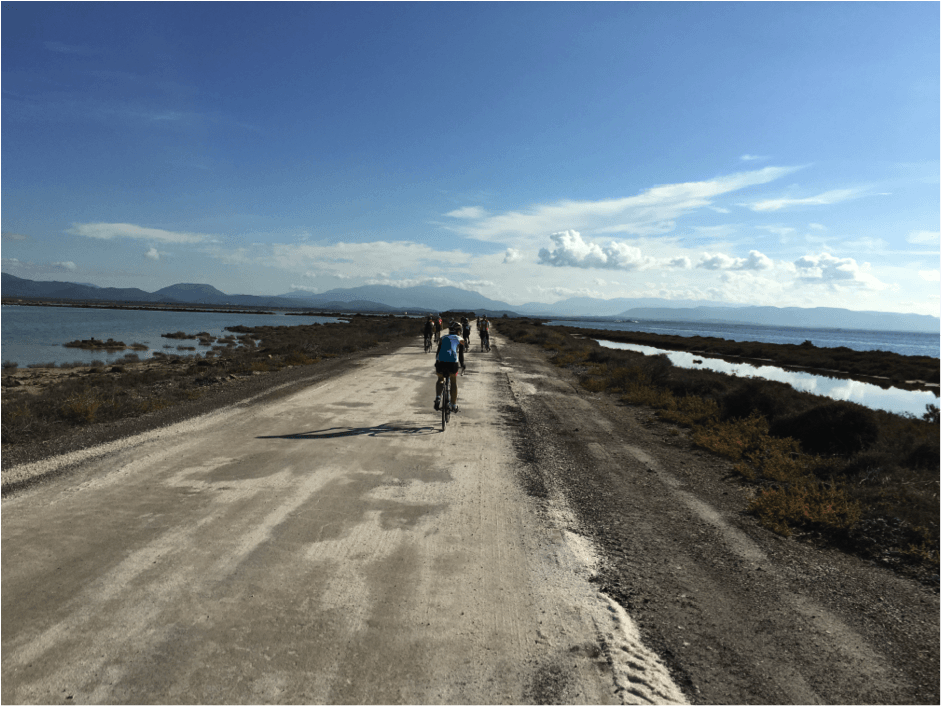 Talk about saving the best till last…often the final day of a holiday can provide some of the best riding of the whole tour and regular roadie Chris Budge certainly felt so on his sunny break to lovely Sardinia. Find out how he got on below:
We woke up before the alarm with mixed emotions – looking forward to the day ahead and sad that it was to be the last day of our journey. We washed, dressed and made our way past the hotel pool to breakfast. Several of our fellow cyclists and new friends were already there enjoying a selection of juices, coffee, cereal, fruit, pastries and cooked food.
Suitably refuelled we met again outside of the hotel for the daily ritual of bike checking and adjusting tyre pressures. Our guides Nicola, Sergio and Danilo loaded our bags into the support van and then we were off.
The sun was rising in the sky but the warmth was tempered by a gentle breeze as we soon left the gravel track leading from the hotel and rejoined smooth Tarmac. The ride across the island was a gentle start to the day with quiet and largely flat country roads as we headed to the salt flats, which was our 1st destination.
Here Sergio gave us a taste of a prickly pear holding the sharp exterior with some sticks as well as giving us an understanding of the local Salt production, where it is recovered from evaporated seawater.  Soon we were off again and across the small bridge to rejoin the main island of Sardinia.
We continued at a gentle pace through small quiet winding roads, past olives and vines under a clear blue sky, before joint a longer straighter road that led to Tratalias where we stopped for a coffee break.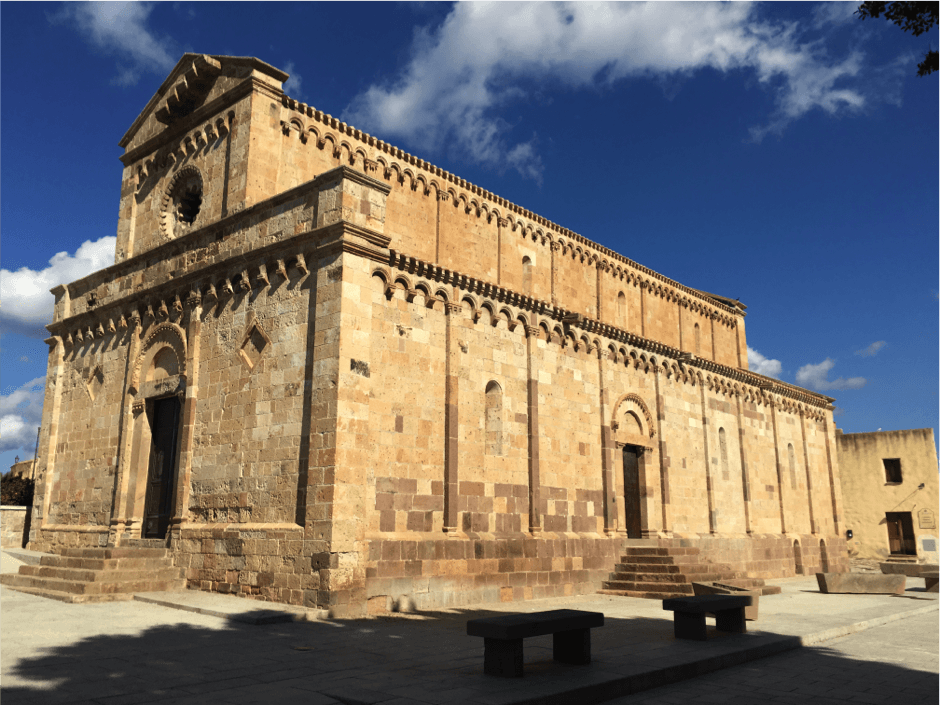 The bar was empty when we arrived but we kept the server busy with 14 varied hot drink orders. We added to the drinks with pastries, fruit, nuts and some chocolate provided by Nicola who was driving the support van today. Suitably refreshed and re-fuelled we journeyed on again heading back to the coast where we would follow a gently undulating coastal road towards our destination of Pula. Arriving at the coast we paused again to stock up on water for our bottles, biscuits, bananas and a toilet stop.
We all headed off at our own pace on the initial climb with Sergio at the front and Danilo bringing up the rear ensuring everyone was comfortable and providing encouragement when needed. We were rewarded as we climbed with fantastic views of the blue sea and coastline, the sea sparkling with reflected sunlight.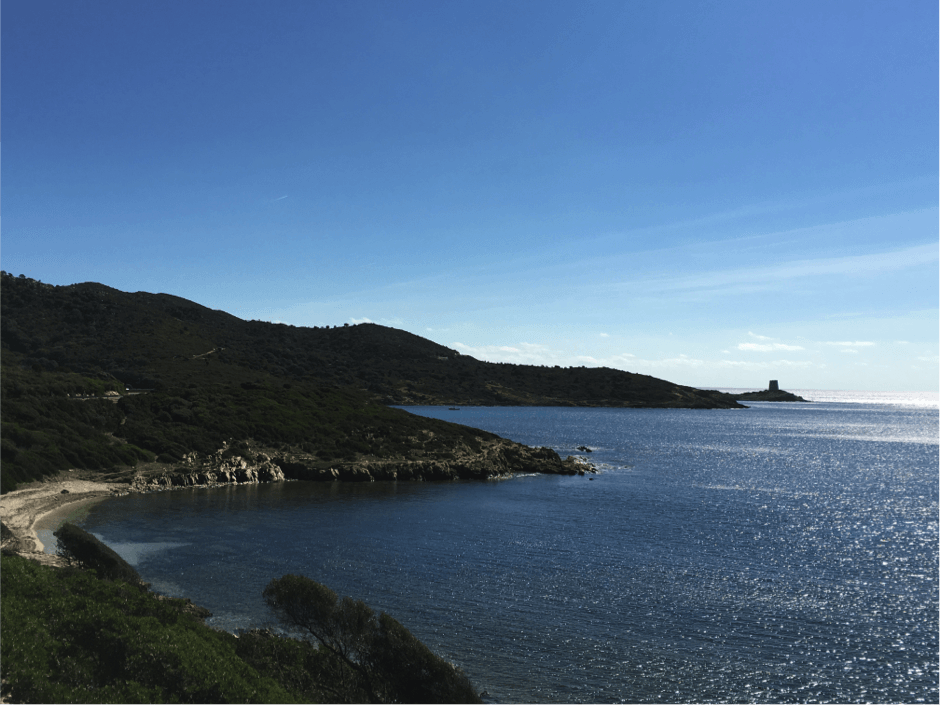 Of course each gentle climb was followed by a gently winding descent to enjoy and recover before starting over again with another climb.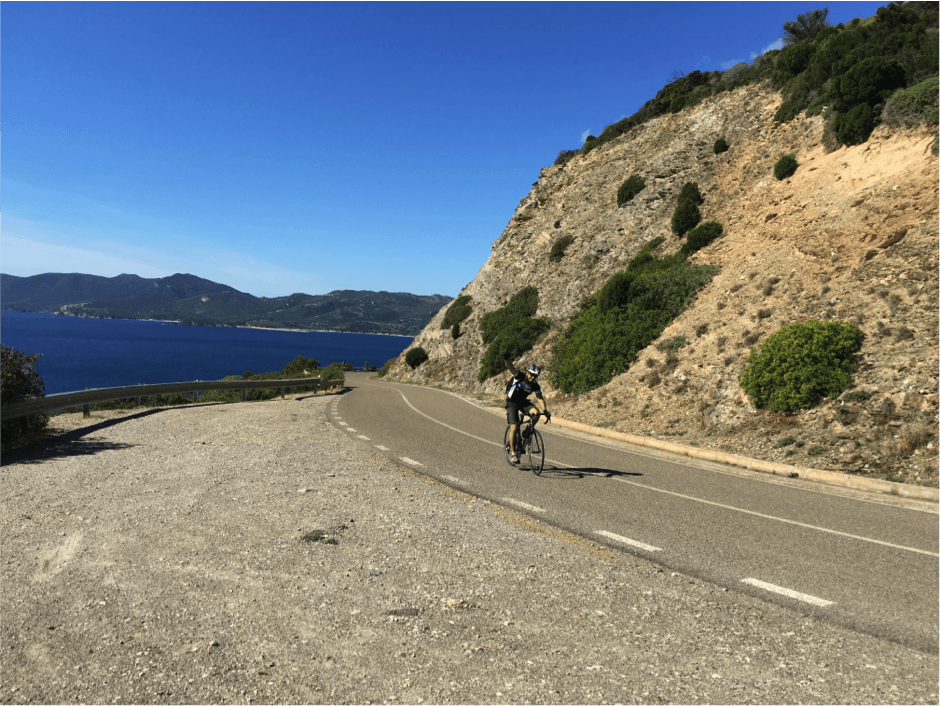 All too quickly we had regrouped and arrived at our lunch stop on the beach at Domus de Maria. Several of us took the opportunity for a refreshing swim in the surprisingly warm Mediterranean Sea while our guides added the finishing touches to our picnic lunch.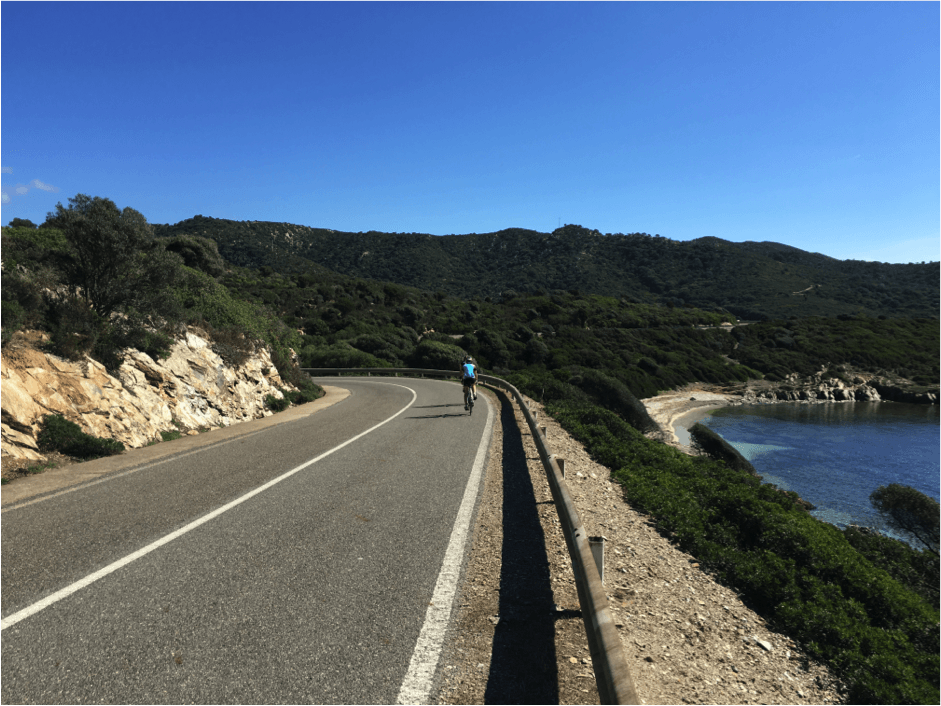 Lunch lived up to skedaddle standards with several salads as well as tuna, cheese, ham, bread washed down with fruit juice and followed by pastries. We stayed a while chatting and sharing memories of our trip, before leaving together for the last 10k ride to Pula.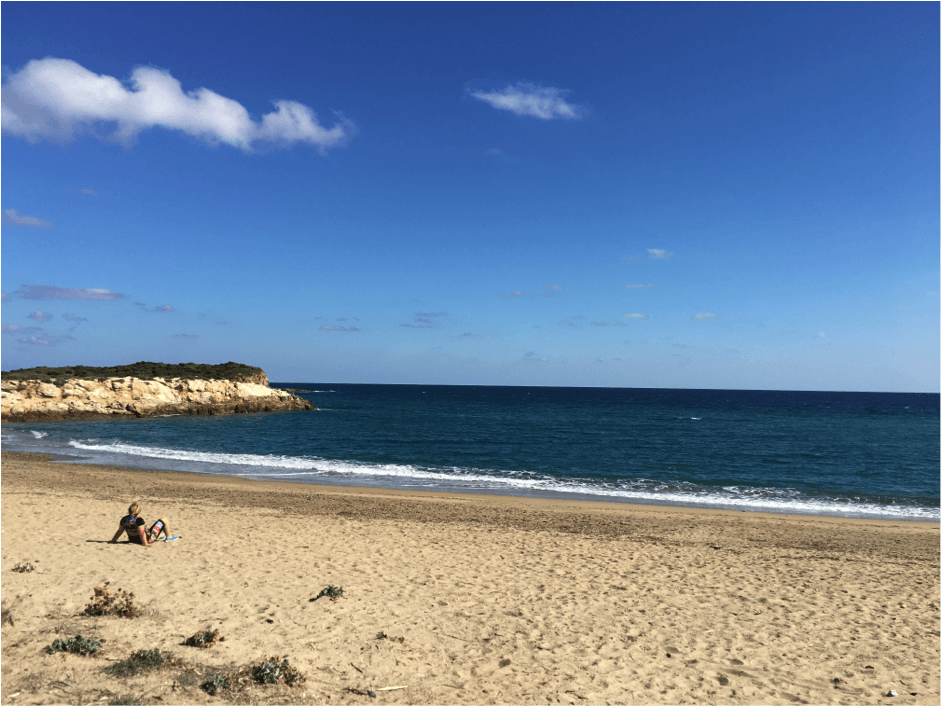 The road was long and straight and groups of us cycled together taking it in turns to provide protection from the headwind making a quick and fun end to the ride. Before long we were in Pula with the van marking the location of our hotel and the end of a great week of cycling. We had time for shopping and a last coffee or gelato before meeting for our farewell meal and an opportunity to thank our guides for a marvelous week. Local food was eaten, local wine was drunk and email addresses exchanged with our new cycling family before we headed to bed to prepare for the trip home the following day. Grazie Skedaddle, our fellow cyclists, guides and Sardinia for a wonderful week of cycling, food and wine, warm weather, great scenery and great company and friendship. Now to plan our next trip…