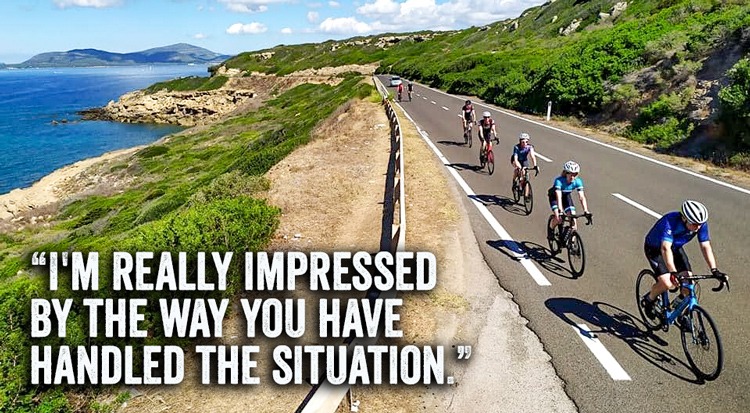 Trust has never been more important. At Skedaddle, we also know there's no better way to get a feel for how we work, than by hearing thoughts from someone who has experienced us firsthand.
So, we wanted to share the feedback we've recently received from our extended community. That's everyone from the customers booked with us whose cycling holidays we sadly had to cancel, to those we managed to safely get away.
Cycling with Confidence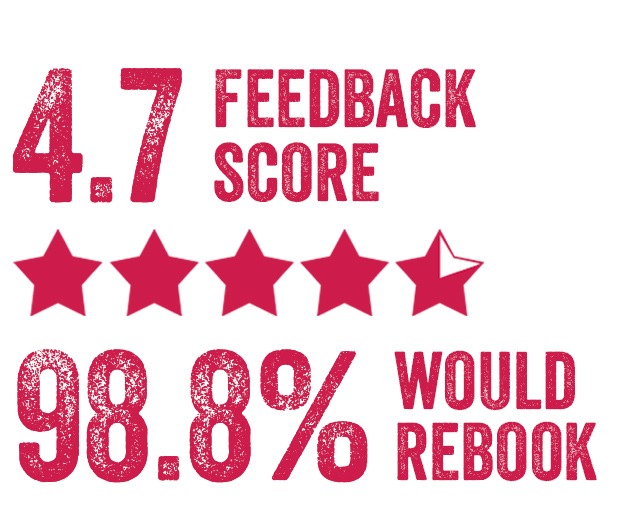 Having utilised over 25 years of experience, our team of experts worked tirelessly to adapt Skedaddle's safety protocols and flexible booking conditions. All this hard work meant that we could announce that a number of both self-guided and guided holidays were once again able to run in both the UK and parts of Europe in 2020/2021.
Since then, we've helped tons of you to get away for fun on two wheels.  With an average feedback score of 4.7 out of 5, and 98.8% of travellers saying they'd rebook with us again we were able to deliver the great Skedaddle experience we know you love.
But don't take our word for it, here's what you thought…
We have used various companies to manage our rides over the years and Skedaddle gets cycling and cyclists in a way no one else seems to. Our guides were all brilliant, it clearly mattered to them that we had a good experience. Please pass on my thanks. All days were all great! The climb up Bealach na Bà will live long in the memory. – Paul on Tour d'Ecosse, Scotland, UK
---
I really didn't know what to expect this time around and thought that current health conditions would really tarnish the trip. However, apart from the mask-wearing and a few extra precautions, I think the local guides, Naomi and Antonio, did a fantastic job to ensure the trip went ahead as seamlessly as possible. Well done! –Jane on Giro della Toscana, Italy
---
The Skedaddle service was very necessary during Covid times, and well worth the expense given the time it must have taken. – Rachel on Way of the Roses, UK
---
I wouldn't normally choose a holiday in the UK. But due to Covid, the UK was the only option and the NC500 (or variation thereof) was something I've wanted to do for a long time. I wasn't disappointed as I really enjoyed the holiday. Each day was great with superb scenery and challenging terrain. As ever the tour leader and guides were really professional and great company. – Mark on Tour d'Ecosse, Scotland, UK
---
Cycling is a great antidote to the COVID restrictions in our daily lives, the sense of freedom is great, and whilst out on the bike all is as if normal. – Jonathan on Coast and Castles, UK

The last 18 months have been very difficult for everyone. Our holiday was held over from 2020. Saddle Skedaddle could not have been more helpful, always going the extra mile. They were always very prompt in answering calls and emails, nothing was ever too much trouble. They are a highly experienced and professional company and it is very obvious why. I wholeheartedly recommend them, you won't regret it. – Victor and Diane on Yorkshire Wolds, UK


Another lovely cycle tour with Saddle Skedaddle! There was clear information provided both pre-trip and on the first evening, about extra precautions. We were also empowered to speak out if you felt uncomfortable – which was a good bit of information. But in the event our group were very aware and I didn't need to do this! – Julia on Bourton-on-the-Water, Cotswolds, UK
---
The route selection was particularly impressive, enhanced by the local knowledge of the guides. Guides had excellent local knowledge and were very personable. I knew exactly what to expect and felt myself to be very well briefed. I thought the guides (and the accommodation) managed COVID regulations very well, taking them seriously and not just giving lip service. – Andre on Yorkshire Dales and Lake District, UK
---
I was impressed with the COVID information provided at the beginning of the trip and the constant real-time updates along the way to ensure we did not inadvertently break rules in local areas. I was also impressed by the respect and concern of the team leaders to ensure we were at all times behaving appropriately, constant reminders were much appreciated. – Karen on Land's End to John O'Groats, UK
---
Really good short cycling break. Beautiful countryside, interesting history, cycling just enough to make you feel exercised but not exhausted. I found all the hotels/ B and Bs well set up. I felt very safe. The transfers were excellent also. The sites we visited were easy to book and it didn't matter when we turned up late as they were quiet anyway. All in all, it didn't really impact on us. –Sue on Hadrian's Cycleway, UK 
---
Clearly, there's a lot of experience in the business and that means that all aspects of the trip are thought through and promises delivered on. – Alan on Land's End to John O'Groats, UK
---
The local protocols in place in Sardinia were exceptionally good. I felt safer there than I do in the UK! Bike contact points and luggage were sprayed each day. The use of hand sanitiser and masks in hotels, bars, restaurants, and shops was adhered to rigidly, and I felt very safe with the group (who were all sensible), the guides, and the locals we interacted with. I would have no problem travelling again like this. Pre-trip information was also frequent, and clear. – Ian on Sardinia, Italy
---
I was so impressed with the organisation of the trip in what must have been extremely challenging circumstances for both the guides and those in the office or WFH. I felt that everything possible was done to make both the group, the accommodation providers and restaurants/pubs/cafes we visited feel safe. – Sarah on Land's End to John O'Groats, UK
---
More soundbites that made us smile… 
I just wanted to say thank you to Saddle for all the messages and updates you are sending during these strange and challenging times. Not all travel companies are keeping in touch with customers and friends, let alone sending thoughtful, inspiring, entertaining and interesting updates. –Jill

Many thanks for sorting out my revised booking for Lochs and Glens 2021. I've been very impressed with how Skedaddle have handled all the bookings during these difficult times. The continually updated advice has been very helpful. Many other travel companies have not been so helpful. – Malcolm

I'm really impressed by the way you have handled the Covid situation at Skedaddle – in contrast to some other travel operators I won't mention. I'm so sorry it's been such a bad time for you and your industry and rest assured that, when we are in a position to travel again, Skedaddle will be at the very top of our list of ethical operators. – Jean

It was great to get away, explore a beautiful part of our country and enjoy some downtime during this crazy time. – Linsey
---
We can't wait to welcome you back 
We've been so humbled by all your kind, caring words this year – they really do mean the world to us!  Having successfully run several tours in 2020 and 2021, we cannot wait to see more of you getting back on the bikes with us in the future. To discover more about how we have adapted our tours safety protocols and find out more about our flexible booking conditions, go here. Until next time, stay safe and keep pedallin'!