France - St Malo to Nice Explorer (20 days) - Guided Road Cycling Holiday
Trips to book before it's too late. For all other dates check-out the Departure Dates menu below
BOOK NOW >
25 May to 13 June 2021 - Journey from Brittany to the Cote d'Azur on this wonderful road cycling holiday through France's hidden gems
Holiday Highlights
Cycling along the Brittany coast with views out to the Abbey of Mont St-Michel

Travelling under your own power all the way from the Channel to the Mediterranean

Meandering along the Loire, Dordogne and Rhône rivers

Riding through vineyards of Chateauneuf-du-pape

Riding through the lavender fields of Provence and winding your way through the Verdon Gorge

Descending to Nice to ride along the Promenade des Anglais
View Holiday Schedule
Day
Description
Distance
Ascent
Meals
1
Arrival: St Malo
Non Riding Day
2
St Malo to Chateaubourg
73 Miles / 117 Kms Approx.
675 Metres Approx.
B L
3
Chateaubourg to Avrillé
69 Miles / 111 Kms Approx.
764 Metres Approx.
B L
4
Avrille to Fontevreaud L'Abbaye
66 Miles / 107 Kms Approx.
750 Metres Approx.
B L
5
Fontevreaud l'Abbaye to Parthenay
47 Miles / 77 Kms Approx.
450 Metres Approx.
B L
6
Parthenay to L'Isle Jourdain
64 Miles / 102 Kms Approx.
690 Metres Approx.
B L
7
L'Isle Jourdain to Brantome
73 Miles / 118 Kms Approx.
1,300 Metres Approx.
B L
8
Brantome to Sarlat
65 Miles / 104 Kms Approx.
1,250 Metres Approx.
B L
9
Rest Day
Optional loop rides available
B
10
Sarlat to Figeac
68 Miles / 110 Kms Approx.
1,200 Metres Approx.
B L
11
Figeac to Entraygues
35 Miles / 58 Kms Approx.
750 Metres Approx.
B L
12
Entraygues to Mende
75 Miles / 120 Kms Approx.
2,300 Metres Approx.
B L
13
Mende to Vallon Pont d'Arc
79 Miles / 127 Kms Approx.
1,940 Metres Approx.
B L
14
Vallon Pont d'Arc to Monteux
60 Miles / 96 Kms Approx.
1,200 Metres Approx.
B L
15
Monteux to Sault
31 Miles / 50 Kms Approx.
1,100 Metres Approx.
B L
16
Sault to Forcalquier
33 Miles / 53 Kms Approx.
660 Metres Approx.
B L
17
Forcalquier to Moustiers-Saint-Marie
40 Miles / 65 Kms Approx.
1,000 Metres Approx.
B L
18
Moustiers-Saint-Marie to Castellane
52 Miles / 83 Kms Approx.
1,750 Metres Approx.
B L
19
Castellane - Nice
57 Miles / 91 Kms Approx.
1,063 Metres Approx.
B L
20
Departure: Nice Airport
Non Riding Day
B
Meals: B = Breakfast L = Lunch D = Dinner | Please keep in mind the distances and ascent information provided are intended to be indicative and may vary from the actuals due to accommodation changes or when compared on different GPS devices and software
For more information download our trip notes
Holiday Information
Skedaddle have been running the St Malo to Nice trip since 2011 and it's proved to be incredibly popular. The only question that customers have raised with us is whether we could make it a little more relaxing by taking slightly longer to complete the distance. We've done exactly that. The same fantastic journey, but now with slightly lower distances each day to allow you to soak up the scenery along the way. Our journey through France takes us through the 'spiritual home of cycling'. The French love affair with the bike began in 1861 when Ernest Michaux and his son invented and manufactured the first pedal and crank; and soon the modern bicycle was born. Very rapidly, cycling caught on around the country, and indeed, the rest of the world.
Skedaddle's "Channel to Med" odyssey takes us from Brittany's St Malo shoreline and doesn't stop until we reach the glamour and warm Mediterranean waters of Nice on the French Riviera. Our journey of more than 950 miles takes us through 19 of France's regional départements as we ride in some of the country's most striking and dramatic landscapes, discovering the true heart of rural France. Passing through a patchwork of subtle and striking changes in terrain and landscape this is a route of two distinct halves. We begin by hugging the Brittany coastline, momentarily flirting with Normandy and seeing the iconic Mont St Michel before heading south to the banks of France's longest river, the Loire. After crossing the wheat fields and grazing land of Poitou-Charentes, we reach the rolling hills of the Dordogne.
On leaving the Dordogne we turn a corner. The terrain changes as hills become ever more prominent, slowly giving way to mountainous terrain and steep sided valleys; there is also a change in climate and terroir. The route hugs the banks of the Lot River, picking a gentle route into the mountains and occasionally propelling us up its valley sides, before we reach its source and the northern edge of the wild and wooded Cévennes. The route then plunges down into the fruit and vineyard choked Ardèche département before following the famous gorge of the same name to the Rhône valley, and luckily for us a taste of the world-renowned wines of Châteauneuf-du-Pape. Crossing the Rhône announces our arrival in Provence. The towering shape of Mont Ventoux on the skyline, hot sun, lavender fields and blue-shuttered cafés, combine to make you feel as if you are in a separate country entirely. After an exhilarating descent to the Mediterranean coast we cruise along the Promenade des Anglais for a celebratory dip in the Med.
This is the more leisurely 20 day itinerary with a rest day included. For those looking for a slightly more challenging road cycling holiday then check out our Classic 15 day St Malo to Nice itinerary.
For more information download our trip notes
Holiday Feedback
A great experience...

An excellent holiday – what a great experience. There were too many good days to only select one, and our tour leader (Alex) was very kind, patient and knowledgeable and we'd love to ride with Alex again sometime. The other guides were excellent too, Luc was a great tour guide for the group. He provided just enough background on the culture of the area and what we could expect to see. He was also a very patient and kind leader and he had a great sense of humour and we appreciated his French translations and background.

Jocelyn, USA

A challenging but wonderful trip...

Every day was hard but wonderful. The shorter days were better for me- less challenging. But I was amazed at what I was able to do. I can't tell the number of times I was tearful with joy at mile after mile of meadow, beautiful villages- our guide Luc loved exploring villages and I loved this.


Tour leader was excellent – from the very first day I felt I had known Alex forever. I loved his gentle focused manner. I found him extremely reassuring and he was very helpful to me, personally giving me lots of tips about how to ride which made my journey easier. I felt he really took trouble over me. I felt very safe with him as tour leader, but also his love for France and the specific places that we were really increased my enjoyment and appreciation.


I enjoyed the pride that Luc took in finding us special French local treats -special care was definitely taken. He was smart, focused, funny, really committed to the group, knew his stuff. A great asset.


Leslie, Ireland

The only cycling tour company I would ever consider...

I have had yet another very memorable experience on my bike with the two guides and the group of fellow cyclists. Every day was well set out with the support there if or when needed.


The professional service was again excellent as expected for my second trip with Saddle Skedaddle. All the pre-trip support, advice and prompt responses to my queries certainly ensured my experience from door to door was without issue.


I absolutely loved every single day!! Special mention is the rides through the gorges. What spectacular scenery. The guides ensured we were informed of the special features and cultural information of each region we passed through which heightened my overall knowledge and experience along the journey.


The tour leader Alex guided us with a calm and caring manner. He listened and addressed any queries as well as ensuring my needs were important. Very professional in all aspects of the role. As I was often the last rider in each day, I was confident the either guide would be there to the end of the day! The guide Luc was also very professional in all aspects of his role. In addition, he shared with us knowledge about the cultural and gastronomic differences as we progressed through the regions.


As this was my second experience with Saddle Skedaddle my expectations were fulfilled regarding excellent value for money. All arrangements were taken care of each day enabling me to focus on the cycling and scenery and Skedaddle are the only cycling tour company I would ever consider for outside NZ.

Jenny, New Zealand

I HEART Skedaddle...

The refreshments were very good, and with Luc being French, he in particular was very knowledgeable. For instance, he picked blackberries one day and made his beloved Grandmother's dessert. He was stellar.


There was so much beauty and dramatic scenery and quiet loveliness. I loved the Pont D'Arc, swimming in the river, and everything after day five when it stopped raining. But that bit of bad weather was important because the rest of the trip was perfect, and you need some gloomy weather to fully appreciate good fortune.


Both guides were so patient and stellar and the rest of us marveled at them, and Alex in particular exuded calmness and expertise and also happiness.


I wish Skedaddle was everywhere in the universe. It has struck the right balance in my view of serious riding, support, and comfort. I HEART Skedaddle!

Jane, USA

Best organised tour I've been on by light years...

Given where I am as a rider and otherwise, this was the best of the several organised bike tours I've been on by light years, and I'm now looking at doing other tours with Skedaddle.

Jay, USA

Simply the best holiday I have experienced!

This was simply the best holiday I have experienced. It exceeded my expectations in all respects. I went simply expecting a good cycling holiday and returned having had one of the best experiences of my life.


On first meeting Jayne (guide) it was clear that her outgoing and friendly personality perfectly suited her roll! Form the first to last day Jayne could not have worked harder to ensure everyone's holiday needs were met at all times. Her energy seems endless and I must say that her hard work, attention to detail and commitment to provide the highest of standards in everything she does contributed enormously in making this an absolutely brilliant holiday.


Les (guide) worked tirelessly to ensure we were all well cared for during the journey happily went out of his way to help in making our life easier I had a mechanical breakdown on my bike (my own bike, not hired) part way through the trip and I needed a new rear wheel. Les sorted this for me and arranged to get it repaired straight away and I was then able to rejoin the group within a very short time. Les was always a pleasure to ride with and he was happy to provide guidance on cycling matters, both in mechanical terms and in riding skills when asked.


The service from the Saddle Skedaddle team, and Jacky in particular, was superb. I was well informed at every stage of the booking process and all my queries were answered quickly. I had a few issues when shipping my bike (my fault, not Saddle Skedaddle) and Jacky allayed my worries and concerns.


I will, for sure, be booking another holiday with yourselves. I can think of no better way of travelling through and experiencing the life within a country than on this type of holiday.

Mark, Somerset

A magical cycle through France with an excellent group of play mates and guides!

The accommodation was absolutely amazing. Exceeded expectations I couldn't have imagined. Can't fault anything except for the fact that I now feel like I live a peasant's life by comparison to the life I led on tour…


I am so thankful for this opportunity. One of THE best trips I've ever been on and I've been on, well, just a few! Can't fault a thing.


What an absolute cracker of a tour leader! John was such a fun/positive/go embrace life kinda guy. He was always smiling, laughing and exhibiting energy – either on the bike, driving the van around the cols or making the lunches. Nothing was of a problem for him to be asked or fixed.

Megan, Australia

Excellent

Too many to name favourite days to count! So many awesome views. All so different. My highlight was to reach the top of Mont Ventoux.


Our guides Tom and John were wonderful. Kept us all in order. and explained everything clearly every day. they laughed with us which made the trip so much more fun. Lunches you could not fault. Both the guys could put on a fabulous spread.

Lois, Australia

We loved it and I miss this holiday so much!

There are barely any words to describe these holidays. This was just one of the best holidays ever – I would never have imagined I'd travel through a country cycling. It's been almost three years since I met my boyfriend and he was the person guilty of opening me up to this amazing cycling world, and now we spend our holidays together doing what we love.


We were amazed by our tour guides: Phil Barstow, Tom Mutton and Yvan Bonin – definitely I'd love to have another trip with them. So professional, super attentive and efficient with everything! We loved to have lots of free day dinners with them as well… these guys are so incredible and we would give them 200% of the bonus – we really want these guys on future holidays!! Our tour leader was amazingly professional, experienced, organized, a natural leader, always caring of the group and handling everything easily. The other guides were exceptional and as Phil, Tom and Yvan were great guides, natural leaders and were always friendly and ready for a very nice conversation. They brought the group together. I miss these guys, they were amazing! As I mentioned before, I'd definitely love to have another trip with them. All hotels were great. Our guides took care of us: super delicious lunches, always using local products, varing from regional goodies, a true french experience.


I had a dream to cycle through lavender fields so the day through Valensole was special, but the cycling to Saumir through the Loire was incredible too. The gorge climbs were breathtaking in all ways, so in the end there seems no favorite at all! All were perfect and special. Even the rainy and cold days had their special moments: comfy food, Tom lending all his clothes to the group to make sure we'd be warm enough which was very kind and great from him! I would for sure go on another holiday. We loved it and I miss this holiday so much! You are great!

Thamys, Sao Paulo

As seen in the press...

France is the spiritual home of cycling and what better way to explore it than on your own Tour de France. This 1,000-mile journey takes you from the Channel to the sunny Mediterranean. Choose to complete this challenge in 13, 16 or 21 days.

The Telegraph (June 2016)

What a great ride!

The route just kept getting better and better, more and more picturesque, from classic rivers to stunning gorges. Favourite day? Probably the Gorge de la Nesque, or may be the Gorge du Verdon, though the climb to Mont Ventoux (rest day?) was legendary.


our tour leader was cool and calm, clearly experienced, and always concerned and helpful to anyone with a problem to sort (and there were a few). Knew the route backwards, not just from a cyclist's point of view but with deference to the food, the culture and history of the regions we passed through. And he should publish a book on his repertoire of salads for picnics.

Matthew, Isle of Wight

Excellent...

I hate uphills! Having said that, all my favourite days involved long uphills that provided the most stunning views, roads, (companionship) etc. The last week was therefore superb. Favourite day – difficult to say – cycling out the Ardeche was outstanding, the lavender uphills were amazing, Verdon was great ….


What outstanding people the guides were. Both were always cheerful, took the hiccups in their stride, and got on with the day. Meals were outstanding, technical support was great – both went out of their way to get to know individual group members etc etc. All in all I'd hire them tomorrow!

Richard, Switzerland

This is an expensive holiday, but I thought it was worthwhile

Both guides managed to combine multiple necessary skills: patience, humour, intelligence, technical knowledge, social skills, AND endurance and stamina. How do you find such people!


Rick, Cambridge

So organised...

Once again Saddle Skeddadle came up with the goods – does what it says on the tin. As a blind cyclists, without them and my front rider (the amazing Robin) this trip with never happen for me.

Keith, Nottinghamshire

Superb service as always...

Having enjoyed the LeJOG in 2010 I knew I would want to do another end to end trip and this one I had looked forward to from the minute I booked ( beside myself excitement I think I said ) and it certainly lived up to expectations. I had a thoroughly enjoyable three weeks, well looked after by John and Hannah, cycling was fantastic and thankfully I didn't have to hitch a lift in the van or walk with my bike ( thanks to Hannah for talking me up that rather steep section! ). Already looking forward to another long trip with you – Spain 2016 with some of the same people who did the LeJOG and this one.


Picnic lunches for me were the best meal of the day, such variety , well presented and plenty of it for all. John and Hannah ( plus Chris for first few days ) have the patience of saints. Nothing ever seemed too much trouble for them, they worked tirelessly the entire time and made it all looked so effortless. We were all extremely well looked after and made sure all our needs were met. They are so encouraging and are always looking out for ways of tweaking the trip and looking for alternative routes to avoid the busy roads. It was good to have a female guide too.

Kath, Cheshire

John and hannah are superb..

Skedaddle are the leading UK worldwide cycle tour company, awesome guides and great routes. Quality guaranteed.

Chris, Edinburgh

The trip was very special...

John & Hannah were fantastic, managing our expectations and getting the best out of those of us that needed encouragement, allowing us all to get the maximum out of the experience. They are both big part of what makes this trip what it is and are a credit to Skedaddle.

Steve, Wiltshire
All email marketing communications from Skedaddle will come with the option to unsubscribe and you can also manage your subscription preferences by logging in to the My Account area of our website.
Give us a call on:
+44 (0)191 2651110
Drop us an email on:
Holiday Summary
Duration:

20 days

Prices From:

£4,115

Estimated flight price:

£250
Optional
Bike Hire:

£430
£1,015

Single Room:

£1,015
Holiday Details
Place to place

19 nights hotel accommodation

17 days riding

Breakfast and 17 lunches

Guided and vehicle support

Group airport and ferry transfers

Luggage transfers

GPS device inc pre-loaded routes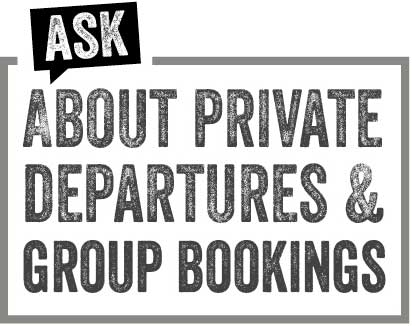 You may also like...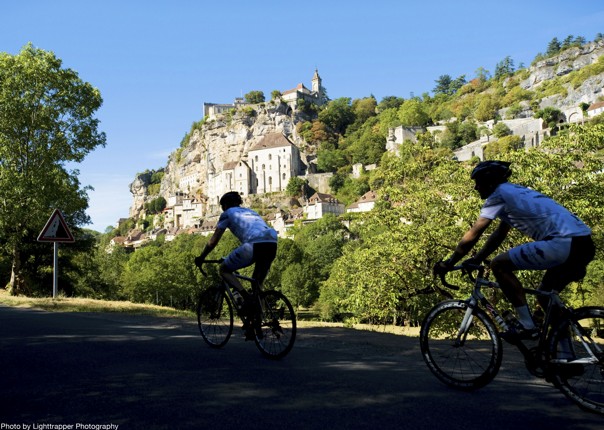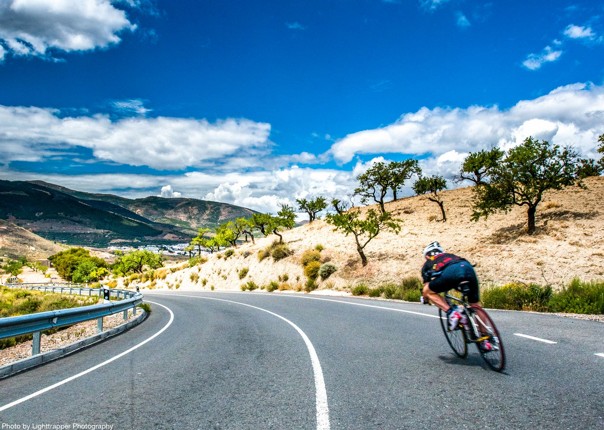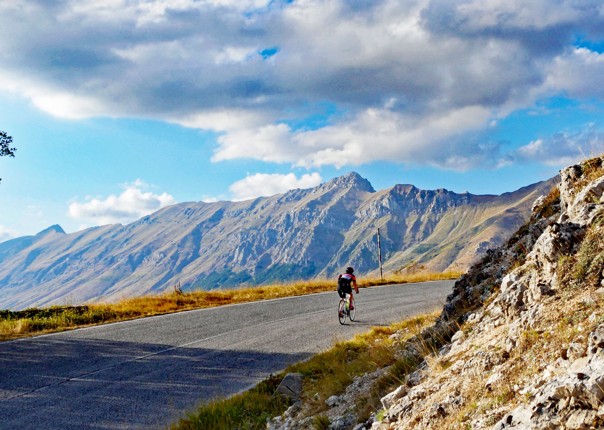 Skedaddle News, Views and Holiday Stories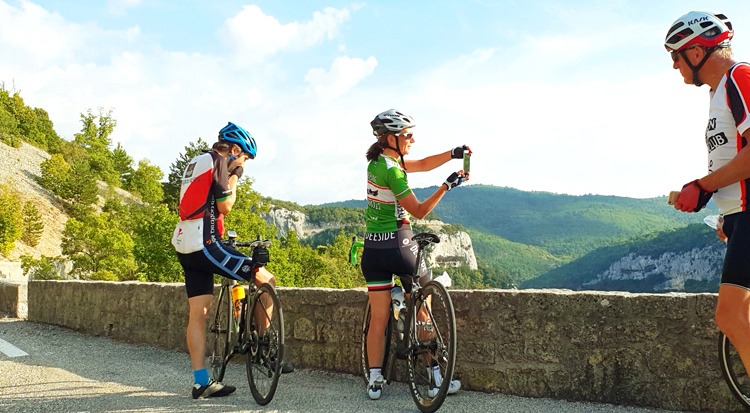 The post Customer Story: We'll get you to Nice! appeared first on Skedaddle Blog.
Last Updated: 08/01/2019