Cycling Holidays in Alnmouth
Our centre-based cycling holidays in Alnmouth are a relaxing way to explore the extraordinary beauty of the Northumberland Coast. This short break offers fantastic cycling opportunities and plenty of beach exploring too! Choose to join a group or cycle at your own pace on a self-guided route.
Found holidays Nicknamed "the Secret Kingdom" due its sparse population and hidden wonders, Northumberland is a county of untamed open landscapes and rugged seascapes, dotted with castles and home to an abundance of wildlife. This fantastic cycling holiday will be based out of Nether Grange, HF's Country House located in the wonderful seaside location of Alnmouth; remote enough to retain its quaint, picturesque character, but also easily accessible by transport. Over the course of the rides, we'll follow sections of the Coast and Castl...
Read More >>
Skedaddle News, Views and Holiday Stories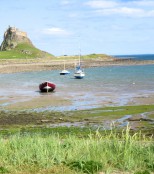 Taking in the view at historic Holy Island… We've been raving about the Northumberland Coast for years, which comes complete with dramatic castles and some of the finest beaches in the land.  Cyclist Vicki Tyler Jones recently took on our…
The post Customer Story: A Coastal Retreat in Northumberland appeared first on Skedaddle Blog.
Last Updated: 07/05/2017