Morocco - Road Atlas - Guided Road Cycling Holiday
Holiday Highlights
The High Atlas mountain range

The extraordinary view from the top of the towering 'Test Pass'

Exploring the surreal blue rocks of Tafraoute

The incredible 100km ride from Tafraoute towards the coast

Enjoying a cold beer on one of Morocco's finest terraces at Immouzer

The sights, smells and sounds of the Marrakech souk

Starting and finishing in this years 'Capital of Culture' Marrakech
View Holiday Schedule
Day
Description
Distance
Ascent
Meals
1
Arrival: Marrakech Airport
Non Riding Day
2
Marrakech to Imlil
23 Miles / 37 Kms Approx.
1,050 Metres Approx.
B L D
3
Imlil to Ijoukak
41 Miles / 65 Kms Approx.
650 Metres Approx.
B L D
4
Ijoukak to Ouled Berhil
50 Miles / 80 Kms Approx.
1,175 Metres Approx.
B L D
5
Ouled Berhil to Tafraout
58 Miles / 93 Kms Approx.
1,750 Metres Approx.
B L D
6
Rest day: Tafraout
Non Riding Day
Optional Rides Available
B L D
7
Tafraout to Agadir
62 Miles / 99 Kms Approx.
1,130 Metres Approx.
B L
8
Agadir to Immouzer
32 Miles / 51 Kms Approx.
1,700 Metres Approx.
B L D
9
Immouzer to Marrakech
24 Miles / 39 Kms Approx.
750 Metres Approx.
B L
10
Departure: Marrakech Airport
Non Riding Day
B
Meals: B = Breakfast L = Lunch D = Dinner | Please keep in mind the distances and ascent information provided are intended to be indicative and may vary from the actuals due to accommodation changes or when compared on different GPS devices and software
For more information download our trip notes
Holiday Information
A superb
road cycling holiday in Morocco
. With its roots in Africa, but charged with eastern exoticism, Morocco represents an incredible and truly different destination. Morocco is a vast wilderness of towering mountains and desolate desert where rural life has hardly changed in hundreds of years.
With an ever expanding network of quiet roads throughout the Atlas Mountains there has never been a better time for road cyclists to visit and experience this incredible Morocco cycling tour. Starting and finishing in the capital of the Moroccan south, Marrakech, this 10 day tour takes us across the High Atlas Mountains in the shadow of snow-capped peaks, before crossing the Souss Valley and climbing into the Anti-Atlas.
After a night in the resort town of Agadir we finish on quiet country lanes around the mountain village of Immouzer, before transferring by minibus back to Marrakech for a final night in 'The Red City'. Covering an average of 70-90km per day, our Road Atlas tour takes a challenging route over a mountainous landscape and offers riders challenging climbs and exciting descents on traffic-free roads.
En route we use a variety of styles of accommodation, from tourist class hotels to charming guesthouses and basic rural gîtes, with plenty of opportunities to sample Morocco's world famous cuisine.
During your trip almost all meals are included and lunches are usually taken picnic style in beautiful and remote locations.
For more information download our trip notes
Holiday Feedback
Thank you!

We were always well provided with snacks and lunch was always very generous (and top quality)! Day 4 was my favourite – an interesting mosque visit followed by a long but steady climb, then a superb long descent. Hotel was the best of the trip, lovely gardens, a lounge by the pool, and dinner in an amazing room. I even tolerated the very noisy chickens! Tour leader was excellent so thank you – I learned a lot about Moroccan history and culture, and it was all done in a relaxed manner.

Paul, Kent, UK

It was one of the best holidays we've had.

I thought the information about the holiday was excellent and we knew what to expect in terms of accommodation, meals etc. Our guide was great and tendered to our every request, and he was very knowledgeable about the area, local customs etc. The transport provided and the support vehicle were both excellent – particularly the support vehicle from which were produced our picnic lunches which were great.We thought this was a great holiday and a fantastic way to explore a country we hadn't been to before. The support team were excellent and the welcome we got from the places we visited was very good. It was one of the best holidays we've had.

Hamish, Stirlingshire

A really sensational descent.

Our tour leader was a great guide who kept us informed of what was happening at all times. He was very informative on the routes and the plan for the day. He also has a fun and good natured personality. He was also very good with local knowledge and historical information about the area and the country. I learnt a lot from listening to him. The support crew were absolutely fabulous. Our mechanic was super at fixing problems quickly and efficiently. The drivers were excellent and the cook whipped up the most delicious Moroccan lunches. The six of them were amazing. In fact, I've done a few Skedaddle trips and this crew far out shone the rest even though the others were all very good too. My point of contact in the office was excellent in every way, as usual! My favourite day was day – 4 Ijoukak to Ouled Berhil. It had a lovely winding climb with fabulous scenery, followed by a really sensational descent.

Stephanie, France

The best descent I have ever done.

My favourite day was day four which was the longest day on the ride and was challenging and very beautiful. The descent at the end was probably the best I have ever done.

Will, Hertfordshire

Special riding...

I thought Skedaddle lunches were great – these lunches were a level beyond. Wow. And all that amazing food from one yellow van! The 3rd and 4th days going through the mountain passes were amazing. Riding was special. I think the trip was really well thought out. Hard to imagine improving any of the days. Adbel was ace. Professional, knowledgeable, always in control. His team had everything covered!

Russell, New York, USA

Really great Holiday

Favourite Day? Ijoukak to Taradount ver Tizin Test was brilliant, as was Taroudent to Tafraout, as was basically all of it. Best riding I have ever done – super hills, amazing scenery! If Carlsberg did tour guides they would do Saaid – he was superb in every way. 10 / 10. Really great holiday – thank you.

Huw, Cheshire

The cycling was absolutely wonderful

The tour took us through a fantastic range of mesmerisingly beautiful climbs, descents and open space. The distance and difficulty were lung-expanding and very rewarding. Saaid was wonderful – he made sure everyone was having a whale of a time, and was well looked after both in the saddle and out of it. He went the extra mile in encouraging me with the cycling and with helping me arrange some post-cycling trips for my last few days in Morocco – he's the perfect charm! I found myself at the back of the bunch most days and the mechanic, Simou (Simon?), rode with me the entire way, he consistently helped me to get up mountains I wouldn't have been able to otherwise! Fantastic guy – he made the whole thing extremely enjoyable. Omar, Mohammed and Ibrahim were fabulous throughout and made tough riding extremely enjoyable and rewarding – with food, wisdom and humour!

April, Manchester

The routes were superb

Saaid was fabulous. Super organised but relaxed, he ensured everything went really well. He kept us well briefed on what to expect, what to wear etc and was super cheerful and entertaining at all times. A lovely guy and perfect tour leader. Lunch by Omar was always fab! Favourite day – Tizi n Test pass and the following day for the great ascents and descents.

Julia, London

Far exceeded my expectations!

Tour Leader Sayeed and team were excellent. He had a difficult job because of the mixed ability of the group, and he coped really well. Omar made some amazing lunches! Favourite day was probably the ride to Tarafruaote, but the descent on the last day was brilliant!

Chris, Leicestershire

Every day had something special

If I had to choose my favourite day I'd say Day 5 – a lovely long ride in the Anti Atlas. So beautiful, very varied views, good climbing and the reward of a great descent. Our Tour Leader Saaid was superb. He was evidently watching everything and everyone to make sure the trip ran smoothly. The communication between him and his team was evident and ensured an excellent holiday during which we could be sure everything was in hand and well planned. He is knowledgeable about his country and willingly fielded all questions on just about anything. His evening session on Moroccan recent history was really informative and provided good cultural, geographical and political context. Everything was seamless and I'd definitely recommend a Skedaddle holiday – one of the group came along on my recommendation.

Sian, Oxfordshire

Excellent...

Omar was an alchemist! How he managed to create such dishes for lunch was staggering.

Colin, Northumberland

Trip of a Lifetime!

Back in one piece, please no more chicken Tagine! Missing a cheeky UP and a Moroccan FLAT! Awesome trip loved climbing for 30km into the Atlas Mountains well worth the sweat to see three rare Barbary sheep in a reserve at the top. Great group, superb guides, mechanic, chef and drivers. Lots to digest and remember for ever…a trip of a lifetime. Thank you and the Skedaddle team. Forever grateful. Lizzie x

Lizzie Higgs, UK

Thanks for the great tour...

I just wanted to drop you guys a quick note to thank you for the great tour in Morocco. Susan and I had a wonderful time and the staff there was fabulous. We will always remember Saddle Skedaddle for future bike tours.


All the Best and a Happy Holiday Season.

Stewart and Susan G., Santa Monica, USA

The Moroccan Adventure poem...

The holiday has been truly great, without your guidance who would have known our fate?


From beginning to end the adventure had rolled, to people and places almost untold,


With as many ups (possible) as well as the downs, my body has discovered muscles unfound,


I wonder to the Medina and eat tagine, followed by ice-cream,


seeing all the dancing monkeys and snakes, to which the tourist scream,


But get lost I did not thanks to the map, that Charlie gave me at the hotel where I rest my hat,


From Marrakech to the mountain, the high, midi Atlas and more,


I discover I have a penchant, for a photo of a door,


Red ones, green ones, decorative, wood and steel, and from many the paint did peel, the cycling has been wonderfully momentous, challenging, flat and always adventurous,


And for most of our trip the Moroccan sundid shine, into our souls, our hearts and our minds,


With Hassam, Abdollar, Mohammad and Siad, always at our sides being out trusty steeds,


And there there is decathlon Dave, the demon descender, full of hints and tips to be the best ('North' Yorkshire Road Championee that is),


As I look through my photos more memories flood back, the blue rocks, the early mornings and fresh mountain air,


Over the many stunning vistas, I want to revisit to gaze and stare,


So with eight months to go until the Etape, I need to get many more base and hilly miles under my hat,


the hills of Morocco have inspired my mind, and helped me build the training plan I needed to find,


Now my time here has come to a close, where will the next pedals be … nobody knows.


Thanks to Charlie and his ever smiling team, even when the rain was pouring they made our trip a dream!!

Emma, London

Magnificent...

The ride from Tafraout through the most magnificent and changing scenery was definitely a favourite. Tour leader Abdel was beyond excellent. He was a superb leader. He told us absolutely everything we needed to know to the point where we hardly ever needed to ask a question… The minibus was great but the yellow van was something else. It seemed to be like Doctor Who's Tardis! What it held and what came out of it was amazing especially the food. Would not have thought it possible to create so much fantastic high quality food in the back of a van. The chefs were incredible.

John, Grimsby, UK

We are looking forward to our next Skedaddle trip...

Just to say how much we enjoyed the Morocco trip. It was really excellent and very well organised by Charlie and his team. A fantastic country and cycling in the mountains was a great chance to get to meet some inquisitive locals, and observe local Berber culture and lifestyle. We were looked after really well by the team. Thumbs up for always choosing stunning picnic spots. Really liked all the quirkyness of Morocco.

Anne & Ian, Lancashire

Excellent cycling...

The weather was excellent and it covered all cycling – up hill and a decent on a road which under the circumstances was not too bad and we could see the scenery which was fab!

Janet, East Yorkshire

An absolute blast!

It turned out to be one of the best trips I've ever been on. The logistics were well handled, the bike routes were varied, picturesque and challenging at times. The camaraderie was great and 'our man in Marrakech' aka Charlie was always at hand to sort out any issues that we encountered enroute.

Srikant, USA

Outstanding!!!

As always, an outstanding adventure, and this is my fourth holiday with Saddle Skedaddle. Abdul and his team were outstanding. Abdul was detail-oriented, thorough, prompt, positive, helpful, funny, personable, engaging, and informative about his country and all the different areas. The team impressed everyone consistently with their expertise with the bikes (Semo was terrific!), and our mobile chefs surprised us each day with yet another fantastic picnic lunch with salads, (some hot) meats, breads, pasta, rice, couscous, beans, fruits, fantastic tea and other delicacies. I particularly loved the cultural stops at the Argan Women's Cooperative, the Painted Rocks, and seeing the rug weaving. Outstanding additions to this adventure!


The accommodation was excellent – in my opinion, each place we stayed had a terrific reason to be there: comfort after a rough day, an incredible view (second to last night there), location to important places, or whatever. I loved it!


Loved riding through Paradis Valley, but I loved all the beastly climbs every day as well. Loved the day with the HUGE rollers down after the HUGE climb, too! Honestly, each day was a gift in itself for either a climb, a view, or a type of climb/descent. Bikes provided were excellent quality with great gearing for those mountains. Pre-holiday info was also excellent – Jacky is always helpful and full of detailed information. She is also very prompt and thorough in her response time. She was helpful in arranging to pick up me and my 2 friends on the trip from our hotel in the old part of town in order to meet the others on the first day. EXCELLENT information about the temperatures and clothing to bring, as well as the types of accommodations we'd have. If you take time to read the info you'll be ALL SET!


I always talk about Saddle Skedaddle and have already recommended Skedaddle to two of my friends who joined me on this adventure and I will continue to do so! In fact, I'll be presenting a talk on 'Bike Travel Adventures' at my local bike shop in a few weeks and will be talking ALL about you!! Overall absolutely good value for the money – outstanding!!

Allison, Wisconsin, USA

The trip was an amazing experience...

I loved my time in Morocco and would recommend it to an avid cyclist!


The routes were beautiful, the scenery was breath-taking and the entire Moroccan experience was terrific. Very happy I was part of this trip. Moroccan staff – Ishmail, Mohammed, Lisson and Omar were great – attentive, polite and hard-working. I would rate them excellent.

Jane, Canada

Simply the best holiday I have ever been on...

The local Moroccan people were so friendly and welcoming. Although it was challenging at times it was an AMAZING adventure, I was very sad when it ended. I am reborn!

Susan, UK

Excellent variety to the holiday...

Everyday was great, even on the rest day when we went down to the gorge and had a walk near the blue rocks.


Saaid provided an excellent service. He had the right mix of getting things done and shepherding us all in a really good humoured way. One of, if not the best tour guide we've ever had. All three guides were great, extremely patient, courteous and attentive.


Omar (the cook) served up some superb picnic lunches, don't know how he managed to do it simply out the back of a land rover!

Betty, Scotland

Enjoyable and organised...

This was one of the most enjoyable and organised cycling holidays I have been on. The routes were fantastic and the support team were excellent, by far the best crew I've experienced.


Impossible to understand how Omar could produce that quality of food out the back of a Land Rover!


The cycling was great fun and the views were just stunning.

Biljana, Sussex

It really was a fantastic holiday...

Saaid, our tour leader, was absolutely great! He was a very nice person and took great care of everyone. I think he gave above what was expected of him.


Everything was extremely well organised and all the people involved were great. I cannot speak to highly of it!

Martin, Sheffield

Superb routes, wonderful support crew and great attention to detail...

Our experience of 3 Skedaddle trips suggests the products are well designed and planned.


Saaid is a fantastic guide, well organised, extremely patient man who handled the group effectively. The support team were fantastic, it was very telling when I collected tips, the generosity of the group said it all!


Felt well informed about the trip in advance, and liked the interpersonal skills of everyone we were in contact with.

Nigel, Worcester

There is no bad day on this trip...

Saaid is a leader extraordinaire, who had a positive attitude 24/7! And Omar's lunches were incredible!


I would definitely recommend this trip to a friend!

Tasha, USA

Best holiday ever!!

Can't fault it…top guides, lovely food and riding was incredible!!

Matt, Wellington, NZ

I will definitely go with Skedaddle again...

Really enjoyed the holiday. It was my first time on a holiday of this type and it was exactly what I was hoping for. Good company, great food (especially the lunches), interesting accommodation, excellent guides, lovely blue skies, perfect cycling temperature and awesome mountains!


Saaid (our tour guide) was always cheerful and on hand if anything was needed. Khalid was the perfect guide to have at the back of the group. He was empathetic, supportive and approachable. It was a privilege to have been in his company.

Pat & Fred, Penzance

Great organisation from start to finish...

Saaid and the rest of the guides were very friendly and helpful, which made the whole experience even better. They went out of their way to make sure that we had everything that we needed throughout the trip.


All the food was superb, especially the lunches which had fantastic variety and flavour.

Margaret, Scotland
All email marketing communications from Skedaddle will come with the option to unsubscribe and you can also manage your subscription preferences by logging in to the My Account area of our website.
Give us a call on:
+44 (0)191 2651110
Drop us an email on:
Holiday Summary
Duration:

10 days

Prices From:

£1,295

Estimated flight price:

£175
Optional
Bike Hire:

£240
Holiday Details
Place to place

5 nights hotels

2 nights Moroccan guest houses

1 night gite

1 night mountain lodge

6.5 days riding

1.5 days rest days

Breakfast, lunch and 6 evening meals

Guided and vehicle support

Group airport transfers

Luggage transfers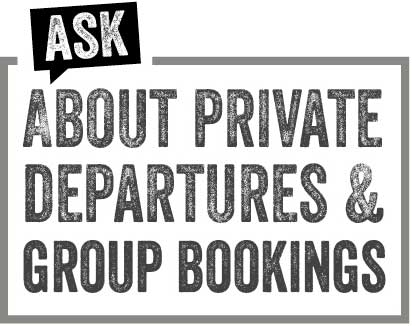 You may also like...