What is a cycling holiday?
A cycling holiday is a form of active travel when you spend some (or a big chunk, dependant on your preference) of your day on a bike.
When done right, cycling holidays are designed for you to truly discover your destination on two wheels. To be challenged, thrilled and exhilarated; as well as offering the chance to recharge and relax. It's a balancing act and it is our job to make sure you have the best time.
Our cycling holidays include 24/7 support, accommodation, luggage transfers and so much more – all there to make sure all you have to do is enjoy the pedallin'.
---
Why go on a cycling holiday?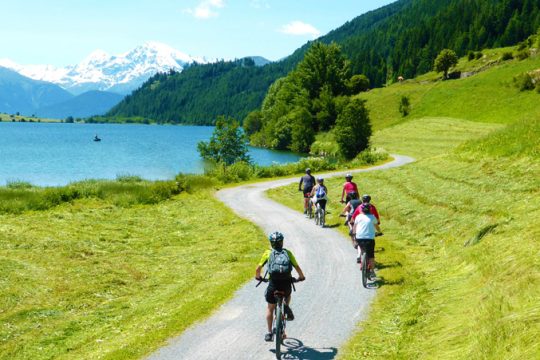 We believe in being outdoors and we have proven time and time again that exploring on two wheels is an amazing way to get to know the place up close and personal. But that's not it, there's so much more that makes a cycling holiday such an amazing experience. From breathing in fresh air to working up an appetite, here are a few more reasons why we love getting out on our bikes…
You will notice the little changes in scenery and culture as you truly discover the place.
Reaping all the health benefits of an active break.
Indulging in food, it's your fuel and it tastes even better after a ride.
Enjoy a simpler life on the road, take in all the new sights and sensations.
---
Not sure where to start? We have over 200 holidays in our range, but don't you worry – there's no reason to get overwhelmed! Our whole range is divided into cycling types and each includes rides for every fitness level and experience – all you have to do is find a ride that meets your riding dreams.
To make your decision easy, and help you plan your ultimate cycling holiday, here's a quick list of things to think about – from choosing your preferred type of cycling to your destination.
So, let's look closer at all the key things you will want to think about before heading out on two-wheels…
---
1. Choose your type of cycling…
Cycling comes in many flavours and there is nothing to say you can't pick and mix! There are so many different ways of enjoying riding your bike – it would be a shame to miss out on any of them. Whether you want some smooth tarmac under your wheels, quite country lanes or a flowing singletrack, here's a quick rundown of all types of cycling we categorise our holidays into…
---
2. Find your cycling grade: terrain, skill, fitness
Making sure you're on a trip of the right grade, will ensure the routes match your fitness and expectations, so you can make the most of the cycling opportunities on the day. But how do you know which one?
Our team of experts carefully grades every trip, and each category of cycling has its very own specific grading system that includes a variety of factors. We do this to make sure you can compare similar trips on a relevant scale. You can familiarise yourself with the description of each grade and see what feels right to you, and our friendly team is also always here to help if you have any questions. Each trip also includes a description of each day's riding to help you while you look for your perfect ride.
---
3. Go self-guided or join a group and our guides….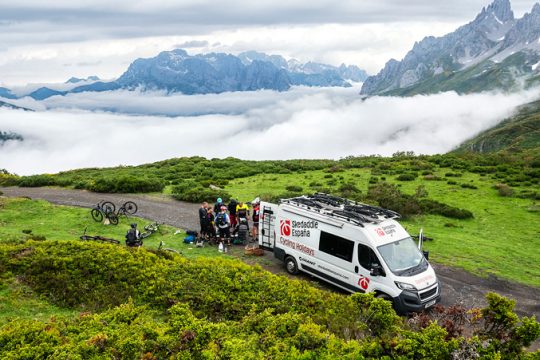 Now is the time to decide who you are going with! Of course, you can bring whoever you like with you, but with us you do have an option of choosing between self-guided or guided (and supported). If you choose to go guided or supported you will be accompanied by our lovely guides and a group of likeminded Skedaddlers.
In addition, our guided and supported trips come with a support vehicle that provide snacks, lunches, carries your luggage and can even be a place to rest if needed.
And if you decide to go self-guided, it will be you and your party, but don't worry – all the support is still there for you! After sending you off on your way with detailed route notes, maps and directions, we'll transfer your luggage (and souvenirs!) allowing you to go at your own pace.
---
4. Decide for how long you want to go away…
Whether it's a relaxing weekend away or something a little longer, there's something for everyone!
If you are short on time or want to give it a try first, our shorter trips in the UK are perfect for a thrilling break.
For that ultimate holiday feeling, we recommend going for a week or longer. Our holidays in Europe, further afield and longer trips in the UK – are all designed in a way that makes sure you have enough time to enjoy the place and unwind properly without a rush.
When heading long-haul, we prefer to go for a little bit longer to make sure you go all this distance to truly immerse yourself in the destination, and that's what our Cycling Adventures are all about!
And for an ultimate feeling of achievement, you can't go wrong with our Iconic Journeys that explore the entire length of a country – traversing the UK, France, Italy and Spain.
---
5. Destinations: where to go on a cycling holiday?
Now to probably the most exciting part! Where do you want to go?
Our hand-picked destinations and routes are all designed by our local experts who want to share the places they call home with you. Wherever you go, you will feel personally welcomed and encouraged to discover the place in the most authentic way.
Maybe you fancy the rolling hills of Tuscany, a volcano powered ride in Chile or vast and wild landscapes of Spain – with over 30 countries to choose from on five continents, you're spoiled for choice!
Discover our full range of destinations today! Here are just a few of our favourites to get you inspired…
---
6. Choose by theme or inspiration
Once you have shortlisted the type of cycling you prefer, you can choose by our Holiday Inspirations. Our team has carefully divided our range into collections of trips that have something in common (but often can be in different parts of the world!) to help you find exactly what you want.
Maybe you're looking to get a taste of Skedaddle and cycling holidays through one of our Gentle Pedallin' tours, are interested in conquering some of the most iconic Mountain Challenges, want to embark on a truly wild and epic Off-Road Journey, or are keen to escape for an exciting exotic adventure in one of the Classic Destinations – there's enough to excite anyone! Just head to the homepage of your cycling type and start exploring…
---
7. Have something special or different in mind?
We would love to hear about it!
Whether you're part of a cycling club, looking to raise money for charity or just a bunch of friends keen to spend some quality time together, we've got it covered. We can create a fully customised trip for you or adapt one of our classic itineraries.
Discover more about our Tailor Made cycling holidays on our website or just get in touch with your holiday ideas and we'll see how we can help.
---
You have found your perfect cycling holiday – what's next?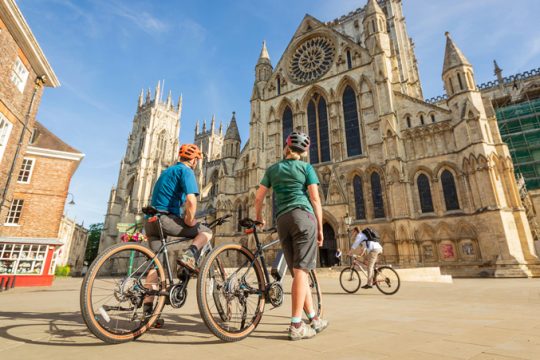 The wheels are in motion! Years of taking Skedaddlers away on their cycling adventures have taught us a thing or two. So, here's a quick guide to things we get asked the most about to get you all ready and excited for your trip…
---
Why Skedaddle…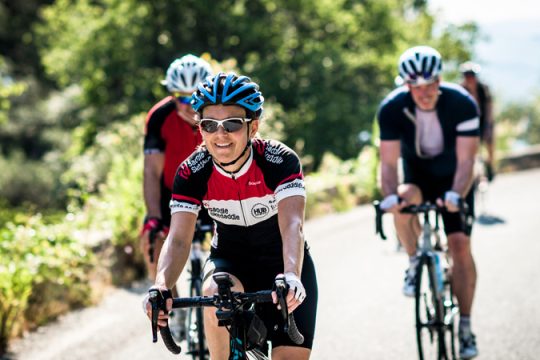 We have over 27 years of experience and unrivalled expertise in doing what we love. We've created over 200 spectacular cycling holidays in some of the world's best destinations, with something to suit all wheels – from complete beginners or those with miles of experience. Here's just a little bit more about us…
Our friendly and caring team of guides and HQ team will always make you feel personally welcomed
96% of our guests say they would return for more
Our trusted local partners can't wait to meet you and show you the places they call home
For more info on why we think you should get Skedaddlin', take a look at our Pedallin' Promise. We hope to see you soon!
---
Sounds good?
Why not explore our full range of cycling holidays and all the incredible destinations you can go to! Or head to our blog for even more inspiration and advice on everything cycling.